NHL Free Agency: The Top 10 GMs We Should Trust To Rebuild Our Team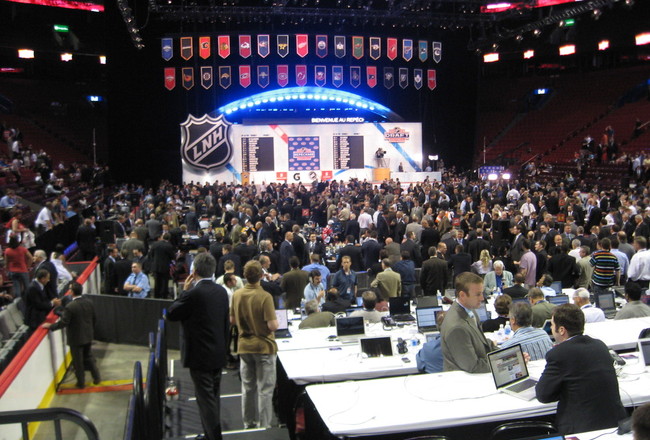 In a job that requires constant attention, with vacations few and far between, a blackberry is a basic necessity. The people in these jobs are tied to their phones, as it is their lifeline to their team and the rest of the league.
Imagine the thrill of seeing one of your late-round draft picks become a star in the NHL, and the sour taste in your mouth after not making the playoffs. The people in these jobs are special people and there are only a select few that can be called the best.
The best are not always those who have been in their jobs the longest. Sometimes, a new young talent comes in and does a bang up job with his club.
The general managers on this list are those who have proven able to build winning franchises through good drafting, trades, and free agent signings. These people can see talent and opportunity, where others see nothing at all.
Without further senseless banter, here are the top 10 general managers we would trust to rebuild our team (in no particular order).
Please post below with questions, comments, opinions, and who else you would trust to rebuild your franchise on the ice.
Dale Tallon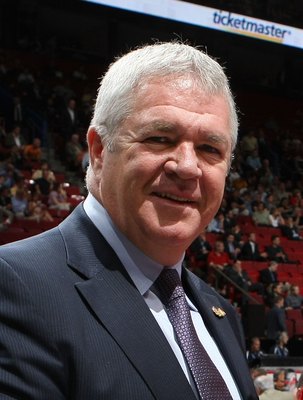 The 59 year-old native of Noranda, Quebec, Canada is the current general manager of the Florida Panthers.
A lesser known fact about Tallon is that is won the 1969 Canadian Junior Golf Championship, while also playing on the Canadian PGA Tour.
In his younger days, he was drafted second overall by the Vancouver Canucks in the 1970 NHL Amateur Draft. He then went on to play in 10 NHL seasons split between the Vancouver Canucks, Chicago Blackhawks, and Pittsburgh Penguins from 1970-1980.
He played in a total of 642 NHL regular season games, scoring 98 goals, 238 assists, with 568 penalty minutes. He was also selected to play in the NHL All-Star Game in both 1971 and 1972. He was also a member of Team Canada's roster for the 1972 Summit Series.
After his retirement from playing, he worked as an analyst for the Chicago Blackhawks radio and television broadcasts for 16 seasons. He also spent the 2002-03 NHL season as a broadcaster.
He was originally hired by Chicago in 1998 as Director of Player Personnel. He would serve in this role until 2002 prior to returning to radio and television. He was then named Assistant General Manager to then General Manager of the Blackhawks Bob Pulford during November of 2003. He served in that role until June of 2005, when he was named General Manager of the Blackhawks.
He is credited for turning around the Blackhawks franchise and being largely responsible for assembling the team that won the Stanley Cup this past season.
He drafted Jonathan Toews, Patrick Kane, Duncan Keith, and Brent Seabrook. He traded for Kris Versteeg and Patrick Sharp. He also acquired Marian Hossa, Brian Campbell, and John Madden through free agency.
What led to his demotion to Senior Adviser on July 14, 2009 was largely a gaffe—not submitting offer sheets to the team's restricted free agents (Kris Versteeg, Cam Barker, Troy Brouwer, Ben Eager, Corey Crawford, Colin Fraser, and Aaron Johnson).
It was estimated by CBC Sports, with numbers from NHLNumbers.com, that this mistake cost the franchise nearly $5,220,000 more in contracts than they would have had to pay. The Blackhawks clearly still felt the affects of this error recently in shipping off some of their younger players for cap space.
Even in sight of this error, you cannot argue with his plan in Chicago working nearly flawlessly. He molded an original six franchise in ruins into a Stanley Cup contender and winner in five years.
Ken Holland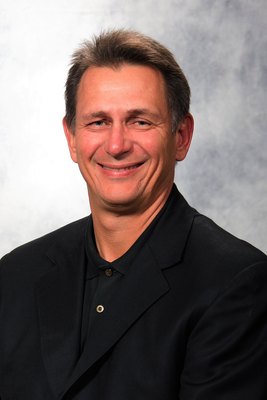 The 54 year-old native of Vernon, British Columbia, Canada is the current general manager of the Detroit Red Wings.
He was drafted by the Toronto Maple Leafs in the 1975 NHL Entry Draft in the 12th round, 188th overall. He went on to play a total of four NHL games—one with the Hartford Whalers during the 1980-81 season, and three with the Detroit Red Wings during the 1983-84 season.
He spent most of his professional career between 1977-78 and 1984-85 playing in the American Hockey League. He spent five seasons in Binghamton and two seasons in Adirondack, with a stint in the International Hockey League for Springfield in 1979-80.
After he retired in 1985, he took a job as the Detroit Red Wings Western Canada scout. He then spent seven years as Director of Amateur Scouting. After that, he was promoted to Assistant General Manager (with a side role as Goaltending Coach), and spent three years in that role.
He was named General Manager, Executive Vice President, and Alternate Governor by the Detroit Red Wings on July 18, 1997. He has now spent 27 years in the Red Wings organization and the last 13 as General Manager.
In his time with Detroit, he has won four Stanley Cups (1997, 1998, 2002, 2008). He has also led them to eight Central Division titles and four President's Trophies.
Since Holland was named General Manager in July of 1997, the franchise has won 638 (544 regular season and 94 playoff) games, which is more than any other team in the NHL during that time frame. Also, this past season marked the ninth consecutive 100-point season for the franchise.
He also served as Associate Director for Hockey Canada for 2010 Winter Olympics, helping the country win a gold medal on home soil in Vancouver.
He can sign free agents, draft players, and make astute trades as a General Manager. He is without question the best GM in the NHL today. I would trust him over anyone to build a consistent winner in the NHL.
Dean Lombardi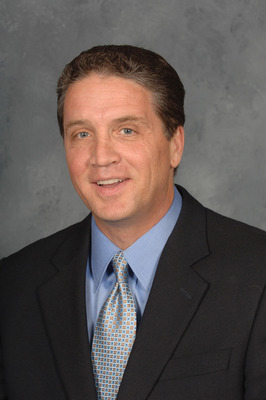 The 52 year-old native of Ludlow, Massachusetts, is the current general manager of the Los Angeles Kings.
He is son-in-law to Bob Pulford, former NHL general manager and Hockey Hall of Fame player from his days in the NHL.
He played high school hockey and was selected to the All-America Junior Hockey Team. Then he played division-II college hockey, after which he graduated with honours from Tulane University with a law degree specializing in labour law.
After college, he became a players agent and spent 1988-1990 as an assistant general manager with the Minnesota North Stars. After his time with Minnesota, he moved onto the expansion San Jose Sharks.

In 1996, Lombardi was named General Manager of the San Jose Sharks. He left his mark on the franchise through the draft, for the most part.
While in this position, he drafted many quality NHL players including Patrick Marleau, Brad Stuart, Scott Hannan, Marco Sturm, Marcel Goc, Jonathan Cheechoo, Mark Smith, Ryane Clowe, and Christian Erhoff.
He was also very successful via the trade route, bringing in key pieces with Owen Nolan, Teemu Selanne, Mike Ricci, and Vincent Damphousse.
Under his guidance, the Sharks became only the second franchise to improve their point totals in six consecutive seasons. However, during the 2002-03 NHL season he was fired from his post as GM due to a disappointing year on the ice for the franchise.
After that, he served as the Philadelphia Flyers' Western Conference scout from 2003-2006. Then, in April of 2006, he was appointed as the President and General Manager of the Los Angeles Kings.
Thus far, the Kings are a still improving franchise, likened by many to the Chicago Blackhawks in the years prior to their Stanley Cup victory. The team made the playoffs for the first since Lombardi was hired this past season.
They look to steadily improve and likely need at least one more year of playoff disappointment prior to challenging for the Stanley Cup.
He has built a solid young team with Johnson and Drew Doughty providing offence from the back end. He has also supplemented the offence with capable veterans in Justin Williams and Ryan Smyth.
Lombardi has shown his affinity for developing winning franchises with two separate teams in two separate CBA agreements. He is most definitely one of the best GMs in the NHL at this point.
Lou Lamoriello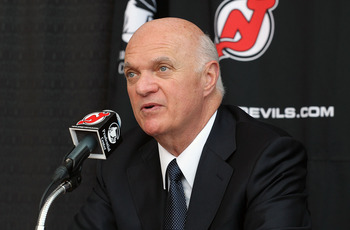 The 67 year-old native of Providence, Rhode Island is the current general manager of the New Jersey Devils.
Prior to the Devils, Lamoriello occupied his time as the athletic director and men's hockey coach at Providence College. He was coach of their hockey team from 1968-1987, and also served as athletic director from 1982-1987.
He also has a trophy in his name—the Lamoriello Trophy is awarded annually to the champion of the Hockey East Men's Ice Hockey Tournament. It started in 1988 and was named for then-Commissioner of Hockey East, Lou Lamoriello. The winner of this trophy gains automatic entry to the NCAA Division I Ice Hockey Tournament.
He was named President of the New Jersey Devils in April of 1987 and in a surprise move, named himself General Manager prior to the start of the 1987-88 NHL season. At the time, he was an unknown commodity in the professional hockey community. Since then, he has built the Devils into one of the most successful franchises in the NHL.
The Devils have only missed the playoffs twice since Lou took over in 1987. They have appeared in four Stanley Cup Finals and won three times (1995, 2000, 2003). Lou has been the CEO of the Devils since 2000.
He also added head coach to his resume for brief stints in 2005 and 2007, and currently has a record of 34 wins, 14 losses, and 5 overtime losses.
He also served as GM for Team USA at the 1998 Winter Olympics in Nagano.
On June 23, 2009 the ultimate honour was bestowed on him, as he was inducted into the Hockey Hall of Fame in the builder's category.
David Poile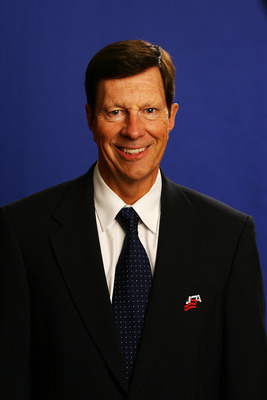 The 60 year-old native of Toronto, Ontario, Canada is the current general manager of the Nashville Predators.
At Northeastern University in Boston, he was the team captain and most valuable player for two years. He still holds the University's record for most career hat tricks with 11. He is a member of the Northeastern University Hall of Fame. He also played professionally with the Rochester Americans of the American Hockey League from 1968-1971.
After his playing career ended, he began his career in the NHL as an administrative assistant with the expansion Atlanta Flames. Then, in time for the 1982-83 NHL season, he was hired as the General Manager of the Washington Capitals.
He would spend the next 15 years as the GM in Washington, going to the postseason 14 times. The Capitals were among the top five teams in the NHL throughout his tenure as GM and after leaving the club in 1997, he took the GM position with the expansion Nashville Predators.
He has helped Nashville to grow from a fledgling expansion franchise to one of the more consistent teams in the league. Since the beginning of the 2005-06 season, Nashville has 228 wins, which puts them at fifth place in the league since that time.
Also, they have 40-plus wins in five consecutive seasons. The only other teams to accomplish this feat were Calgary, Detroit, New Jersey, and San Jose.
While the Predators are consistently 28th to 30th in the league in terms of payroll, they consistently make the playoffs. He has made good veteran acquisitions in the past, with the likes of Jason Arnott, J.P. Dumont, Steve Sullivan, and Dan Ellis.
His drafting record also speaks for itself with players like Martin Erat, Patric Hornqvist, Ryan Suter, Shea Weber, Colin Wilson, Dan Hamhuis, David Legwand, Pekka Rinne, and Jordin Tootoo.
His 28 years of General Manager experience in the NHL trails only Harry Sinden (29 years from 1972-2001), Glen Sather (30 years from 1980-present), Art Ross (30 years from 1924-1954), Conn Smythe (30 years from 1927-1957), and Jack Adams (35 years from 1927-1962).
He also ranks third all-time in wins (1,005) and games (2,082) by a general manager. He trails only Glen Sather and Harry Sinden in both categories.
His experience and eye for talent makes him an excellent general manager. If he were given a larger budget, he would likely have a Stanley Cup ring on his finger.
Darcy Regier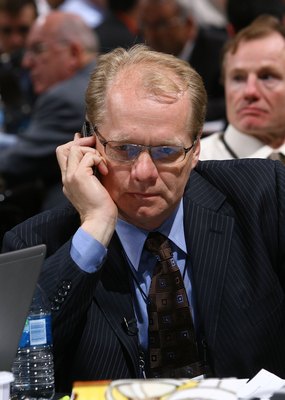 The 53 year-old native of Swift Current, Saskatchewan, Canada is the current general manager of the Buffalo Sabres.
He was drafted to the NHL by the California Seals and played 15 NHL games in the 1977-78 season. He then saw his next taste of NHL action in 1982-83 with the New York Islanders, but he only saw 11 games at the NHL level for the rest of his career.
In 1985, he joined the New York Islanders front office and performed various roles before moving to the Hartford Whalers in 1991-92 to become an assistant coach. This was short-lived and he then returned to the Islanders to serve as Assistant General Manager under Don Maloney. He was then promoted to interim GM in 1995-96, when Maloney was fired.
Then, in the summer of 1997, he was hired to be the GM of the Buffalo Sabres. During his time with the Sabres, the franchise has seen some success. They made the Stanley Cup Final in 1999, only to lose to the Dallas Stars by the "Brett Hull" goal. The team also won the President's Trophy in 2006-07 and made it to the Conference Finals in the 2006 and 2007 NHL playoffs.
Players such as Maxim Afinogenov, Henrik Tallinder, Ales Kotalik, Ryan Miller, Paul Gaustad, Derek Roy, Jason Pominville, Brian Campbell, Tyler Myers, and Thomas Vanek have all been drafted and developed under Darcy's close watch.
He has also been hampered by a shoestring budget from his owners at various times throughout his tenure in Buffalo. He has had to make hard choices and let key players like Michael Peca, Chris Drury, Daniel Briere, and Brian Campbell leave the organization for more money elsewhere.
Imagine the successes he could have with a higher budget to supplement the young players he has developed over the years. If you're looking for someone to cultivate young talent, this is your man.
Brian Burke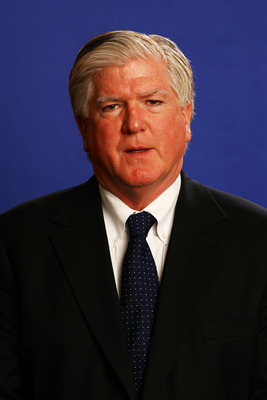 The 55 year-old native of Providence, Rhode Island is the current general manager of the Toronto Maple Leafs.
He graduated from Providence College with a Bachelor of Arts in History in 1977. He played for the Division I ice hockey team there and served as captain his senior year. Interestingly, Lou Lamoriello was the coach of the team at the time Burke was there.
He would go on to play one full AHL season with the Maine Mariners and won an AHL Calder Cup Championship. After that season, he decided to go to Harvard Law School and graduated with a Juris Doctor in 1981. He graduated and practiced his trade as an NHL player agent.
Then, in 1987, he got his first big break when Pat Quinn picked him to be the Director of Hockey Operations for the Vancouver Canucks. In time for the 1992-93 season, he was appointed GM of the Hartford Whalers, spending only one season there before being fired.
After this time, he was hired to be in charge of NHL discipline under Commissioner Gary Bettman. He would serve in this role until he was hired in 1998 to be the GM of the Vancouver Canucks franchise.
In four of his six seasons with the franchise, his team made the playoff. However, they never advanced past the conference semifinals series. He missed the playoffs in both 1998-99 and 1999-00, but the Canucks would go on to have 90, 94, 104, and 101 point seasons for the four seasons after that.
Even in light of his success, the Canucks ownership did not renew his contract after the 2003-04 NHL season. Burke kept busy after that by becoming an analyst for CBC and TSN.
Brian Burke was then hired to be GM and Executive Vice-President of the Anaheim Mighty Ducks on June 20, 2005. After just one season, Burke changed the jerseys and dropped the "Mighty" from the team name. During his three full seasons with the franchise from 2005-06 to 2007-08, he led them to the playoffs in all three years.
In 2005-06, the team went to the conference finals, losing to the Edmonton Oilers. In 2006-07 the team would win the first Stanley Cup in franchise history. Again in 2007-08 they would make the playoffs, but lose in the first round to the Dallas Stars.
Burke did inherit some good young players from prior GM Bryan Murray, but he also made some astute moves of his own. He brought in Randy Carlyle to be head coach, he signed Scott Niedermayer, he traded for Francois Beauchemin, he traded for Chris Pronger, and also signed Jonas Hiller as a free agent.
As it can be seen, Burke did have some good young players to work with in Ryan Getzlaf, Corey Perry, and Joffrey Lupul. But, it was his trades and free agent signings that put his team over the top.
With all the success, the Ducks got off to a slow start at the beginning of the 2008-09 NHL season and Burke was released from his contract on November 12, 2008 amongst tremendous speculation that Toronto had targeted him as their next GM.
Quickly after his release, on November 29, 2008 Burke was named President and General Manager of the Toronto Maple Leafs. His time with the Leafs has been marked by the acquisitions of Francois Beauchemin, Mike Komisarek, Luke Schenn, Phil Kessel, Dion Phaneuf, Kris Versteeg, Colby Armstrong, Nazem Kadri, Jonas Gustavsson, and Jean-Sebastien Giguere.
He is not the traditional draft, develop and win type of GM. He seems to like to use his skills as a negotiator in trades more often. Thus far, in seven of 11 NHL seasons as GM, his teams have made the playoffs and he has a Stanley Cup ring. It is hard to argue with the success of the Brian Burke model.
Although, it remains to be seen if he can duplicate past success in a major rebuild of the Toronto Maple Leafs.
He was also the General Manager of the 2010 Winter Olympic Team USA ice hockey entry. There, he assembled a team that won the silver medal on the biggest stage the world has to offer. He did this while also grieving for the loss of his son Brendan Burke.
George McPhee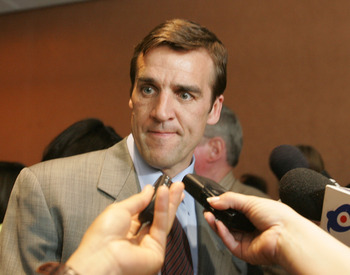 The 52 year-old native of Guelph, Ontario, Canada is the current general manager of the Washington Capitals.
He was the Hobey Baker Award winner in 1982 (awarded to college hockey's top player). He was also a Central Hockey League Championship winner as a member of the Tulsa Oilers in 1984. After that, he had a seven-year NHL career split between the New Jersey Devils and the New York Rangers.
In 1992, he was named Vice President, Director of Hockey Operations, and Alternate Governor for the Vancouver Canucks. With McPhee's assistance, then-GM Pat Quinn led the team to four playoffs, a division championship, and a trip to the Stanley Cup Finals in 1994.
In 1997, McPhee was named GM of the Washington Capitals. During his time thus far, the team has won five Southeast Division titles. They have also have six 40+ win seasons in 12 years and one trip to the Stanley Cup Final in 1998, where they lost to the Detroit Red Wings.
During the 2003-04 season, he stated that the Capitals would begin building for the future through the draft. He lucked out by getting the first overall selection in 2004 to draft Alex Ovechkin. But, he has also selected young key players such as Mike Green, Semyon Varlamov, John Carlson, Eric Fehr, and Alexander Semin.
This was a fairly quick rebuild as it only took two seasons for the team to win a division title. Currently, they are on a streak of three division titles in a row. He also identified veteran additions well with Sergei Fedorov, Matt Cooke, Cristobal Huet (Huet was very effective in his time with the team), and Mike Knuble.
Rick Dudley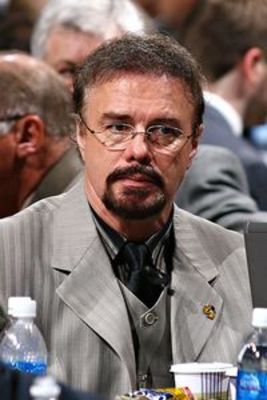 The 61 year-old native of Toronto, Ontario, Canada is the current general manager of the Atlanta Thrashers.
He played seven NHL seasons split between Buffalo and Winnipeg with 174 points in 309 games. He also played in the World Hockey Association for four seasons with 277 points in 270 games.
Once his playing career was over, he became the owner, general manager, and head coach of the Carolina Thunderbirds of the ECHL from 1982-83 to 1985-86. He also became ECHL league president from 1983-86. After that, he spent 1987-88 as head coach in Flint of the IHL, winning the Commissioner's Trophy as coach of the year.
From there, he was head coach for New Haven Nighthawks of the AHL in 1988-89. He also served as head coach for the San Diego Gulls in 1992-93, then moving to the Phoenix Roadrunners for 1993-94. He would then become head coach of the Detroit Vipers for 1994-95 and 1995-96.
From 1994-95 to 1997-98 he spent his time as general manager of the Detroit Vipers in the now defunct IHL. He accumulated a 200-92-35 record and the 1997 league championship.
He was then called to the NHL to serve as general manager to the Ottawa Senators for the 1998-99 NHL season. After that, from 1999-00 to 2001-02, he was the GM of the Tampa Bay Lightning.
He turned the team around, going from last place to putting them on the path to their eventual Stanley Cup win under Jay Feaster in 2004. He acquired players like Martin St. Louis from Calgary, Dan Boyle, Cory Sarich, Fredrik Modin, Tim Taylor, Vaclav Prospal, Dave Andreychuk, and Nikolai Khabibulin.
After leaving Tampa, he served as GM of the Florida Panthers from 2002-03 to 2003-04 and drafted players like Jay Boumeester and Nathan Horton. After his third short stint as a GM, he moved to the Chicago Blackhawks, where he was hired as a consultant in 2004. His role was expanded to director of player personnel prior to the 2005-06 season.
He received a promotion prior to the 2007-08 season to assistant general manager under Dale Tallon. He is noted to be key in the acquisition of players such as Jonathan Toews, Patrick Kane, Kris Versteeg, Patrick Sharp, Andrew Ladd, Niklas Hjalmarsson, Ben Eager, and Brian Campbell.
He would then join the Atlanta Thrashers in June of 2009 to be associate general manager to Don Waddell. Then, on April 14, 2010 he was promoted to general manager of the franchise.
His biggest asset is his identification of good players that others do not see. His acquisition of diminutive forward Martin St. Louis is a prime example. Also, in all of his 10 years as an executive in the NHL, his teams have improved their records from the previous season.
Obviously, with his track record and experience he would be a prime candidate to any team looking to rebuild their club steadily.
Jim Rutherford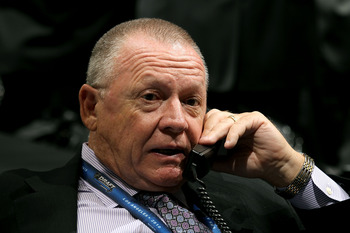 The 61 year-old native of Beeton, Ontario, Canada is the current GM of the Carolina Hurricanes.
Rutherford is a former NHL goaltender and was selected by the Detroit Red Wings in the first round of the 1969 NHL Entry draft. He would then move to the Pittsburgh Penguins in 1971, where he spent three years before being traded back to the Red Wings.
Then in 1980-81, Rutherford was traded to the Toronto Maple Leafs for a short period. His next stop would be the Los Angeles Kings, where he played briefly, prior to being sent back to Detroit for a third go around. In 1982-83 he was sent to Detroit's AHL affiliate in Adirondack to finish his playing career.
He played a total of 457 NHL games with 151 wins, 227 losses, 59 ties, 14 shutouts with a 3.65 goals against average. He also played eight playoff games with two wins, five losses, and 3.81 goals against average. He became known for his hard work and determination as a net minder during his playing days.
After his playing career was over, he spent time as a manager with the Compuware Sports Corporation. He also coached and managed the Windsor Spitfires of the OHL before becoming General Manager for the then-Hartford Whalers franchise in 1994.
In his time as general manager, the Hurricanes were successful in winning the Stanley Cup in 2006. The team also made it to the 2002 Stanley Cup finals, losing to the Detroit Red Wings.
Since their Stanley Cup victory, the team has struggled, missing the playoffs three out of four years since the 2006 Cup win.
Rutherford has never had a big budget with the franchise, but has drafted well with players like Cam Ward, Eric Staal, Jeff O'Neil, Jean-Sebastien Giguere, Andrew Ladd, Jack Johnson, and Brandon Sutter. He also brought in key veterans such as Ray Whitney and Rod Brind'Amour.
The overall record of the franchise under Rutherford watch since the 1997-98 season was 442 wins, 297 losses, 86 ties, and 59 overtime losses. They have also played 78 playoff games with 41 wins and 37 losses. The franchise has made the playoffs five times in 12 seasons since their move to Carolina.
While his record is not quite as good as some of the other General Managers on this list, he does have a good eye for the draft. With an increased budget he would be able to augment his draft picks better.
Keep Reading