Fantasy Football: Top 20 QBs of 2010-11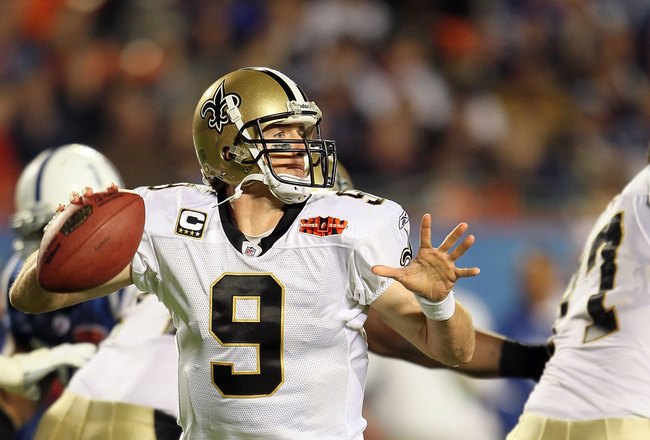 Drew Brees led them all last year, so what are the rankings for the top 20 fantasy quarterbacks?
Depending on your league, quarterbacks can be the most important player or just team managers.
This list has a huge separation from the bottom to the top, but this is compiled with the top options at quarterback to help your fantasy football teams. If you play in dynasty leagues pay close attention to the bottom half.
No. 20 Ben Roethlisberger, Steelers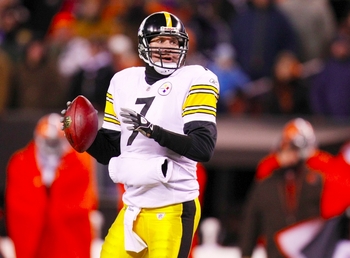 He's got his legal problems this is true, but when on the field is he one hell of a football player.

He missed one game last year due to a concussion, but when he was out there he was able to rack up 4,328 yards and 26 touchdowns.
While he will be out four to six weeks due to a suspension and Santonio Holmes is now with the New York Jets, Roethlisberger still has Hines Ward and a nice second-year player in Mike Wallace to throw to.
Big Ben will be just fine if he can stay on the field. Pick him up late in drafts and he'll pay off for you when he returns.
No. 19 Vince Young, Titans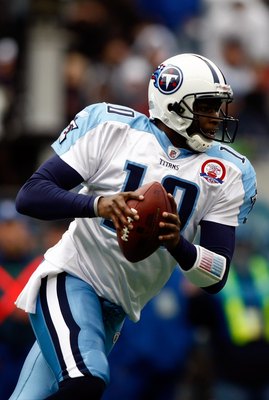 Depression, what depression? Despite the rumors and stories that went on when Vince was struggling. In 2009-10, he showed us why he is one of the top quarterbacks in the league.
The guy is a proven winner and with the help of Chris Johnson and second year receiver Kenny Britt, VY10 will climb to new highs this upcoming season. The Titans will be forced to pass more with all the defensive focus being put on Johnson.
Young threw for 1,879 yards and 10 scores last season, while those may not be the most impressive stats, he'll definitely be turned to more this next season.
No. 18 Alex Smith, 49ers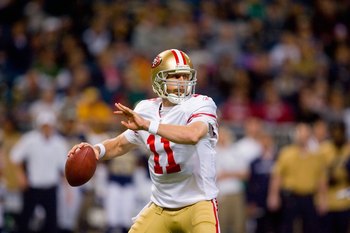 While Frank Gore is ranked No. 2 on the running back list, Alex Smith doesn't get nearly as much praise as Gore does.
Smith was labeled a bust before Vernon Davis' resurgence and Michael Crabtree's appearance. Smith was finally able to show why he was drafted No. 1 overall in the 2005 draft last season.
If Smith wants to prove his worth, he must build off of last season when he threw for 2,350 yards and 18 touchdowns.
He has the weapons to do so and Frank Gore might also help open up some passing lanes. Only time will tell but he's only good enough for this spot.
No. 17 David Garrard, Jaguars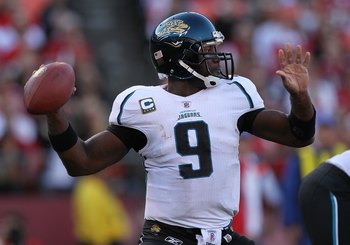 Not too much praise for David here, but he's one of those guys who can put numbers up quietly.
Garrard was Bryon Leftwich's replacement and in 2007 they handed him the keys and he had his best season. This past year he had a really nice showing with 3,597 yards and 15 touchdowns but the bad stat was his 10 interceptions.
He's not a bad backup and more of a fantasy matchup quarterback, so I wouldn't draft him as my first quarterback, or to play the Colts but he would do just fine against the Buffalo Bills.
No. 16 Donovan McNabb, Redskins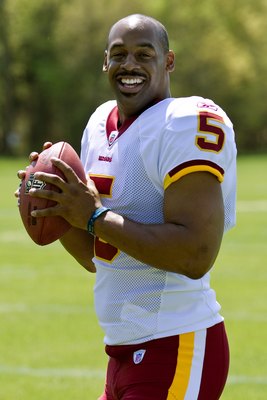 I can't figure out which is more surprising, McNabb in a Redskins uniform or McNabb at No. 16 on this list. But with the lack of star players in D.C. his value takes a serious hit.
McNabb threw for 3,553 yards and 22 touchdowns last season in Philadelphia. He also had Brent Celek, DeSean Jackson, Jeremy Maclin and LeSean McCoy to throw to.
In Washington the targets will be slimmed down to Santana Moss, Malcom Kelly and Chris Cooley, who is coming off of ankle surgery.
McNabb will either just be a team leader who puts up average fantasy numbers, or he will turn those players around and make Washington a contender and still be a reliable first-option at quarterback and be a go-to fantasy quarterback.
No. 15 Matthew Stafford, Lions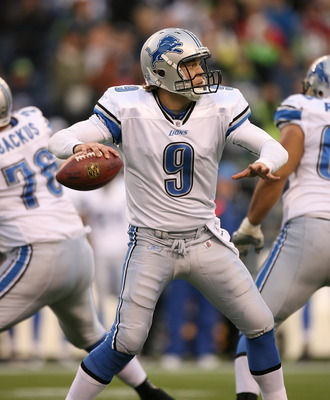 The kid took a beating during his rookie season. Stafford missed six games due to various injuries but he also led Detroit to an unbelievable comeback against the Cleveland Browns, in which he passed for 422 yards and five touchdowns.
While the injuries forced him to miss time, Stafford also had some hardships, in his rookie season he threw for 2,267 yards, 13 touchdowns and 20 interceptions.
If he can remain healthy he has more weapons around him this year with Jahvid Best, Nate Burelson, Tony Scheffler and a healthy Calvin Johnson.
He's on a team that will rely on him to lead them to wins, and playoff runs. Take a chance on him, especially in keeper leagues.
No. 14 Eli Manning, Giants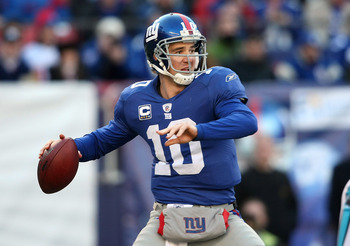 Ah, Peyton's little brother. The numbers? They weren't so little. He truly plays like a Giant but doesn't get taken in the high rounds of drafts.
Eli Manning has always been successful while playing in New York, last season he threw for 4,021 yards and 27 touchdowns. The downside was his 14 interceptions but with the amount of times Eli threw the ball, interceptions were bound to happen.
He's got a nice one-two punch in receivers Steve Smith and Hakeem Knicks who had surprising but productive seasons last year.
With New York's running game on the fence Eli can be viewed as a sleeper and a steal depending on where you take him and how he produces.
No. 13 Matt Ryan, Falcons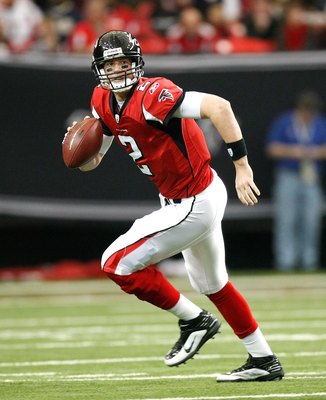 Matty Ryan's sophomore season was nothing but cold after an excellent rookie year where he was a good NFL quarterback, led the Falcons to the playoffs, and made a nice option in fantasy leagues.
Ryan's sophomore campaign? Not so great. He was a headache for most owners, and his turf toe injury caused him to miss two games, but he really wasn't the same once he sustained that injury.
Despite a shaky second season, Ryan was able to throw for 2,916 yards and 22 touchdowns. He only threw 14 interceptions even while injured.
If Michael Turner, Roddy White and Tony Gonzalez can all stay healthy and become a force to reckon with, "Matty Ice" will be nice fantasy quarterback once again.
No. 12 Joe Flacco, Ravens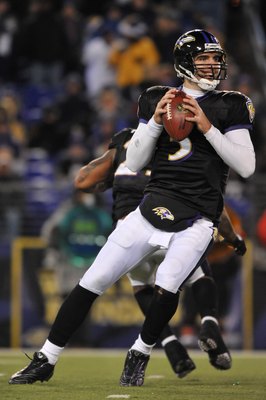 Unlike JaMarcus Russell who also came out of college praised for his cannon of an arm, Joe Flacco is one of the best NFL quarterbacks and becoming one of the best fantasy guys too.
He has the best shot at becoming a household name to fantasy owners this year. Flacco is coming off a season in which he threw for 3,613 yards and 21 touchdowns.
This offseason the Ravens went out and acquired wide receiver Anquan Boldin from the Arizona Cardinals. He'll come in and be Flacco's go-to guy right away. So if your looking for a guy who can put up great numbers, his name is Joe Flacco.
No. 11 Chad Henne, Dolphins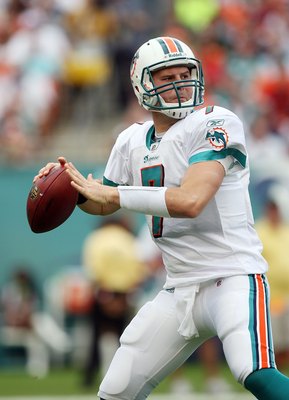 He's a Michigan Wolverine so he must be smart. Well, so is Bill Parcells, who went out and got this guy a big name to throw to. That big name is none other than Brandon Marshall.
After Chad Pennington threw his arm out again, "the other Chad" stepped in and delivered. Henne threw for 2,878 yards but only 12 touchdowns.
Those yards and touchdowns should go up with Marshall in town.
Henne is more of a sleeper but could end up at this spot or even higher.
No. 10 Philip Rivers, Chargers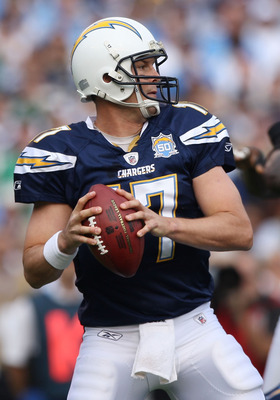 Ten would have been too low if the Chargers had handled contracts correctly. The loss of LaDainian Tomlinson was supposed to mean more throwing and more receptions but with Vincent Jackson's holdout and suspension who are those receptions going to go to?
Antonio Gates is still there, but the Chargers drafted Ryan Mathews at No. 12 overall in this year's draft to replace Tomlinson. For the expectations on Mathews, check out my fantasy rankings for running backs.
So the question remains who will Rivers throw to?
Darren Sproles, Gates, Matthews, and Malcolm Floyd are the guys he'll look to until V-Jax gets back, but when Jackson returns will they still mesh together?
Rivers' value takes a small hit but he'll still make the top 10.
No. 9 Jay Cutler, Bears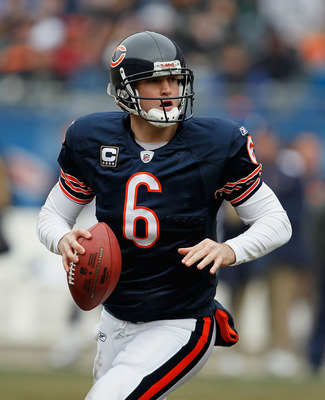 Thank you Mike Martz. While some readers might ask why is Jay Cutler ahead of Philip Rivers? Well sometimes you just gotta do what you Aromashodu.
That's right, one of my fantasy sleepers at wide receiver this year is Devin Aromashodu who came on late for the Bears and can be a nice option next to Pro Bowler Johnny Knox.
While Cutler did throw 26 interceptions last year, he wasn't fully to blame. Cutler found himself rushing many throws because of the terrible offensive line he had. Matt Forte couldn't take the pressure off him because he couldn't carry the ball.
With Martz in town, the Bears' receivers will learn how to be better. If Cutler can repeat the numbers of 3,666 yards and 27 touchdowns he'll be a nice fantasy quarterback, he'll be a fantasy steal if he doesn't throw 26 interceptions.
No. 8 Carson Palmer, Bengals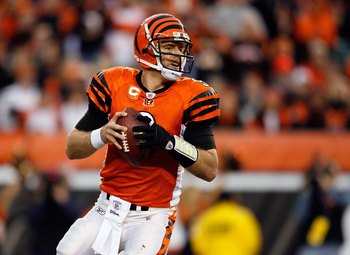 This ranking may be a little too high, but Palmer had a rough year coming off his elbow surgery.
Still, he found ways to find guys in the clutch and win games. The Bengals did go out and sign Antonio Bryant and draft Jordan Shipley, so they've added more weapons to help their quarterback.
Palmer may not have the cannon to get it deep down field anymore, but if he can become more accurate than he was last season, all it will take is getting the ball to the receivers and letting them get the yards.
The table is set for Palmer, he just needs to perform. There were times last year when people felt he was nothing more than a game manager. Throwing for 3,094 yards and 21 touchdowns is impressive for a game manager but he can be a lot better.
No. 7 Tom Brady, Patriots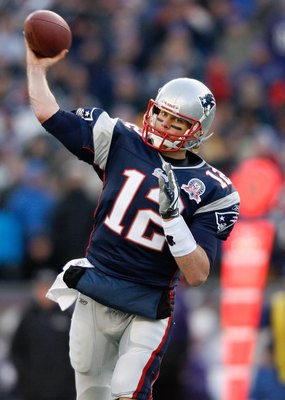 It's hard to put Brady this low but the rest of the pack all have their reasons. Brady's reason for No. 7 is Wes Welker.
Brady has gone to Wes Welker out of the slot position many times and Welker has done it all for him, but with ACL surgery it is unknown when Welker will be able to suit up.
Brady still has Randy Moss and his wife Gisele which is a reason for any man to perform well at his job. All jokes aside, the Patriots don't have much of a running game, but they did draft two rookie tight ends and signed Torry Holt.
Those are more pieces to help fill Welker's spot and can only make Brady better. And if Welker is back by Week One, well then Brady will still be one of fantasy football's best quarterbacks.
One thing is for sure, 4,938 yards and 28 touchdowns is a nice season, but compared to his 50-touchdown season it is nothing. While he may never see 50 again, he should put up good numbers.
No. 6 Tony Romo, Cowboys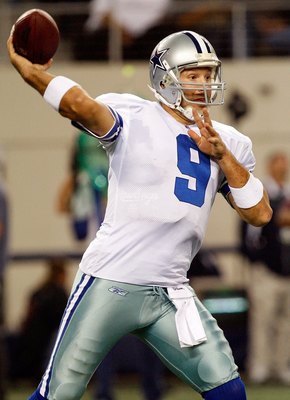 How bout this Cowboy! Sorry Jessica you weren't helping and if you guys would like to know something, Tony Romo was very good last year.
There are a lot of Cowboy haters out there, but numbers don't lie and fantasy football is all about the numbers.
Romo threw for 4,483 yards and 26 touchdowns, but the most impressive stat was that Romo only threw nine interceptions, and he had a new sidekick in Miles Austin.
Roy Williams hasn't become the player that Jerry Jones gave a lot up to get, but he was able to use his 2010 First Round pick on electrifying wide receiver Dez Bryant, who missed most of his final college season due to breaking NCAA rules.
No rules to be broken here, Bryant can be a third option behind Austin and tight end Jason Witten, but with Romo behind center Bryant could win Rookie of the Year. Last year's winner also had a big name quarterback help him win the award.
No. 5 Brett Favre, Vikings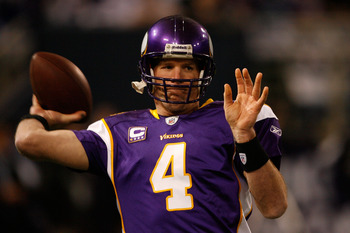 Ah he's coming back for at least one more shot at the Super Bowl. It's not LeBron leaving Cleveland, but last year Brett Favre tore up every team he faced and he was 40-years-old.
That's one hell of an old man, playing one hell of a sport, putting up one hell of a stat line. Oh, that stat line? Well he threw for 4,202 yards and 33 touchdowns and the most amazing stat was that he only threw seven interceptions.
He's like a fine wine, getting better as he gets older as that was the best season in his career.
No Summertime drama Brett, we all figure you're coming back, and if in fact you do, you are ranked number five on the quarterback list. And if in fact you are fine wine, you'll make a lot of us fantasy owners proud.
So from all of us fantasy football owners, please just come back and repeat last year. Please?
No. 4 Matt Schaub, Texans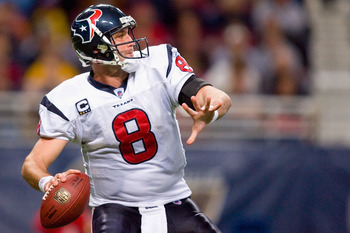 So much for a guy who's been a backup for most of his career, and when he was a starter "couldn't stay healthy."
Well with the best wide receiver in the league, Schaub was able to throw for 4,770 yards and 29 touchdowns. Despite throwing 15 interceptions he led Houston to second place in AFC South division.
With Andre Johnson leading the league in receiving, Kevin Walter coming back and Owen Daniels looking to get back on track after an ACL tear sidelined him for eight weeks, if this group of guys can mesh together Schaub will be once again atop the quarterback mountain.
Houston has a very shaky running back situation so they will likely continue being a pass-happy offense.
With Schaub under center he'll get the stats, so if you make him your No. 1 option you won't be let down.
No. 3 Drew Brees, Saints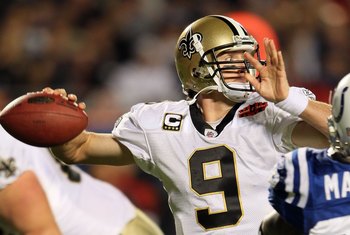 Yes, Brees is at No. 3. It was tough to put him this low after a spectacular season in which he was not only the NFL's best quarterback, but he won that elusive Super Bowl ring.
On his way to that Super Bowl, Brees was able to throw for 4,388 yards and 34 touchdowns while only throwing 11 interceptions. If one thing was apparent last season, Brees didn't just look for one guy. He found a way to get everyone involved in the offense and that made fantasy owners very happy.
You can be very happy once again if you have Brees, while it may be hard to repeat the incredible numbers he had last year he will still get you some of the highest point totals week by week and will lead your team to many victories.
No. 2 Aaron Rodgers, Packers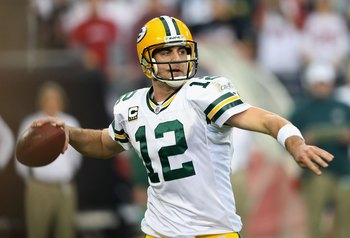 Yes, he could have been No. 1 but he's No. 2.
Aaron Rodgers has made people in Green Bay say "Thanks Brett, but we did find your replacement." Last season, Rodgers threw for 4,434 yards and 30 touchdowns while only throwing seven interceptions.
Interceptions usually haven't been Rodgers' problem but Green Bay didn't have the best offensive line and he was sacked 50 times.
The draft was a blessing for Rodgers as the Packers went out and got Bryan Bulaga, offensive tackle from Iowa. So can this First Round lineman keep Rodgers safe?
Many fantasy owners have not only put trust in Rodgers, but now Bulaga to keep their fantasy quarterback healthy.
If Rodgers can keep his feet on the ground and throw the ball into the end zone like he did last year, he could easily move into the No. 1 spot but until then, there's this guy...
No. 1 Peyton Manning, Colts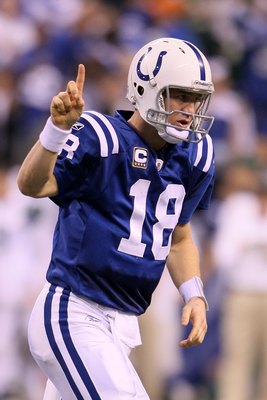 That's right, hold up the number one, because this man here is my No. 1 fantasy quarterback and while he won't get drafted as high as Rodgers, Brees or Schaub, he should be.
Peyton Manning usually doesn't struggle. Peyton Manning finds a way to get everyone involved. Peyton Manning finds a way to win. Peyton Manning puts up numbers consistently year in and year out.
Last year Manning racked up 4,500 yards and 33 touchdowns while only throwing 16 interceptions. He made stars out of Pierre Garcon and Austin Collie and they will only get better.
Anthony Gonzalez was out for the season after injuring his knee in the opening game, but he'll also join Garcon, Collie, Reggie Wayne and Dallas Clark as Peyton's targets.
While his numbers may not be as flashy as Rodgers, Brees, or Schaub, Peyton Manning makes my list at No. 1 because he is consistent, because he is a winner and because he is Peyton Manning.
If you want to get a guy who will put up numbers every week, draft Peyton.
The only problem with Peyton is that he will hurt you come playoff time because, by the time fantasy playoffs hit he's resting up for his playoffs. So make sure you have a formidable backup and ride Peyton during the regular season and he'll lead you to many wins. You can thank me later.
Keep Reading