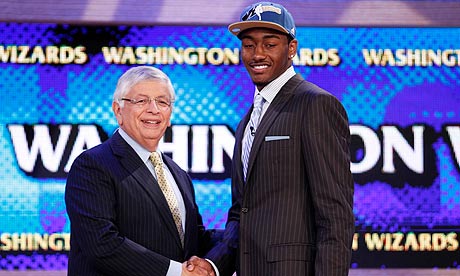 WASHINGTON, D.C. - One practice, one injury.
John Wall, the No. 1 overall pick in the 2010 NBA Draft, was injured Thursday night during his first-ever practice in a Wizard uniform. He was held out of Friday morning's session but returned to the court Friday evening.
He suffered an apparent groin injury after slipping on the court during a scrimmage Thursday night. Wall is not too concerned about the injury, and is hopeful to play when the team participates in the Summer League in Las Vegas.
"This is my first time sitting out like this," Wall said. "I'm type of person who doesn't want to sit out too long, but also in this type of situation, practice is important, Summer League is important. But it's an injury that can be hurting you throughout the whole season so my coaches and training staff are doing a great job."
As a fan of the Wizards, let's pray it isn't too serious and the trainers better keep a sharp eye on the future of D.C. basketball.