Madden 2011: Preview of the Cincinnati Bengals Starters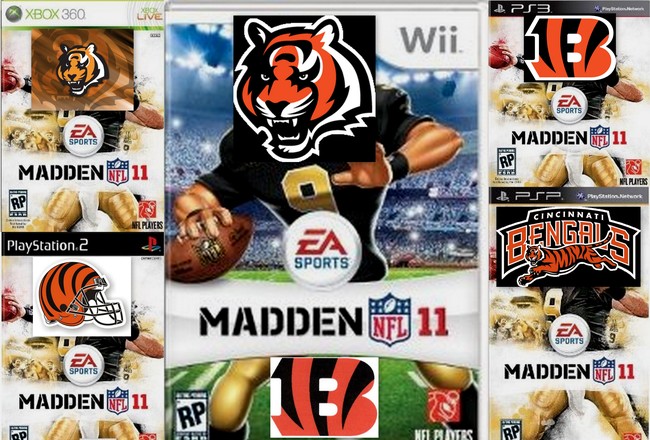 When Madden 2010 came out last season, the Bengals had a middle to low end overall rating (starters only) of 77.23. This year, the Madden 11 team gave the Bengals a much deserved increase in overall ratings for starters, to 83.41. With the ability to improve via squad updates during the season, the Bengals will likely increase this number. Nevertheless, the distribution of the team's initial ratings will leave many Bengals and Madden fans confused as follows...
Starting Defense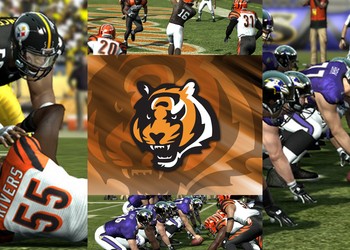 In Madden 10, the Bengals defense was clearly underrated. As the season went on and roster updates were issued, the defense made significant gains. Starting at 77.23 in 2010 was understandable, but starting at 83.28 in 2011 is even more puzzling in that the Bengals defense certainly made a case for a higher starting point. The following are the top eleven players at each respective defensive position.
Keith Rivers (ROLB)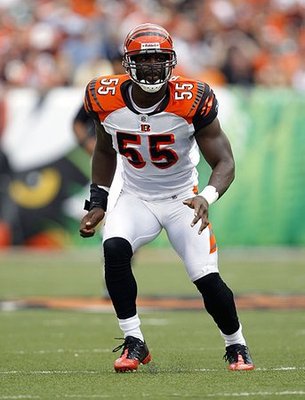 Keith comes into 2011 as being the Madden choice for top-rated linebacker at the right outside linebacker (ROLB) posiiton for Cincinnati. Overall, Rivers is rated at 86, a significant improvement from his 78 last season.
Rey Maualuga (LOLB)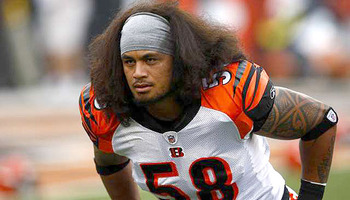 Rey returns from his injury and off the field issues with a 6 point jump from his rookie season starting point of 79 to 85 overall. Expect big things from this second year player, with an increase in Maualuga's overall rating shortly into the season.
Dhani Jones (MLB)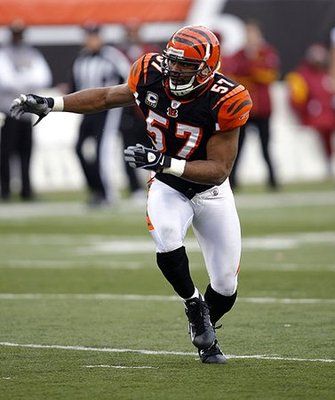 World-traveler and TV personality, Dhani Jones returns from his adventures packing on a 7 point increase from 2010 at 82. In addition, the Madden folks have moved Jones to middle linebacker, in place of the 2010 spot occupied by Rey at the beginning of the Madden season. Jones is expected to maintain and improve upon his 82 as the season develops.
Domata Peko (DT)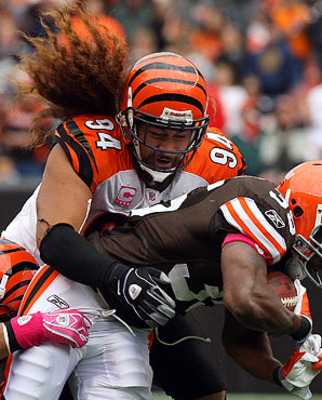 Peko comes in with big hair and another big rating gain from 2010. While Domata started at 80 overall in 2010, 2011 finds Peko at 86 and looking to break into the elite 90s-range with his fierce play in what is shaping up to be a promising season.
Antwan Odom (RE)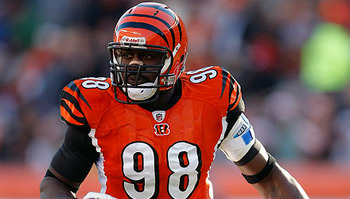 Odom returns from his achillies injury hungry and ready for a brutal campaign. Odom was underrated in 2010 at a dismal 75 overall to start the season, but as the sacks kept coming, Odom quickly raised his rating. Then came the snap....
Despite missing the last ten games of 2010, the Madden team has recognized Antwan's skill at the defensive line, increasing his rating a full ten points to 85 overall to start the 2011 campaign.
Robert Geathers (LE)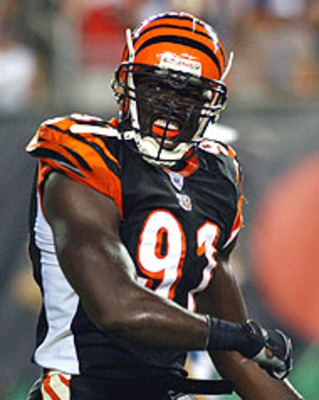 Geathers was given a 76 in 2010. Like most of Robert's teammates, his 81 rating this year is more respectable. Number 91 has the ability to improve and emerge further this year, and it should be interesting to see where Rob fits in with Zimmer's new formations.
Pat Sims (DT)
The Madden team felt that Mr. Sims did not make any major strides in 2010, and statistically they would be right. Pat moves up a single point from 2010 to a 77 overall in 2011.
Jonathan Joseph (CB)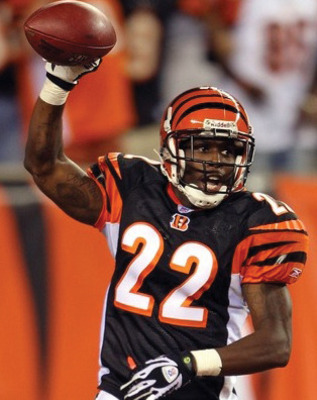 Jonathan Joseph had a tremendous 2010 season and the Madden team recognizes the cornerback tandem the league raved about during the season. Joseph leaps forward with a whopping seventeen point improvement to a 93 in 2011.
Leon Hall (CB)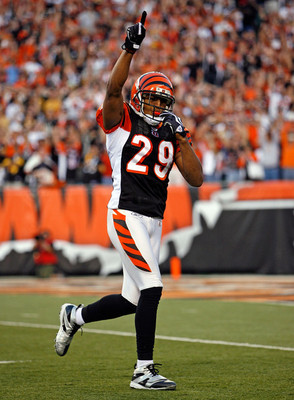 Similar to Mr. Joseph, Leon Hall is recognized for as being the elite corner he is becoming with his own seventeen point improvement over 2010 at 92. Expect big things, both virtually and in reality, from the Bengals' secondary in 2011.
Chris Crocker (FS)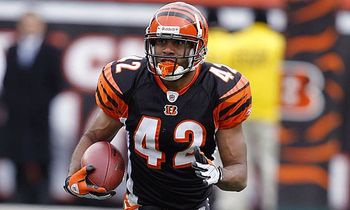 Mr. Crocker jumps a modest 5 points in 2011 to 78 overall, which likely is an underrated suprise for most fans more familiar with Chris' work. This starting point will likely be improved upon.
Chinedum Ndukwe (SS)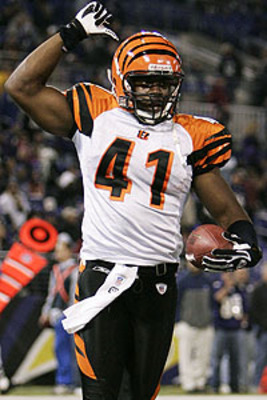 In a move that most disagree with, Ndukwe ties Roy Williams at 77 in 2011. In 2010, Roy was a 79 at the beginning of the season while Chinedum was 74. Apparently, durability is as much of a concern to the Madden team as it is to Bengals' fans. However, this rating is too low for Williams. Ndukwe, the virtual starter, will likely catch up to reality becoming second on the depth charts virtually as the season progresses.
Starting Offense
In 2010, the Bengals' offensive starters averaged at 79.27 overall. 2011 brings about a modest improvement up 4 points to 83 overall. Assuming the wide receivers and Carson Palmer play a greater role in 2011, this conservative rating is likely to quickly go up.
Chad Ochocino (WR)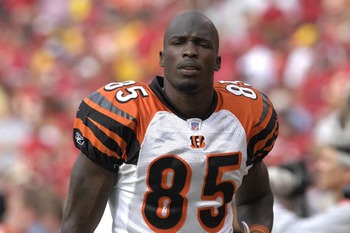 The Madden team gave this marketing genius a healthy improvement of 2 points, bringing the Ocho into the elite fold of virtual receivers at 91. Chad is expected to carry this receiver squad to the top and will have more opportunities to make plays with a new surrounding cast in place. Chad could see this go into the mid-90s if he makes more plays in 2011.
Antonio Bryant (WR)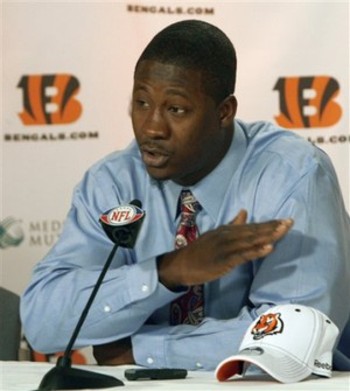 Mr. Bryant started at 86 in 2010 for the Tampa Bay Bucs. Coming off a less than stellar season, the Madden '11 team gave Antonio a 2 point drop overall to 84. If Bryant turns out to be another Laverneus Coles, then even 84 would be too generous. Let's hope the hype matches reality.
Jermaine Gresham (TE)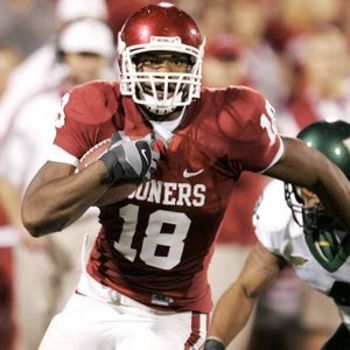 The well-hyped top draft pick of the Bengals in the 2010 draft is given cautious respect by being awarded the starting tight end job over returning veteran Reggie Kelly. With Chase Coffman yet to emerge, Jermaine will be expected to do big things and quickly improve on his starting 78 rating, catching up to the other elite tight ends, such as 96-rated Antonio Gates of the Chargers.
Andre Caldwell (WR)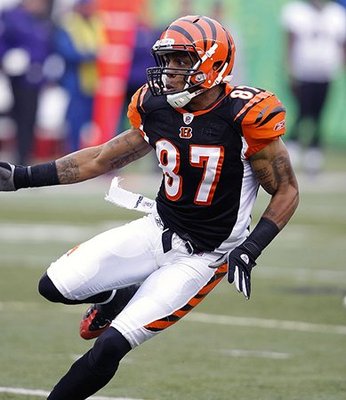 Andre considerably improved from Madden 2010, going from a lowly 58 to 75 with a massive seventeen point jump overall. Andre is being coaxed into becoming the next Chris Henry and Mr. Caldwell is expected to reach the mid-80s during the season.
Carson Palmer (QB)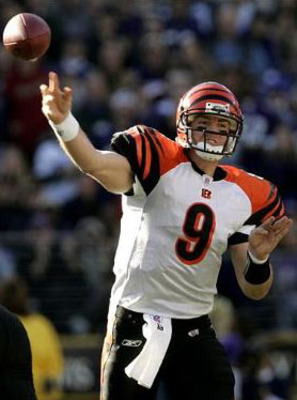 Carson started 2010 at an 88 rating which went up and down like a wild rodeo bull during the season. While these shifts were not huge, there is much concern about Palmer's performance in the single playoff game and if the new cast of wide receivers will relieve or expose further problems. Carson has been rated higher in prior years and going down another point matches the subtle concerns of a nervous fan-base.
Cedric Benson (HB)
Ced is coming off his best season, in which he set the tone for how his career should have been and needs to be moving forward. Yet, off the field issues may affect Mr. Benson's underrated 89 overall (a jump of 13 points) due to lack of playing time—should a suspension occur.
Andrew Whitworth (LT)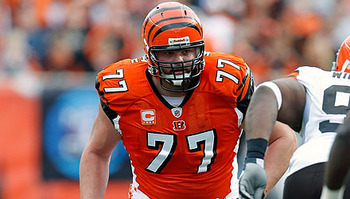 Andrew was given the respect he deserves with a well-earned ten point jump overall to 88. A subject of HBO's Hardknocks in 2009, Whitworth has held up his pivotal part on the offensive line.
Bobbie Williams (RG)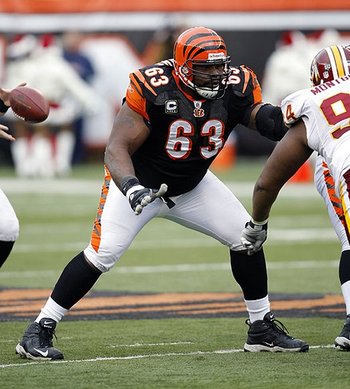 Williams was recognized as well for the significant role and success he had during the 2009 real-world campaign, with yet another Bengals ten point improvement to 88 in Madden '11. Expect a solid virtual Bengals offensive line protecting quarterbacks and running backs alike.
Andre Smith (RT)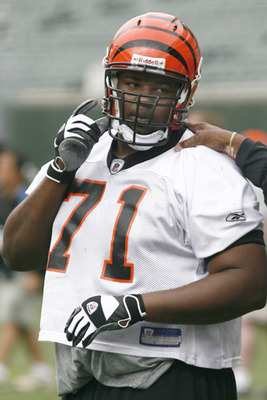 Andre's rating for 2011 goes down 2 points from 2010 to 79 overall based upon a 2009 real-world season inhibited by a holdout and injury. Smith needs to find he internal discipline and improve his conditioning which will translate into virtual improvements, along with physical influence in the NFL.
Kyle Cook (C)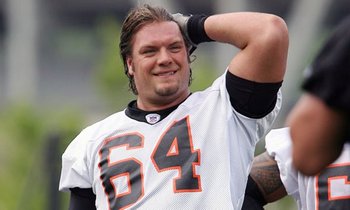 Cook also did a better job protecting Carson in 2010 and has been given a 6 point boost in 2011 to 77 overall. Expect Mr. Cook to find the eighties during the season.
Nate Livings (LG)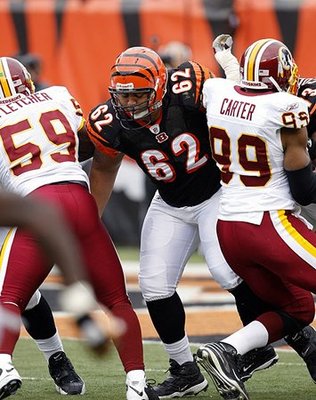 Nate was not even a starter in 2010 with a dismal 58 rating at the beginning of the season. After a strong result last season, Livings has jumped an amazing 19 points to 77 overall in 2011. Livings is the recipient of a well deserved rating increase for protecting Carson and Ced along with opening running routes for Benson to exploit the competition. Continue to expect big things this season.
Reserve Ratings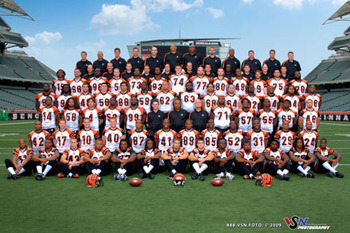 With a promising supporting cast, the Bengals campaign in Madden '11 will please any fan.
NUMBER NAME POSITION OVERALL
82 R. Kelly TE 74
11 J. Shipley WR 68
88 D. Briscoe WR 67
86 D. Coats TE 66
12 Q. Cosby WR 62
89 J. Simpson WR 57
28 B. Scott HB 74
40 B. Leonard HB 70
37 F. Vakapuna FB 68
4 J. O'Sullivan QB 60
5 J. Palmer QB 53
73 A. Collins LT 79
74 D. Roland RT 76
66 E. Mathis LG 75
50 J. Luigs C 68
60 O. Hudson RG 63
53 R. Jeanty LOLB 75
59 B. Johnson ROLB 72
52 A. Hodge MLB 66
10 K. Huber P 76
3 D. Rayner K 52
99 T. Johnson DT 77
68 J. Fanene DT 76
96 C. Dunlap LE 74
93 M. Johnson RE 72
92 F. Rucker LE 67
31 R. Williams SS 77
24 P. Jones CB 74
27 G. Wilson FS 73
26 K. Ratliff CB 68
25 M. Trent CB 67
20 D. Jones CB 64
Keep Reading

Cincinnati Bengals: Like this team?