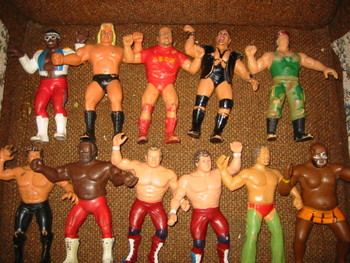 For years I have been a faithful viewer of the WWE.
Since I was a kid playing with my WWF action figures in and out of the ring, like I'm sure a good portion of us on this site have.
This week WWE gave back to me, but I thought I'd share some of my WWE items before I made the big reveal.
The Books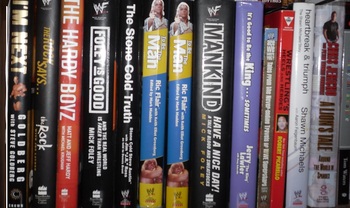 I have been a faithful reader, collecting and reading quite a few of the WWE books and reading of the goings on in and out of the ring. You'll see two copies of the Ric Flair book there as I won one of the copies several years ago when WWE had a fantasy league. I had amaased a certain amount of points and actually won a copy of Flairs book due to having some of the highest points of the week. boom!
The Videos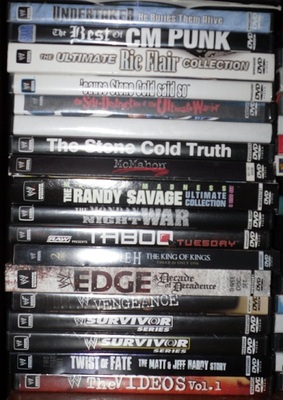 Buying the videos, the pay per views to watch over and over again, or maybe if they had a special meaning to me. My personal favorites are the first Elimination Chamber and being a Jericho fan having the PPV where he became the first ever undisputed Champion. Of course I will be heading to the local video store this September when Jericho finally comes out with his DVD collection.
Specialty Items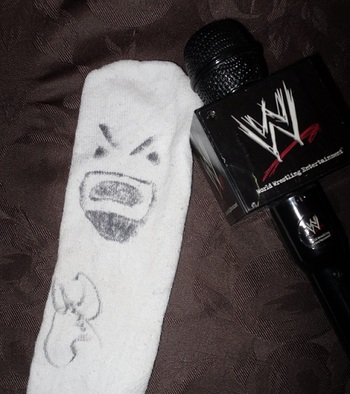 My specialty item, an autographed Mr. Socko from Mr. Hardcore legend Mick Foley after I had met him at a local baseball game.
Autographs
My Jericho autograph, that I proudly have displayed in our kitchen on our fridge, purchased from....
The Honky Tonk Man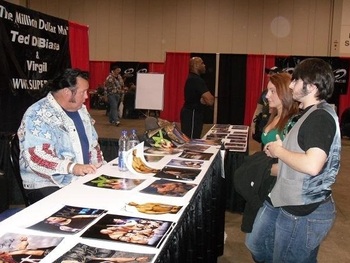 I turned the corner to see Virgil, but ran past him to talk to The Honky Tonk Man. I said "your the longest running Intercontinental champion ever, and I saw you win the belt in Buffalo, NY" he said, "You know your trivia." He then went on to talk to my daughter and her boyfriend for 20 minutes about Twilight, his kids and life in general, what a great guy. Then right after we met....
Hacksaw Jim Duggan!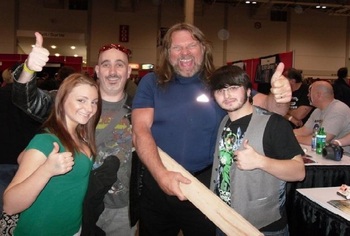 Ran up to him and said "Wow! The first ever winner of the Royal Rumble!" and in his great Hacksaw voice he said "Thats right. Do you want to take a picture?" And we did, we all let out a big Hooooo! and smiled for the camera. And YES, that is Axe and Smash Demolition sitting behind us.
The Intercontinental Title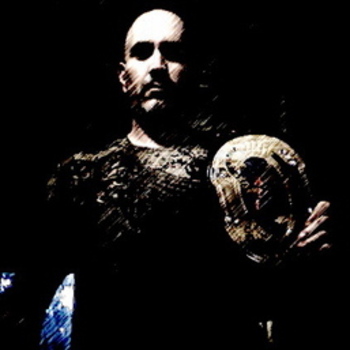 I have had it and met superstars and they have asked me if I wanted them to sign my belt, and I always say no thank you. I am waiting to meet two people to sign the belt that I loved so much as a kid, I had to have it as an adult, Ricky Steamboat and of course Chris Jericho.
The Video Game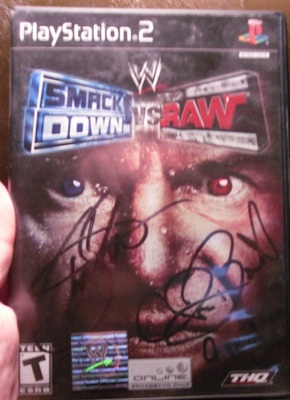 I'm sure a lot of us on here have the game, but how many of us have a copy signed by Christian, Chris Benoit and Candice Michelle? I met Benoit years ago at a signing, he was a great guy and it was certainly a tragedy, what happen to him and his family.
WWE Pays Back
There was a promotion a couple of months ago where WWE was offering a promotion, order 3 of the WWE pay per views, send in your bill and you will get entered to win 1 of 100 Wrestlemania chairs that are being offered to the WWE universe. And yours truly won. It arrived this week and I still cannot believe that we are a proud owner of this chair and I am sitting on it right now as I write this blog.
You can see the chair has images of Stone Cold, John Cena and Undertaker on top, and The Rock, HHH, Roddy Piper, HBK, Ricky Steamboat and Million Dollar Man on the bottom.
And Just To Prove It...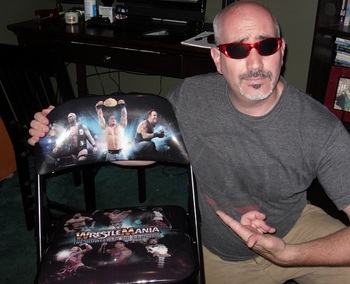 I wouldn't want anyone accusing me of lying and saying I made all this up and just grabbed a picture of the chair to put up online. No, I won the chair. I also in the past since I used to work for Adelphia cable recieved a Christmas card from WWE, thanking me for my work. I made sure your PPV's got ordered and on your sets for 10 years in the Western New York area. Great times, and proud to do it as a WWE fan for life.
What great WWE stuff do you have? Let me know, comment.
Keep Reading