Manny Pacquiao vs. Floyd Mayweather Fight Analysis, who Wins?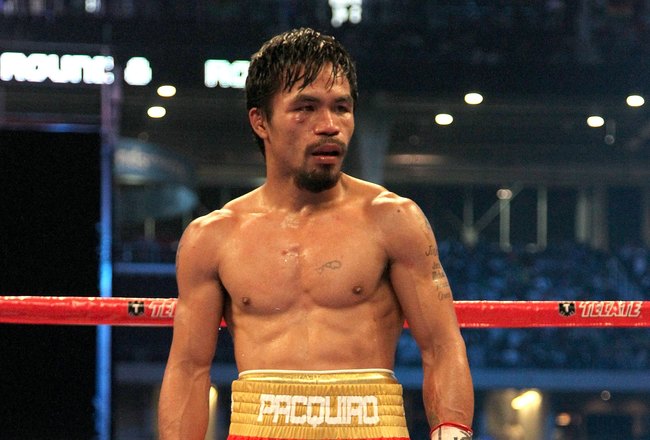 There's been a lot of talk surrounding whether or not the fight will happen, but little to no analysis of who would win if Manny Pacquiao and Floyd Mayweather got in to the ring. That ends today.
For far too long journalists have focused on the smack talk and the terms of the fight instead of concentrating on the match-up itself.
The question everyone wants to know is who is the most dominate fighter is the sport of boxing, which fans and analysts agree is either Pacquiao or Mayweather. Pac-fans and May-faithful, let's delve into a legitimate pre-fight analysis shall we?
Speed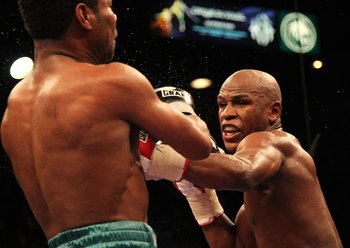 As most fans would expect, you have to give Mayweather the leg up in speed. He is known as the fastest active boxer in the sport right now in terms of punch speed, not to mention he also is incredibly elusive.
In Mayweather's last fight against Shane Mosley, Mosley was only able to connect on punches 20 percent of the time he threw. Mayweather, on the other hand, launched speedy counter-attacks in response to Mosley's wild punches, landing 44 percent of his punches.
Pacquiao is also a relatively speed puncher as well, but Mayweather is by far the faster fighter.
Power
You don't have to be a genius to know that Pacquiao takes this category by a landslide. Pacquiao has knockout percentage of 67.89, recording 38 knockouts in 56 fights.
Pacquiao has plenty of notable knockouts. He handed Erik Morales his first loss by stoppage in their rematch. Pacquiao also knocked out the "Baby Faced Assassin" Marco Antonio Berrera, sending him to the canvas three times.
To better depict the difference in power it is best to look at fighters both boxers have bested. For example, Floyd Mayweather knocked out Ricky Hatton in the seventh round, while it took Pacquiao only two rounds to dismantle Hatton.
Both fighters also faced off with Juan Manuel Marquez. Neither fighter was able to knock him out, but both knocked him down. Mayweather knocked Marquez down once in the second round, while Paquiao knocked Marquez down three times in the first.
Power will definitely be a factor in the nearly imminent mega-fight scheduled for November 13.
Stamina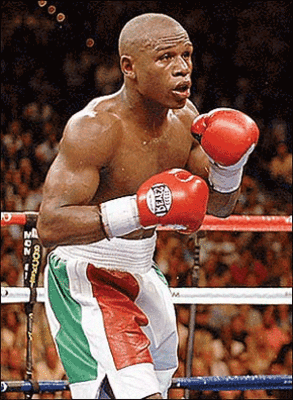 Believe it or not, Pacquiao-Mayweather could go to the judges' scorecards, and that's exactly what Mayweather wants. Mayweather is a defensive fighter that wins by decision more than Pacquiao.
I'm not knocking Pacquiao for knocking the majority of his opponents out, I'm just saying that we've seen Mayweather go the distance a lot more. For that reason, I must give Mayweather the Advantage in endurance.
Heart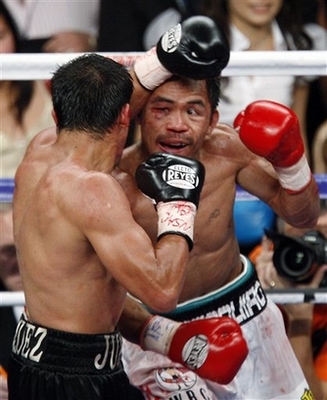 Both Mayweather and Pacquiao are absolute warriors in the ring. They each have the heart of champion (yes, fight fans, Floyd has a heart) and that's why they are regarded with such esteem today.
Since that is the case, it makes it even harder to decide who has more heart to get off the canvas after a knock down or rebound after getting dazed by a flurry of hard punches. It makes it even more difficult considering these fighters are so spectacular, they have rarely been in these positions, however I'm going to have to give the advantage to Pacquiao.
Pacquiao has tasted defeat and re-emerged a champion. Mayweather is an undefeated fighter which begs the question has he been sufficiently challenged?
Don't get me wrong, we know Mayweather can take a shot, but in his entire career I've never seen him hurt until he fought Shane Mosley. The punch he took in the second round was both a blessing and curse. It was good because he withstood the blow with steady legs, but at the same time he is not the type of fighter that takes many punches like that.
That could change if he fights Pacquiao.
Winner
This by far, is the hardest fight to analyze, but I think Floyd Mayweather will take it.
When Mayweather trains for a fight he goes all out. He is a very cerebral fighter and when it comes to his technique, it is almost perfect.
Mayweather is a very slick fighter with a philly shell type of defense that uses his shoulder to parry punches if his agility can't dodge them in the first place.
Pacquiao is a very skilled fighter, but to be frank, you can't knockout someone you can't hit.
Keep Reading