Seattle Seahawks 2010 Fantasy Outlook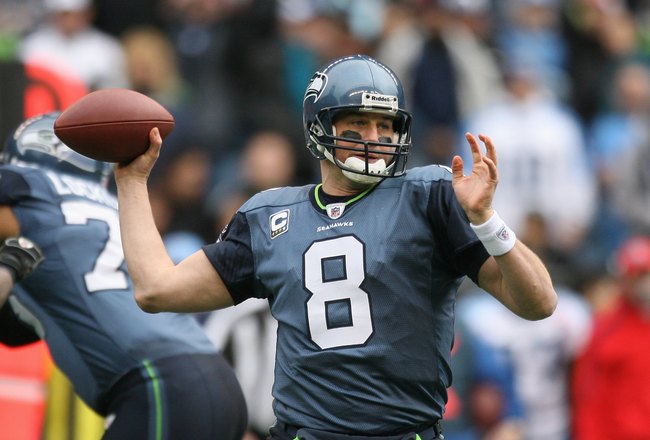 The Seattle Seahawks come into the 2010 season with competition at every skill position.
Although it will be good to create a heated training camp, that does not bode well for fantasy numbers.
Charlie Whitehurst, Leon Washington, and Golden Tate are all newcomers to the Seattle offense this year, and they all have an opportunity to make an immediate impact.
Here is the 2010 Seattle Seahawks fantasy football preview.
Quarterback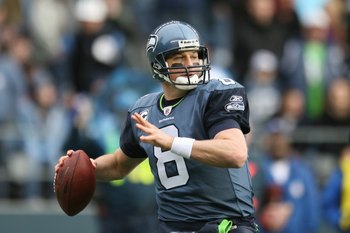 Starter: Matt Hasselbeck
Backup: Charlie Whitehurst
The Seahawks will be in a transition period this year at the quarterback position. It's no secret that Hasselbeck's best days are behind him, and the Seahawks brought in Whitehurst to be his replacement.
Hasselbeck struggled in 2009 by throwing a career-high of 17 interceptions to go along with 17 touchdowns. With no signs of a turnaround looming for Hasselbeck, new head coach Pete Carroll will most likely turn to Whitehurst early in 2010.
The Seahawks swapped second-round picks with San Diego and gave the Chargers a third-round pick to acquire Whitehurst prior to April's draft. The Seahawks immediately gave Whitehurst a two-year, $8 million contract extension.
Clearly, the Seahawks are ready to move forward with Whitehurst as their starter even though he has never thrown a pass in the regular season.
The Seahawks did their best to improve the passing game through the draft. They used their top pick to draft LT Russell Okung to protect Whitehurst's blind side, and they picked up Golden Tate to add another weapon on the outside.
Given the fact that this position will be a timeshare for at least a little bit of the season, I would stay away from both quarterbacks, but Whitehurst may provide some value late in the year if he takes over the starting role.
Hasselbeck Projection: 2,400 yards, 13 TDs, 12 INTs
Whitehurst Projection: 970 yards, 7 TDs, 6 INTs
Running Back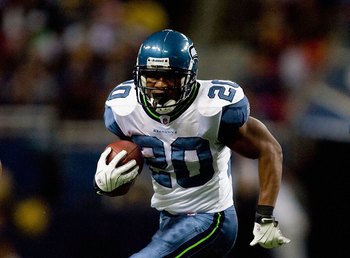 Starter: Leon Washington
Backup: Justin Forsett
LenDale White was supposed to be a part of this offense until he got released in late May just after being signed by the Seahawks earlier in the off-season.
Despite suffering a season-ending leg injury early in 2009, Leon Washington will most likely be the starter at running back when the season kicks off. Washington was brought in from the Jets to challenge Justin Forsett for the starting position this year.
Although Forsett only started two games last year, he ran for 619 yards on 114 carries and grabbed 41 receptions for 350 yards.
Given that Forsett and Washington have always been involved in some kind of timeshare at the running back position, it would only be appropriate for the two backs to split duties once again in 2010.
Washington Projection: 850 rushing yards, 350 receiving yards, 9 TDs
Forsett Projection: 530 rushing yards, 300 receiving yards, 5 TDs
Wide Receiver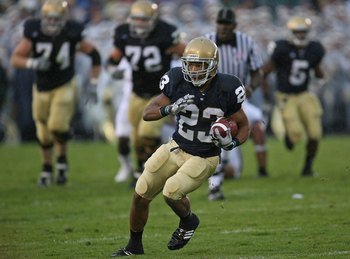 Flanker: T.J. Houshmandzadeh
Split-End: Deion Branch or Golden Tate
Due to the uncertain situation at quarterback, it would be smart to drop all of the Seahawks receivers down a few spots on your draft board.
Houshmanzadeh will be the No. 1 starter, but rookie Golden Tate and Deion Branch will battle it out for the starting spot opposite him.
Since the Seahawks used their second-round pick on Tate, they certainly have expectations for him. Branch may see a reduced role this season because of that.
Due to injuries, Branch hasn't played a full season since 2005, and he has disappointed Seattle fans since his arrival there. Branch hauled in 45 catches for 437 yards and two touchdowns in 14 games last year.
Houshmandzadeh saw a slight decline in production in 2009 while grabbing 79 passes for 911 yards and three touchdowns. With the addition of Golden Tate to the receiving core, expect Houshmandzadeh's numbers to increase due to defenses paying more attention on other receivers.
Houshmandzadeh Projection: 80 catches, 920 yards, 6 TDs
Branch Projection: 49 catches, 620 yards, 3 TDs
Tate Projection: 55 catches, 700 yards, 5 TDs
Tight End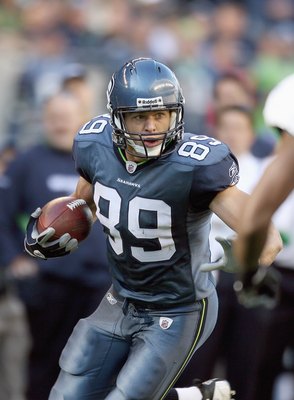 Starter: John Carlson
Backups: Chris Baker, Anthony McCoy
I fully expect Carlson to have another solid season in 2010 while Baker and McCoy will not see much of the field this season.
Carlson has become a solid tight end in the NFL, and he should continue to improve this fall. Coming off a season in which he caught 53 passes for 574 yards and seven touchdowns, Carlson will once again be used as a safety valve for whoever starts at quarterback.
Carlson will benefit greatly from the addition of first-round pick Russell Okung to the offensive line, and Golden Tate should also help spread defenses.
Carlson ended last season by scoring in each of the last four games. Expect him to build off that momentum is 2010.
Carlson Projection: 57 catches, 660 yards, 7 TDs
Kicker/Defense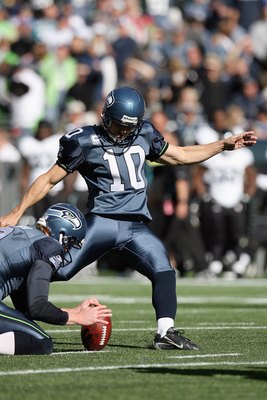 Fantasy owners should avoid Olindo Mare and Seattle's defense if they can afford to.
Mare connected on 24 of 26 tries last year and went 5-for-6 outside 40 yards, but the aging kicker will probably not see as many opportunities this year because of the quarterback situation.
Seattle's defensive line was weakened in the off-season by the retirement of Patrick Kearney and the trade of Darryl Tapp. Linebackers Lofa Tatupu and Aaron Curry will anchor the strength of the Seahawk defense.
Rookie safety Earl Thomas will help improve a suspect secondary that ranked 30th against the pass in 2009.
Mare Projection: 21 FGM 25 FGA 26 XP
Defense Projection: 32 sacks, 10 Fumble Recoveries, 13 Interceptions
Keep Reading

Seattle Seahawks: Like this team?