John McEnroe Tops List of 10 Best Serve and Volleyers of Modern Era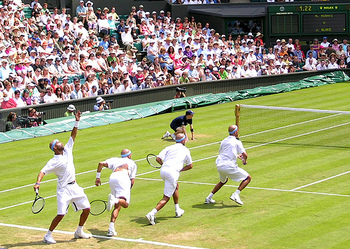 Serve and volley players are probably the most fearless players in Tennis. They come to the nets constantly without having any second thoughts.
Physically, serve and volley players are tough and extremely quick. They do not give you much time to think and they close out the points quickly. Mentally, these players are those who are not able to concentrate for a long time. A survey says that most Tennis who prefer serve and volley are ADD.
Watching them play is truly a delight to any tennis fan mainly because these players cut out the possibility of seeing endless hours of hard-hitting baseline yawn fest.
Serve and Volley is nearly close to becoming extinct in Today's tennis. Here is a look at the top 10 serve and volleyers of the modern era.
10. Richard Krajicek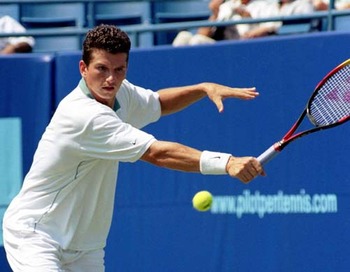 Krajicek may not be a great champion like most of his contemporaries in the 90s. But he had one of the most clean, economical, and effortless serves of all-time, which was usually followed by an equally effortless volley.
Normally, good servers are supposed to have a long ball spin which Krajicek didn't have. His toss was very low and in spite of that he hit the ball like a bullet.
It might not be a great sentence to state that Krajicek had the best serve of all time, but he did have the flattest serve of all time.
He was the only man to have defeated Pete Sampras in Wimbledon between 1993 and 2000 and in that match, he did surprise Pete with some clean volleys.
9. Radek Stepanek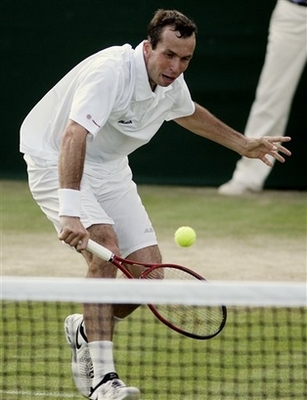 Stepanek might be one of the very few true serve and volley players of the 21st century.
Stepanek spends more time around the service line as he serves and volleys and chips and charges on returns on all surfaces including clay courts.
His solid, but not spectacular serving is reminiscent of other strong serve and volleyers from the past such as Stefan Edberg and Patrick Rafter, who often served three-quarter pace first serves.
Not surprisingly as a serve and volleyer, Stepanek first achieved success as a doubles player and then improved his singles ranking.
8. Michael Stich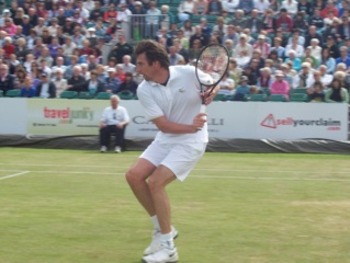 Stich had a huge first serve and a big second serve that he could come in behind confidently because he was a gifted volleyer.
Not many players had the ability to convert longer baseline points into short-lived volleys and Stich was one.
He moved very well and could do it all: stay back, chip and charge, serve and volley. He really had an all-court game.
He had a perfect mixture of power, mental strength, and natural talent. Sad that the general concept of German tennis didn't extend beyond Steffi Graf and Boris Becker though.
7. Tim Henman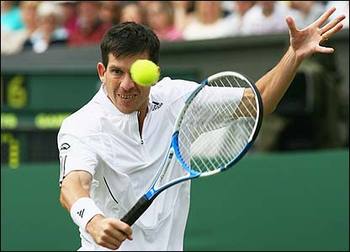 It is true that the serve and volley strategy left tennis during the beginning of the last decade. However, there were some players who still employed that whenever chances opened. Tim Henman was one among them.
Henman never resisted to come to the nets even during massive points. This might have not given him great success but it did give all the youngsters an idea of the serve and volley game.
He was a truly inspiring serve and volleyer. It's really a shame that he didn't win a Grand Slam.
6. Rod Laver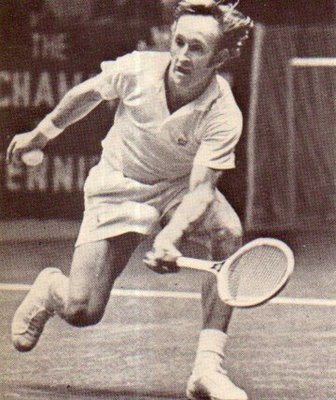 Rod Laver may not be rated as a conventional serve and volley player because of his unique style of volleying.
Laver had a perfectly solid and seamless serve, and after serving he came to the net, where his style changed.
Instead of just volleying the ball, he used a stroke volley with a bit of topspin, which is very risky by inspiring to watch.
Laver didn't volley that much as the others in this list but he deserves a place.
5. Boris Becker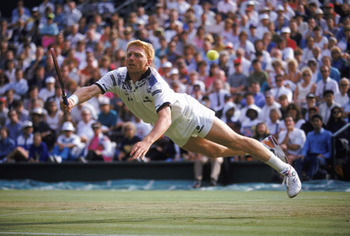 The youngest ever Wimbledon champion, well that ought to say you something. He likes the green grass and he does serve and volley.
Players who are successful in the Grass are usually very good serve and volley players. This is mainly because the ball sits up nice in the grass and the court isn't as fast as the clay courts.
Becker is a magnificent server, especially on big points. He would serve out the game quite often than any of the modern day players.
4. Patrick Rafter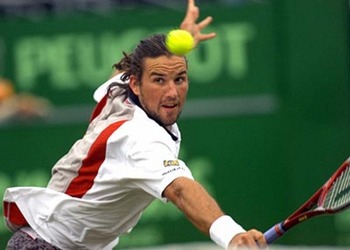 Most naturally gifted serve and volley player of all time. He wasn't a great server and most of us would agree with that.
He was a very good placement server though. He knew where to put the ball and that usually set up his silky smooth volleys. He had a excellent kick and he didn't mind getting dirty which is essential in this type of game.
Pat's brilliance at the net took him to two Wimbledon finals, two US Open titles and the semifinals of the French Open.
3. Pete Sampras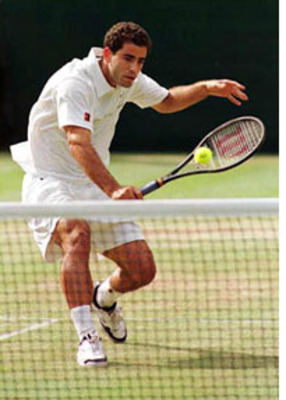 Even at the age of 11, Sampras learned how to serve and volley, which defined his career when he retired.
Statistically speaking, Sampras had the overall serve and volley package. He had one of the best serves of the game and was quick and witty around the nets.
Questions were raised about his game without the serve and volley and he failed to prove his critics wrong by not shining at the slower clay courts.
Nicknamed the King of Swing, Pete Sampras can be regarded as a major propellant of the serve and volley game.
2. Stefan Edberg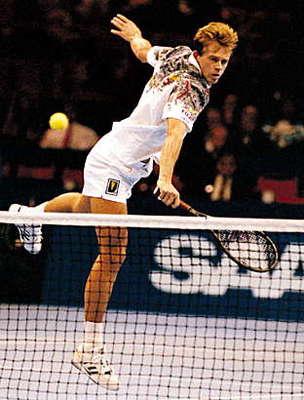 Like Rafter, Stefan Edberg isn't a big server but he was an inspiring volley player. Edberg was at his very best around the nets, and that gave him most of his trophies.
Edberg had pinpoint precision and kick that helped him get to the net quickly and put away easy volleys.
Between 1987 and 1992, Edberg's statistics show that he has won more than 90 percent of his service games. This shows how sharp he was with his volleys.
It is a pity that he played in a era which consisted of players who were better at serve and volley. If he had played today, he would have killed most top shot players.
1. John McEnroe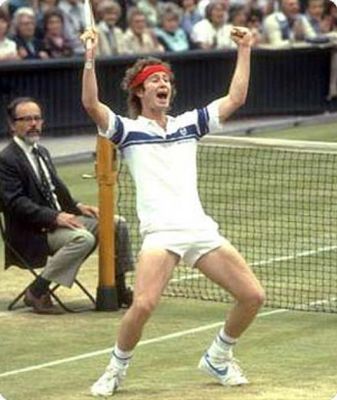 The ever exuberant and flimsy John McEnroe SHOULD be in this list. McEnroe went in relentlessly even on clay. Plus McEnroe didn't have a huge serve to win easy volley points with. He actually had to know how to hit a volley.
Many people saw volley as a closure to a big serve, but McEnroe considered it as his biggest weapon. He mastered the art of lightning quick reflexes and the charging game.
It is no wonder that McEnroe had tremendous success in the doubles game as well given his volleying abilities.
Without having a powerful serve, the physical prowess or the tall body to cover distances, it is not easy to win at the serve and volley game but McEnroe defied the odds and that makes him top this list.
Keep Reading