LeBron James Decision: 10 Reasons Why the Chicago Bulls Didn't Get King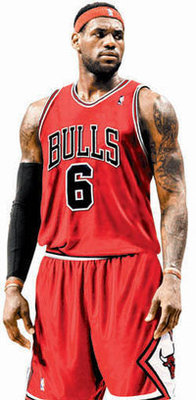 Well, it's official. The Chicago Bulls are not getting LeBron James for the next several years.
Instead, Derrick Rose, Luol Deng, Joakim Noah, and the newly acquired Carlos Boozer will be the Miami Heat's biggest competition in the Eastern Conference, and perhaps the league.
Experts from across the country (and even Justin Bieber) agreed all the way up to "The Decision" that LeBron would fit best with the Bulls. And yet he did not choose Chicago. Why?
He praised Rose and the rest of the organization on "The Decision," but ultimately claimed that he felt the Heat gave him the best chance to win right now. Is that the case?
I don't think so, but it was not my decision to make.
So, what factors hurt the Bulls in James' decision-making process? Here's a look at some reasons why LeBron spurned Chicago for South Beach.
LeBron James' Insecurity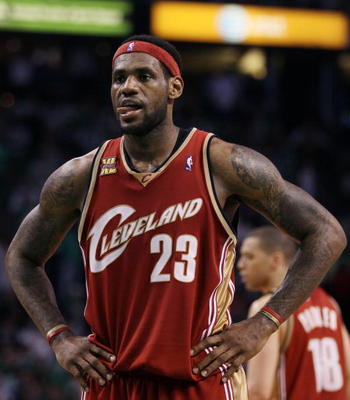 The move to Miami signals one thing for me: After seven years of not winning a championship, the great LeBron James is questioning his ability to win a title on his own.
LeBron is an alpha dog in every sense. So why would he choose to pair with another clear alpha dog in Dwyane Wade?
Because the burden is no longer solely on his shoulders to bring a championship to Miami. After all, it is Wade's team. What does it say about Wade if he can't win with LeBron?
James placed an enormous amount of pressure on himself for years to come by creating all the hype around his decision. If he does not win multiple championships, he will be seen as a failure.
Chicago was the better fit because of a young nucleus, but James ultimately went with the proven stars because he feared losing as "the man" yet again.
The Beijing Factor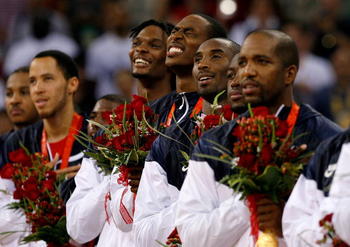 Bill Simmons said in his column that there were rumblings back in 2008 during the Olympics that James, Wade, Bosh, and Paul all considered playing with each other.
Well, three out of four isn't bad.
Winning on a world stage had to have an impact on the "Miami Thrice." James called it "a dream come true" and said it was like "it was meant to happen."
Let's put it this way. These guys have talked this over for two years. Perhaps it was just a fantasy, but Pat Riley and the Heat made it possible, and the threesome jumped on the opportunity.
All these players talk about winning, and they proved they could do so in the Olympics. So why not try it during the NBA regular season and playoffs?
Dwyane Wade's Espionage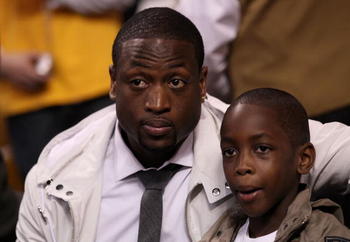 Oh Dwyane Wade. Using your kids and messy divorce to fake out the Bulls.
He claims things swung the Bulls way at a time, but I don't buy it. If anything, the Bulls were a last resort if Bosh bailed on him for LeBron and Cleveland. Wade never considered playing on the Bulls with James or Bosh.
Rumor has it that Wade actually passed on the pitches of various teams to Pat Riley to use to the Heat's advantage. I would not put it past Wade.
He tried to recruit players to the Heat for months. He was never really leaving.
In fact, he might have had a second meeting with the Bulls just so LeBron would question how committed the Bulls were to him.
So much for hometown loyalty.
Pat Riley's Shrewdness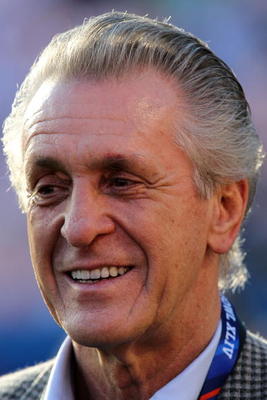 Ah yes. The man pulling the strings behind the scenes.
Pat Riley handled this free agency period masterfully. He stocked up on expiring contracts just as the Knicks did, only did not make so much noise about it.
Of course, he team was never abysmal because Wade was still in South Beach.
Still, it's not hard to imagine Wade told him of the grand plan and told him to clear space and he would take care of the rest. Riley is a savvy leader who has proven time and time again he can build a winner.
Much unlike...
Chicago Bulls' Management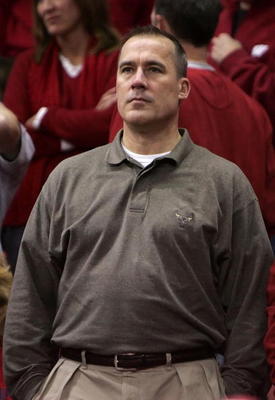 John Paxson, Gar Forman, Jerry Reinsdorf and company.
I'm sure they did their best. I'm sure they dispelled rumors that they had a poor front office (courtesy of Wade). I'm sure they planned well ahead and did their homework.
Ultimately though, Paxson is not Riley, and LeBron seemed just as interested in the business aspect of teams as the team it had in place.
Reinsdorf had a reputation of not wanting to exceed the luxury tax, and Paxson got into a fight with Vinny Del Negro.
Those are two major strikes against the front office, and shows a lack of discipline and organization.
The Bulls had to look better in this department than the Clippers, Knicks, and probably Cavaliers, but Miami and New Jersey had them beat.
Boozer was a nice addition late in the game, but it looked to be too little, too late.
Tom Thibodeau's Inexperience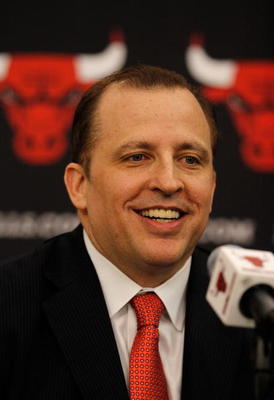 I love the signing of Tom Thibodeau. His defensive schemes are going to work wonders, he's a players' coach, and he helped knock LeBron out of the playoffs.
If that didn't command James' attention, nothing would.
However, he is also a first-year head coach, which is an unknown. I can imagine that with a decision this big, LeBron is not a fan of taking risks.
Unlike the Heat, the Bulls do not have a person in the front office champing at the bit to take to the sidelines once more (Pat Riley will be coaching the Heat by January). This is Thibodeau's team.
That lack of experience put the Bulls behind every other team in the hunt for LeBron. Even the Clippers, who now have Del Negro.
Luol Deng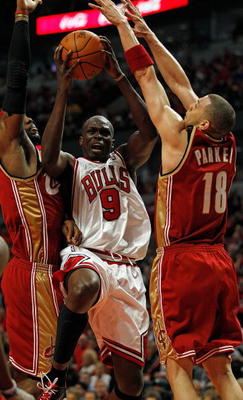 Look, I don't mean to be a Luol Deng hater, but it has to be a major turnoff to LeBron to have his natural position already filled. The King does not switch spots for anyone.
If the Bulls had a legitimate shooting guard instead of Deng, would it have made a difference? Maybe.
Boozer told James that with Rose at point guard, James at shooting guard, Deng at small forward, himself at power forward and Noah at center, they would have the best starting five in the league.
While that is true, it also places James at the off-guard, which he is not used to. Without Luol, there would be a small forward spot waiting for him.
Deng it.
Michael Jordan's Legacy
I know, I know. I hate this argument too.
But it most likely had an impact on James' decision.
If he was at all insecure, which he clearly was, then playing in Jordan's house would only intensify that insecurity. James has even changed his number for next season so he won't be so directly compared to Jordan.
In fact, it's likely he's going to have to be more of a Scottie Pippen in Miami while Wade is like Jordan. And James seems fine with that. For now.
I don't know how much validity the Jordan shadow argument has with current NBA players, but at some point it has to wear off. And it will.
Just not starting with LeBron. He was too scared to take on the challenge of being the next great Bulls player. Now it's on Rose.
The Precedent of the Boston Celtics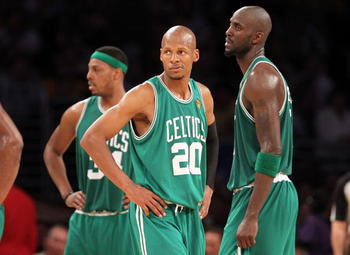 The comparisons are almost perfect. A star shooting guard, small forward, and power forward all joining forces at once to win a championship.
Yes, the Boston Celtics did it with Ray Allen, Paul Pierce, and Kevin Garnett. Now LeBron his comparing himself, Wade, and Bosh to that scenario.
There are many faults with that logic, and I won't get into all of them. Just know that this new trio is younger and in their prime. James and Wade are similar players and won't accept roles as easily as Allen and Pierce did.
As of now, they have no player near the quality of Rajon Rondo. Or Glen Davis. Or Kendrick Perkins, for that matter.
Could the Bulls have had a trio of Rose, James, and Boozer? Absolutely. But it's not quite as glamorous or neat as three of the top five picks in the 2003 draft class all teaming up, now is it?
Even the Lakers this year needed Kobe Bryant, Pau Gasol, and Ron Artest to win it all.
This principle hurt other teams more than the Bulls, but still the overwhelming attraction of the trio in Miami trumped the Rose-Boozer pair in Chicago.
Cold Weather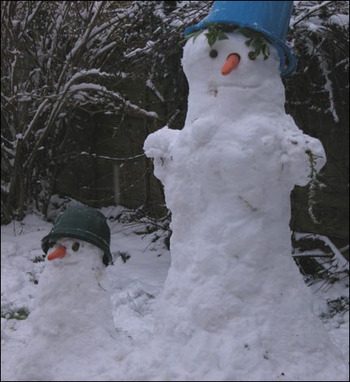 Yes, this is clearly what did Chicago in.
Kidding, sort of..
Wade has gone on record saying it's different coming home to Miami than Milwaukee. It's more relaxing and revitalizes you.
Notice the top teams in the East now seem to be Miami and Orlando. In the West there's Los Angeles, Oklahoma City, and some of the Texas teams.
Notice they are all warm weather cities.
The nightlife is surely better in Miami. And LeBron is a loose guy (except on "The Decision") so I'm sure he's pumped about rolling into parties with Wade and Bosh by his side.
So the Bulls lost out on the biggest prize. As Boozer said, the Bulls would have loved for him to join the team, but since he didn't, the Bulls are prepared to come at his Heat "superteam" with everything they've got.
Keep Reading

Chicago Bulls: Like this team?