12 Roster Moves The San Francisco 49ers Should Make Before 2011 is Over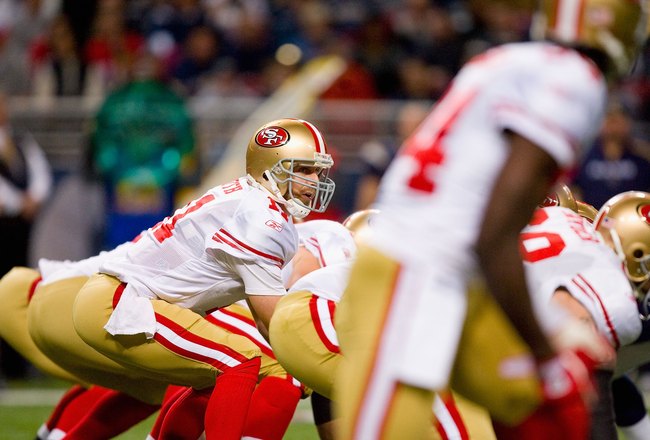 The San Francisco 49ers will probably make the playoffs in 2010. Because this speaks more for divisional weakness than 49ers strength, it leaves a large window for how the 49ers could perform and still end their playoff drought.
These are some key personnel moves I think we need to make with players currently on the team, some stay, some go, and some are given more time.
Nate Clements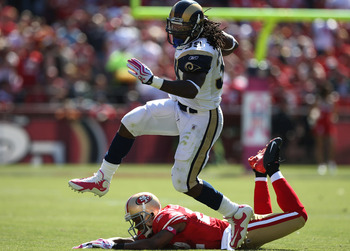 Disposition: Cut him ASAP!
Sorry Nate, you don't deserve 80 million to provide run support from the corner position. Salary vs production, I feel that Nate Clements should be the picture in the dictionary next to take the money and run.
Yes, having Tarrell Brown start in his stead is a downgrade, but the money used on Clements could pave the way to locking up Vernon Davis and Aubrayo Franklin.
Put the money towards people who have begun to and, in my opinion, will continue to prove their worth.
Vernon Davis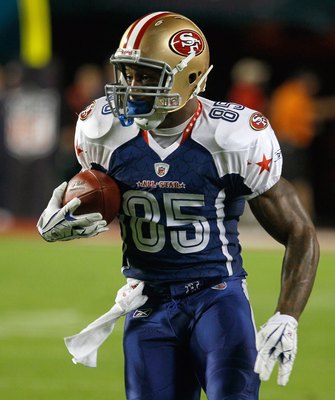 Disposition: REWARD THE MAN!!... after showing 2 years of consistency.
Vernon Davis has come into his own as a team player.
He presents a speed-size mismatch that is unheard of in this league. With an Offensive Coordinator who likes to feature a Tight End as a receiver, it doesn't get much better than this.
Yea... Tight ends don't make 8 million a year... but they don't catch 13 touchdowns a season either. They also don't run 4.37 40's.
Davis has been extremely team oriented in voicing his desires and not causing a ruckus because the 49ers aren't jumping at his demands.
I think he realizes that the team is not interested in shelling out top dollar for one season of success. And in the interest of the 49ers and Davis,I hope that pays off for him during or shortly after the 2010 season.
Manny Lawson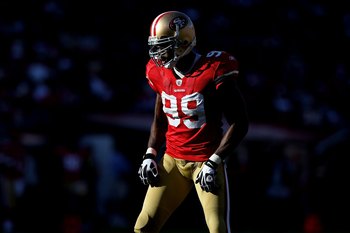 Disposition: With this attitude, let him play out his deal and then go to a 4-3 team as an outside linebacker where he belongs as a mediocre pass rusher.
Seeing the headlines that this guy thought he deserves a new contract made my day.
Not only is desiring a hefty deal after posting a 6.5 sack season an insult to the 49ers organization, it's an indication of what he feels his best contribution is.
We tried the "Pay me then I'll perform." route with Nate Clements. This is contrary to Singletary's desire for a competitive spirit on the team.
Does he deserve more than his current contract is paying? Probably.
Giving Parys Haralson a small deal probably didn't help matters much, but that GM is no longer here.
If it's more money Lawson is after at this production level, it's in the best interests of both Lawson and the 49ers that he go elsewhere.
The alternative: pipe down for a year, develop some pass rushing technique, and post double-digit sacks.
I'm not worried about the better of Ahmaad Brooks and Travis LaBoy being able to match his pass rush production, which is what an OLB playing next to behemoth Isaac Sopoaga should be focused on.
If Manny Lawson can provide the kind of run support he does AND post 10 or more sacks, he justifies his desired pay raise.
He certainly has the potential to do it, it's a matter of film study and working on technique. Get hot, buddy!
Alex Smith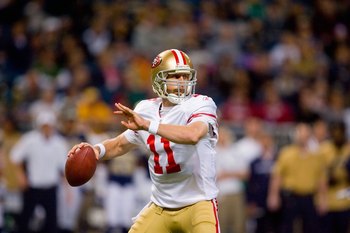 Disposition: Time will Tell
I'm disappointed in what we have received from Smith thus far, but I'm also disapointed with what he's received from the 49ers.
With some pieces in place, he showed some promising signs last year. He will have to elaborate considerably on this to lock up a franchise QB contract.
Short and to the point, this is as much of a do or die year for Smith as anyone is facing in the 2010 NFL Season.
Aubrayo Franklin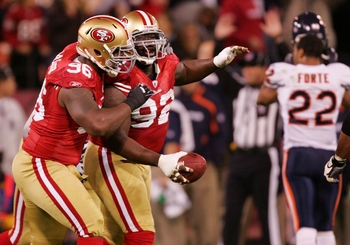 Disposition: After 2010, Sign him to a long term deal!
Okay, I realize the guy is 30. Does he have a history of injury? Is he showing signs of declining athleticism? I don't think so.
A good nose tackle is hard to find, especially one who is under 320, athletic, and still gets the job done.
Aubrayo, I understand where you're coming from here, but 7 million dollars is a considerable amount of money on the table to say hey, let's see another season out of you first.
I can't say I find fault with a rebuilding team that wants to set a standard that we WILL NOT look at giving someone a new deal without 2 years of solid performance.
Dashon Goldson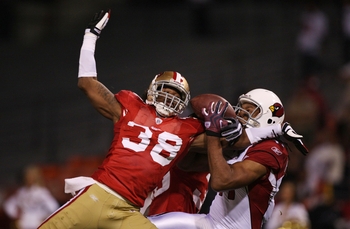 Disposition: If 2010 looks like 2009, lock him up for 6 at about 35 million.
Goldson is one of the bright spots on this team.
Make him prove himself again, then lock him up. He's a solid tackler, stout hitter, and had great games against some above average receiving corps.
Locking up Goldson and Shauntae Spencer will at least secure the good half of our secondary when it comes to pass coverage.
Ray McDonald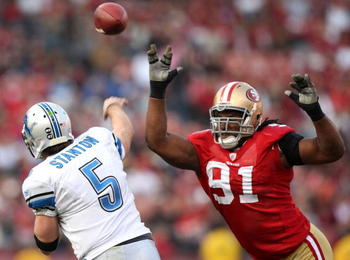 Disposition: Keep him as long as his ego permits.
He is worth keeping around as long as his demands don't exceed his ability.
He is a solid rotational guy on the defensive line and provides slightly more pass rush ability and quickness than Isaac Sopoaga does.
His special teams value is good as well, as he has shown a knack for blocking kicks.
Chilo Rachal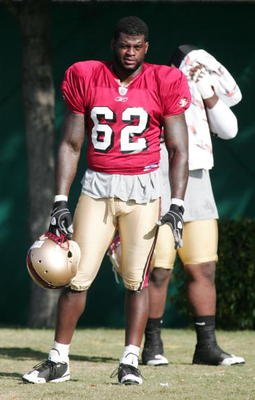 Disposition: Sign to a journeyman deal.
Rachal has not generated much positive or negative spotlight.
His play has not made him stand out as someone who needs to be locked up, but fortunately neither has his mouth.
His contract goes through 2011, so he will have a chance to compete after Mike Iupati gets some experience under his belt.
For now, I have him as too soon to tell and I wouldn't make a call here until after the 2011 draftees have proven their worth.
In the mean time, he gets the job done and I expect him to pan out starting opposite Mike Iupati.
Josh Morgan & Jason Hill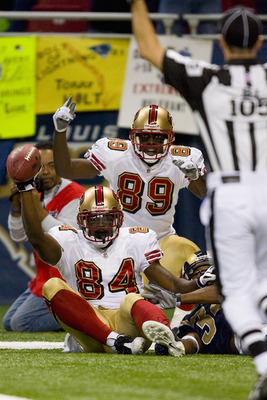 Disposition: Keep 1, let 1 go.
Who do you keep?
From a personnel manager standpoint, you let Josh Morgan decide. I don't think he's good enough to bring in #2 WR dollars.
Does he deserve a pay raise over a 6th round draft pick? Absolutely.
The 49ers need to address the fact that their WR corps isn't diverse enough. Crabtree, Morgan, and Hill are all the same mold of receiver.
How many receivers do you keep on a roster?
I could see at least 6, possibly 7 in our case if 2 of them double as dynamite return men which increases their risk of injury.
If Josh Morgan will accept #3 pay, keep him.
If he wants to be paid like a #2, he is a better fit on a team where he lines up beside a taller, more physical guy.
Yea, some teams have had success with 2 shorter guys, but we're not dealing with Jerry Rice and John Taylor, or Marvin Harrison and Reggie Wayne level talent here.
Since the departure of Terrell Owens, we've been near rock bottom in the league for average yards per pass play, and that needs to change if we're going to get past the divisional playoff game.
Frank Gore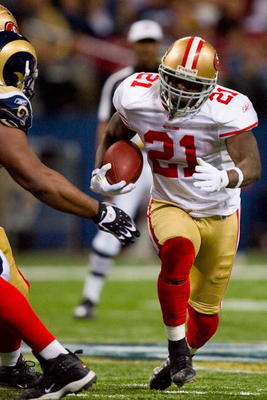 Disposition: Sign him to a 5 year deal, with an incentive loaded final 2 years.
Gore is great... when he's healthy. If he's not healthy, the 49ers need to have budget room to get a replacement.
That is where the incentive loaded years come in.
I could see restructuring the incentive part if he gets a couple seasons in a row making all 16 games.
I just don't think it will happen.
With durability being a concern, Gore's long term value doesn't equal his ability when healthy.
We all love Frank, but the 49ers need to act in the best interest of the team.
Reggie Smith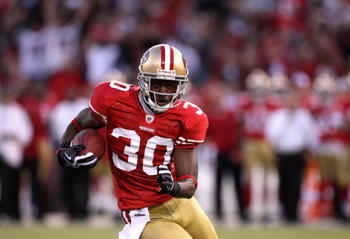 Disposition: As long as his demands don't exceed his ability, keep him around with another journeyman contract.
Reggie Smith has showed promise in the preseason, and has made appearances in season games.
I never remember hearing his name called out for getting beat.
I do, however, remember hearing speculation that fans wish it was him covering Greg Lewis instead of Mark Roman. UUUGGHH! Sorry, sore topic, I know.
I want to see him stick around, and think he could develop into a serviceable option at Nickelback if the 49ers do the right thing and get rid of Clements.
Keep Reading

San Francisco 49ers: Like this team?