Big East Expansion: A Plan To Bring Back Big East Football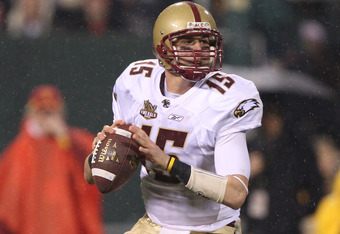 Jed Jacobsohn/Getty Images
Let's face it.
No matter how hard the Big East can try, it won't be able to get by as a BCS conference and retain automatic qualification with only eight teams.
Then again, it wouldn't be able to even with 10 or 11 teams.
To keep automatic qualification for the next voting and also restore the legitimacy of Big East football to the college football world, the Big East must expand to twelve teams.
But what four teams should be added?
FCS teams Villanova and Georgetown, who are already Big East members in basketball, should move up to the FBS and join the Big East for football.
Villanova can make the jump, and the Wildcats won the FCS National Championship last season. They would be a middle-of-the-pack team right away while Georgetown would take some time to develop its program.
Next, the Big East must give Notre Dame an ultimatum—either join the Big East for football, or leave the conference altogether.
Then, they should get back Boston College. This would let the Big East take back the Boston TV market from the ACC.
I'm not sure how cool BC would be with this idea, but if they were guaranteed more money in the Big East (something they could get if the conference expands to 12 teams), they would join. This would especially be true if Notre Dame agreed to join.
If Notre Dame doesn't agree to join the Big East, they should invite the University of Maryland. Maryland has been in Big East expansion conversation before and would provide more D.C. market revenue (they already have an established fan base).
If BC and Maryland were to be invited at the same time, with Georgetown and Villanova already in the Big East, it is very likely that both teams would join. Especially since the ACC is at a decline in both football and basketball.
Maryland and BC are already in the ACC. Although most people are either uneducated about ACC-Big East inter-conference games or don't want to admit that the Big East has dominated ACC teams in the recent years, the Big East has clearly proven to be a better football and basketball conference.
Wouldn't they want to go to a school that would be even better at footballl?
ABC wouldn't have to travel as far for away games. This would cost the Eagles less and would help with recruiting.
Also, Rutgers and Maryland have become pseudo-rivals in the recent years and this could be a great rivalry in the making if Maryland improves its football team.
If Maryland or BC declines, invite UCF. Yes, it's a mid-major with little research rep and is not an AAU member, but it's a program that would improve by being in the Big East.
Plus it has the Orlando market, which has no major sports besides the Orlando Magic. This would also improve the USF-UCF rivalry.
However, if BC and Notre Dame join, the basketball conference would have 17 teams. How would they fix this problem?
Well, it would be very easy.
Kick out Depaul!
The Blue Demons have been the Big East bottom dwellers for several years, generate little revenue, and since they're in Chicago, they make the least sense geographically of any of the teams.
If Notre Dame doesn't join and Maryland is added, the Big East could kick out Depaul and one other team, most likely Providence.
Although Providence is a perennial NCAA tournament bubble team and middle of the pack Big East team, the Friars seem to be the odd-team out in the equation.
Either them or St. Johns if you disregard their basketball history.
With this plan, the Big East would have 12 teams for football and 16 for basketball. All rivalries are still in place within the divisions.
The new Big East in football (With Notre Dame):
East Division: BC/Maryland, Syracuse, Rutgers, UConn, Villanova, Georgetown
West Division: West Virginia, Pitt, USF, Notre Dame, Cincinnati, Louisville
Big East (Without Notre Dame instead Maryland/BC):
East Division: BC, Rutgers, UConn, Villanova, Georgetown, Maryland
West Division: Pitt, West Virginia, Syracuse, USF, Cincinnati, Louisville
If UCF is added in place of BC or Maryland, the divisions in the Notre Dameless plan would be the same except for Syracuse, which would be in the East Division while UCF would be put in the West Division.
This plan expands the Big East to twelve teams, without forfeiting the quality of the conference. It would abide by all the BCS ideals and stop the Big East haters and BCS voters who plan to strip the Big East of its automatic qualification.
It also would put the Big East back on the map as a college football power that has more BCS power than the Big XII and the ACC.
If Notre Dame does join, as well as three more of these teams, the Big East could potentially gain even more revenue, success and more of a fan base, which could lead to a new power conference that could maybe even rival the SEC.
This article is
What is the duplicate article?
Why is this article offensive?
Where is this article plagiarized from?
Why is this article poorly edited?

WVU Football: Like this team?