PAC-10 in 2010: Sorting out the Mess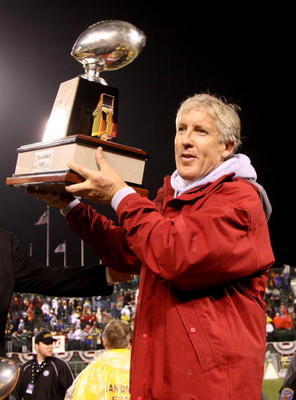 The PAC-10 just added Colorado and Utah to its mix, but that's inconsequential when compared to the fact that the best team on the West Coast just got slapped with some major probation by the NCAA.
As a result, even though USC has the most talent in the PAC-10 and is the most likely to win it, they won't be going bowling in 2010 or in 2011. However, Pete Carroll must have known something as he bolted for a sub par NFL job in Seattle. Lane Kiffin stiffed Tennessee and for some got his just desserts when the NCAA whacked Kiffin with the sanctions (ironic seeing as Kiffin coached at USC during the years in question).
So who will jump on the opportunity to take over the vacuum left by superpower USC? Here's what I think.
10. Washington State (2009 Results 1-11 (0-9 in conference))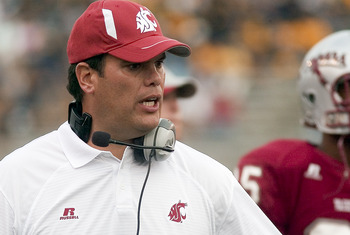 Washington State may be one of the only constants in the PAC-10 this season, the problem is they really don't want this type of reliability. Paul Wulff went 2-11 (1-8) in his first season with the Cougars, so people thought it could only get better from there.
They were wrong.
Wulff didn't win a game in the PAC last season and only beat SMU by three to garner the Cougars' only win of the season.
Jeff Tuel gave them a bit of a spark last season but still led the worst offense in the PAC-10 by far, only averaging 12 points a game. Not only did WSU have the lowest scoring offense in the PAC-10 but they ranked dead last in every statistical category in 2009 on offense and defense.
Wulff isn't an awful coach, but he is in an awful position. Washington state has no depth and little experience with victory. Sadly, Wulff most likely won't last through the season, especially if they lose early and often. Most likely the record will resemble that of 2008 and they might sneak a home game in if they are lucky in PAC-10 play.
My take on the Cougars for 2010? 1-11 (0-9).
9. Arizona State (2009 Results 4-8 (2-7))
Arizona State is going to have a decent defense in 2010, so why are they ranked ninth on this list?
Offense.
They lost their starting quarterback and running back from an offense that ranked only higher than sixth in the PAC in one category (passing), also losing most of their offensive line. Arizona State has a few easy games to get the offense rolling next season and if Michigan transfer Steven Threet can grasp new offensive coordinator Noel Mazzone's no-huddle system, ASU could surprise in 2010, but it's not likely.
Luckily for Erickson, most are willing to give him a few more years because of his coaching prowess in the past, but if they don't beat more than Washington State and Washington this season you could see him walking out the door come January.
My take on the Sun Devils for 2010? 4-8 (2-7).
8. UCLA (2009 Results 7-6 (3-6))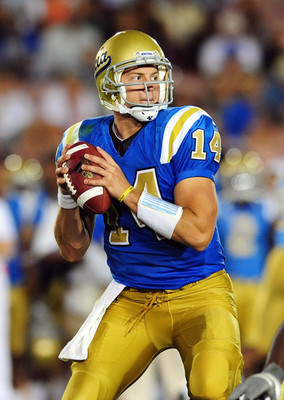 UCLA's offense was able to grow up a bit last year, and if Kevin Prince can stay healthy they will be even better coming into this year with a more veteran offensive line and wide receiving corps. With Norm Chow calling the plays UCLA will do better than 88th in total offense which they were last year.
The defense will have to recover from the loss of Brian Price and they only have one senior on the projected depth chart. If their defense can't stop the run like they couldn't last year though (eighth in the PAC-10), it could get ugly early against running teams like Kansas State and Stanford.
UCLA will be better and more experienced in 2010 but their record won't show it with the likes of Texas, a better KSU, and Houston on their out-of-conference schedule.
My take on the Bruins for 2010? 5-7 (3-6).
7. California (2009 Results 8-5 (5-4))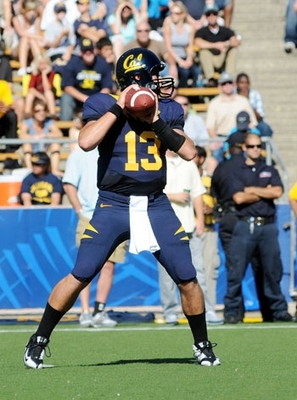 With their offense gone (Jahvid Best) the game plan rests on quarterback Kevin Riley's shoulders and that's a scary prospect for Cal Bear fans. If Shane Vereen can produce half as much as Best did, Cal should go bowling in 2010. But with question marks on the offensive line glaring (at quarterback and wide receiver), Jeff Tedford has a lot to work on to bring the Bears back to PAC-10 prominence.
Defensively there are even more questions from a unit that ranked just 72nd in defense last season, that number pulled up by a 23rd ranking against the rush. They should be good against the run again this season but if they can't stop the ball through the air they could get picked apart again this season.
Cal opens up the season against UC Davis, Colorado, and Nevada, three games they should easily win and need to win if they want to go bowling in 2010. It's a rebuilding year for Tedford, but maybe without the high expectations this team can finally make a jump up the polls.
My take on the Bears for 2010? 7-5 (4-5).
6. Washington (2009 Results 5-7 (4-5))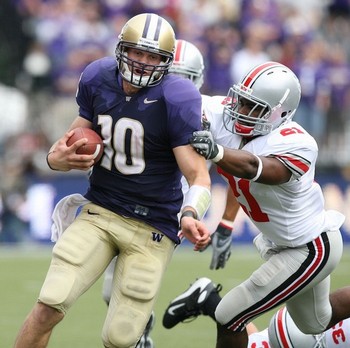 A climb back into national relevancy hosted by Steve Sarkisian who got out of USC just in time is the cry of Huskies fans.
Jake Locker is the top NFL prospect in the nation at quarterback in 2010 and will be looking for Jermaine Kearse throughout the season to showcase his strong arm. The Huskies were one blown call (see Notre Dame game) away from going bowling in 2009 and should finally reach post season play again on the production of a great offensive unit.
If they want to move up past sixth in the PAC-10 though, they must run the ball more effectively. They will be looking at sophomore Chris Polk for that.
On defense, the Huskies are thin and inexperienced. Ranked in the bottom half of all major categories a year ago, the Huskies won't be much better in 2010. After all, Sarkisian came to fix an offense, not a defense.
With tough games against Nebraska and BYU to start the season it's going to be tough on the Huskies to make a bowl once again this year, but given Jake Lockers' propensity to make big plays, it's looking like a real possibility come December.
My take on the Huskies for 2010? 7-5 (5-4).
5. Arizona (2009 Results 8-5 (6-3))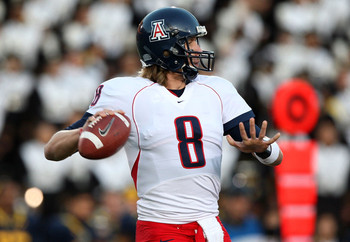 The good news for Arizona is that the quarterback situation has officially been settled come 2010. Nick Foles is capable, makes good decisions and has a strong arm.
With Bill Bedenbaugh and Seth Littrell calling the plays, Arizona will score a lot of points this season and might be one of the best offensive teams in the PAC-10.
With all the improvements on the offense, the defense is one big question mark after losing more than half of the players that contributed significantly to a decent defense in 2010. What was a good defense a year ago will be an inexperienced one this season, and that could spell trouble for the Wildcats in 2010.
Nebraska exposed this team in the Holiday Bowl last year and you can bet PAC-10 teams will be studying the film from that game. With pushover games against Toledo and Citadel to start the season we'll see where they are when Iowa comes into town on September 18th.
My take on the Wildcats for 2010? 7-5 (5-4).
4. Stanford (2009 Results 8-5 (6-3))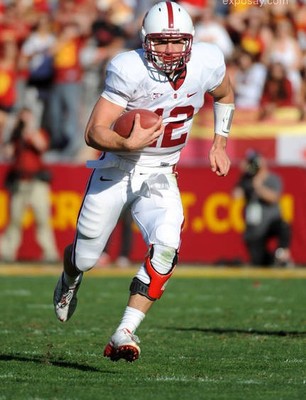 Stanford has moved from PAC-10 Cellar Dweller to competitor in three short years under Jim Harbaugh who brings attitude, ability and Stanford-like intelligence to the coaching side of things for the Cardinal.
Even without Gerhart the Stanford offense should be formidable in 2010. Sophomore Andrew Luck plays like a grizzled veteran and the offensive line is laden with veterans. Jeremy Stewart looks to take Gerhart's load and should be decently successful at it (although not Heisman or All-Pac-10 successful).
The defense is a year older, but a little younger switching from a 4-3 alignment to 3-4. They will take some lumps but can't get much worse than 90th in the nation like they were last season. David Shaw is a good coach and should turn this defense around.
A fairly easy OOC schedule lends itself to a good season for Stanford. Games at home against USC and Oregon State could propel them into the top three to fight for a Rose Bowl appearance.
My take on the Cardinal for 2010? 9-3 (6-3).
3. Oregon (2009 Results 10-3 (8-1))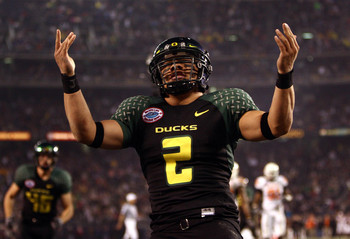 Prior to the summer that Oregon fans will all want to forget, Oregon was the clear cut favorite in the PAC-10. However, LaMichael James, Jeremiah Masoli and wide receiver Jamere Holland all have been arrested and two of the three have been removed from the team by head coach Chip Kelly.
Not only that, but the influx of continuous reports of criminal behavior from the Ducks' athletic side of things makes the 2010 season look to be bleak and overshadowed in legalities and red tape.
Kelly is a good coach, but might not be able to overcome these types of PR disasters. Nate Costa will take Masoli's place and James is suspended for only the opening game of the season (you be the judge on the quality of his disciplining).
Even without Masoli the Ducks will be good this year, but they will most likely be distracted most of the season. If these behaviors continue, you could be witnessing the demise of the Ducks as an emerging football power in the PAC-10.
My take on the Ducks for 2010? 9-3 (6-3).
2. USC (2009 Results 9-4 (5-4))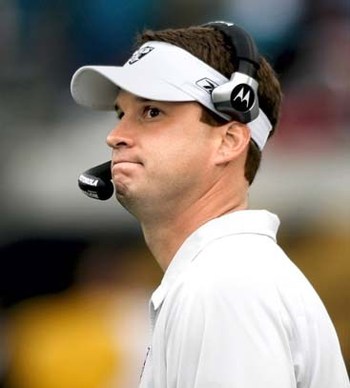 Lane Kiffin took the right job at the wrong time. We all know about the sanctions handed down by the NCAA and Kiffin's stance of "it won't hurt us." I don't care who you are but losing 30 scholarships and no bowl games in two years will see a decline in effectiveness.
Combine that fact with Kiffin's unproven head coaching ability and you have a recipe for disaster in Trojan-land.
Still, that doesn't affect this season as much as the mental capacity and new coaching does. Any time a team gets a new coach with a new system, there will be drop off. USC will compete well in the PAC-10, but will not be going bowling due to their sanctions.
With an easy schedule to begin the season Kiffin should start off well and will most likely win about nine games this season, but don't expect 2011 to be much better than 2010.
My take on the Trojan's for 2010? 11-2 (7-2).
1. Oregon State (2009 Results 8-5 (6-3))
Oregon State could be on their way to winning the PAC-10 for the first time since sharing the honor with Oregon and Washington in the year 2000. With 14 starters coming back from a roster that only lost by double digits once in the regular season a year ago, this team is deeper, better, and holds a lot of good cards.
With Oregon imploding and USC sanctioned, Oregon State is in the best position in 2010 to seize the PAC-10 crown. If Oregon State is able to get through TCU, Boise State and Louisville unscathed we could be seeing the best team in the PAC-10.
The offense should be run-oriented behind the new quarterback (most likely sophomore Ryan Katz), with Jacquizz Rodgers and Jovan Stevenson carrying the load. Defensively the Beavers are senior laden with six of their projected 11 starters being seniors and three being juniors.
Mike Riley might finally break through in 2010, and he better, because it's not going to get any easier come 2011 and 2012. With USC scheduled at home near the end of the season, they could most definitely own a tie-breaker with the probationed Trojans.
My take on the Beavers for 2010? 9-3 (7-2).
Keep Reading