Washington Redskins: Five Players Under Pressure in 2010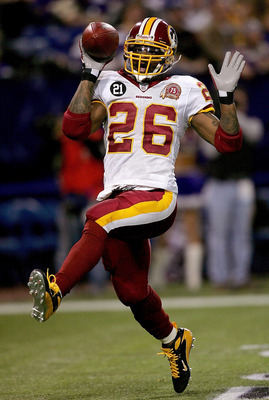 With a new regime in Washington, some Redskins players are facing a make-or-break year in 2010. Others are under intense pressure to perform, and the fate of the team's season will depend largely on their individual successes. Following are five of those players. All of them need to take a major step forward in order for the Redskins to have a winning season.
#5: Malcolm Kelly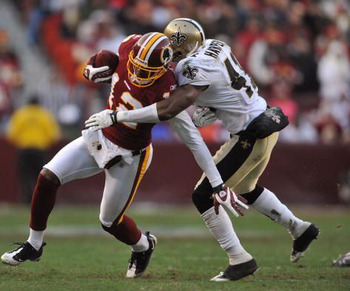 Malcolm Kelly had 25 catches for 347 yards last year. That's not exactly the type of performance the Redskins envisioned when selecting him in the second round of the draft two years ago.
Kelly's lack of production was partly related to poor schemes, poor coaching, and average quarterbacking last year. Regardless of the reasons, Kelly must step up this year and make a better contribution.
If Kelly doesn't show some real progress in this year's training camp and preseason, he may become a roster cut-down casualty.
#4: Devin Thomas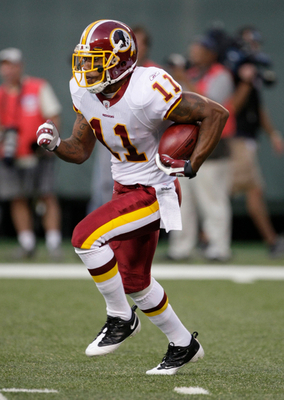 Devin Thomas is in much the same boat as Malcolm Kelly. He had a pedestrian 25 catches for 325 yards last season. Mike Shanahan is counting on Thomas to play the part of a real #2 receiver this year. He needs a huge leap in production.
With his natural athleticism, Thomas may be in line to overtake Santana Moss as the Redskins #1 receiver. If he shows some chemistry with Donovan McNabb, that progression could happen sometime later in the season.
For the Washington passing game to have a chance to excel, Thomas needs to have 50+ catches this season. If he can't perform, and he once again fails to live up to expectations, he probably won't be a Redskin in 2011.
#3: Laron Landry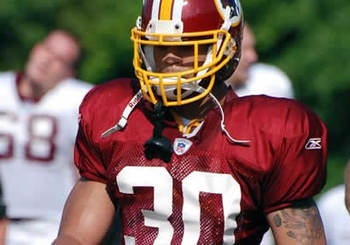 Laron Landry was toasted in pass coverage too many times last year. In addition, he whiffed on more tackles than the Redskins' defense could afford. What happens to a safety who can't cover or tackle?
Jim Haslett will likely limit Landry's exposure to pass coverage this season and allow him to play closer to the line of scrimmage. With the extra weight he put on in the offseason, Landry should be a force in run support.
Haslett won't allow Landry as much leeway as he had last year with Greg Blache. If Landry doesn't become more disciplined in coverage and tackling, he'll be benched quickly and shipped out of town before next season.
#2: Trent Williams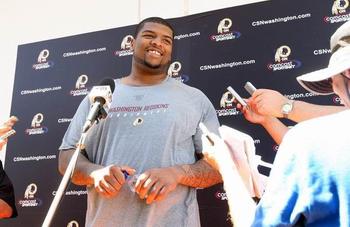 Trent Williams is as athletic as any left tackle in the entire league. Mike Shanahan is counting on him to lock down the blindside of Donovan McNabb, and to open up wide lanes for Clinton Portis.
A huge amount of pressure was put on this rookie from the moment he was drafted with the fourth pick overall. He is the cornerstone for improving one of the worst offensive lines in the league in 2009, and he will be depended on heavily in the years to come.
Trent Williams will be tested early and often this season, starting with Dallas' Demarcus Ware in season opener. It will be a trial by fire every game this year, and the Redskins need him to play like an All-Pro.
#1: Clinton Portis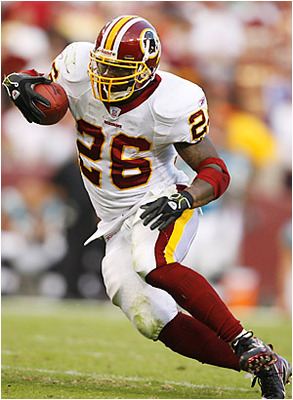 After an injury-riddled 2009, a lot of analysts have written off Clinton Portis. They believe he has already seen his best days, and no longer has enough gas in the tank to carry the Redskins running game.
Despite his critics, Portis has worked hard during the off-season and has stayed relatively quiet. The few comments he has made give a clear indication that he intends to prove a lot of people wrong in 2010. The competition with Larry Johnson seems to have invigorated him, and Mike Shanahan knew it would help motivate Portis.
For the Redskins offense to be successful this year, Portis and the running game must be strong on a consistent basis. Portis may be the most important component of this offense outside of McNabb. Washington needs him to have another year like 2008 (1,400+ yards).
Regardless of how he performs, Portis turns 29 at the beginning of the season, and this may be his last with the Redskins. Mike Shanahan hopes that he has one great year left in him.
Keep Reading

Washington Redskins: Like this team?