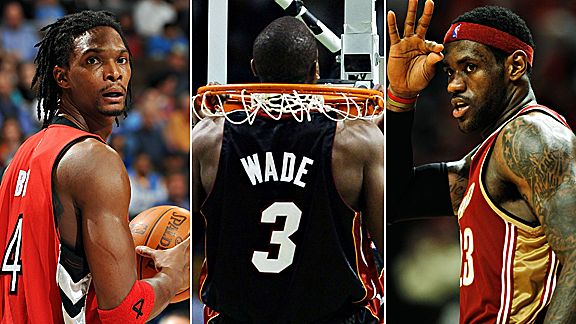 Where will Lebron James be tossing the chalk in the air next year? Will he be staying put in
Cleveland
, heading to
New York
to be a Knickerbocker, or joining his buddies Dwyane Wade and
Chris Bosh
in South Beach?
There are the Cavs faithful who are praying that King James remains in a Cleveland uniform next season. Then again, he was in
Miami
to meet with D-Wade and Chris Bosh is on his way to play for the Heat. But let's not forget about good 'ol New York.
For a few years now, many have thought Lebron would end up in a Knicks jersey once his current contract with the Cavs ran out. Lebron wants to win and after failing to do so once again this year, James is looking for a change, unless he believes Cleveland can deliver.
The problem - the Cavs rely heavily on Lebron to win games, and in the playoffs, one man cannot do so. But the addition to Amar'e Stoudemire to the New York scene might be appetizing for James. So what would Lebron look like in a New York jersey?
Not bad, but I am not a Knicks fan, never will be. Honestly I hope he stays put, but if he went to Miami, that trio would be brutal on the Eastern Conference.
WATCH OUT BOSTON THREE PARTY!
I thought all along he would sign with the Cavs but the latest sources as of this morning indicate otherwise. If you are a fan of a team in the East, I am sorry, but Lebron looks like Miami is his right fit.
Can't say that I blame him, but he wants a title. His scoring titles, MVP's and other accolades mean nothing without a world title. That's why you play - to WIN! And he is much overdue (
even at just 25 years old
) in the eyes of many. If he wants to win, Miami is the right direction toward obtaining that goal.
Not to mention, Wade already knows how to win with less. He had Shaq, but he was the leader of that team and Lebron will likely play better if he is not solely relied on achieving the victories night in and night out.
Stay tuned.....9 p.m. we will find out where Lebron James will suit up next year!