Pittsburgh Steelers Preview: Where Madden Got It Wrong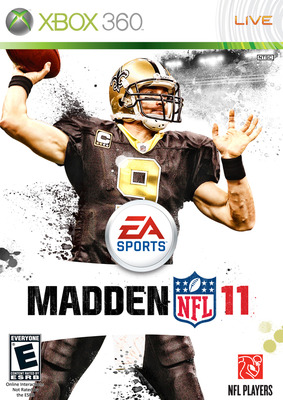 Every summer the release of the new Madden NFL game is one of the biggest events of the year.

I am not as big a fan of Madden as the rest of the world and I hate the fact that they bought the rights to the NFL so that no other football games can be created.

The game only gets marginally better every year and it seems like the same problems always exist. I hear a lot of people tell me to turn off this, download this, make the speed slower and countless other changes to the game when I buy it but that just makes me ask this question; should I really have to do all that for the game to be good?
For the money I and everyone pays for it I should be able to enjoy the game right out of the box without having to download the actual rosters or change a setting or something.

That being said, without anything better out there, I buy the game pretty much every year.
This is a list of where I think Madden and their team of experts got it wrong with player ratings for the Pittsburgh Steelers.
Ben Roethlisberger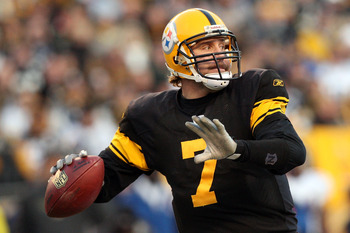 Overall Madden Rating- 88
An 88 overall ranking is not that bad in the grand scheme of things however Ben Roethlisberger deserves to be at least at 90.
With everything he has done in his career from managing the game in his first Super Bowl to his great play in his second Super Bowl, Ben has done enough in this league to at least start off at 90. He is one of the best quarterbacks in the league and deserves a bit more respect than that.
Ben finished the season fifth in quarterback rating, fifth in completion percentage, and yet his throwing accuracy is an 83 in the game. He has a career 63.3 completion percentage and is one of the top winning quarterbacks in the NFL to start his career.

Ben has never gotten the respect he deserves. It could be that his off field problems have affected his rating this year, but even with his suspension, he is still one of the best in the game.
Chris Kemoeatu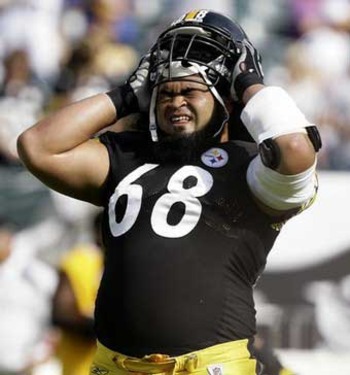 Overall Madden Rating-79
The Pittsburgh Steelers offensive line has not been good in seasons past, however, Kemoeatu has actually been one of the better guys on that line.
I am not going to sit here and say he should be rated at like a 90 or something, however, he is definitely over an 80.
Even though I believe his pass blocking should be about an 80 also, I think the real incorrect number here is 88 for his run blocking. Keamoeatu has never been known as a great pass protector, however, he has been known as a bulldozer in the run game.
He is maybe the most tenacious run blocker on the Steelers and should be rated at least a 90 at this attribute.
Lawrence Timmons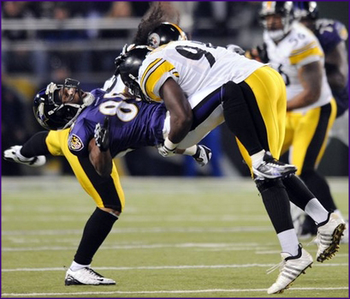 Overall Madden Rating-82
Lawrence Timmons had an injury plagued 2009, which prevented him from having the type of season Steelers fans expected out of him.
That, however, should not drop him to an overall rating of 82 in the Madden game. Even with him being injured, he still had a good season, and even further the season before showed his immense potential and explosion.
He is the fastest linebacker on the team and yet he is rated at 85 speed in the game, which is the same as James Harrison and only one above rookie Jason Worilds.
With all this said, Timmons deserves to be at least at 85-87 in the game due to his playmaking and pass rushing ability.
James Harrison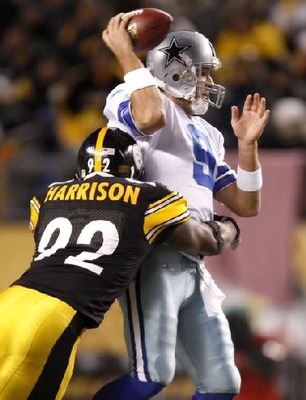 Overall Madden Rating-97
Coming off a Defensive Player of the Year season, James Harrison had a bit of a down year with only ten sacks.
So I am not complaining about him being rated at 97 overall, coming off that down year I actually question it a bit.
My real problem with James Harrison however is this so called swagger rating that the geniuses at EA came up with for each player. According to them, Harrison's swagger is one of the lowest on the Steelers and is lower than both the punter and kicker.
Does that make sense to anyone? What happened to James Harrison that he became the punk on the Steelers?
Maybe it's just me and maybe people can say that doesn't mean much in terms of the game, however, just think about how great and real this game is when James Harrison has less swagger than Jeff Reed the kicker.
Jason Worilds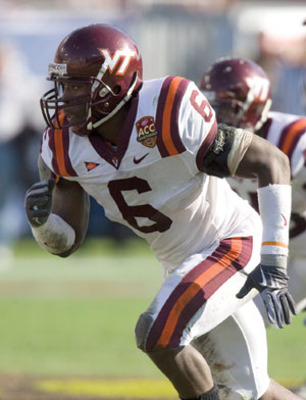 Overall Madden Rating-65
You can argue a lot of ratings and give the creators the benefit of the doubt in a lot of situations, however, I believe that they just threw darts at a board for Jason Worilds.
Let me just run down the list of his rankings and see if anyone notices anything.
His overall rating is 65, which is five points lower than the guy drafted two rounds after him in Thaddeus Gibson. He is already tougher than Lawrence Timmons, rated at 79 and Worilds is at 90. He is the worst tackler at the linebacker position that the Steelers have with a rating at 78.
Also don't forget that Worilds has more swagger than any other defender on the Steelers other than Troy Polamalu. Just to keep it in perspective here is a small list of some players swaggers on the team; Polamalu-94, Worilds-87, James Harrison-59, Tony Hills-70 and Chris Kemoeatu-49.
That really just is enough said about the riddle that is Jason Worilds according to Madden.
Aaron Smith
Overall Madden Rating-87
Aaron Smith is universally known around the league as maybe the most underrated defensive lineman in the NFL.
His loss for the Steelers last season was as important to the defense as the loss of Troy Polamalu.
He is a great run stopper and his ability to push the pocket in the passing game is paramount to the Steelers ability to put pressure on the quarterback.
Although with everything he has done in his career he apparently hasn't done enough to be considered tougher than the wonder rookie Jason Worilds, who is tied with Smith at 90. Also someone is going to have to explain to me how Aaron Smith has a swagger rating of 61 which is lower than fellow defensive lineman Scott Paxson.
Aaron Smith has proved himself in his career as an integral part of the Steelers defense and deserves to be rated as at least a 90-92 in the game.
Ryan Clark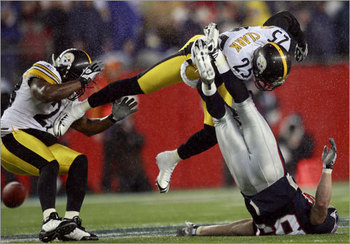 Overall Madden Rating-79
I am not going to argue that Ryan Clark is a great safety, however, paired with Troy Polamalu he has done really well with the Steelers.
He does not have a lot of speed, however, he has a reputation for flying around the field and for being a ferocious hitter.
I think Clark's awareness is a little low at 80 since without great speed he would have to be aware of his surroundings to prevent himself from being burned on every play. Also I can go on and on about how I have no idea how Clark only has a swagger rating of 65 however I think we all get the picture on how I feel about that.
Overall I believe Clark should not be rated as an overall 79 and has earned the right to be about 84 at this point in his career.
Keyaron Fox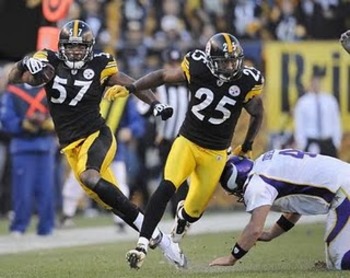 Overall Madden Rating-73
With the signing of Larry Foote this offseason, no one knows what Keyaron Fox's role is going to be on the Steelers and how much playing time he will get this season.
Last season Fox was very good in the backup role and filled in very nicely when Lawrence Timmons was injured. He came up in some big spots, none bigger than an eighty-two yard interception return for a touchdown to seal the game against Brett Favre and the Minnesota Vikings in week seven.
I am not trying to say that I think Fox deserves a drastic increase in his rating however across the board he should be raised a bit.
A 75-78 overall rating would be pretty accurate, in my opinion, for Fox as he has been and should continue to be a solid backup linebacker for the Steelers.
Ike Taylor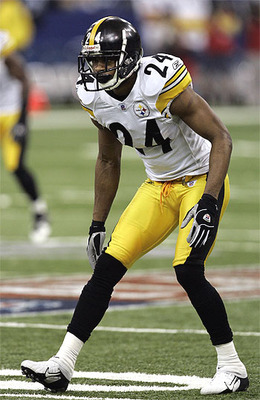 Overall Madden Rating-83
Ike Taylor is easily one of the most underrated cornerbacks in the NFL even though he has routinely shut down opposing receivers in his career.
He had a down year last season, but with Troy out, who on the Steelers defense didn't?
Taylor would be known as one of the best in the league every year if he could only learn to actually catch interceptions. He has bricks for hands and his inability to grab picks prevents him from gaining the recognition he deserves.
Taylor is one of the best run stopping corners in the game, however, Madden has his tackling ability at 65 and his toughness at only 75. With all this I think he has been given a surprisingly good speed rating at 96 which is better than Troy Polamalu if anyone was wondering.
Both his tackling and toughness should be higher, however, and Ike definitely should be rated at least 85-86 overall in the game.
Mike Wallace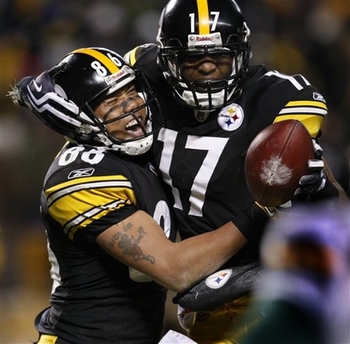 Overall Madden Rating-78
Mike Wallace is expected by many, including me, to have a breakout season coming off a stellar rookie year.
I actually do not have much of a problem with his overall rating at 78 since he is only going into his second year and has to prove all of our expectations correct before he is elevated.
The real problem I have with Mike Wallace's ratings is his catching ability being at 79. Wallace had a bunch of clutch receptions for the Steelers last season as a rookie and I have no doubt that he will continue that for the rest of his career.
I would have less of a problem with this rating if Matt Spaeth was not rated at 82 and rookie receiver Emmanuel Sanders was not rated at 81.
There is no way that Wallace should be rated as having worse hands than any rookie receiver that no one has even had a chance to see his hands in the NFL yet.
In Conclusion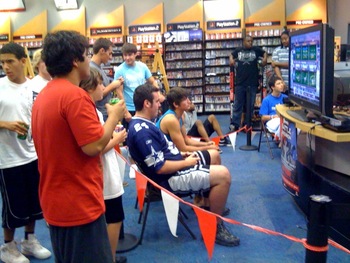 In conclusion, I am fully aware that I probably am in a small minority of people who have major problems with the Madden game.
I know I am not really forced to buy the game I just love football and Madden is the only game out there since they bought the rights to the NFL.
I just think that it is a huge rip off considering everyone pays about seventy dollars for the game and then you get home and it's like oh yeah, by the way, you don't really have the real team's rosters and if you want them you need to download them.
All I want is what they promise, which is the realest football game. I just don't know how it is that real when you don't have every player down to the long snapper and I feel the ratings are just one thing in a long list of problems that Madden has.
I wish they would wait to release the game until they know who actually made the team and didn't just guess who they think will.
Keep Reading

Pittsburgh Steelers: Like this team?