Battle of the Babes: What Happens When MMA and Hollywood Collide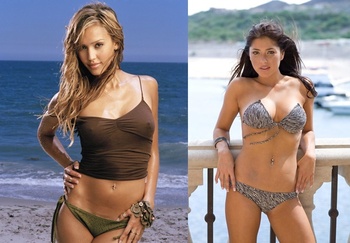 I will admit that when women's MMA first started being integrated into some of the bigger fight cards, I wasn't interested.
Call me what you will, but I have never been a huge advocate of women's sports in general. It's not an ability thing—just more of a watchability thing for me.
That all changed for me—as far as WMMA is concerned—when Gina Carano took on Julie Kedzie at EliteXC: Destiny in February 2007.
Watching those ladies battle it out with the same determination and desire as their male counterparts really opened my eyes. I still wasn't quite hooked, but I was intrigued.
Now, while I am far from a hardcore WMMA fan, I do find myself looking forward to many of women's fights with a similar level of anticipation I have from some UFC events.
Recently I found myself wondering what would happen if some of our favorite female action characters were to get down and dirty with some of the lovely ladies from WMMA.
Enjoy.
Sarah Connor vs. Cristiane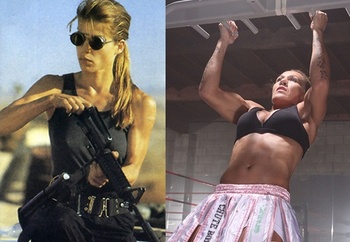 This one doesn't make the list because these ladies are hot; this fight is on the list because these ladies kick ass like none other.
Sarah Connor fights robot killing machines, and Cyborg is an MMA killing machine. There are only two word that can describe this matchup—crazy awesome.
After watching Cyborg completely maul her last opponent, Jan Finney, I'm starting to think it will take an actual robot to stop her.
Elektra vs. Erin Toughill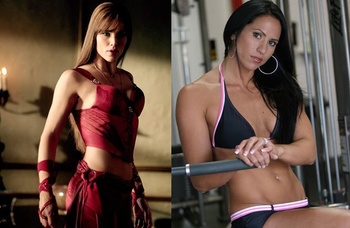 First off, Elektra was a terrible movie. Not that I had high expectations going into it because it is a comic book movie, but it failed to even meet my incredibly low expectations.
That said, Elektra the character is an incredibly hot, scantily clad martial arts expert.
Toughill was at one point considered by many to be the one of the top two women's 145-pounders in the world.
Given Elektra's traditional martial arts background and Toughill's boxing, this would not be a grappling match, but rather a straightforward standup slugfest.
Be careful, ladies—we wouldn't want you damaging those pretty faces.
Jane Smith vs. Gina Carano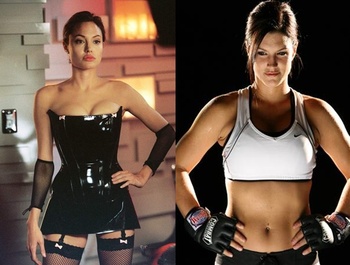 One is a world-class international assassin; the other is a Muay Thai practitioner and professional MMA fighter.
While they both made vastly different career choices, they do have two things in common:
1. They are both smoking hot.
2. They can both kick some serious ass.
I'm not sure who would win or how this fight would play out, but I guarantee that I would not only be watching all the action live; I would also be recording it for hours upon hours of future enjoyment.
Alex Munday vs. Michelle Waterson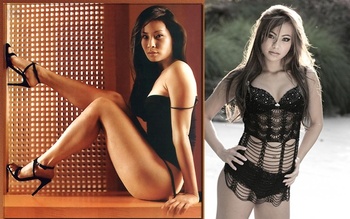 Waterson, or "The Karate Hottie," as she is best known, is a fierce-fighting MMA practitioner and model, while Munday, on the other hand, is the sexiest Angel in Charlie's stable of beautiful private investigators.
If you wouldn't like to see these two gorgeous ladies mix it up, you may want to call a doctor, because you have no pulse.
Buffy the Vampire Slayer vs. Miesha Tate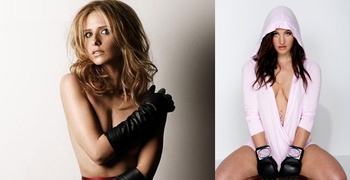 What happens when a blonde, vampire-slaying cheerleader mixes it up with a sexy and talented grappling specialist?
I'm not 100 percent sure, but I hope it involves a lot of close contact and rolling on the mat.
Special Bonus: Jessica Alba vs. Arianny Celeste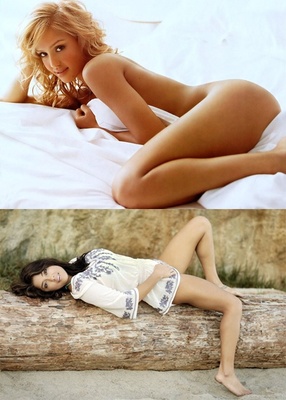 That's right. No movie characters or fighters here—just two of the hottest women on the planet.
What I wouldn't give to see these two hotties mix it up in a catfight for the ages.
Meow!
Keep Reading