NHL Trade Rumors: 10 Names on the Trading Block This Summer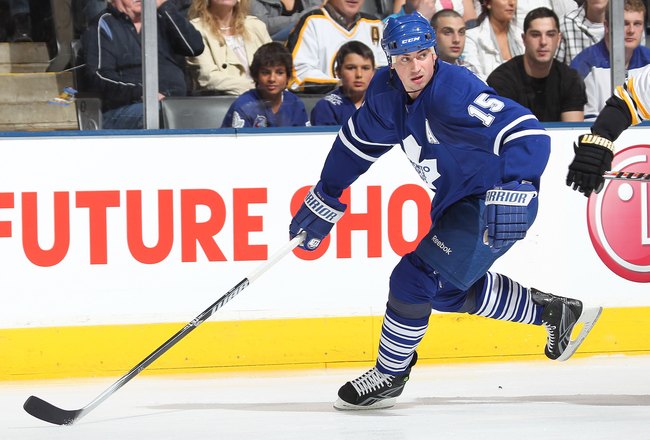 The NHL offseason got underway a few weeks ago, when a week before the draft, the Montreal Canadiens shipped off Jaroslav Halak to the St. Louis Blues. Since then, a flurry of deals have taken place, as teams try to get ready for the 2010-11 season.
The free agency period also kicked off a week ago, but it was considered one of the weaker classes in recent memory, which has led GMs to go via the trade route to address their team needs, as well as their salary cap situations.
One team that was forced to make three separate deals was the Chicago Blackhawks, as GM Stan Bowman had to move Dustin Byfuglien, Kris Versteeg, Andrew Ladd, and a few others to get under the cap.
How quickly you can go from lifting the Stanley Cup, to toiling for a team that has barely even sniffed the playoffs. That will be a challenge for Ladd and the gang in Atlanta.
Let's take a look at 10 players that might get moved this offseason, for one reason or another.
Tomas Kaberle, D, Maple Leafs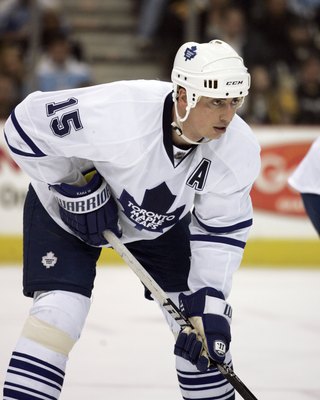 OK, so let's get the most obvious one out of the way first.
Toronto's Kaberle has been in the rumor mill for over a year now. He's one of the best puck-moving blueliners in the league, and has one more year remaining on his contract, with a modest cap hit of $4.25 million.
GM Brian Burke has been dangling him as trade bait, in the hopes that he can land a top six forward. Kaberle has a limited window that allows Burke to deal him where ever he pleases, but this window will close on August 15th.
Don't be surprised to see the longest-tenured Leaf head elsewhere by then.
Jeff Carter, C, Philadelphia Flyers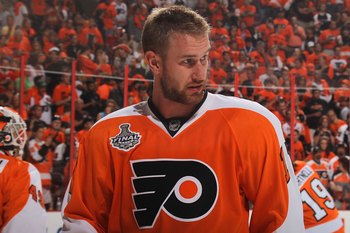 Anybody interested in a 40-goal scorer that still hasn't hit his prime yet, and can be a franchise player for the next decade?
If so, you might want to put a package together for Flyers GM Paul Holmgren. Carter's name has been bandied about for some time now, and the majority of fans don't understand why Philly would even want to move such an asset.
Well, most of the other forwards for the Flyers have no-trade and no-movement clauses in their contracts. Carter is the only one that does not.
Chances are that he'll stay put, but don't be surprised to see him move if Holmgren gets an offer that he really likes.
Tim Thomas, G, Boston Bruins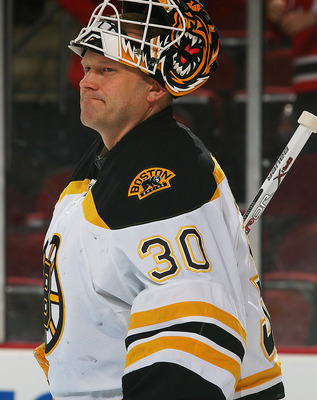 My, how the mighty have fallen.
After winning the Vezina trophy for the 2008-09 season as the league's top goaltender, the veteran Thomas ended up losing his starting job to young rookie sensation Tuukka Rask.
The 36-year-old still has three years left on a contract that pays him $5 million annually. He still has the goods to be a number one goalie in the NHL, but it looks like he's running out of opportunities, as this offseason teams have been going with cheap solutions in net.
Marc Savard, C, Boston Bruins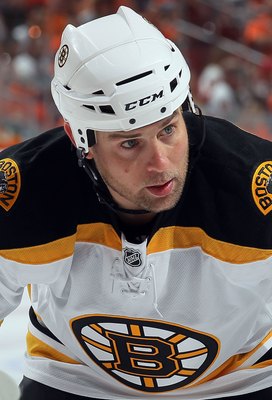 So, after being your team's best offensive player for a few seasons, you end up having an off-year, and see your season get derailed by injuries.
However, you then sign a very cap-friendly contract extension, thinking that you will retire with your current team. You come to find out several months later, your GM is trying to peddle you. Such is the situation facing Marc Savard.
The veteran pivot is on the trading block, as Boston is loaded down the middle with the likes of Patrice Bergeron, David Krejci, and the recently-drafted Tyler Seguin. There's also Joe Colborne and Zach Hamill in the pipeline, just waiting for their opportunity.
It was rumored before July 1st that Savard agreed to waive his no-trade clause for two teams: Toronto and Ottawa. Nothing materialized there, and now we play the waiting game.
There was talk of a Savard/Robyn Regehr swap as well on July 1st, and nothing came to fruition there either. Look for the 32-year-old to eventually give in and expand his list of teams, and get dealt to one of them.
Robyn Regehr, D, Calgary Flames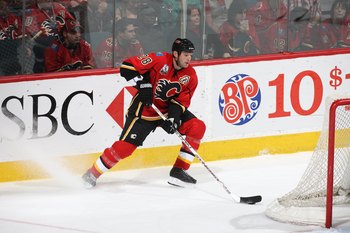 He's been a defensive stalwart for the Flames for the last decade, but it seems like the 30-year-old is starting to see his name creep up in trade chatter here and there, whereas before it was non-existent.
He was mentioned as the player going to Boston in a potential swap for Marc Savard, but that never happened, so keep an eye out...he might end up going elsewhere this summer.
Mike Ribeiro, C, Dallas Stars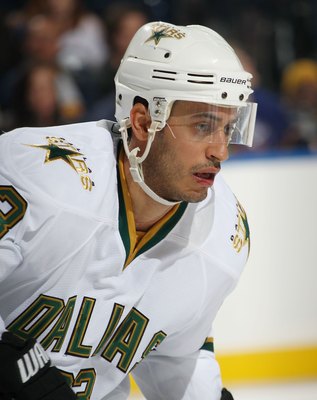 The Stars are having some financial issues, due to ownership concerns. Therefore, the club will not spend anywhere close to the cap, and actually has to move out some salary.
Brad Richards would be the ideal candidate, but he's in the last year of his contract, and an extension at a lower cap hit is a given. He brings more to the table in terms of overall play as well.
That leaves Ribeiro, who could be deemed expendable, especially with Jamie Benn waiting in the wings. His cap hit is reasonable ($5 million) for another three seasons for a player that has playmaking abilities and can put up 70 points a season.
Sheldon Souray, D, Edmonton Oilers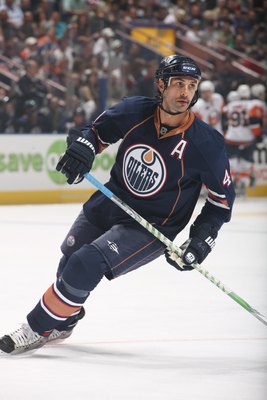 The Oilers are in full rebuild mode, and Souray has wanted out for a while now. The problem is, he still has two more years remaining on a contract that pays him $5.4 million.
Just last week, Edmonton put the veteran on waivers, and he cleared. Now, it seems like GM Steve Tambellini will have to take on some salary in order to shed Souray's contract. One rumor that was making the rounds a few weeks ago was Souray to St. Louis for Eric Brewer. Makes some sense, but who knows what happens with the soon-to-be 34-year-old.
Simon Gagne, LW, Philadelphia Flyers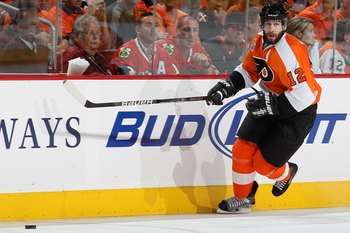 Gagne was a player that hadn't been mentioned in trade rumors, since that was what Jeff Carter's job was.
However, last week the 30-year-old waived his no-trade clause, and speculation immediately began that a deal was in place to move the long-time Flyer.
Nothing has happened yet, but it seems like Gagne will not be in Philadelphia when training camp rolls around in September.
Bobby Ryan, RW, Anaheim Ducks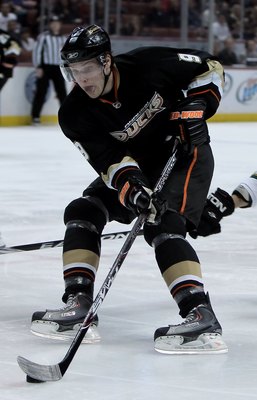 Taken second overall in the 2005 draft behind Sidney Crosby, Ryan is the youngest player on this list, and probably the most coveted.
The 23-year-old is a restricted free agent, but it seems like contract talks have stalled with the Ducks. It's hard to believe that GM Bob Murray would even consider moving a young power forward with back-to-back 30-goal campaigns, but that is something he might have to do if he can't come to an agreement with Ryan.
There's also the possibility of an offer sheet, but Murray would probably match any offer for the budding star. There were reports last week that Ryan rejected a five-year, $25 million offer, so it's hard to say what his camp has in mind for a fair number.
Wouldn't Bobby Ryan for Jeff Carter make so much sense for both teams?
Alexander Semin, LW/RW, Washington Capitals
It might be a bit surprising to see Semin's name on this list, but there have been rumblings that it's quite possible that GM George McPhee would move the enigmatic Russian.
The 26-year-old signed a one-year extension during this past season, so he will be an unrestricted free agent at the end of next year. Similar to Kovalchuk's situation this offseason, the former first round pick might be looking for a big payday next summer, and Washington will probably not want to be the ones doing it.
Keep Reading