Spain vs. Netherlands 2010: Getting to Know the Key Battles of the Final
Ah, yes—the final is here! This is what every football fan has been waiting for.
Thirty-two teams started the competition on June the 11th, and only one will stand tall on July the 11th.
Who is it going to be: Spain or Netherlands? Rest assured that we will get to see a new team lift the cup.
Begin Slideshow

»
Netherlands are the most successful team in this World Cup edition, having won six out of six games. They ousted the mighty Brazil en route to the semifinals and defeated Uruguay to get to their third World Cup finals.
Netherlands are well known for their style of "total football." That hasn't been the case this time around. They are more solid and are looking to win matches.
This might not entertain those who enjoy Netherlands breaking through, but it has definitely brought them success.
Arjen Robben and Wesley Sneijder have been in top form. Their defense is one area of concern, but with one of the best attacks in modern football, they should be able to compensate for that.
Netherlands suffered frustrating back-to-back finals losses in 1974 and 1978, and they will be eager to win their first ever World Cup trophy.
In spite of having one of the greatest domestic leagues in football, Spain have never been able to shine in the international level. But this generation of star-studded footballers have brought them glory.
Spain are the defending European champions and have entered their first ever World Cup finals.
The form of Fernando Torres is a worry for them, but with David Villa blowing all guns, it would be fair to say that Spain don't miss Torres.
Spain started their World Cup with a defeat at the hands of Switzerland and recovered from it to top their group. They then marginally defeated Portugal in the pre-quarters, Paraguay in the quarterfinals, and the mighty Germany in the semifinals.
Their performance has been nowhere near convincing. Still, they are in the finals due to their rock-solid defense.
No team has ever won the World Cup after losing their first match of the tournament, so Spain is looking to break that curse.
The Barcelona back line pairing of Carles Puyol and Gerard Pique has worked wonders for them. With Iker Casillas between the goalposts, there are not many players who could penetrate this lineup.
Spain have been scoring goals in the later part of the second half, but if they are to win here, they would need an early goal.
Will Spain win their first ever World cup? That mostly depends on Villa's boots.
Van Bommel should consider himself lucky. In the quarterfinals against Brazil, he made at least three bookable tackles and was not booked even once.
Even in the game against Uruguay, he made harsh tackles and was booked only in the dying minutes. If that is going to be the case, Spain should rather beware.
Van Bommel's physical game will deteriorate the movement of Xavi. Spain's game is slow-paced, and it depends a lot on possession. They like to keep the ball at the helm and move around the pitch.
Xavi is the initiator in most of Spain's moves, as he wins the ball more often than anyone else.
If Van Bommel can stop that, Spain will suffer. Xavi hasn't had the best tournament per se, but the Barcelona man is one of the very best when it comes to passing the ball. He will play a key role if Spain has to win their first ever World Cup.
Verdict: Pretty close to call. But Xavi's insight along with Andres Iniesta and Xabi Alonso's support, will undo Van Bommel.
Arjen Robben's left foot is deadly, and lots of left wing backs have faced its heat. Joan Capdevila has one of the very difficult jobs in this finals—holding Arjen Robben.
Robben very easily cuts through the left defender and scores through his left foot. If he gets a decent shot on his left foot, it is very likely that the ball finds its path to the back of the net.
Capdevila has had attacking duties in his past games, but he really cannot afford to do that now. He was lucky enough not to face Thomas Mueller against Germany. If he can stay back and outwit Robben, his team will benefit from it.
Verdict: Arjen Robben is going to beat Capdevila, but the number of times he does that matters a lot. Capdevila can only hope for the better now.
Casillas is arguable one of the best goalies in the world today. The skipper of the Spanish national team has won almost all the accolades in world football except this one.
His battle with Wesley Sneijder is going to be delightful.
Sneijder has scored five goals so far and is on par with Spain's David Villa to win the Golden Boot award. Unlike Villa, Sneijder is a midfielder. His ability to score has amazed many people.
He is very dangerous in his run-ups and in set pieces. Casillas will have a hard time getting rid of him.
Verdict: A very difficult one to choose. With Spain's tight defense, it is hard to imagine anyone breaking them. But do not under estimate Wesley Sneijder.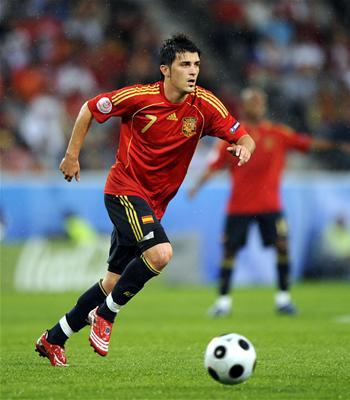 Nobody expected Maarten Stekelenburg to be this good. After all, he was sidelined from his own Ajax team last season, and coach Bert van Marwijk nearly pleaded for Edwin van der Sar to come out of retirement.
But the Ajax goalie has been impressive so far. Stekelenburg let only two goals in his first four games, and both of them were penalties. He was then beat by two superb goals by Robinho and Diego Forlan.
Now his opponent will be the fearsome David Villa! The new Barcelona striker has scored five goals so far in the tournament and is a constant threat to any defense.
Fernando Torres may or may not start against Netherlands. If Torres starts and is in good form, the trouble might be doubled for Stekelenburg.
Verdict: David Villa is going to beat Stekelenburg. The Dutch goalkeeper might be good, but Villa is too good for him.
Van Bronckhorst may not be a great defender, but he has held some great challenges. In the quarterfinals against Brazil, he held off Kaka and Dani Alves, and he was impressive against Forlan in the semifinals.
Iniesta, on the other hand, is one of the most witty players in the world. His ability to align between two defenders and find space is amazing. Iniesta can find space even when the opponent's defense consists of seven players.
Verdict: Van Bronckhorst may be able to wrong foot Iniesta, but the Barcelona stalwart is going to outwit him time and again. Netherlands should try to stop Iniesta's crosses into the box, and van Bronckhorst will play a major role in doing that.
The match is too close to call. If Xavi, Iniesta, and Villa are the top players of the world, Robben and Sneijder are not far behind.
The match might be a low-scoring affair like most of Spain's other games.
What Portugal, Paraguay, and Germany did was allow Spain to enjoy possession. Even with increased possession, Spain were not able to cultivate opportunities. They scraped through all the games.
Netherlands should go all out on attack, and that is probably the only way they can oust Spain's watertight defense.
We are assured to see a new team lift the cup at the end of the game, which has all the ingredients to turn into a instant classic.