The 10 Best Athlete Publicity Stunts of All Time
A one-hour special?
Really?
LeBron James needs an hour on ESPN to make up his mind where he will play next, even though he's had a month to decide?
An hour, during prime time? During the baseball season and the World Cup? Wow...
I hear the first 20 minutes will cover his college years and the two "Final Fours" he went to and how great those were.
Then the middle 20 minutes will cover the championships he's won during his first seven years in Cleveland.
Then, in the final 20 minutes he'll explain how, even though he's not that cool with Delonte West, he'll be coming back to Cleveland for three years, until Jay-Z and the Billionaire can get their act together and finally move the Nets to Brooklyn.
By the way, that means we will be doing this all over again in 2013.
I'm done ranting now. Here's the list...
10. Jimmy Clausen Signs with Notre Dame
To say Jimmy Clausen was a bit cocky when he signed with Notre Dame might be an understatement.
In April 2006, Clausen was the most sought-after recruit in the country and rumors were that the Irish had just landed him.
Clausen confirmed this by announcing his oral commitment at the College Football Hall of Fame in South Bend, Ind.
The kid showed up in a a stretch Hummer limousine with spiked hair and fingers adorned with high school championship rings.
He then proclaimed that there were Heisman trophies and four BCS Championships in Notre Dame's near future.
Ironically, this isn't even the funniest picture that comes up when you "google" Ol' Jimmy.
9. Joey Harrington Wants Your Vote!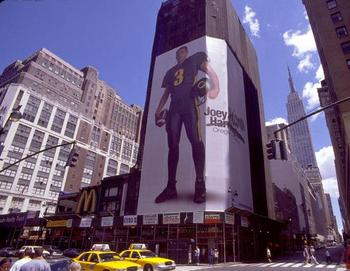 Joey Harrington was a pretty good college quarterback at Oregon.
So much so that the University of Oregon thought it was a good idea to post his picture on a building in Times Square right before the 2001 season in an effort to sway Heisman voters.
Harrington finished fourth.
8. "Theismann" Rhymes with "Heisman"
An even better Heisman tale.
The story goes something like this:
Joe Theismann was going into his senior season as the Notre Dame quarterback in 1969 when the school's publicity man told him that this name was changing that year.
Theismann informed the guy that his name was pronounced "THEES-man" and had been pronounced like that his whole life.
Not anymore the man told him, "It's THIGHS-man from now on. There's a trophy out there called the Heisman Trophy and you're going to be Joe THIGHS-man."
Theismann has been "Thighs-man" ever since.
And if you're wondering, he came in second.
7. Terrell Owens "Loves Me Some Me"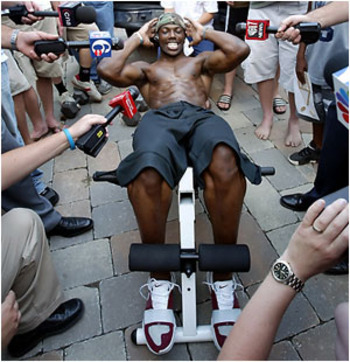 Terrell Owens is a walking publicity stunt.
When he's not pulling Sharpie markers out of his sock to sign footballs during a game, or calling Jeff Garcia gay in a Playboy interview, he is walking on a "Desperate Housewives" commercial or crying for Tony Romo.
Now he is filming movies and a reality show while looking for a team, any team, to sign him.
Get your popcorn ready again.
6. Ricky Williams is Betrothed to Mike Ditka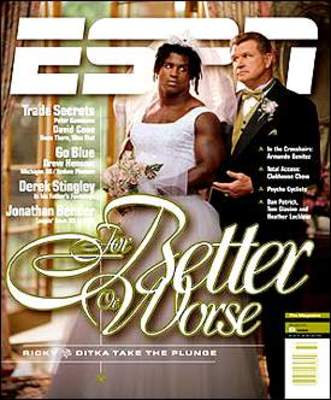 Right before the 1999 NFL Draft, New Orleans Saints Head Coach Mike Ditka traded all of his draft picks that year, as well as a first and third pick the following year, to get Ricky Williams.
The trade was so controversial that ESPN Magazine convinced both player and coach to pose for their cover as husband and wife, with the headline, "For Better or Worse."
Cute couple.
5. Takeru Kobayashi is Arrested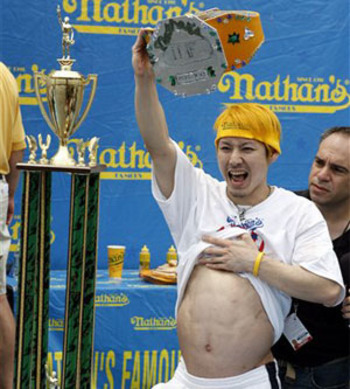 Due to a contract holdout with the evil empire known as Major League Eating, Kobayashi was not allowed to enter the annual July 4th hot dog eating championship this year.
But out from the ashes, Kobi rose to fight his way through the crowd and head towards the stage.
Alas, there was one more impediment in his way: the po-po.
New York's Finest arrested the six-time eating champion for resisting arrest and obstructing government administration.
Kobayashi's spokeswoman stated: "He got excited when people chanted his name".
"Let him eat!" screamed the people.
His spokeswoman also wanted to make sure everyone knew that this was not a publicity stunt.
Hmm.
4. LeBron James Makes Us Wait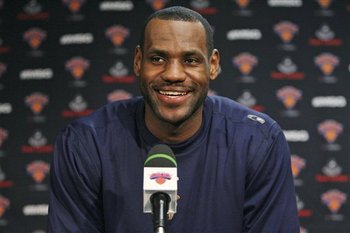 LeBron James never went to college.
Alas, he never got a chance to be wooed.
So for the last month, everyone from Jay-Z to politicians to Betty White have been begging him to come play for them.
But won't it be a bit of a let down if James goes back to Cleveland after all of this coverage?
Couldn't he have just re-signed with them a month ago like Kevin Durant did yesterday?
Nice and quietly?
3. LaDainian Tomlinson Cuts a Rug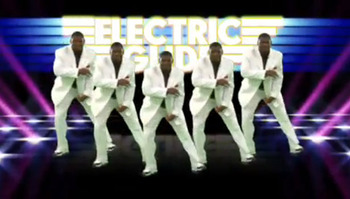 What it do, indeed?!
I'm not sure if this is a publicity stunt or if the man just wanted to dance.
The story goes that this video was supposed to be part of a Nike promotion a couple of years back.
Once the bosses saw the finished product, rumor is that they fired hundreds of people, most of whom had nothing to do with the project.
But heads had to roll. They just had to, after this piece.
I called LT and told him that he had made this list and he hung up on me.
Right before the phone went dead, I heard him mumble, "We don't like that call... Not a very good call."
(Please refer to the 1:45 mark).
2. Chad Johnson Changes his Name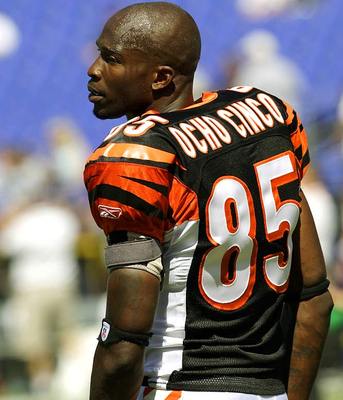 Chad Johnson says he changed his name to "Ochocinco" in honor of Hispanic Heritage month.
No telling why he has carried signs onto the field after scoring, danced an Irish Jig in the end zone, starred in his own reality TV show, and dyed his hair blond and later shaved it into a Mohawk.
He's also starred in music videos and raced against horses.
He Tweets before and after games and has his own U-Stream channel.
Now his show airs right before Terrell Owens' reality show on VH-1.
Perfect match.
By the way, he is legally changing his name again, this time to "Hachi Go" (Japanese for 8-5, of course).
1. Dennis Rodman Marries Himself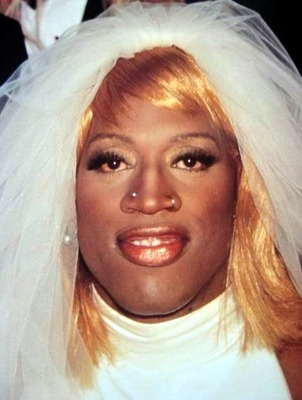 In 1996, Rodman was playing with Michael Jordan on the Chicago Bulls juggernaut and he was on top of the world.
After breaking up with Madonna, Rodman appeared naked on top of a motorcycle for the cover of his book, "Bad as I Wanna Be".
During his book tour, he revealed that he was about to marry a sexy, mysterious female.
The next day, he turned up at a New York bookstore in a horse-drawn carriage, wearing a wedding dress and a wig, and claimed he was marrying himself.
As well as being one of the ugliest brides ever, he pulled off one of the best publicity stunts ever.
Rodman-mania died down soon after he annulled his marriage to Carmen Electra.
Now he's just that weird uncle you don't want to sit next to at Thanksgiving.
Keep Reading