Close, but No Cigar: 10 NFL QBs Who Are a Step Away from Elite Status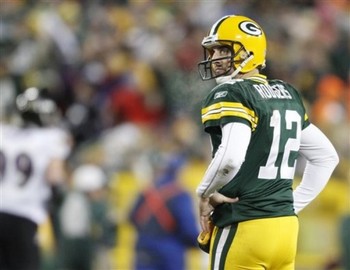 When it comes to sports, perhaps the most recognized position is the quarterback.
Nine times out of 10, the quarterback receives most of the attention for a football team, and when it comes time to decipher just who is among the elite and who is among the average, most NFL fans have a pretty fair idea of where to rank each guy.
However, as much as we all love to believe that Peyton Manning, Drew Brees, Brett Favre, and Tom Brady are the top dogs in the NFL, surely there are a few quarterbacks who are on the verge of changing their status.
So, without further ado, here's a look at 10 quarterbacks who are one step away from becoming elite quarterbacks in the league, and who may very well get there by the end of next season.
10. Jay Cutler—Chicago Bears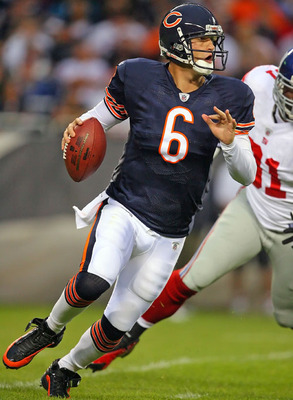 2009 stats: 3,666 yards, 27 touchdowns, 26 interceptions
Jay Cutler barely made this list over Matt Ryan, but I did feel he was worthy of being featured.
Despite Cutler's 2009 woeful ways, he is perhaps one of the most ready quarterbacks to change his forgetful ways this season.
It's no secret that Jay Cutler struggled last year. You only have to take a look at his 26 interceptions to realize that Jay did have some accuracy problems, although his wide receivers didn't help him out all that much.
Still, I can't help but think, should the Bears have a possible playoff or wild card year, that people will start to forgive and forget his 2009 year.
Realistically, Jay Cutler won't achieve an elite status. It is hard to forgive a man completely in the span of one season, but just expect people to say "Hey, Jay Cutler looks pretty darn good now."
The most important thing for Cutler is to play well with the Bears. If he alone posts decent stats, but the Bears struggle, the story probably won't change all that much.
However, if the Bears have an above-.500 season, then Cutler should start moving on up.
9. Eli Manning—New York Giants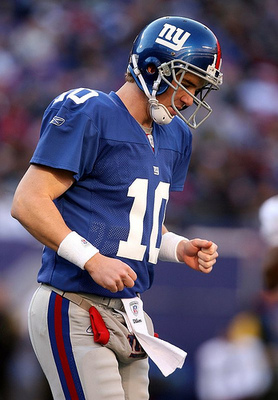 2009 stats: 4,021 yards, 27 touchdowns, 14 interceptions
Staying in the NFC, we take a look at Eli Manning, who has slipped a little in terms of fan perception in the past year or so.
When you look at Manning's stats, it's hard to determine why more fans don't respect his ability as a quarterback. Perhaps it is due to a little bit of hatred, or perhaps it is due to Manning not always coming across as the most consistent guy under center.
Whichever one it is, Eli Manning is in a prime position to reinvent himself this season.
For you see, the Giants have a very young wide receiver core in Steve Smith, Domenik Hixon, and Mario Manningham. Although this may seem like a disadvantage to some, it could benefit Eli Manning immensely this season.
In the past, Eli has struggled to maintain stability and consistency. Sure, he won a Super Bowl back in 2008, but you and I both know that this wasn't solely due to his efforts.
Therefore, it's time for Eli to take over New York. He's lost his "Aw, shucks" attitude for the better, and he now needs to have a season much like his brother Peyton has been capable of doing in Indianapolis.
It probably isn't a fair comparison, but for Eli to achieve elite status anytime soon, that's the type of year he will need to have.
Is he capable of it? Sure he is—he just needs to do it.
8. Vince Young—Tennessee Titans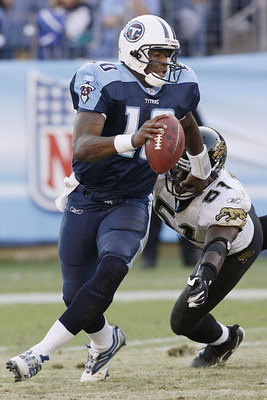 2009 stats: 1,879 yards, 10 touchdowns, 7 interceptions
Ah, Vince Young. Where to start?
Last season, Vince Young looked close to incredible. He was back with a bang, and he passed the ball extremely well, considering his near one-year layoff back in 2008.
But before we go ahead and label Young the next best thing since sliced bread, he does have a few kinks he needs to iron out.
The first one is obvious: winning. As talented as the Titans are, another wobbly season that sees the Titans go 8-8 again won't be tolerated in Tennessee.
The second is like Eli Manning: consistency. At times, Young has "hot and cold" games. Sometimes, he will be a delight to watch, while other times, he will seem insignificant out on the field. This has to change.
Aside from these two major issues, Young's stats could also benefit from a little boost as well. As great as 1,879 yards was last season, for people to really recognize Young, he will need to post a high number of touchdowns, solely due to the fact that he plays in the same division as Peyton Manning.
At the end of the day, Vince Young probably isn't fans' first prediction to change his status. Hell, he may even be some fans' last prediction.
However, a one-year layoff can do funny things to a man, and we've already seen that begin to happen with Young. Who knows? He may just blow us all away in 2010.
7. Donovan McNabb—Washington Redskins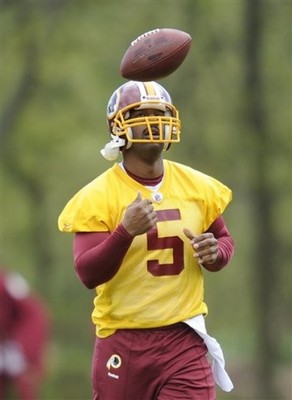 2009 stats: 3,553 yards, 22 touchdowns, 10 interceptions
As much as some fans may argue with this selection, surely all the blood, sweat, and tears that Donovan McNabb has poured into the NFL is worthy of some recognition.
In McNabb's time with Philadelphia, he was so close to achieving the ultimate football goal. He led the Eagles to a Super Bowl, but he failed to get the job done in the long run against the New England Patriots.
Aside from that incident, Donovan McNabb also endured numerous years of hate and scrutiny, and more or less divided The City of Brotherly Love right down the middle when it came to opinions on No. 5.
But, of course, this is all in the past now. McNabb is a Washington Redskin, and he is looking to portray his ultimate potential this season as he steps in as the team's starter.
So what's the reason for McNabb being featured on this list?
Well, it's simple, should McNabb succeed in Washington, he will go down as an enormously talented quarterback. We've seen numerous players put past incidents behind them, and if McNabb takes over Washington successfully and rids any memories of Philadelphia, expect more and more people to appreciate his talent.
He may be a step away right now in terms of ability, but let's not forget he is a very experienced player. This factor alone could take McNabb a long way this season.
6. Alex Smith—San Francisco 49ers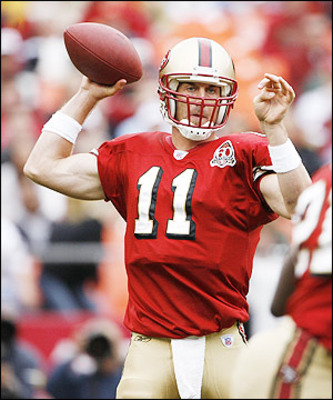 2009 stats: 2,350 yards, 18 touchdowns, 12 interceptions
Right now in San Francisco, things are looking a little more promising. The 49ers are in a weak division, and finally young Alex Smith has an offensive line worthy of protecting his behind.
A question still remains, though, of Alex Smith's overall ability, as some 49er fans are still kicking themselves for not drafting Aaron Rodgers some five years ago.
Of course, a case could be made that No. 11 is indeed worthy of playing as the San Francisco starter, and perhaps now that he has some well-deserved time in the pocket, he will finally start to pay off for San Francisco in terms of touchdowns.
Aside from Alex's overall ability, though, he does need to step up. At times, he appears quiet and not like a true leading quarterback. Much of this is due to his youth, but if he is to make himself noticed in the league, he will need to step up his team morale a little.
Let's be realistic, a monster task does face Alex Smith this season. But when you look at San Francisco on paper, you can't help but like their chances.
Hopefully this young man excels this season, as I, like everyone, is eager to see just what he is made of.
5. Carson Palmer—Cincinnati Bengals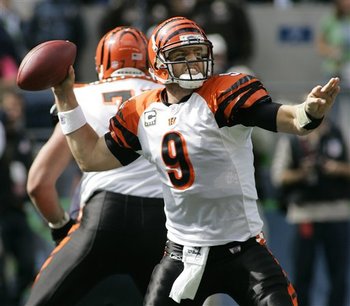 2009 stats: 3,094 yards, 21 touchdowns, 13 interceptions
You didn't expect Carson Palmer to be on this list, did you? Well, here he is, and deservedly so.
Personally, I wouldn't go as far as saying that Carson Palmer has gone from hero to zero, but he has significantly dropped a little, both performance-wise and talent-wise, in the past three years.
Much of this is due to an unlucky run with injuries, and of course age, but Carson Palmer is still a great quarterback to have.
Since the 2010 Draft, Carson Palmer has been all smiles. Both Jermaine Gresham and Jordan Shipley step into the receiving game, and both are already impressing the Bengals immensely in minicamps this offseason.
When it comes to Carson Palmer, though, if experience isn't everything, then I don't know what is. He's been around long enough to know what makes it, and what doesn't, yet he still hasn't been able to step over that last hurdle and earn himself a respectable reputation.
Now is perhaps Carson Palmer's best chance to change that. He has a great-looking offense at his side with a ton of talent, and a team that is set to push forward toward the playoffs once again in 2010.
Carson is now entering his eighth year in the league, and he isn't getting any younger, so if he is to achieve that elite status soon, he'd better get a move on.
I've always been quite a fan of this guy, so it would be nice to see him finally step into a new zone.
4. Tony Romo—Dallas Cowboys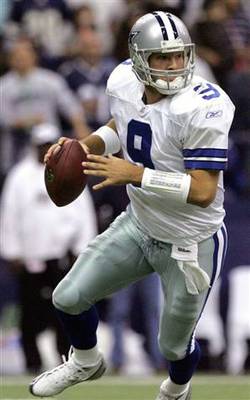 2009 stats: 4,483 yards, 26 touchdowns, 9 interceptions
"You gotta, gotta, gotta, get your head in the game."
If there's a more fitting song for Tony Romo, I haven't found it. Finally, though, Tony Romo has done just that, and he's got his head in the game.
In case you've been living under a rock recently, Tony Romo has impressed just about everyone this offseason. He's been passing well, he has been talking with the entire team, and more importantly, he looks focused heading toward September.
This will come as a relief for Cowboy fans, as Tony Romo has appeared to be a little scrambled in recent years, both on and off the field.
As a fan, I've noticed differing opinions in regards to Romo. Some feel that he isn't talented at all, while others still defend him and are ready for him to come out blazing in 2010.
I prefer to take the second approach, as I feel this is the year of the Cowboys. No more distractions, no more half-played games—the NFC East is up for the taking, and Tony recognizes that.
Can he become an elite passer?
Probably not in a season, but if he plays consistently for three straight years or so, yes, definitely.
Now though, Tony needs to focus on Tony. Pass well, play well, and win. It's that simple.
3. Matt Schaub—Houston Texans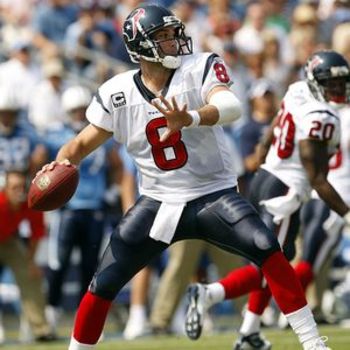 2009 stats: 4,770 yards, 29 touchdowns, 15 interceptions
I recently ranked Matt Schaub quite high in my Top 50 NFL Players list, much to the displeasure of some fans.
While this opinion is totally fair, anyone that denies Schaub's talent probably isn't worth talking to.
Sure, the argument could be made that he's never played playoff football, and that he's only really appeared in the span of a year or two, but surely we can all agree that he is set for bigger and better things this season.
Yes, therefore, Schaub could be the next big deal in the quarterback world. Not only does he have the luxury of passing to one of the greatest wide receivers in Andre Johnson, he also has a fantastic deep arm, that will suit the new-look 2010 Texans.
If Houston does manage to make the playoffs this year, expect the Schaub bandwagon to heat up. Schaub is here to stay, and like it or not, he may have a great year in 2010.
For now though, just sit back—this ride is only just beginning.
2. Philip Rivers—San Diego Chargers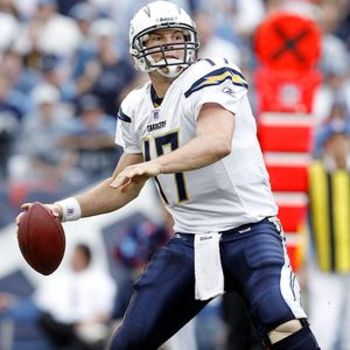 2009 stats: 4,254 yards, 28 touchdowns, 9 interceptions
Opinions aside, Philip Rivers continues to grow in this league.
Looking at his stats, it is no secret that Philip Rivers is quite a brilliant passer. 4,254 yards last season leaves Rivers in prime position to take the Chargers to the playoffs once again this season, despite the loss of a few key players this offseason.
However, before we go ahead and praise him too much, there are a few points that Philip Rivers could change in his game.
The first is decision making. At times, particularly in the playoffs, he does have a tendency to rush passes, thus creating a silly interception to the likes of Darrelle Revis.
The second is what I just mentioned: the playoffs. It seems that Rivers has a great regular season, but fails to really show up when the ultimate tests arise in postseason football.
Unfortunately for Rivers, both of these have been ongoing problems year in and year out.
Of course, we are entering a new decade in the NFL, and what better way to rid us all of the worries and tribulation by taking the Chargers to the Super Bowl?
For Philip Rivers, I do feel he is the type of guy that will be judged on championship success. The word "choke" appears so much in sports these days, and until Rivers gets it done, he probably won't be considered with the greater quarterbacks.
Still, he is young, and he has a ton of time. Maybe he will get the job done soon and delight Charger fans nationwide.
1. Aaron Rodgers—Green Bay Packers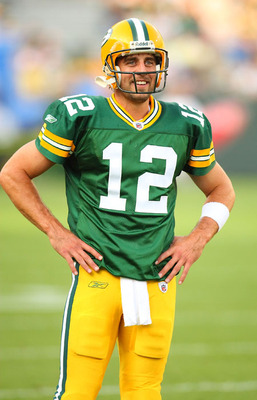 2009 stats: 4,434 yards, 30 touchdowns, 7 interceptions
Don't ask me how he did it, but somehow Aaron Rodgers has risen to fame like Justin Beiber has in the music industry.
It's funny what following a legend will do to you. One minute, you are the most talked-about man on the planet, while the next, not much has changed, except people are appreciating you for your hard work.
Last season, Aaron Rodgers did it all. He played consistently, he passed well, and he really helped the Packers when it mattered most.
However, one fact still remains the same: sacks. Rodgers was sacked a league-high 50 times last year, and this is a thought that most Packer fans would rather forget.
Much of the blame could be pinned on Green Bay's offensive line, but some do say that Rodgers has the tendency to hold onto the ball a little too long.
Like Philip Rivers, these are two issues that could be fixed quite easily.
In 2009, Aaron Rodgers had a near-MVP year, which makes for a scary thought in 2010, when it comes to considering just how dominant he may be in green and gold.
Give him a round of applause—he's rid any Brett Favre talk in Green Bay. It wasn't easy by any stretch, but this is Mr. Rodgers' neighborhood, and it is here to stay.
Can he become an elite?
Most fans would like to think so, and I tend to agree. At the rate he is going, Aaron Rodgers may take a great Lambeau Leap into the top quarterbacks of the NFL anytime soon.
Keep Reading

Green Bay Packers: Like this team?