The 15 Best Sports TV Shows of All Time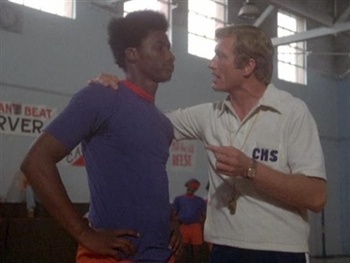 The amount of quality, entertaining sports-related television programming is pretty difficult to come across.
Oh sure, there are shows like SportsCenter, PTI, and Inside The NBA that entertain us for hours on end and even give us a few laughs here and there. But I'm talking about shows that were created purely for entertainment purposes.
There was one that revolutionized the sports comedy/drama genre in the late '70s and early '80s (White Shadow), and one in this decade that set the bar for which all future shows will be measured (Friday Night Lights).
In between, there were a lot of mediocre, forgettable programs.
For whatever reason, it's seemingly impossible to center a comedy or drama around sports. I originally wanted to make this a top-20 list, but couldn't do it because I refused to put shows like 1st and Ten on.
So the ones featured today should be celebrated because they at least provided us with some sort of entertainment. Let's start at No. 15...
(And be sure to let me know which shows I missed.)
15. The League

A new FX show that debuted last fall, The League captured 80 percent of American males' attention by delving into a topic that hadn't been broached before: fantasy football.
While all of the characters aren't necessarily relatable, we all know people that are a little too obsessed with fantasy football.
If nothing else, it's something different from the shows we're used to seeing. It pokes fun at celebrates and the ever-growing popularity of fantasy sports.
There were just six episodes in the first season but it has been renewed for this summer. With a good second season and it could easily move up a few spots.
14. The Hoop Life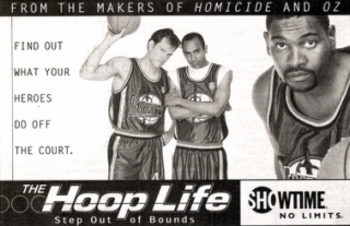 The Hoop Life was a 1999 drama about the off-the-court lives of three United Basketball Association (fictional league) players.
Promising when it first aired, it showed the potential pitfalls of being a young, successful player—namely, how fame and pressure can have an adverse effect on development.
I'm willing to bet many of you haven't heard of it. It lasted just one season and wasn't really heavily promoted by Showtime.
It does get extra points for having Bubba from Forrest Gump star in it.
13. Sports Night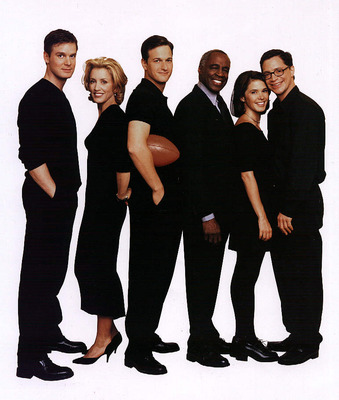 Sports Night has developed somewhat of a cult following since it's cancellation in 2000 and a select few view it as one of the best sports-related shows ever.
Set in a SportsCenter-type atmosphere (Continental Sports Channel), the show follows issues faced by the editor, anchors, and producers in a news room.
While it had potential to be considered great, it never could find a direction. As Bill Simmons aptly described it, "it was sports-oriented enough that it probably turned off most non-sports fans, yet it wasn't sports-oriented enough and/or realistic enough for most diehard sports fans."
12. Eastbound and Down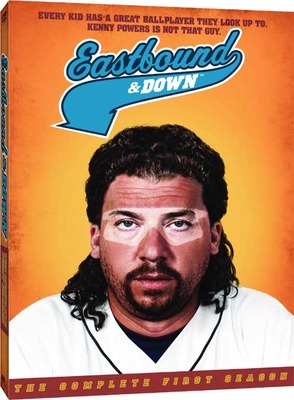 One of the funniest new shows to debut on HBO, Eastbound and Down is the story of former-professional baseball player Kenny Powers.
Much like The League, this show has plenty of room to shoot up the charts on the list. If it were an NBA draft candidate, it'd be young, but uber-athletic with tremendous upside potential.
Produced by Will Ferrell's production company, the six-episode first season provided plenty of laughs. My personal favorite was in the second episode, the scene with Ferrell as the car salesman.
I can try to explain it, but just see for yourself.
11. ProStars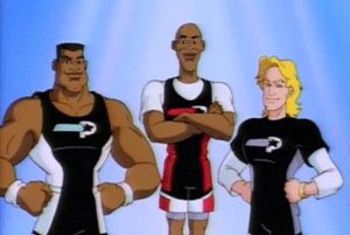 Be honest, how many of you remember ProStars?
I was five years old when the show aired, so I don't remember much. But anything that features cartoon versions of Michael Jordan, Bo Jackson, and Wayne Gretzky fighting crime and helping children...sign me up!
Can't you imagine Gretzky destroying everything in his path while trying to figure out who stole the Stanley Cup?
10. Two-A-Days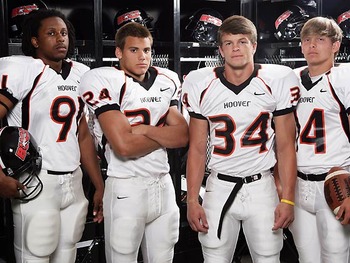 Remember when MTV used to show, you know...music videos? Nowadays it's all reality shows that everyone hates but secretly watches.
But the network stumbled into something decent with their 2006-07 show Two-A-Days, which chronicled the life of football powerhouse Hoover High (Ala.).
While the personal issues of players were a little corny for my taste and seemingly directed at all the teenagers watching, the football scenes were well edited.
Little known fact: in the pilot episode, Hoover is defeated by Nease High School (Fla.). Nease was led by eventual Heisman winner Tim Tebow.
9. American Gladiators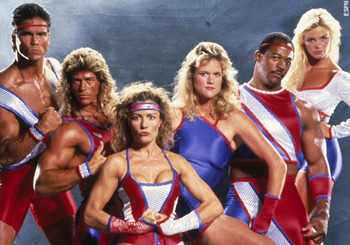 Do we count American Gladiators as a sports-related show? Really, didn't it just lay the foundation 10 years later for never-ending reality TV shows?
Screw it...we're counting it. Just look at the haircuts, outfits, and poses in the picture—that's entertainment enough.
8. Coach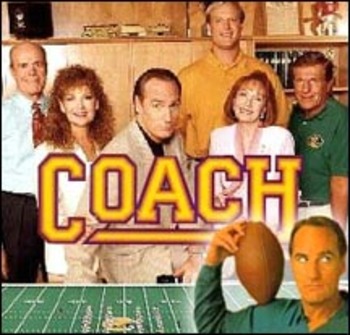 Many would consider Coach as one of the best sports shows of the '90s.
While it was entertaining and had its share of memorable episodes (the one where Hayden misses a game and assistant coach Luther fakes a field goal to win the game springs to mind), my biggest beef with it was...there were barely any sports scenes shown!
When they were, it was grainy and was basically just plucked footage from old games. It could have been higher if there was a fair balance of sports and personal life, but this was pretty one-sided.
7. Arli$$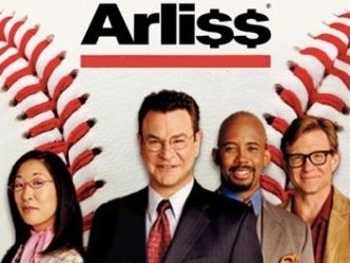 Arliss was one of the more polarizing shows on television—people either loved it to no end or vehemently hated it.
While it had a decent amount of memorable episodes and athlete cameos, it just seemed a little forced. Something about it just didn't click.
Maybe it was Robert Wuhl. This was in the pre-Ari Gold days, so maybe someone like Jeremy Piven could have carried it a bit further. Still, the plots were often nonsensical and you could hear crickets in several episodes.
Some element was missing to take this show to the next level...but whatever it was, it never came.
It also demonstrates the lack of depth in the "sports TV show" category when a show that Entertainment Weekly often referred to as "one of the worst shows on television" nearly cracks the top-five.
6. Hang Time
It's been called a mix of Saved By The Bell and high school basketball. As a die-hard fan of both, I absolutely loved Hang Time.
The show starts with a girl trying out for the boys basketball team...imagine the tension in that locker room!
Though the cast was frequently changing, it still resonated in teenagers and often dealt with serious issues, such as dating and basketball, smoking and basketball, drugs and basketball, hustling and basketball, and plastic surgery and basketball.
Look out for cameos from Damon Stoudamire and Kobe Bryant.
5. The Contender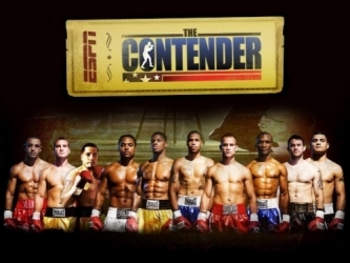 I tried to keep reality shows as much off the list as possible, pretty much because I hate 99 percent of them. But two cracked the top-five, and both are unique from the rest of the genre.
While there have been plenty of eliminating reality shows, The Contender was different the contestants actually gave a ****. This wasn't like The Bachelor where everyone is "looking for love" but all the couples break up two weeks after the show ends.
These guys wanted to win. Their careers were on the line. This was one chance that they got to make it on a big stage.
The level of competition and competitiveness has yet to be matched on any other reality show...except for Real World/Road Rules Challenge.
4. ABC's Wide World of Sports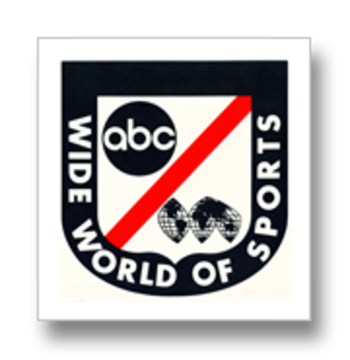 I wasn't alive during ABC's Wide World of Sports' heyday, but its impact on future programs and the entertainment it provided was a phenomenal success and deserves some accolades.
Airing on Saturday afternoons, it showcased sports like softball, badminton, curling, and gymnastics.
It was the first to air coverage of events like Wimbledon, the NCAA Tournament, The British Open, and the X-Games.
While it is very close to something like SportsCenter (which I said would not be included on the list), it was a pioneer for future sports programming before cable. So it gets some dap.
3. Hard Knocks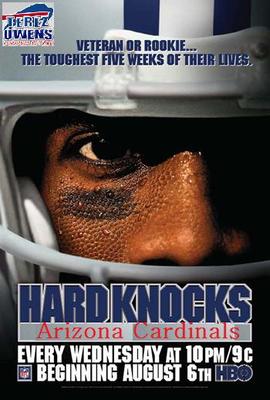 The second reality to show to crack the top-five, Hard Knocks is a favorite of almost every NFL die-hard in the world.
It gives everything you want in a documentary—player and coaching preparation, personal battles, fighting for spots on the team or position on the depth chart, inside jokes, you name it.
A must watch for any NFL junkie.
2. Friday Night Lights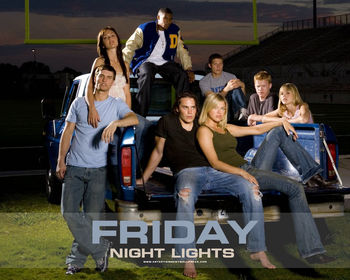 It's really no secret what Nos. 1 and 2 are on this list; they're pretty much the only two memorable, entertaining, riveting, and engaging non-documentaries.
Despite an overwhelming fan base that insists, it's not just one of the best sports TV shows, but one of the best TV shows period, Friday Night Lights falls in at the No. 2 spot.
Let's go through the checklist:
Acclamation from almost every major publication and reviewer? Check.
Engaging plot lines? Check.
Quality football scenes? Check.
Strong and moving acting? Check.
Basically, it's a 1A, 1B list. It's just my personal taste, but the original deserves the top spot...
1. The White Shadow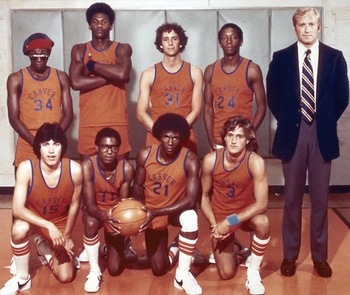 What else could it be?
A fantastic series that's still re-watchable 30 years later. Groundbreaking at the time, it was one of the first shows to feature a predominant African-American cast.
There were relatable characters, entertaining plot lines, serious issues broached, the whole nine yards. There were somewhat disturbing episodes (like the one where one of the player's girlfriends convinces him she's pregnant just so they would get married) and emotional ones (Hayward's cousin dies of O.D.).
Hands down, the best sports-related show ever. A bit ahead of its time but still wildly entertaining. Do yourself a favor if you haven't seen it, and plow through each episode as fast as possible. You won't be sorry.
Keep Reading