Miami Dolphins Preview: 10 Positives Going into Training Camp
It isn't exactly the most thrilling time for football fans right now, with most NFL players on brief vacations before training camps start up.
Far more attention is being placed on the marquee names being tossed around in basketball free agency or on how baseball teams are doing heading into the all-star break.
However, it is a time when most football fans are offered a clean slate that offers hope and high expectations for their team.
Of course, that might be an exercise in futility for some fans. Frustrated supporters of teams such as the St. Louis Rams, Buffalo Bills, and Oakland Raiders might take more of a "wait and show me" approach right now.
Other team's fans, such as those of the Indianapolis Colts or defending champion New Orleans Saints expect to contend for a title based on recent history, and probably won't get too excited until a probable playoff trip commences.
This leaves us with the teams in the middle, such as the Miami Dolphins. So to get "Dolfans" excited for the upcoming season, here are 10 positives going into training camp.
Stability at Quarterback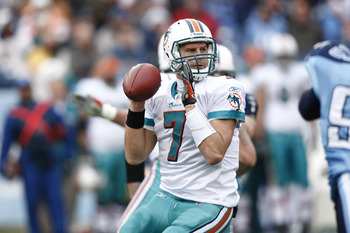 When was the last time that Miami had this kind of stability at the quarterback position? The prime of Marino's career?
Chad Henne is firmly entrenched as the starting quarterback. Even though coach Tony Sparano was initially hesitant to name Henne the starter after last season, the third-year player is clearly the team's leader now and in the future.
Tyler Thigpen projects as the team's clear backup after a decent comeback performance against Pittsburgh in last year's regular season finale and the team's reluctance to trade him during the offseason. Thigpen has a live arm and a nice pedigree coming from the Chiefs.
Whether Pat White or Chad Pennington is the Dolphins number three quarterback is irrelevant. Either would be a positive and here's why.
If White claimed the third spot, it would likely be because he has made substantial progress off of his disappointing rookie season in 2009.
If Pennington is third on the depth chart, Miami will probably have the most proven third-string quarterback in the league. His smarts and influence can't possibly hurt Henne or Thigpen.
Carrying four quarterbacks is not out of the question.
The Emergence of Second-year Players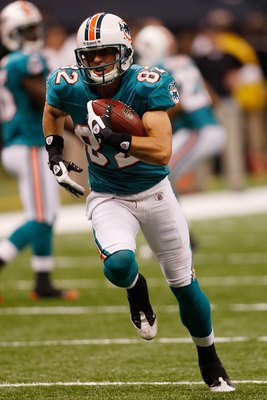 There are several second-year players on this roster who seem primed to take the next step in their development.
While there are no guarantees that a player improves from his rookie year, one would imagine that the experience that Vontae Davis, Sean Smith, Brian Hartline, and Cameron Wake have gained would make each of the players a little bit more savvy in 2010.
I really feel that Vontae Davis might emerge into a Pro Bowl player this year, and don't be surprised if Hartline makes the biggest jump from year one to two.
The addition of Brandon Marshall will open up the field for Hartline much the way it did in Denver for Eddie Royal in 2008 (though Royal had a down year in 2009).
Offensive Line Depth
Clearly, Miami would be hard pressed to adequately replace two-time Pro Bowl left tackle Jake Long were he to be injured.
However, there is competition and depth at every other position on the offensive line.
Going into training camp, I'm comfortable if Joe Berger beats out Jake Grove as the starting center.
While Vernon Carey is an important cog at right tackle, I'm also not sure that Nate Garner, Donald Thomas, or rookie John Jerry couldn't do the job.
The point is that this is the deepest, most talented offensive line Miami has had in some time.
Better Linebacker Coverage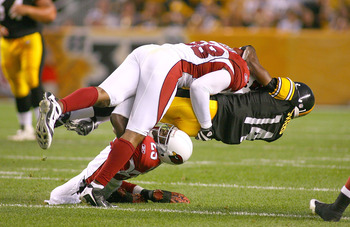 We don't know yet if Miami can rush the passer, but subtracting Joey Porter, Jason Taylor, Reggie Torbor, and Akin Ayodele, while adding Karlos Dansby, Tim Dobbins, and rookies Koa Misi and A.J. Edds has to result in better pass coverage.
Consider the following performances out of tight ends against Miami last year:
Tony Gonzalez - five receptions for 73 yards and a touchdown.
Dallas Clark - seven receptions for 183 yards and a touchdown.
Dustin Keller - eight receptions for 76 yards and a touchdown.
Jeremy Shockey - four receptions for 105 yards.
Kellen Winslow - seven receptions for 102 yards.
Dansby was signed and Misi and Edds were drafted largely because of their pass coverage skills.
The Dolphins Have a Very Young Roster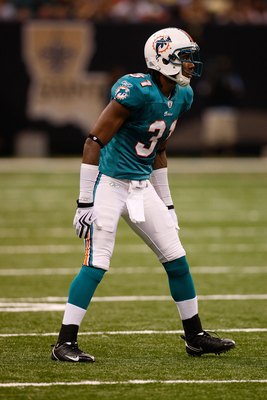 The average age of the Miami Dolphin roster is only 25.4 years old.
Young teams have a couple of inherent advantages over older ones.
They tend to be healthier, they are more likely to be molded by the coaching staff, and they are hungrier to achieve success.
There are still a couple of players on the roster with playoff experience which I believe is overrated, in any case.
New Additions Bring More Core Talent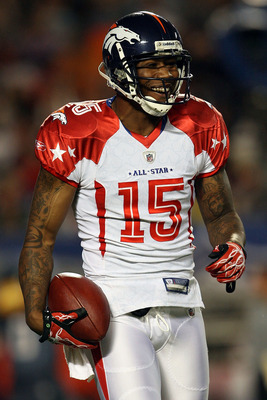 What more can be said about the additions of Brandon Marshall and Karlos Dansby?
It bears repeating that Marshall has had over 100 catches each of the last three seasons.
Dansby has 10 career interceptions and 25.5 sacks from the INSIDE linebacker position.
Both of these players are core components that give Miami a stronger nucleus. Marshall is ranked by most as one of the top 25 players, regardless of position, in football. Dansby is arguably in the top 100.
Both players are still young and along with Jake Long, and perhaps Chad Henne, Vontae Davis, Randy Starks, Sean Smith, or Cameron Wake could provide Miami with the nucleus to compete for the next several years.
Every team seems to need a core of seven to 10 stars to make a run at the Super Bowl.
Consider that the Super Bowl Champions had not only Drew Brees, but star players in Jahri Evans, Marques Colston, Devery Henderson, Robert Meachem, Jeremy Shockey, Will Smith, Jon Vilma, and Darren Sharper.
The Colts have arguably the best player in football in Peyton Manning. Still, Dallas Clark, Reggie Wayne, Jeff Saturday, Ryan Diem, Dwight Freeney, Robert Mathis, Gary Brackett, and Antoine Bethea helped make the Colts' Super Bowl trip possible.
The Dolphins still appear to be short a few core players but have made progress to this end during the Trifecta's tenure.
Relative Health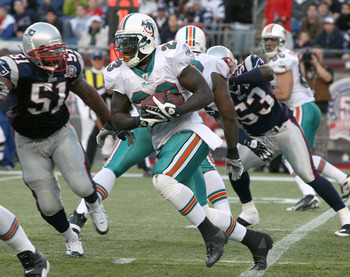 Yes, the Dolphins have a few players coming off injury like Ronnie Brown (foot), Will Allen (knee), Jason Ferguson (knee), and Channing Crowder (foot), with even Brandon Marshall coming off minor hip surgery.
However, Brown has had a long time to heal and has not been limited in workouts. Allen and Crowder may not be starters, anyhow, and the team can afford to ease them back.
Ferguson is suspended for the first eight games due to taking a banned substance so he will have more time to recover. Plus, the 35-year old might be more effective playing a shorter season.
Marshall's hip is not expected to be an issue.
Pittsburgh (Willie Colon) and Denver (Ryan Clady) have already suffered major injuries this offseason that will likely negatively impact the success of those competing teams.
Likely No Holdouts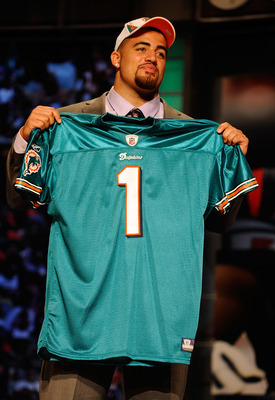 Even though Ronnie Brown has yet to sign his one-year tender, he has given no indication of a holdout. No other veterans have expressed, at least openly, their displeasure with an existing contract.
As for the rookies, none were taken high enough that a holdout would seem likely. Odrick, Misi, and John Jerry would all seem to have good chances to start right away if they get into camp on time. Half of Miami's draft picks have already signed.
By contrast, Darrelle Revis and Nick Mangold of the divsion rival Jets are openly dissatisfied with their contracts, and could possibly holdout.
The Pressure Is on the Patriots and Jets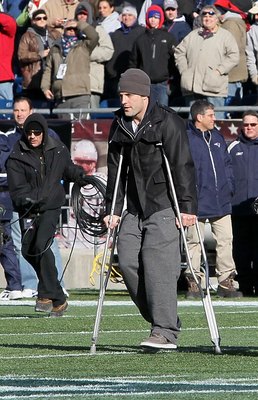 The Patriots haven't been a true threat to win the Super Bowl since Tom Brady tore his knee ligaments in 2008.
Furthermore, the Pats defense was completely exposed when they couldn't stop the run against the Ravens in last year's playoffs.
Without New England adding much established talent during the offseason and with slot receiver Wes Welker coming off major knee surgery, the Foxborough faithful will get impatient if Brady and company get off to a slow start.
The Jets are coming off a surprising run to the AFC title game.
Instead of dialing down expectations, Coach Rex Ryan has boasted that his team will be and belongs in the Super Bowl. The media and fans might let most coaches go with such boastful predictions, but not Rex Ryan.
Anything less than a Super Bowl berth will be a complete failure for Ryan.
Yet, he has a second-year quarterback, got rid of dependable tailbacks Thomas Jones and Leon Washington, added some character concerns in Santonio Holmes and Antonio Cromartie, and the rest of the NFL has had ample time to study the blitzing schemes he used so effectively last year.
Wade and Bosh Are Coming to Miami!
Ok, I'm going to cheat because it's all in good fun.
But how can anybody dismiss Miami as a sports mecca on a day when Dwayne Wade and Chris Bosh decide to spend the next several years in South Florida?
Just one question.
Can one of them also play tight end?
Keep Reading

Miami Heat: Like this team?