The Pittsburgh Steelers' Top 10 Worst Free Agency Moves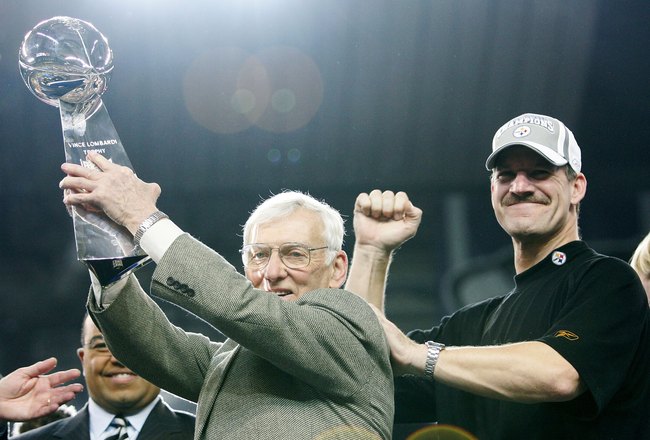 In 1993, NFL free agency became pretty much what we know today.
In the Steelers case, they did just fine, for the most part, by pretty much ignoring free agency and still building their teams through the draft.
The Steelers have made a lot of tough calls over the years, but more often than not the decisions they made proved to be the right ones.
This is a little list that showcases the bad calls. It was even hard to come up with ten, honestly. The Steelers haven't brought in bad players most of the time; it is more about letting players walk away.
Please feel free to comment and keep an eye out for my best 10 moves list coming soon.
Losing Mike Vrabel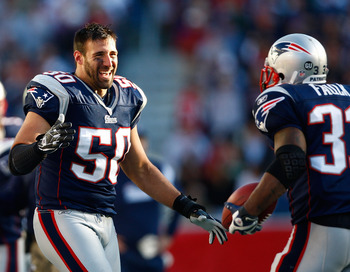 It was pointed out to me that the Steelers actually released Vrabel at his own request. Therefore he doesn't qualify as a free agency loss. It was still a bad loss though, so I am leaving the slide up but replacing it on the list.
10. and 9. Signing Jay Reimersma/Letting Mark Bruener Walk
These two moves kind of go together, even though they are a year apart.
In 2003, the Steelers signed tight end Jay Reimersma for three years and $4 million dollars. Most of us at the time thought we had a pretty good tight end and weren't sure they should spend money at that position.
The problem was that they wanted to throw to the tight end. Bruener had good hands, but wasn't a very good route runner and he didn't have the speed to stretch the field. He was, however, a powerful blocker and an important cog in the run game.
But the Steelers were transitioning into a pass-heavy offense and wanted weapons. So they started Reimersma and barely played Bruener, even starting Jerame Tuman in his place and relegating Bruener to the bench full-time. The result was a 6-10 record and a Bill Cowher-era worst 31st ranked rushing attack.
The Steelers let Bruener go in free agency, deciding to stick with the younger and better receiving tight ends.
An injury-riddled Reimersma retired after 2004 and caught just 17 passes during his two seasons, earning about three million for them.
The Texans took Bruener for near the veteran minimum, and he played four full seasons there, starting two of them.
Two years later the Steelers drafted a godsend in Heath Miller who did both jobs well. Still Bruener could have been a cheap quality back up for a couple of more years.
8. Signing Duce Staley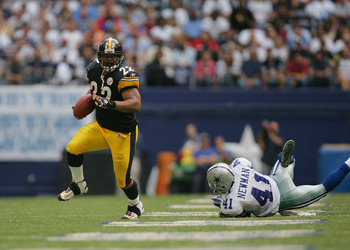 In 2004 the Steelers looked to boost a 31st-ranked running game and signed Duce Staley to a five-year, $14 million dollar deal with a $4 million dollar signing bonus.
Staley started the first ten games and had 830 yards for a 4.3 YPC average. He was powerful with a nice burst and fun to watch.
But Duce got injured and started just one more game in parts of three seasons with the Steelers.
Sometimes you can't see injuries coming, but there were some warning signs with Duce. He was approaching 30, hadn't played a lot the season before, and had at least two injury-riddled seasons with the Eagles.
It looked like a steal at first, but ended up being an expensive 900 yards that the Steelers paid for.
7. Losing Chad Brown
This is here solely for the loss of a young talent in his prime. The Steelers had reasons for it, because Brown was asking for a lot of money and they were pretty sure they had replacements on the roster.
The only problem was that Greg Lloyd only gave the Steelers one more injury-plagued season and none of the others were quite as dynamic as Chad.
Brown went on to give Seattle five-and-a-half great years before injuries started to tear him down a notch.
Three full seasons would pass before the Steelers had a player of Brown's caliber to lineup opposite Jason Gildon.
6. Signing Kent Graham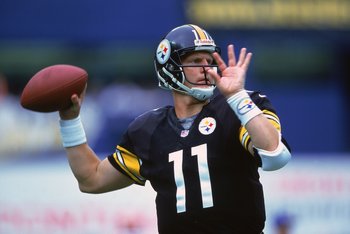 This one came from suggestions in the comments below. After reading into it I realized Graham was a miss and deserved to be on the list. In 2000 the Steelers signed Graham to a three year deal worth 5.1 million dollars to compete with Kordell Stewart for the starting QB job. Graham did in fact start the season as the #1 guy only but didn't live up to the billing very long. He started five games and played in 11 and finished with a completion percentage under 45 a QB rating of 63.4 and a record of 2-3. The Steelers released Graham after that one season and ate most of his salary.
5. Losing Bryant McFadden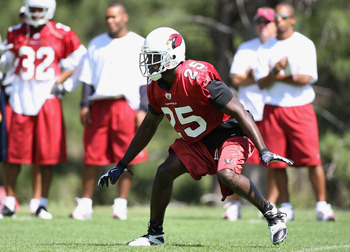 Normally I wouldn't consider losing a guy for one year a big loss, but this case is special because of William Gay.
The Steelers got lucky that Arizona allowed them a mulligan on this one. They received a fifth round comp pick for losing him and gave up a higher fifth rounder to get him back.
The play of William Gay last year makes it easy to speculate that McFadden's presence could have won Pittsburgh one more game. If that had happened, the Steelers would have been in the playoffs.
With the way things went in the AFC last year, who knows what would have happened if they got in? This move cost them big, even if it was only for one season.
4. Losing Hardy Nickerson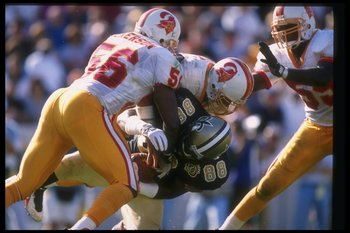 Hardy Nickerson was one of the Steelers' first major losses in this new free agency era, and he was a big one.
The Steelers didn't do a bad job of replacing him, first with Jerry Olsavsky and then with Chad Brown; that's the only reason he isn't higher on the list.
Nickerson went on to play ten more seasons, mostly for Tampa Bay, where they built their defense around him and started their surge as one of the better teams around the turn of the decade.
Nickerson was a five-time Pro Bowler and was twice selected first team All-Pro. He garners some fringe consideration for Hall of Fame induction someday.
3. Losing Gary Anderson
In the 1995 offseason the Steelers and one of the most accurate kickers in league history reached a stalemate on contract negotiations.
For what essentially boiled down to about $200,000 per year, the Steelers let Anderson and his historic leg walk right out the door.
They first planned to replace him with Dean Biasucci, who looked horrible in the preseason, and then were lucky when Norm Johnson became available. Had Johnson not been there, the Steelers could have paid for this decision for a long time.
Anderson went on to kick for 11 more seasons and was even more accurate than he had been during his Steelers career.
2. Signing Sean Mahan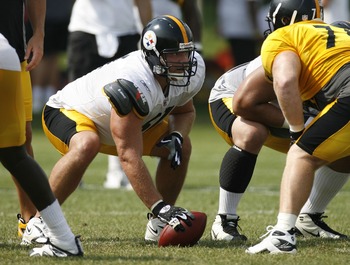 During the 2007 offseason, the Steelers were scrambling to find a replacement for Jeff Hartings or at least bring in someone to compete with Chucky Okobi. They thought they had found their man in former Buccaneers starting guard and center Sean Mahan.
Boy, were they wrong. They signed Mahan to a five-year deal worth about $17 million that included $5 million in the first season.
Mahan started 16 games in 2007, and the Steelers saw enough. They traded him for basically nothing after just one season and replaced him with the mediocre Justin Hartwig.
Anytime Hartwig is the best option, you know you have a problem.
1. Replacing Rod Woodson with....Donnell Woolford?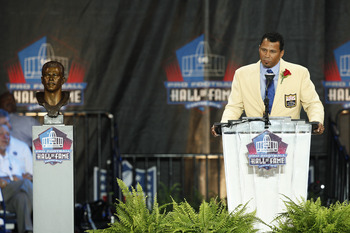 Of all the guys we let go, this was the biggest mistake.
The Steelers were ready to move on before they even sat down with Woodson. He was upset that they were negotiating with Donnell Woolford before they even spoke to him.
The Steelers were convinced he was done and for some reason did not see what seemed obvious to most of us: that he would transition to safety very well.
So they let him walk out the door and suffered in the defensive backfield for most of the next nine seasons.
All Woodson did was play seven more seasons, go to four more Pro Bowls and help two of our biggest rivals get two Super Bowls, getting his only ring with Baltimore.
Thankfully Woodson never held this blunder against the team and went into the Hall as a Steeler.
He remains one of the biggest Steelers' fans out of all the talking heads on television.
Woolford lasted one sub-par season with the Steelers before never playing again.
Keep Reading

Pittsburgh Steelers: Like this team?