10 Rookies Who Will Have An Impact in the NFC West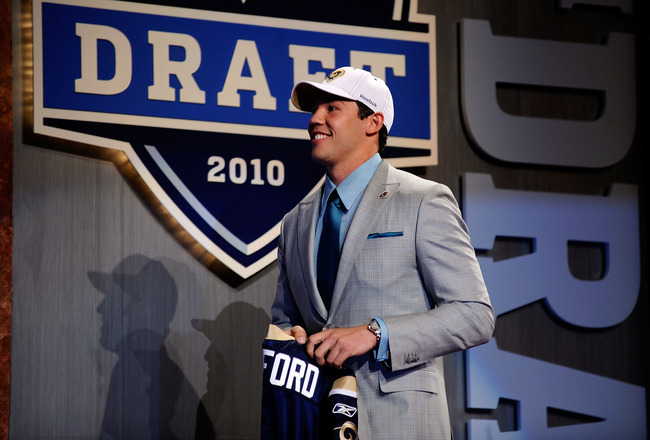 Rookies are kind of difficult to gauge.
You could have a rookie come out and play like Adrian Peterson, who in his first year was Pro-Bowl worthy.
And then you have the Ryan Leafs of this world.
Enough said.
It just isn't easy to define success as a rookie.
What it really boils down to is this: It's all relative to the team and the situation.
But taking all that into account, there are several rookies in the NFC West who figure to have big impacts.
And let me define impact very quickly. When I say impact, I mean production.
I mean changing the success of a team.
I mean being involved in how the team plays.
Now obviously I have to include the pictured Sam Bradford in this list, but what about the other nine?
St. Louis: George Selvie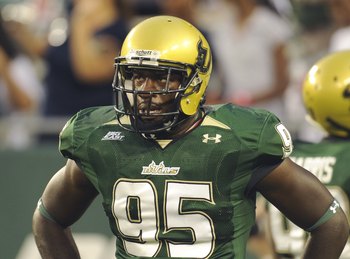 This is definitely my wild card pick.
I really wanted to find a possible late round gem who has could possibly overcome the odds and make an impact for his team (like a Tom Brady maybe?)
Selvie's draft stock really dropped over the past year, mainly because of the development of the flashier, more athletic Jason Pierre-Paul.
But the South Florida product was once considered himself to be a great NFL prospect given his freakish ability to come after the quarterback.
And that my friends, is uncoachable.
The ability to get to the QB will allow Selvie to break into the starting lineup before too long for the Rams and will keep him there for several years.
Arizona: Daryl Washington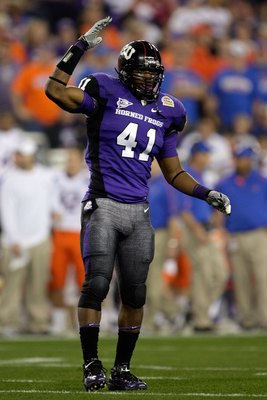 Let's be clear before I say anything else: He won't start right away.
Given Coach Whisenhunt's way of handling rookies, I expect him to start seeing significant action around Week Five or Six or maybe even later in the season.
But the fastest linebacker in the combine should have a big impact this season for the Cards.
In fact, he has the job of eventually replacing Karlos Dansby.
That's no easy task, even though Washington took Dansby's old number (58).
But Washington should rack up quite a few tackles with his range and speed and could have a bigger overall impact than the Cards' number one pick, Dan Williams.
San Francisco: Navorro Bowman
I've heard a lot about the steal that the Niners got in Navorro Bowman.
And while I didn't see Penn State a lot last season, one only has to think about the general success that those from Linebacker U have had in the NFL.
Add in Mike Singletary, and Navorro has a chance to be scary successful.
However, even given that, he may have trouble seeing the field at first, as the Niners have a pretty good linebacking core (perhaps you've heard of Patrick Willis?).
But Navarro, nicknamed "LaVorro" because of his friendship with LaVar Arrington and his tendency to play like him, could be a starter later in the year.
And, if he can stay away from off-field issues, Bowman could have several good years for the 49ers.
Arizona: Andre Roberts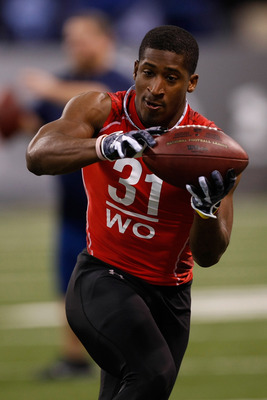 The little-known receiver from the Citadel could make a name for himself this season.
Although the Cardinals are set at the top three receiver positions, sometimes a player is only an injury away from being important.
And we all saw how well the fourth receiver Early Doucet did in the playoffs against Green Bay last season.
Enter Roberts, who figures to be the fourth receiver for the Cardinals.
Not much negative has been said about Roberts, other than the fact that he played for Citadel.
He was viewed as a possible steal in the draft, with scouts saying he was as ready as a small-school receiver could be.
And with the Cardinals' affinity for lining up in multiple receiver sets (which won't be as frequent with Kurt Warner retired) Roberts could see the field five to 10 times a game.
Not only that, but he could also be the opening day punt returner, as it's something he did in college.
He could take a big load off Steve Breaston in that aspect.
Roberts won't have as big an impact as guys like Golden Tate or Mardy Gilyard will, but he should be important to the Cardinals this season.
San Francisco: Anthony Davis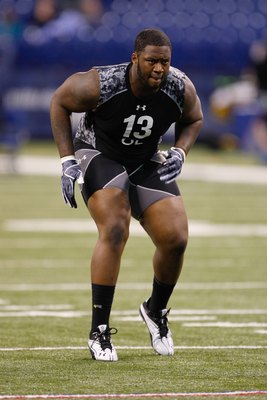 It is difficult for an offensive lineman to make an immediate impact.
But in Davis's case he fell to the right team (even though the Niners really didn't need to trade up to get him).
The 49ers were looking to fortify their offensive line, give Frank Gore some more room to run, and Alex Smith more time to throw.
Davis should immediately factor into that equation, as he could step in immediately opposite Joe Staley on the line.
We'll see the impact Davis has on the offense as the season wears on, but I can only imagine the damage Gore could do if he were allowed a little room.
And if Davis fulfills his athletic potential, he could provide just that.
St. Louis: Mardy Gilyard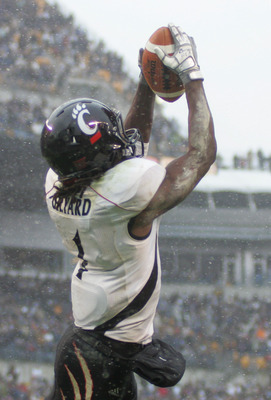 Gilyard has landed in a unique situation for a rookie receiver.
It's not often that one in Gilyard's situation can come in a make an immediate impact in many different ways.
He must feel like a kid in a candy store.
And believe me. Gilyard will be motivated.
For those of you who haven't heard Gilyard's story, I urge you to Google it. It's fairly remarkable.
And now, he's an NFL receiver.
It figures that Mardy will start from day one. At the very worst he'll be the slot receiver.
So from that position, the All-American should figure to catch at least 40 passes.
And not only that, he also should be the kickoff returner.
He did quite well in that area in college, as he finished 11th-best in the country with an average of 28 yards per return.
Mardy should definitely figure in the Rams' plans this season...
San Francisco: Mike Iupati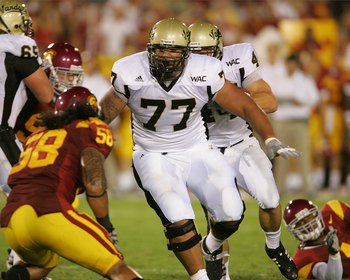 Another 49ers' offensive lineman who should have an immediate impact is Iupati.
In fact, I believe that Iupati could have a bigger impact than Davis does.
I believe that Iupati's game may be more NFL-ready (right now).
Plus, anyone who can earn All-American honors at Idaho is worthy in my book.
I won't bore you with his stats from his last season at Idaho, but they were very incredible.
I suggest you go look them up if you have some free time.
Iupati's agility will be a huge addition to the 49ers' run game and should further help Frank Gore (fantasy football anyone?).
Oh, one more thing.
The last guard who was drafted this high?
Steve Hutchinson, who's gone to seven Pro Bowls.
(Shudder.)
Seattle: Earl Thomas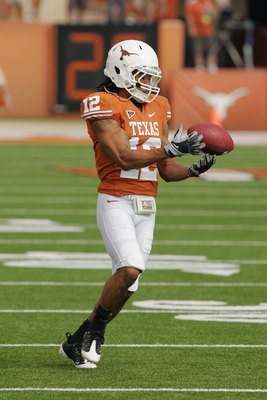 I'll just be straight with you.
I really like Earl Thomas.
Can I just admit something?
As the Cardinals' writer on B/R, I really wanted him to fall to Arizona.
It didn't happen.
Even worse for me, he fell to a division foe.
Much like some of the other rookies on this list, Thomas falls to a team he can make an immediate impact on.
It should be an easier transition to the NFL for Thomas than for others, in my opinion, because he saw a lot of action in the pass-happy Big 12 last season.
Now, Thomas isn't perfect.
But he can make up for any flaws in his game with his intelligence and freakish athleticism.
And boy am I going to groan when he picks off Matt Leinart.
Or whoever the Cardinals' quarterback is 10 years from now.
Yep, I really do like Earl Thomas.
For now.
Seattle: Golden Tate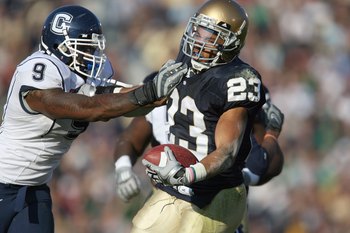 Tate, in my mind, has probably the best chance to excel of any rookie receiver in the NFC West.
He even might start immediately.
Tate's biggest competition may have left when Nate Burleson took off for greener pastures in Detroit.
He should get frequent looks from Matt Hasselbeck (or Charlie Whitehurst) given the fact that T.J. Houshmanzadeh should receive more attention from defenses.
And Seattle's offense should be more balanced this year, giving the former Golden Domer opportunities to find cracks in opposing defenses.
If Tate can quickly form a relationship with whoever the quarterback is, it could be a very good rookie season for Tate.
St. Louis: Sam Bradford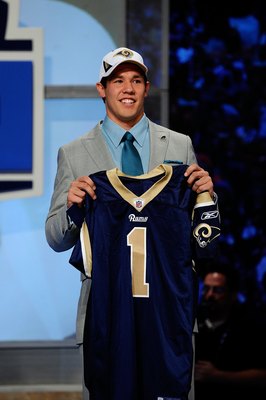 This is definitely an obvious pick.
He's the number one pick in the NFL Draft and probably the opening day starter for the St. Louis Rams to boot.
So will Bradford have an impact?
Absolutely.
How big remains to be seen.
There is a possibility he doesn't start the season, but I think the Rams would be foolish not to have him start in Week One against Arizona.
It will be interesting to see just how Bradford develops.
I think his development will be similar to what Matthew Stafford went through last season with the Lions.
Will he struggle at first?
Absolutely.
And probably more so than Stafford did, because Stafford actually had decent weapons at wide receiver, namely Calvin Johnson.
Stafford does not.
He does have Steven Jackson, a rookie quarterback's best friend (that is, should he stay healthy).
I think by the end of the year, Bradford could possibly be the third- or even second-best quarterback in the division however, given the issues in Arizona at the moment and the fact that Alex Smith is, well, Alex Smith.
Keep Reading