Pittsburgh Steelers Preview: 10 Players Who Might Breakout in 2010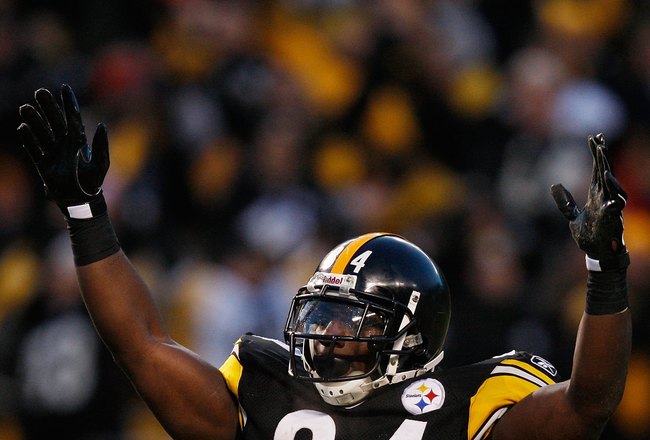 At 9-7, the Pittsburgh Steelers had a disappointing 2009 season that culminated in them not making the playoffs and preventing them from defending their Super Bowl title.
With Ben Roethlisberger being suspended for the first four games of 2010, the Steelers are going to have to rely on other players to pick up the slack. They were unusually active in free agency this offseason and expect a lot of their younger players to play big roles this upcoming season.

This list is who I think has the potential on the Steelers roster to have a breakout season in 2010 and is in no particular order.
Mike Wallace WR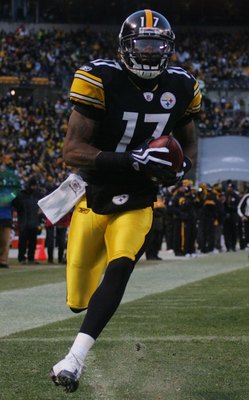 After posting an impressive rookie season in which he led the NFL in yards per catch at 19.4, Mike Wallace is poised to more than supplant the troubled Santonio Holmes as the starter opposite Hines this season.
Wallace showed a great ability to get open and behind the defense and came up big in many games starting as early as Week One when his catch in overtime put the Steelers in position to kick the game winning field goal.

The only nock on Wallace has been his route running although with another year learning under Hines Ward, I expect him to be ready. Wallace will have to prove that he can continually beat press coverage, however, I fully believe he will do so and with good hands and great speed, he is primed for a huge season for the Steelers.
William Gay CB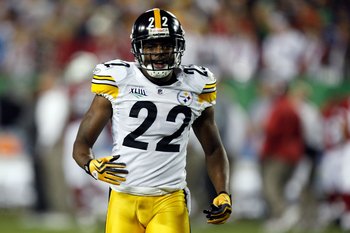 William Gay had a horrible season as the starting cornerback for the Steelers last year and failed miserably in filling the void left by Bryant McFadden who left in free agency after they won the Superbowl.
Gay continually got beat in all situations and was a major contributor to a porous Steelers pass defense which led to blown lead after blown lead and a five game losing streak which is why the Steelers did not make the playoffs in 2009.

All this being said, I have not completely given up on Gay and I believe that the return of McFadden will help his development tremendously. Gay showed flashes of his talent before last season as the nickel corner and that is the position he is battling for now.
I believe Gay can still develop into a good corner for the Steelers however he will have to prove himself to the coaches after that terrible season. Look for him to turn it around and demonstrate that 2009 was just one really bad season and that he can bounce back.
Maurkice Pouncey G/C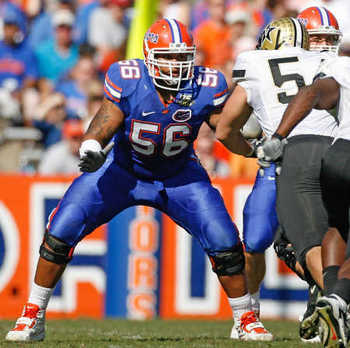 Even though Maurkice Pouncey is going to begin his career as a right guard with the Steelers and not at center, there is still immense pressure on the first round pick this season.
I believe that Pouncey will perform even better than expected and will prove to be the future leader of the Steelers offensive line. Pouncey has the ability to start at center right now and immediately upgraded the offensive line when he was drafted.

The Steelers are going to be relying on the running game more heavily this season with the suspension of Big Ben and Pouncey will do the job and open up holes for whichever running back is on the field. Also the season ending injury to starting right tackle Willie Colon will put enormous pressure on the rest of the offensive line to pick up the slack.
I believe that Pouncey will prove that he was worth the 18th pick in the draft and will be an anchor on the Pittsburgh Steelers offensive line this season.
Ziggy Hood DE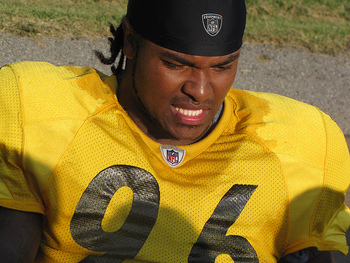 The Pittsburgh Steelers drafted Evander "Ziggy" Hood in the first round, 32nd overall in the 2009 NFL draft. Coming out of Missouri Hood, he was a defensive tackle and converted to a 3-4 defensive end for the Steelers.

Like many Steelers rookies, Hood did not see the field much in his first season and only amassed eight total tackles during the year. Even with all the injuries the Steelers had on the defensive line last year, Hood could not break into the starting lineup as rookie.

However, he was given much needed experience in a backup role and started to flash his potential late in the season. Hood recorded his first sack and fumble recovery of his career in Week 16 against the Baltimore Ravens and is expected to fight for a starting spot this season with veteran Brett Keisel.
Even if he does not win the job, Hood will be the primary back up for the Steelers and has the potential to be an integral part in bringing the Steelers defense back to greatness in 2010.
Rashard Mendenhall RB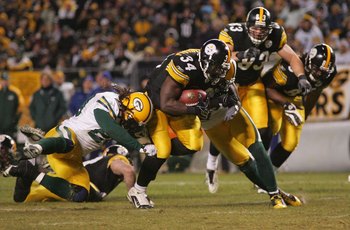 I believe that Big Ben's suspension will affect Rashard Mendenhall the most in 2010 since the Steelers will have to rely more heavily on the running game in his absence.
Mendenhall had a rough start to last season. However, after being benched in a Week Three loss to Cincinnati, he started the last 13 games and posted 1108 yards and seven touchdowns. More importantly for the Steelers, however, may be the fact that Mendenhall stopped fumbling everything he touched and only had one fumble in the last nine weeks of the season ending with only three.
The loss of starting right tackle Willie Colon for the season hurts the Steelers, but I believe that the offensive line will be able to come together to bring back that once vaunted running game.

With the line consistently opening up holes for Rashard this season I see a huge year for the third year back.
Keenan Lewis CB
Keenan Lewis did not see the field much during an injury plagued rookie season and did not contribute the way the Steelers were hoping especially as starter William Gay struggled mightily throughout the whole year.
This would be Lewis' season to shine as management and Head Coach Mike Tomlin are calling for the younger players to make major contributions in 2010. The Steelers coaches love Lewis' size at 6'0", 200 pounds and he has been touted as a guy with the talent to develop into a starting caliber corner for the Steelers.
In Lewis' favor this season is that he is in a battle for the third corner spot and not the starter's position. With the struggles of William Gay, Lewis and fellow second year guy Joe Burnett will be given every opportunity to succeed and don't be surprised if Lewis steps up and finally shows his potential.
Trai Essex G/T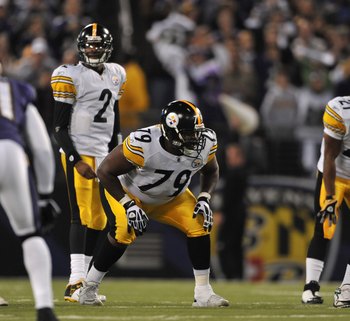 Trai Essex began to show that he was not a wasted pick for the Steelers when he and Ramon Foster manned the right guard position and did not play as bad as people think.
With the injury to starting tackle Willie Colon that has put him on injured reserve, the right tackle spot on the Steelers has been thrown in the air and is up for grabs for anyone to take it in camp.
Essex was drafted as a tackle out of Northwestern University and the Steelers have been thinking about kicking him back out there with the injury to Colon.
Rookie first round pick Maurkice Pouncey will take the right guard spot and I believe Essex will take the starting right tackle job. This will be his sixth year in the NFL and with finally getting the chance to start a bit last season I think he finally has begun to figure things out.
Trai Essex along with Maurkice Pouncey and the rest of the offensive line will be the reason the Steelers get back to dominating the run game and back to the playoffs in 2010.
Lawrence Timmons LB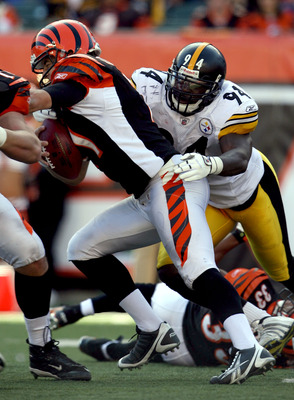 After showing flashes of his big play ability in the Steelers defense in his first two seasons, Lawrence Timmons was supposed to break out last year in his first season as the starting middle linebacker.
Timmons did not have a terrible season however nagging injuries prevented him from having the type of explosive year fans were expecting from him after seeing what he could do in spot duty one year earlier.
I completely expect Timmons to stay healthy this season and begin to take control of the Steelers defense as veteran James Farrior begins to decline. With this probably being one of Farrior's final seasons as a starting linebacker I believe Timmons will be given even more responsibility and will disrupt opposing offenses with the burst he showed in his second season.
Timmons will put it all together in his fourth season and will begin his final transition to one of the consistent playmakers and leaders on the Steelers defense.
David Johnson TE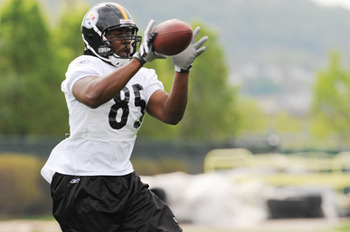 A seventh round pick in last year's draft, David Johnson was not really expected to even make the roster as a rookie.
When Sean McHugh was lost for the season due to injury, Johnson was given his chance on the roster. Although Johnson was not really used in the offense, accumulating only two receptions for nine yards all season, the coaches were impressed with his blocking ability.
Johnson is in a battle with Sean McHugh and Matt Spaeth for the second tight end spot and I expect Johnson to win that battle. I believe he will be used much in the same way as Spaeth was used in his rookie year when he had three touchdowns in only his first couple of games before getting injured that season.
With his blocking ability Johnson has the potential to be a big red zone target, especially off play action passes.
Joe Burnett CB
With all of the documented struggles of the Steelers pass defense last season, I think the Steelers are hoping that every corner I have on this list has a breakout season.
Joe Burnett will be in that heated competition for the third corner spot with William Gay and Keenan Lewis and may have the best shot of the three.
Keenan Lewis missed most of last season due to injury and with all the struggles that William Gay had he probably wishes that he did also so Burnett could have a slight leg up on the two.
Burnett earned his way onto the roster with a great preseason and accumulated 17 total tackles during his rookie year. He does not have the ideal size that the Steelers like to have in their corners, but he has great speed and quickness and could excel in that nickel corner position.
Keep Reading

Pittsburgh Steelers: Like this team?