Miami Dolphins Training Camp: The Top Five Position Battles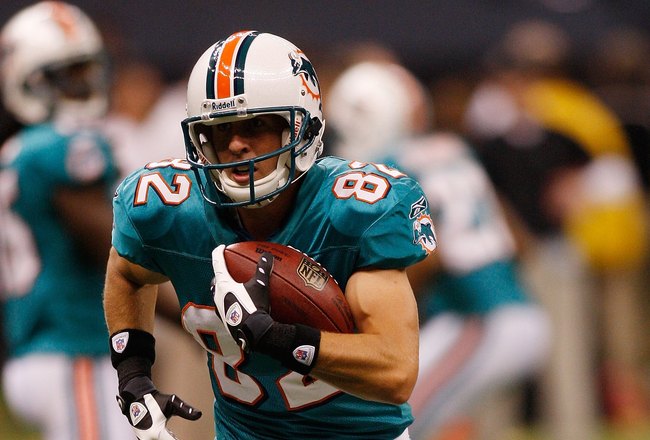 The Miami Dolphins enter their 2010 training camp as a team with many new faces and under immense pressure to provide a playoff appearance.
Before the team can begin thinking about the playoffs, or even Week One of the regular season, many players on the roster must fight to retain their roles, and some must fight for a job.
The Dolphins' roster has many holes that must be filled, most notably at free safety and outside linebacker.
But training camp battles go much deeper than the top of the depth chart.
Over the course of camp, players at virtually every position will duke it out for third and fourth string roles on the 53-man roster.
Some will make the cut, and some will be forced to join the unemployment line.
Every player will have the chance to prove his worth, and here are five situations where players must give an extra effort to either make the team or win a starting job.
No. 5: Patrick Turner vs Ryan Grice-Mullen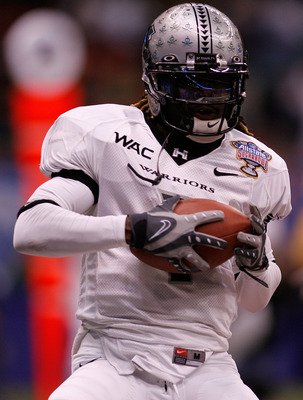 Wide receivers Patrick Turner and Ryan Grice-Mullen will duel for the final receiver spot on the Dolphins' depth chart.
Turner, a 2009 third round draft pick, has already drawn criticism from his veteran teammates this summer. Those anonymous veterans told the Miami Herald that Turner "hasn't shown the urgency or work ethic of the other receivers."
Couple his lax work ethic with reports of lingering back problems, and Turner might be in serious danger of losing his job to Ryan Grice-Mullen.
The Dolphins signed Grice-Mullen in January after he capped off a season as one of the Canadian Football League's most productive kick returners. Miami hopes that he can help light a spark in the team's return game, and become a serious special teams threat.
Grice-Mullen's speed and upside seems to outweigh Turner's size and disappointing play thus far. However, these two will have to duke it out during training camp to make the 53-man squad.
No. 4: Patrick Cobbs vs Lex Hilliard vs Kory Sheets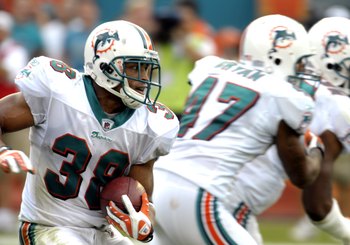 After running back Patrick Cobbs went down with an ACL tear in Week Five, the Dolphins lost one of their most coveted players.
Not only did Cobbs survive the Trifecta's pre-2008 roster overturn, but he shined brightly in the limited opportunities he was given, both on special teams and as a backup running back.
Without Cobbs, the Dolphins turned to 2008 sixth round pick Lex Hilliard to backup Ronnie Brown and Ricky Williams. By season's end, Hilliard, like Cobbs, shined when given the opportunity.
Hilliard finished the season with only 23 carries and one touchdown, but showed a nose for the end zone and a bruising running style that could wear defenses down.
Cobbs and Hilliard are the two likeliest candidates for the third running back spot, but Kory Sheets will also participate in this battle. The Dolphins will have to decide if they desire an explosive running back recovering from a serious injury, or a bruising runner.
No. 3: Cameron Wake vs Charlie Anderson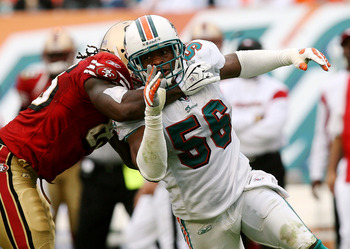 Although Cameron Wake was a dominant force during his days with the BC Lions of the Canadian Football League, he has yet to show he can bring the same level of play to the NFL.
Wake was solid in the play time he received in 2009, racking up 5.5 sacks, but the Dolphins brass does not appear to be sold on his ability to be an every down linebacker.
Therefore, Wake will battle with seventh year linebacker Charlie Anderson for a starting outside linebacker spot. Anderson may not be quite as explosive as Wake, but he may be a more consistent, well-rounded option.
Wake will have the opportunity to show the Dolphins' coaching staff that he can play both the run and the pass, but Anderson will be there to provide some stiff competition.
No. 2: Vontae Davis vs Sean Smith vs Will Allen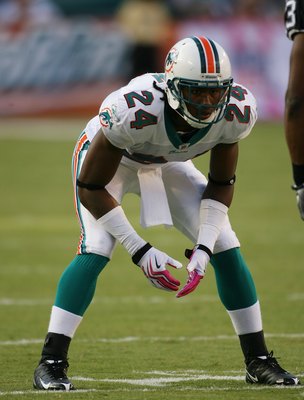 When Will Allen suffered a season-ending ACL tear in Week Six last season, rookie corners Vontae Davis and Sean Smith were left to shut down opponents' best receivers.
Both struggled mightily at times, but showed steady improvement over the course of the season. Set aside their play, both quickly became fan favorites with their unrelenting swagger which reminded many of Sam Madison and Patrick Surtain.
With Allen set to return at full capacity for the 2010 season, the Dolphins must decide if they want to risk slowing the development of their up and coming corners by putting Allen back in the starting lineup.
The Dolphins will let all three compete for the two starting spots during training camp, and will likely award those spots to the two corners who play at the highest level.
Still, it seems as though Davis and Smith will probably have the edge due to both their age and upside.
No. 1: Chris Clemons vs Reshad Jones vs Tyrone Culver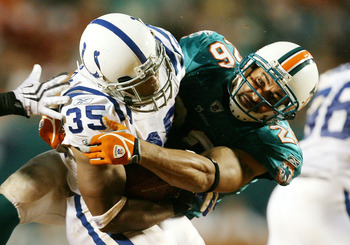 In easily the most anticipated position battle of Dolphins training camp, safeties Chris Clemons, Reshad Jones, and Tyrone Culver will compete for the starting free safety role.
Clemons, a 2009 fifth round draft pick, has jumped out as the early favorite, but rookie Reshad Jones and veteran Tyrone Culver are expected to have a shot at the starting spot as well.
Culver is also expected to take some reps as a nickel back, which could increase Clemons and Jones' chances at winning the job.
Clemons' year in the system definitely gives him an early edge on Jones, though.
Whoever wins will be under serious pressure to provide the defense's safety blanket.
Keep Reading

Miami Dolphins: Like this team?