Georgia Athletics Facing Season of Reckoning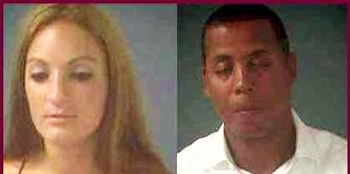 Alabama's 31-0 halftime lead in Athens during the 2008 season could not do it. West Virginia's 38-35 Sugar Bowl win over the 2005 SEC Champion Bulldogs could not do it. Vanderbilt's road victory over Georgia in 2006 could not do it.
But the unlikely circumstances surrounding UGA Athletic Director Damon Evans and 28 year-old Courtney Fuhrmann (see pictured) described by Evans as a friend, seem to cast an uncertainty on the future direction of Georgia football, if not all athletic programs at the University.
Georgia Football: Backyard Brawlers and Buttoned Down Scholars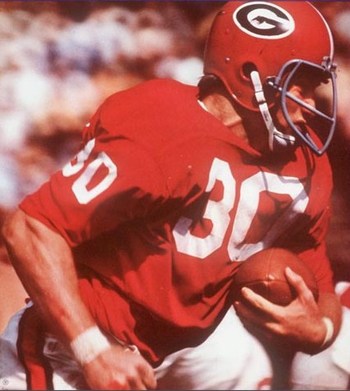 What sets the Georgia athletic teams apart from many schools in the southeast is the desire to compete nationally in various sports, and to be successful.
Georgia is no one trick pony football school. It is far, far more.
The prime mover of nationwide Bulldog sports success during the past half century is the former football coach and athletic director, Vince Dooley.
Dooley seemed to be an odd choice for the Georgia head coaching position at the dawn of 1964.
An Alabama native, Dooley had been a quarterback for Shug Jordan at Auburn in the early 1950s.
He stayed on as assistant coach through the 1963 season, a year of great success for the Tigers who won nine games and lost only once, culminating with playing the first of Bob Devaney's fearsome Nebraska squads in the Orange Bowl.
Opportunity rarely knocks, and as the old sages advise, strike while the fire is hot.
Dooley was summoned to Athens and immediately turned around a moribund Bulldog program, which had won a total of only ten games in it's previous three seasons, and took them to a Sun Bowl victory.
Dooley's '65 team was the only school to inflict a regular season loss on Bear Bryant's Crimson Tide during the three years of 1964 through '66.
Dooley is a forward thinking person. His values are rooted in old school basics, flavored with his Master's degree in History and cunning Irish temperment.
In 1979 Dooley was appointed Athletic Director, a position he held for 25 years, even after retiring as head football coach in 1988.
Along the way Dooley was involved in a dreadful situation regarding a University employee, Jan Kemp.
In 1981 Kemp was one of the instructors who complained Georgia officials had allowed nine football players to pass remedial English in order to maintain scholastic eligibility.
Kemp was demoted and dismissed. She filed a lawsuit claiming unfair termination. UGA defended its actions saying that Kemp was dismissed for disruptive conduct.
A jury found the University guilty for the illegal dismissal of Dr. Kemp and she was awarded over a million dollars. The President of the University of Georgia, Dr. Fred C. Davison later resigned.
After her trial, Jan Kemp spoke to The New York Times. She maintained college athletes are only used to produce revenue for the school.
Dooley survived the episode and breathed new life into the academic success of Georgia athletics. As he had often encouraged his players, Dooley took a negative and turned it into a positive.
The grades of all Georgia athletes were monitored and solid improvement began, which continued through Dooley's tenure.
His hard work and dedication paid off later as Dooley was awarded the Carl Maddox Sport Management Award for contribution to the growth and development of sports through management practices.
In addition, he captured the coveted Homer Rice Award, the highest honor given by the Athletic Directors Association.
Dooley met adversity and conquered it, a fine example of a top Athletic Director during any era.
With the coming of President Michael Adams in 1997, Dooley was faced with dealing from a position of declining strength and influence. This led to several publicized disagreements between the two strong-willed men.
In 2004 Dooley stepped down and turned the position of AD over to one of the former Georgia football players, Damon Evans.
Mark Richt: Hurricane Caught In A Whirlwind
While Vince Dooley was AD at Georgia, he reached out for a former Miami Hurricane quarterback to take over the fortunes of football in Athens.
Richt (see pictured during his playing days at Miami), was born in Nebraska, and grew up as a Cornhusker fan during the glory days of Coach Bob Devaney's era of championships.
But, despite the tug on his heartstrings, young Mark Richt chose the sunny beaches of Miami to play his trade as a signal-caller.
During Richt's playing days as the Hurricane quarterback he cut a confident pose for his head coach, former Bear Bryant protege Howard Schnellenberger.
After graduation, Richt worked at Florida State and East Carolina before Dooley selected the diamond in the rough.
Richt was successful under the Dooley administration as well as the Damon Evans regime, with whom he seemed comfortable and at ease when the two appeared in public.
Damon Evans, like Mark Richt, was born in Nebraska.
One could suppose Mark Richt had a close working relationship with Director Evans, who himself knew the Bulldog football program inside and out as a former Georgia player.
Despite ludicrous calls from the uniformed to ask for Mark Richt's head on a platter after his highly touted 2008 team failed to live up to pre-season publicity, Damon Evans stood by his embattled coach and was a source of strength for the Bulldog family during an emotional and trying season.
In 2009 Georgia stunned powerful Orange Bowl-bound Ga Tech and routed Texas A&M to complete the year on an upswing.
As the 2010 season dawned, all indications were of the Bulldog house being in order.
It's Not One Of The 10 Commandments But, It's Close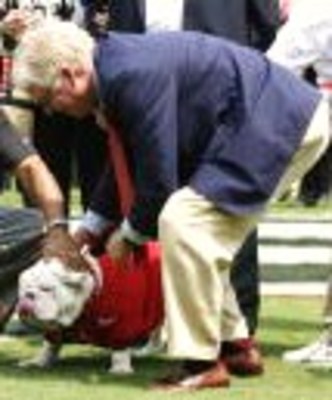 It was late at night as the calendar turned to July when the circumstances surrounding the beginning of the end for the career of Damon Evans became public record.
According to the published statement of Georgia State Patrol Director of Information Gordy Wright, a 2009 BMW was pulled over for a traffic stop after observing the manner of driving and travel of the vehicle.
The driver, identified as University of Georgia Athletic Director Damon Evans, was accompanied by a female passenger later identified as 28 year old Courtney Fuhrmann.
After detecting the smell of alcohol on Evans' breath. the officer administered the field sobriety test. The trooper determined Evans was not safe operating a motor vehicle and placed him under arrest for driving under the influence.
According to the incident report in the Atlanta Journal-Constituion newspaper, during this process Evans was found to have a pair of red panties between his legs.
When the police asked him about the undergarment, he pointed at the passenger (Courtney Fuhrmann) and stated, "'She took them off and I held them because I was just trying to get her home." He told police "he had a wife and family."
The Trooper's Report further states Courtney Fuhrmann tried several times to get out of Evans' car while the trooper was giving Evans a sobriety test. After numerous refusals to stay in the car, the trooper took her into custody as well.
And thus began the fiasco soon known as "PantyGate."
University of Georgia President Michael Adams (see pictured) made it clear to Evans in a meeting Friday that he could not remain in the job of representing the University of Georgia as Athletic Director.
Evans offered his resignation and agreed to a financial settlement over the weekend.
During a Tuesday press conference Dr. Adams insisted "I would simply say to you it was the totality of this situation and what it said about good judgment or lack of such at this level that led me to my conclusion."
Adams then continued, "What troubles me the most is the loss of potential here."
As for the resignation settlement, Adams answered the school will pay Evans $237,500. Evans was scheduled to earn $3.25 million over the next five years.
"I didn't think it needed to be too generous under the circumstances," Adams said. "At the same time, this is a person who has given us 12 years of his life (as an employee)" and has made very important contributions to the University. "He is one of us, and that matters to me."
"I think we got it about right. I hope and pray we did."
While acknowledging the sadness of recent days, Adams feels the administration still has important work to do, and "it is time for us to move on."
The journey can't come soon enough for former Bulldogs and their faithful fans.
Bill Knowland, who has spent the better part of his life cheering for "those hairy dawgs" offered a reasonable analysis of the current situation. " What Damon got caught with is not breaking one of the ten Commandments but, it is darn near close as it gets."
Where Does Georgia Go From Here?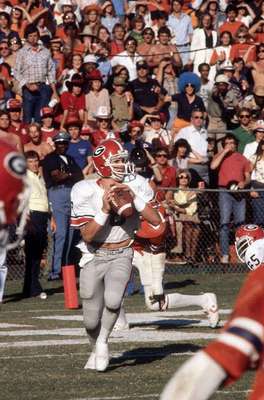 For certain this is one situation Georgia President Michael Adams never expected to be in.
By hiring a 34 year old former player as AD some six years ago, University of Georgia personnel believed they had solved the problem of athletic leadership for decades to come.
But, it was not to be.
So then, if not Evans, who?
Dr. Adams let the cat out of the bag during his press conference on Tuesday when he stated " my first look in this case is going to be outside."
The reason, he continued, is that "I want an outside opinion to take a hard look at what we're doing and how we're doing it. As well as we're doing it, can we do it better?"
He said the University of Georgia will seek a person with a high level of athletics experience, although stopping short of outlining if that someone will be a current major-college athletics director.
UGA law professor David Shipley will serve as chairman of the search committee. Shipley added given the candidates who will be interested in the position, the process should take several months, perhaps a year.
"To say we could get somebody much earlier than the New Year would be really, really optimistic," Shipley said.
It should be mentioned that Adams himself is an Ohio State man, and he may feel more comfortable with an urbane midwesterner similar to Buckeye head coach Jim Tressel.
Dr. Adams is also a political animal, having worked for Republican Tennessee Senator Howard Baker and Governor Lamar Alexander prior to leaving that world for academia.
Unlikely to ask the old Irishman to give it one more run when one looks at the disagreements Dooley endured previously with Adams, this still would be an opportunity for Georgia administrators to benefit from the wealth of knowledge of the "Old War Eagle" if only as a consultant.
Only time will tell, but it appears the Bulldogs will look more to the future than to the past.
Keep Reading

Georgia Bulldogs Football: Like this team?