Five Oregon State Beavers Set To Make an Impact in 2010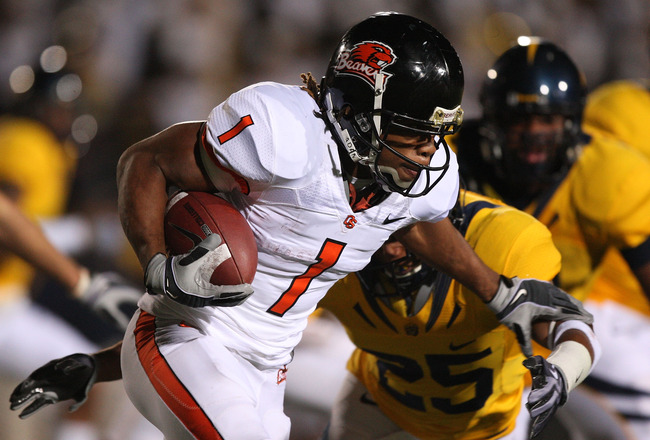 The Oregon State Beavers' football program came up a win short of the Rose Bowl in their 2009 campaign.
Most of the players responsible for their success are returning. However, key additions will be called upon to make up the gaps left behind by draftees and graduating seniors.
Coached by NFL-experienced Mike Riley, the Beavers are young and poised to make another run at a Pac-10 Championship, but their competition will be stiff.
Honorable Mention: Justin Kahut, K - Senior
Kahut's evolution as the Beavs' steady place kicker certainly hasn't gone unnoticed.
Kahut has developed into a reliable leg with an increasing range over the past three seasons. The kicker gives Riley a failsafe option should he be unsure of the offense's ability to gain yardage.
Depending on the need for field goals this season, Kahut may enter in to Groza Award discussions.
5. Joe Halahuni, TE - Junior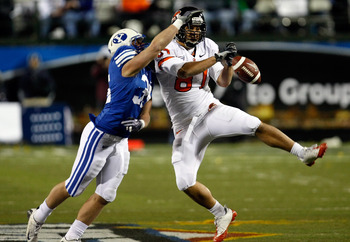 The Beavers' Tight End accounted for 35 catches last season and became another reliable target for Sean Canfield. Halahuni is built like a defensive end but has hands like a short yardage receiver.
With Halahuni coming out of the backfield to catch passes in the flat, Oregon State has an escape clause for young gunslinger Katz.
Look for Halahuni to have an increased role in the Beavers offense this season, as Mike Riley surely will have some plays drawn up for him.
Senior Brady Camp should earn honorable mention at Tight End, he will most likely see significant playing time as well in 2010.
4. Lance Mitchell, S - Junior
The Black and Orange will call upon Mitchell to patrol the backfield this season. Mitchell is a veteran of the defensive system and has benefited greatly from increased playing time over the past two seasons.
With cornerback Brandon Hughes now entering his second season with the San Diego Chargers, the Beavers will rely on their safeties to cover the slack while the cornerbacks progress.
There is no cornerback on the 2010 roster above the sophomore level, so much will be expected of Mitchell to set the example. His performance as the last line of defense in the Beavers' passing counterattack may be the key to success, or downfall of the program.
3. Ryan Katz, QB - Sophomore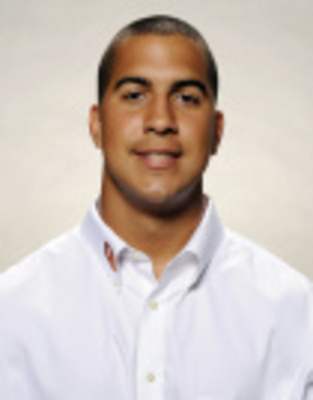 Katz will have some impressive shoes to fill. The sophomore measures 6'1" and weighs in at 209 pounds. He will be replacing the most accurate thrower in the Pac-10 with the departure of Sean Canfield.
Canfield's completion percentage was 67.9 percent, and his QB rating was second in the Pac-10 at 141.94, trailing only Standford's Luck.
Katz appeared in just four games for the Beavers last season while attempting 27 passes and completing 14 of them. The Beavs saw promise in his young arm and are confident he will be capable of completing passes to a receiving core that includes impact players.
The main advantage Katz will bring to the table is his mobility. Canfield was strictly a pocket passer and was largely unable to avoid rushing lineman. Katz has a strong arm but also the ability to evade lineman. He may just fit in to the Beavers fast-paced offense.
2. James Rodgers, WR - Senior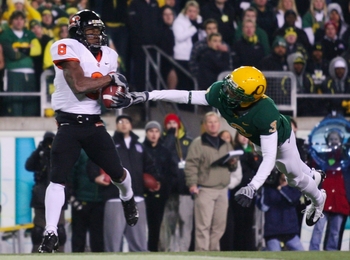 James Rodgers, the older brother of teammate Jacquizz Rodgers, is used in a variety of ways in the Beavers offense. He is a flanker that can line up as a wide out, in the slot, as a wing, or even under center in certain formations.
Rodgers led the team in receiving in 2009 while recording 91 catches for 1,034 yards and nine touchdowns. In addition, James ran for over 300 yards on 58 attempts. Oregon State has developed the fly sweep and added it to their offensive arsenal, which will put James Rodgers back in the spotlight for 2010.
With Rodgers' role as a versatile option in Oregon State's offense, he will certainly make an impact in the Pac-10 and possibly the major bowl scene.
1. Jacquizz Rodgers, RB - Junior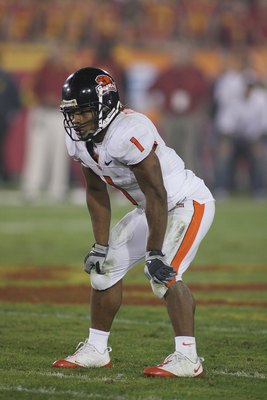 Standing just 5'7" and weighing in at 188 pounds, Jacquizz Rodgers is a speedy back with tackle-breaking agility and quick feet. "Quizz" averaged 110 yards per game last season and figures in to the 2010 Heisman discussion.
Rodgers ran for 21 touchdowns last season, and is a dependable source for yardage against a strong pass defense.
The way Rodgers runs has been compared to legendary running back Barry Sanders. However, like Sanders, his size holds him back in the national spotlight and the NFL's gaze. Also like Sanders, he will have to prove he belongs and the Beavers are confident he is up to the task.
Look for Rodgers to lead the Pac-10 Conference in rushing yards and possibly attempts this season.
Keep Reading

Oregon State Football: Like this team?