2010 MLB Home Run Derby: 10 Sluggers We'd Rather See Competing
The 2010 Home Run Derby competitors are gradually being unveiled, and it should all lead up nicely to the typical, power-packed slugfest.
Thus far, the participants include Miguel Cabrera, Robinson Cano, David Ortiz, Vernon Wells, Corey Hart, and Matt Holliday.
These six certainly represent a great variety of home run hitters but the lineup could stand to take on a little pizazz.
There are a ton of big hitters out there that would fit into the 2010 Home Run Derby very nicely, if not more than some of the official participants.
To spotlight some of the big bats in baseball that are not likely to compete in the contest, here are 10 guys that could easily find success in the Home Run Derby while simply making it even more fun to watch.
This list is not geared toward kicking out the current 2010 competitors or to throw them under the bus. It merely suggests that the incorporation of any of these 10 suggested names would make the contest that much more interesting and fun.
These are also just 10 names out of a lot more. Many more sluggers out there are just as credible Derby competitors.
Jose Bautista, Toronto Blue Jays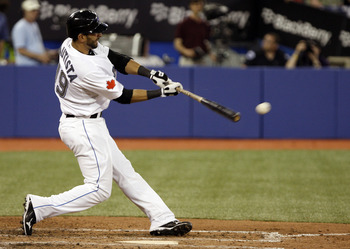 Jose Bautista has easily turned in the most unexpected and spontaneous outburst of power hitting in Major League Baseball this year. He's having a breakout year like that of teammate Aaron Hill in 2009.
Entering 2010, the most home runs Bautista had hit in a season was 16.
He already has surpassed that mark and is tied for the Major League lead in homers with 21. N
obody expected him to whip out this kind of power hitting out of nowhere. He still isn't necessarily a well-known name around baseball's casual fans.
An appearance in the Home Run Derby would essentially give Bautista the opportunity to throw his name out there even more, and to show off some slugging to his naysayers.
It also seems natural that the current home run leader should be competing in the Derby.
Brennan Boesch, Detroit Tigers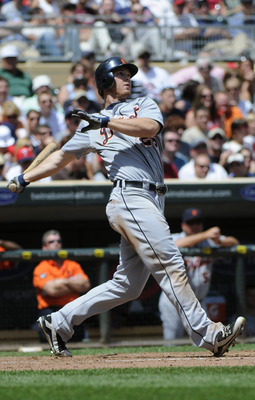 It isn't too often that a rookie storms into the Home Run Derby and makes some noise. That could definitely happen this year if Brennan Boesch is included.
Boesch has proven that he has plenty of pop. He's hit 12 home runs, tied for the lead amongst rookies.
For a rookie, 12 first half home runs is special.
Boesch would arguably win the AL Rookie of the Year Award of the season ended today.
A rising star like him should get opportunity to swing for the fences.
A rookie participant could even be made mandatory in the Home Run Derby, at least if they are qualified. It adds another story to the mix.
Josh Hamilton, Texas Rangers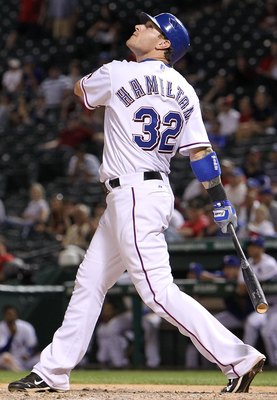 Hamilton is working on his biggest year in the Majors and is an MVP candidate at this point. His power is unquestionable. He's smacked 20 long balls this year.
Many could challenge Hamilton, saying that he got enough of his Home Run Derby fame in 2008 when he hit 35 total home runs in the contest, and 28 in the first round. But he ended up losing to Justin Morneau.
Hamilton deserves another shot at it.
First, to see if he could break his record of 28 homers in around. And second, to see if he could return to the Derby and pick up the win that he came so close to achieving two years ago.
Paul Konerko, Chicago White Sox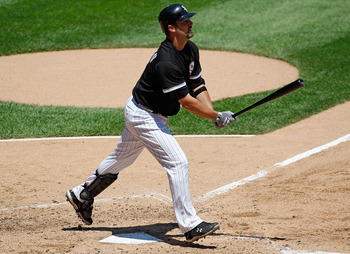 Now here is real Home Run Derby ghost from the past.
His previous and only Home Run Derby experience came in 2002, where he fell short to champion Jason Giambi. A Konerko return to the Derby would mark one of the longest gaps between contest appearances.
He is deserving of the gig because of his 20 home runs this year.
Many viewed his 28 2009 home runs as a power outage but the 34-year-old first baseman is proving he still has a sweet swing.
Konerko would bring a big veteran presence to the Derby, helping emphasize the concept of participants being at different stages in their career and still hitting home runs.
Nick Swisher, New York Yankees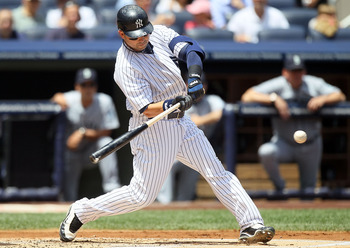 In all honesty, Nick Swisher is a fan favorite in New York and Yankee fans would love nothing more to see their beloved switch-hitting outfielder duke it out in the Home Run Derby. Maybe Swisher would be able to hit home runs from both sides of the plate in the contest.
Swisher seems like a likable character. He has the flashy name. He has the power, having hit 13 home runs this year. He'd know how to turn the Home Run Derby into a lot of fun and smile throughout the entire thing.
He should get the chance to swing for the fences.
Prince Fielder, Milwaukee Brewers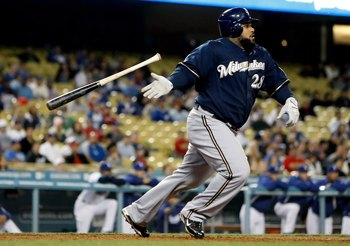 His overall offense might be lacking a bit this year, but he still has bombed 18 home runs and carries a lot of weight and power around.
Besides, he needs to come back and defend his Home Run Derby title.
He beat out Nelson Cruz by a couple of home runs, and what better way to defend a title than to return and up the performance.
Fielder should simply be included in the pack because defending champions in these kind of tournaments seem like a necessity.
Miguel Olivo, Colorado Rockies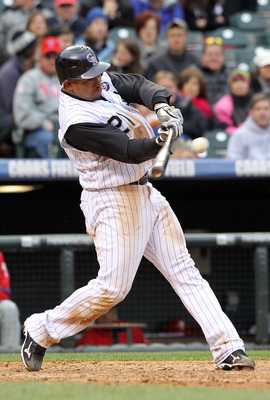 Every year, somebody comes out of left field to participate in the Home Run Derby.
Fans can remember last year when Brandon Inge was that guy. One would think an slightly obscure player would be tossed into the 2010 mix.
Miguel Olivo could be that guy in 2010.
He is a catcher, and catchers don't often possess the big bats, with exceptions to the big names like Joe Mauer. Olivo would probably at least hit some home runs, unlike Inge last year.
But seriously, Olivo has jumped out of the pack as a consistently hitting catcher in the NL.
First of all, he's hitting over .300 and he's hit 11 home runs in just 59 games.
He isn't the most powerful bat out there, but again, every year there is that random contestant.
Fans either love the underdog competitor, or just find it funny. Olivo would be viewed like that to the fans, no matter whether or not he were to succeed in the Derby.
Colby Rasmus, St. Louis Cardinals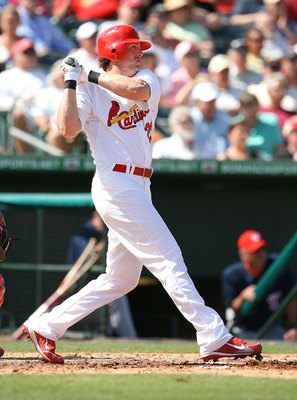 Colby Rasmus is another example of a young rising star that should be included in the Home Run Derby.
The 23-year-old would bring an additional youthful spark to the power contest and would open up more of the MLB fan base to who he is and his power potential.
Rasmus has 16 home runs, giving him Home Run Derby credibility.
Imagine if a pair of young left-handed sluggers like Rasmus and Boesch ended up teeing off heads up in the Derby. Their young names would be ingrained in baseball for a while.
It's always fun to see the new guys make a name for themselves, and the Home Run Derby could help assist that in the young guys.
Mark Reynolds, Arizona Diamondbacks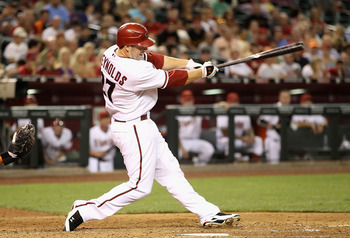 Let's face it, Mark Reynolds isn't exactly the model hitter when it comes to plate discipline.
But when he isn't striking out, he is smacking plenty of home runs. With his big bopping bat, Reynolds is a prime Home Run Derby candidate.
Despite perennially being baseball's strike out king, he could hit a ton of homers in this contest. On the year, he's hammered 18 long balls.
If Mark Reynolds loves to swing for the fences so much, he should be given an opportunity to participate in the Derby where slugging is all that counts.
Joey Votto, Cincinnati Reds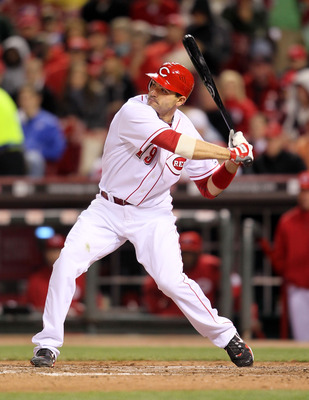 Last but certainly not least, Joey Votto absolutely must hit in the Home Run Derby.
He's already been snubbed out of the starting job at first base in the 2010 All-Star game, in the eyes of many fans.
If he doesn't get onto the roster via fan voting, the least that baseball could do would be to allow him to showcase his talent in the Derby.
Votto is tied for the most home runs in baseball with 21. There is no debating his power and he could easily slam many home runs in the Derby.
After his All-Star snub, Votto is quickly becoming one of the most appreciated sluggers in all of baseball.
Much of the baseball world would pull for him if he were participating in the Home Run Derby.
Keep Reading