Denver Broncos All-Time Best Receivers
The Denver Broncos have long had a tradition of having a well-balanced offense that evolved over the decades. Ironically enough, the Broncos top 10 receivers fall in line along the statistical line for the most part.
This is a straight up take that is all encompassing based on statistical standings.
For good measure, other noteworthy mentions are thrown in for deeper thought and review.
Here's a small anecdote and a bit of trivia in advance. Of the top ten receiver on the Broncos All-Time chart only two of them never played with John Elway. Can you name the two that did not play with Elway and can you name the eight that did?
As a final note in this slide show there are a total of 17 receivers listed, only five of them did not play with John Elway. A true testament to John Elways greatness in making the others around him greater.
Enjoy!
Begin Slideshow

»
Glyn was an undersized dasher who had the ability to make the big guys miss him in open space.
He wasn't the most amazing running back the Denver Broncos ever had and he wasn't the most versatile. Oddly enough, his pass catching abilities put him on the list. He spent three seasons with the Broncos, one in Detroit, and three plus in Chicago while finishing his career with six games for the Chargers.
Milburn had the fifth most receptions by a Broncos rookie (38) in 1993 with a 7.9 yard average. Milburn followed that up in 1994 with 77 catches for 549 yards.
After leaving the Broncos, his pass catching totals and rushing yards were never even close to what he did in Denver. He was essentially relegated to being a return man for the remainder of his NFL career.
Steve Sewell was the Denver Broncos original third down back. He was originally drafted in the first round out of Oklahoma. While he may have disappointed as a first-round selection, he proved to be an integral part of the Broncos offense. He never panned out as an every down back for the Broncos; he did, however, post an excellent 12.6 yard per catch average over his seven year career with the Broncos.
Sewell was consistent and found his niche on third down. He only caught a maximum of 38 passes twice in his career, but did have a yard per catch average over 16 twice in his career, which is virtually unheard of, especially for a running back or a third down back.
Finally, Sewell played on three Broncos Super Bowl teams and caught a vital 3rd-and-18 pass from John Elway during The Drive in Cleveland. Sewell also broke his jaw one season and wound up playing later with a special face-mask. He was a true iron man on the Broncos roster.
http://www.youtube.com/watch?v=bypo-WhahYo
Terrell Davis has been a semifinalist for the Pro Football Hall of Fame for the last four consecutive seasons.
Yes, he still deserves further consideration for the Hall and this may be just another reason why he should eventually wind up in Canton.
First of all, let's not forget (though far too many do) that for a four year window, Terrell Davis posted numbers that made him the greatest running back of all time for that time frame. That says more than just something when considering the greats of the game; it says a whole lot that he was the best for a period of time.
On top of all his rushing statistics which are impressive, and his back-to-back Super Bowl titles with the Broncos that are also a part of football history, TD was an all-around football player.
What separates Terrell Davis from the rest on the football field is that he was a very good blocker in passing situations and grew into being a decent pass catcher out of the backfield.
He twice caught over 40 passes in a season and finished his career with a 7.6 yard pass catching average, which is very respectable. He finished his career with 1280 yards on 169 receptions with five touchdowns.
He was versatile, dynamic, and a football player for the ages.
He was No. 15 in Denver before Tim Tebow showed up on the scene. However, he fell out of favor with coaches, some fans, and the front office alike. So Brandon Marshall was sent packing from Denver to Miami with a one way ticket and the contract he always hoped for awaiting him in Florida.
Before he left and before he could get the big contract, he had to produce. The Broncos offense benefited to the point where last season (2009), he accounted for more than a quarter of all of the Broncos' offensive yardage.
With the Denver Broncos, Marshall made 327 catches for 4,019 yards and 25 touchdowns. He ranks seventh in team catches, 11th in yardage, and 10th in touchdown grabs.
He was on pace to become the Denver Broncos all-time leading receiver at the time of his departure.
While only entering his third season as a Denver Bronco, Eddie Royal has left his mark forever on the franchise.
In 2008, he posted 91 catches over 15 games for 980 yards and five touchdowns.
Certainly it helped being lined up opposite Brandon Marshall for his rookie season with a more balanced passing attack and Jay Cutler throwing the ball to him.
Last season under Josh McDaniels, Royal caught less than half the number of balls he did in 2008 for less than half the yards. How Eddie Royal is used in the future is anybody's guess but he has the ability to bounce back without question.
One thing remains—he has already posted the greatest rookie season of all time by a Bronco and owns the top four pass catching games by a rookie, posting 11 grabs once and nine catches three times.
Call it highly ironic.
Anthony Miller had a fallout with John Elway and the Broncos and yet he somehow owns the team record for most touchdown receptions in a season. It's an anomaly, one which the Broncos wish was held by one of their all-time best, not one of their all-time head cases.
Once Miller left the Broncos for Dallas, he bad-mouthed Elway and the franchise, obviously not endearing himself to the fans. He wouldn't even own the single season record if he wasn't playing on the same team as Elway. It's what you call ironic that those 14 TDs were also Millers career best. He once caught 10 with San Diego, but once he left Denver, he only caught four more TDs with Dallas.
So, the only reason Anthony Miller makes this list is one John Elway.
Ricky Nattiel is the receiver that Eddie Royal brings to mind when turning another big play. Nattiel was the third of the Three Amigos receiving core that supported John Elway during his first few Super Bowl runs in the NFL.
His only stat that brings him recognition in the Broncos all-time chart is that he had the highest gain per reception by a rookie at 20.3 average in 1987.
Nattiel wound up posting 1,972 yards on 121 receptions during his career.
He also wound up swapping jersey numbers with Shannon Sharpe, who wore number 81 his first season with the Broncos. Nattiel was traded to Tampa Bay where he failed to catch on in 1992; when he returned to Denver, Sharpe had claimed his number 84 and carried it all the way to Canton.
The football card above is not a misprint, nor is the slide title.
Bill Van Heusen still holds the Denver Broncos' career record for highest average gain per reception with an amazing 20.5 yards per catch. He was a reliable wide receiver for the Broncos in those early years.
Bill was also the team's regular punter between 1968 and 1976 and retired with a 41.7 yard per punt average.
In a word, he was "electric."
When the Broncos needed a big play, everyone knew it was time to go to "church."
Just like a streak of lightning, in all of its sudden and amazing meandering, Rick Upchurch had moves like no other. At one point, he was the all-time leader in punt returns for touchdowns in the NFL. Because he was such a talent as a return specialist it took time for him to develop as a wide receiver.
He has been overlooked by the Broncos as a Ring of Famer which is a shame, despite his off the field troubles back in the day. He is still among the NFL's all-time leaders in punt returns statistics.
Rick Upchurch played for the Denver Broncos from 1975-1983, making 267 catches for 4,369 yards and 24 touchdowns—all good for 10th all-time on the team's receiving stats.
A personal plea to the Denver Broncos front office: Put Rick Upchurch in the Ring of Fame where he belongs!
One of the Three Amigos.
Better known for his catch of the hardest ball John Elway ever threw for a touchdown during "The Drive" against the Cleveland Browns in early 1987.
Jackson was a trusted receiver who could dig balls out of the dirt routinely.
Mark Jackson played for the Denver Broncos from 1986-1992 where he made 276 catches for 4,746 yards and 24 touchdowns, with none bigger than the one in Cleveland.
In addition to the Denver Broncos' front office needing to put Rick Upchurch into the Ring of Fame, they should also make throwback jerseys for the likes of Upchurch No. 80 and Haven Moses No. 25 and donate the proceeds to the retired veterans fund.
Haven Moses was as clutch as it gets and he made two catches which might rank higher than Mark Jackson's during "The Drive." Craig Morton hooked up twice with Haven Moses in the 1978 AFC Championship Game to beat the defending Super Bowl Champion Oakland Raiders and keep them from going back to back.
Haven Moses has always been a beloved figure in the Denver community and has recently battled through health challenges.
Haven started his career in Buffalo with the Bills but still stands as one of the Broncos' greatest trades made of all time.
Haven Moses played for the Denver Broncos from 1972-1981 and made 302 catches for 5,450 yards and 44 touchdowns.
Perhaps he was one of the calmest and coolest receivers the Broncos franchise ever had. He had soft hands that could make any catch in any situation. He wasn't super fast or flashy but could create space and fight for the ball.
Steve Watson also made a very important catch in Cleveland in overtime to solidify "The Drive" and the Broncos ticket to Pasadena, CA.
He suffered a serious injury during a strike season against replacement players that left an impact on the remainder of his career.
Still, Steve Watson put up some amazing statistics for his time with the Broncos. He played with the team from 1979-1987 and made 353 catches for 6,112 yards and 36 touchdowns.
That is one big cat with the ball who just so happened to have some hands to match his muscle and blocking ability.
By the way, that's Tony Dungy trying to make the tackle on this play.
Riley Odoms is, was, and still is the franchise template for a lumbering tight end who could catch and block. He played for the Broncos from 1972 to 1983, being one of only a few players who played with the original Orange Crush and John Elway in his early years.
Riley Odoms is overlooked historically but shouldn't be; he was a very unique talent for his day. He made 396 catches for 5,755 yards and 41 touchdowns.
"The Vance," as he was known, was a media darling on both sides of the coin. He often made comments that could become headlines and made controversial life choices which left fans, teammates, and the media alike scratching their heads.
Nonetheless, Vance Johnson was a constant threat to defenses and the clear-cut leader of the Three Amigos brigade, consisting also of Mark Jackson and Ricky Nattiel.
Vance Johnson played for the Denver Broncos from 1985-1993 with another stint in 1995. During his early prime years, he was John Elway's number one target, making 415 catches for 5,695 yards and 37 touchdowns.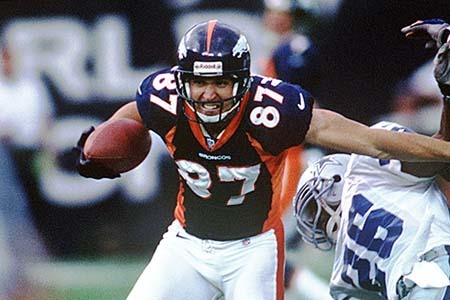 "Eddie Mac," as he's known by the fans, not only revived his career in the NFL, but found a way to become fourth best on the Broncos all-time list of pass receivers.
He, like Rod Smith and Shannon Sharpe, was known as a tough physical receiver who could block anyone on the football field and create space to make opposing defenses look bad. He played for the orange and blue between 1995 and 2003.
Ed McCaffrey finished his days in Denver with 462 catches 6,200 yards and 46 touchdowns.
He's been forgotten by the NFL, but not entirely by the Denver Broncos and their fans over the years.
He was a player who was ahead of his time. Had Lionel been in the modern NFL, he may have been the Broncos' leader in the club house and received more media attention in the pass happy league.
As it stands Taylor played for the Denver Broncos in their early years when the passing game was starting to come into its own—under mediocre quarterbacks, mind you. He played from 1960-1966 with the Broncos and finished with 543 catches for 6,872 and 44 touchdowns—all good for number three on the Broncos all-time list.
You know him from his work with CBS and his never surrender opinions on any football subject. He works his current career like he played: professionally and always salted with opinions. That's why the press loved him as a player and that's why fans love his honesty about tough subjects in the football world.
On the field, Shannon Sharpe will historically be known as the NFL's first true H-back or "tweener," flexing between tight end and wide receiver to create mismatches for the Broncos offense to exploit.
Following a contract dispute, Sharpe left the Broncos to play two seasons with the Baltimore Ravens (2000-2001).
All told, Shannon racked up three Super Bowl rings with two teams. His Broncos career statistics are still good enough to put him number two all time.
Sharpe started to play with the Broncos in 1990-1999 and returned for a stint in 2002-2003.
In all, Shannon Sharpe made 675 catches for 8,439 yards and 55 touchdowns for second best in all those rankings with the Denver Broncos.
The number one all-time receiver with the Denver Broncos is none other than...
"Hey Rod! Rod Smith"
~ John Elway NFL Films
It's hard to think of a player that had more big catches in a Broncos uniform. From his first touchdown and game winner against Washington in 1995, to 1996 against the Raiders on Monday night, to Super Bowl XXXIII that solidified the Broncos as back-to-back champions.
Rod Smith was not drafted; he worked hard his entire career and eventually was recognized as a team and league leader at the position.
Rod Smith finished his career with the Broncos in 2007 with 849 catches 11,389 yards and 68 touchdowns, all team leader statistics for a career.
Very fitting for a team leader.
He should make the Hall of Fame but only time will tell.
--
Follow Chaz's national sports feed and other linked list on twitter!
http://twitter.com/Chaz_Mattson