Houston Texans: 10 Breakout Players for the 2010 NFL Season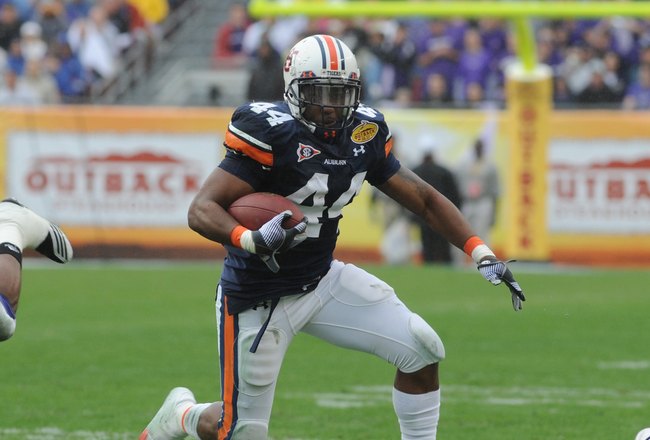 Every season in the NFL, teams come from out of nowhere to make the playoffs. Likewise, players emerge from out of the blue to become stars.
Often, this includes untested rookies fresh from the college game. Other times, breakout players are coming back from injury.
In addition, players can compound on recent success and cement themselves as true superstars.
The Houston Texans are certainly no exception.
Although many have pegged the Texans as a sleeper pick for a few seasons, countless others are declaring 2010 the year for Houston.
Not only are the Texans likely (hopefully) to make the playoffs for the first time in franchise history, the roster is littered with players who are ready for prime time.
In fact, in order to make the jump from also-ran to playoff participant, the Texans will need big performances from some if not all of the players on this list.
We all know what Andre Johnson, Owen Daniels, Mario Williams, and DeMeco Ryans will provide. Those stars will need help from some of their less-heralded teammates to play meaningful games in January.
Ben Tate: Bell Cow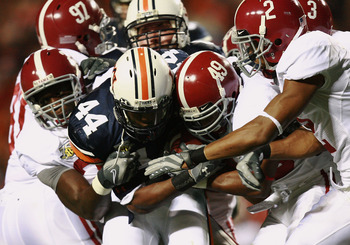 As seen in the attached photograph, the rookie running back has no problem moving the pile, putting his head down, or earning the tough yards between the tackles.
Which ever football cliche you'd like to use, Tate has the potential to develop into an integral part of the Texans' offense and, further, playoff history.
Nobody would argue the Texans can't pass the ball. Led by Andre Johnson and Matt Schaub, the Texans can sling the ball around the field with the best of them.
But in order to go deep into the playoffs, the Texans must be able to run the ball.
Steve Slaton has shown in 2008 he can make plenty of plays in space and on the edge, but he struggled (as did the Texans) in picking up first downs on the ground. Enter Ben Tate.
Tate can run the ball and pick up tough yards. He can extend drives by adding balance to the offense.
Tate can also be used to ice games when the Texans are ahead. He could be the biggest addition to the Texans in 2010 and is poised to be a big-time breakout star.
Eric Winston: Developing Stud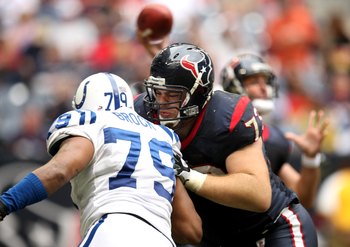 Eric Winston is starting to gain national notoriety.
If you don't believe me, check out Peter King's Monday Morning Quarterback from last week.
Winston is a very good player and his play is warranting mention around the league. Not only has Winston turned into a very good right tackle, he's turned into a better representative for the Texans.
Winston keeps his nose clean and only makes news in a positive way off the field.
On the field, Winston is able to keep edge rushers from harassing quarterback Matt Schaub and is also a road grader in the running game.
An offense is usually only as good as the big guys up front. Winston is the leader for an under-rated group. Yahoo! recently ranked the Texans' offensive line as number six in the NFL.
Breakout star Winston is a huge part of that ranking.
Matt Schaub: Proving He's For Real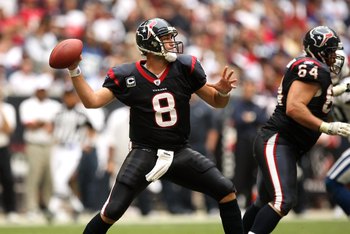 Who led the NFL in passing yards in 2009?
Who was the MVP of the 2009 Pro Bowl?
Who passed for the sixth most yards in NFL history in '09?
Matt Schaub is the answer to all three questions.
I hear you arguing that Schaub already had his breakout season in 2009. I'll grant you that he was nothing short of spectacular last season, but, quarterbacks are judged (perhaps unfairly) by success in the playoffs.
Schaub has shown he can make every thrown on the field and that he has complete control of his offense. But, he has to show what he can do in January.
In order to go from being mentioned as a great passer to a truly elite player, Schaub must continue his success and show he can break out in the playoffs.
James Casey: Versatilite Weapon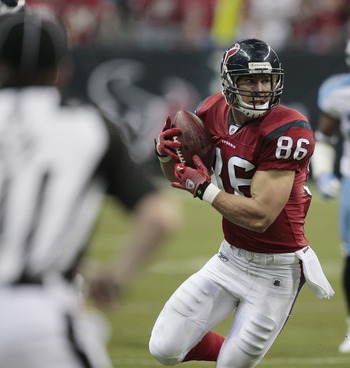 We all know James Casey is a smart player. He played at Rice.
We also know that he's capable of playing all over the field. He can play tight end, H-back, fullback, and maybe even a little Wildcat quarterback.
But, for now, his best bet to get consistent playing time is to make plays in the passing game.
Owen Daniels emerged as one of the best tight ends in the NFL over the past few seasons. Defenses are going to line up to take this away from the Texans.
If Casey can make plays in the middle of the field in two tight end sets, teams will be burned by giving too much attention to both Daniels and monster wide receiver Andre Johnson.
Trindon Holliday: Mighty Mouse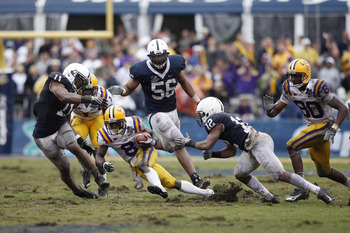 Can you see Trindon Holliday in the picture? It's rather tough.
Imagine how hard it will be for opposing defenses and special teams to spot the speedy all-purpose player.
Holliday can line up in the slot or even out of the backfield.
He's a lethal asset in the return game, on the reverse, on screen patterns, and even on slant routes.
In essence, he represents a luxury for a team like the Texans. With an already elite passing offense, Holliday has the ability, if he's able to break out, to make a special offense turn completely out of this world.
Bernard Pollard: Laying the Wood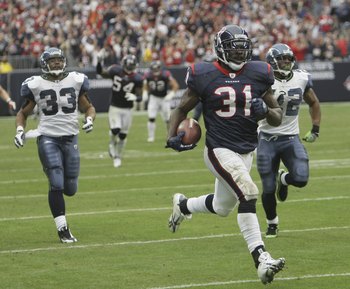 Bernard Pollard was a godsend for the Texans last year.
Plucked from the waiver wire after Kansas City released him, Pollard helped change the identity of the Texans' defense in 2009.
Pollard plays with an attitude that has been missing on the Texans in years past. Simply put, Pollard plays with reckless abandon.
He lays people out. He's the enforcer in the defensive backfield.
With a good offense, the Texans merely need an average defense.
Pollard can help make plays against the run and can intimidate opponents from coming across the middle.
If he can maintain last year's success, he will truly develop into a star and perhaps the best waiver move in Texans' history.
Connor Barwin: Bringing Heat off the Edge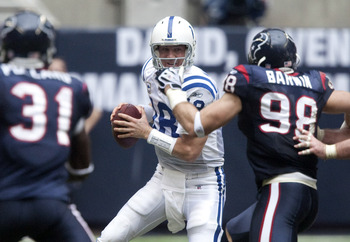 Connor Barwin flashed the ability to rush the passer as a rookie in 2009.
He had 4.5 sacks in very limited playing time. Barwin, I believe, has the ability to become an unbelievable asset, putting up double-digit sacks with his tremendous athleticism.
If Barwin can harness his raw talent, he can bring heat opposite from Mario Williams. Not only would that force opponents to pick whom to double team, it would help the pass defense.
Everyone has heard that a good pass rush helps coverage.
With pressure coming from both sides, the Texans' defensive backs should be able to make plays against terrorized passers.
Everyone knows Mario Williams is already an elite superstar defender. But few acknowledge that Antonio Smith and Connor Barwin actually had better statistics combined in '09.
That said, a breakout year from Barwin would go a long way toward a playoff run.
Earl Mitchell: Beefing Up the Defense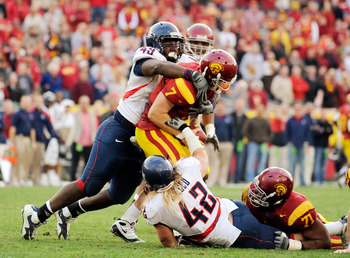 Earl Mitchell, a rookie from Arizona, has both the size to play the run and the speed and quickness to get to the passer.
He has the ability to be the most and perhaps even the first complete defensive tackle in Texans' history.
If Mitchell can crack the rotation at defensive tackle, he has the talent to make the most of his opportunity.
The third round pick plays with good pad level and has already developed good habits with his hands. Both of these are key for defensive tackles.
If Mitchell can make plays in the middle of the field, he will allow plays to be made both behind him and on the edges.
Mitchell having a breakout season would lead directly to a better defense and, in turn, a better team. A team capable and worthy of playing in January.
Kareem Jackson: Dunta Who?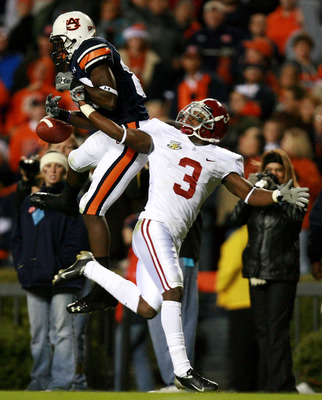 In the wake of Dunta Robinson's departure, the Texans are desperate for a play maker in the defensive backfield.
Allow me to introduce Kareem Jackson.
Jackson can not only play blanket coverage on opposing wideouts, but
he can also help against the run and even on special teams.
If Houston can get solid play from Jackson and maybe even a few turnovers, the team can, should, and likely will make moves towards the playoffs.
In a division that plays home to Peyton Manning, pass defense is integral to success.
In essence, to beat the Colts you have to stop the passing game. That is possible both by pressuring Manning and keeping his weapons in check.
Zac Diles: Completing the Linebacker Trio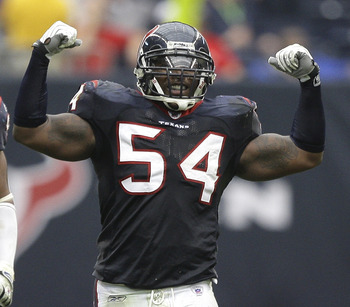 Zac Diles, drafted out of Kansas State, has gone from seventh round pick to starting linebacker.
He's gradually gone from roster-after-thought to tackling machine.
If Diles can continue his upward trend and can break out from good to very good, the Texans will not only be able to survive Brian Cushing's four game suspension, they will be able to fight to make the playoffs.
Keep Reading

Houston Texans: Like this team?