Holland vs. Uruguay FIFA World Cup 2010: Five Things We Learned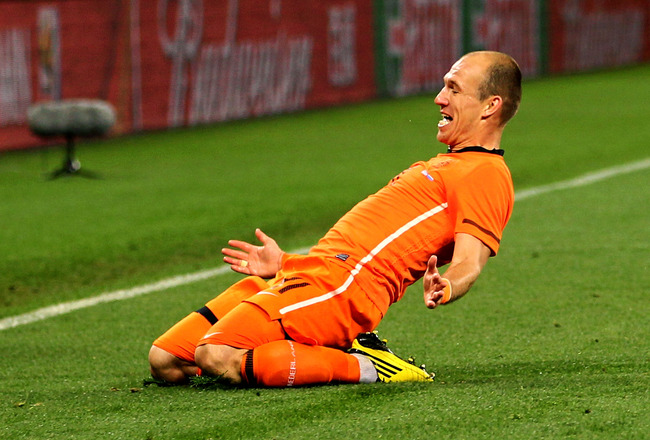 Holland qualified for it's first World Cup final since 1978 with a 3-2 win over Uruguay at Cape Town's Green Point Stadium.
Here are five things we learned from the semifinal encounter.
No. 5: A European Team Will Win the World Cup In Africa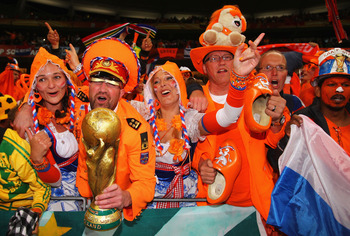 No European side has ever won the World Cup outside of their home continent.
Before the quarterfinals began, it looked like European travel sickness would continue, as South American teams outnumbered Europe's by four to three.
Five games later, all of the Western Hemisphere representatives (plus Ghana) have been eliminated.
Holland will face either Germany or Spain in the final at Soccer City Stadium in Johannesburg. Meaning, a European team will lift the trophy in South Africa.
If Spain beats Germany then the World Cup will have a new champion, as neither Holland nor Spain has ever won the title before.
No. 4: Uruguay Missed It's Dutch Influence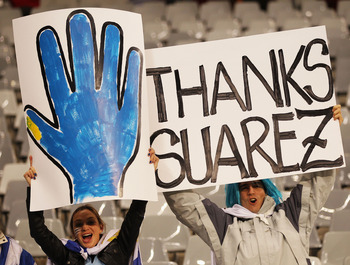 Despite being hit by injuries and suspensions, the underdogs from Uruguay gave Holland a real test.
However, despite managing to come back from Giovanni Van Bronckhorst's stunning early opener, Uruguay could really have done with it's Ajax-based players.
Unfortunately, striker Luis Suarez was rightly suspended following the handball intervention that saved his team in the dying moments of the quarterfinal against Ghana.
Edison Cavani worked hard to stretch the Dutch defense in Suarez's absence, but he could not replicate the 23-year-old's goal-scoring threat.
Without Suarez, Diego Forlán played closer to the Dutch goal, looking to sniff out the chances that would have usually been the Ajax players.
Despite his four goals so far in South Africa, Forlán's best work has been as Uruguay's creator in a withdrawn position.
This role could have been filled by another of Uruguay's Ajax players, Nicolas Lodeiro.
After a disastrous start to the World Cup, when the 21-year-old was sent off shortly after coming on as a substitute in Uruguay's opening game draw with France, Lodeiro impressed in two substitute appearances in the knockout stages.
However, the midfielder fractured a bone in his foot during the win over Ghana and was ruled out of the rest of the tournament, denying Uruguay some much-needed midfield craft.
No. 3: Dirk Kuyt Always Plays His Part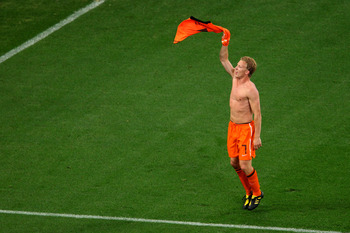 The oft-derided Dutch player may not be the most talented player on the pitch, but he always plays his part.
The Liverpool man will play anywhere for his team and once more had an effective game on the left midfield for Holland.
Kuyt provided the cross for Arjen Robben's headed third goal that killed off Uruguay's hopes of a comeback.
This contribution added to his assists against Slovakia and Brazil, and goal against Denmark.
And, in the frantic dying moments of the semifinal, when the South Americans looked like they might just snatch an equalizer, who was back in his own penalty area making a crucial challenge?
Dirk Kuyt, the first name on his coach's team sheet.
No. 2: Dutch Fighting Spirit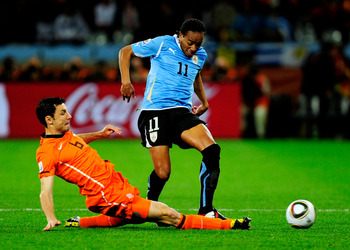 In the past, Uruguay's national teams have channeled the Charrua Indian fighting spirit to an often brutal effect.
However, the South American side may have been surprised to see that it could not match Dutch courage in their semifinal clash.
This Holland side may possess skillful players like Arjen Robben, Wesley Sneijder and Robin Van Persie, but it is the tough-tackling defensive players like Nigel de Jong, John Hettinga and Mark Van Bommel that make the team tick.
The rough and ready side to Holland's game might seem unusual to devotees of Total Football, but even in the days of Johan Cruyff the Dutch knew how to foul to victory.
In the 1974 World Cup match Holland qualified for the final by beating Brazil 2-0.
The game appeared to represent handing over the crown of Kings of the Beautiful Game from the world champions, the new Dutch masters.
In fact, the game was notable only for the dirty challenges and tactics both teams committed.
Winning dirty is certainly a part of Dutch history.
Now all this current Holland side has to do is go one further than their 1974 counterparts and win the final.
No. 1: Holland Is a Lucky Team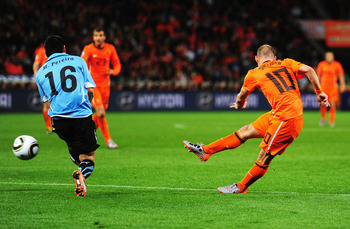 To win any prize in soccer you need skill, commitment, and luck.
The Dutch have had all three in abundance in South Africa, especially good fortune.
From the Daniel Agger own goal that opened the scoring in Holland's first match against Denmark, the gods have been smiling on the Dutch's attempts to win its first world title.
Wesley Sneijder benefited from a goalkeeping error to score the winner from distance in the game against Japan.
Another own goal helped get Holland back into the game. The first was against Brazil. The second was against Uruguay, when a cruel deflection saw Wesley Sneijder's shot spin past goalkeeper Fernando Muslera's reach.
Sneijder isn't the only individual with luck on his side.
How Mark Van Bommel went through most of the tournament without picking up a yellow card is a mystery.
The Bayern Munich midfielder is a tough, often brutal, tackler. But, despite repeated fouls on Brazil's attackers in the closing stages against Brazil, the referee failed to give him a deserved booking.
In the semifinal against Uruguay, he also got away with a series of robust challenges without punishment.
In a bizarre twist, Van Bommel was finally shown a yellow card when, believing that the referee had blown the final whistle, he kicked the ball away.
Is this a sign that his and Holland's luck is starting to turn?
Dutch fans will hope not because if their team retains its current good fortune, the World Cup trophy will be heading for the lowlands.
Keep Reading