Tour de France: Lance Armstrong Loses Ground During Stage 3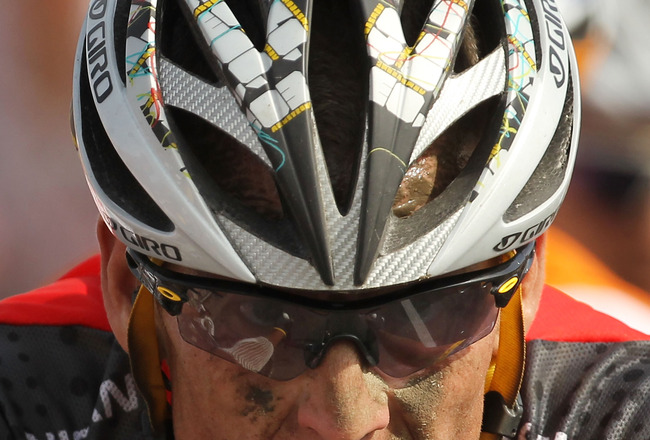 In a stage that saw one Schleck brother gain time on his rivals, and the other crash out of the Tour, Lance Armstrong's results were mixed.
A late puncture on the last section of cobbles had Armstrong fighting to regain the ground he lost during his wheel change.
Contador was able to take nearly a minute off of Lance after the puncture, but then suffered his own malady on the final straight before the finish when he lost pressure in his rear tire, allowing his teammate to pull his group to the finish a full :20 ahead of him.
While the Big Viking from Norway, Thor Hushovd, won the sprint for victory, the true victors of the day were Andy Schleck and Cadel Evans who finished in the lead group and took back the time they had lost during their not so great prologues.
With Armstrong and Contador having difficulty, the two contenders pulled more than a minute clear of their rivals in what was a dramatic day in this years Tour de France.
The Winners- Cadel Evans, Andy Schleck, Thor Hushovd, Fabian Cancellara
The Losers- Lance Armstrong, Alberto Contador, Frank Schleck, The Sprinters
Winner: Andy Schleck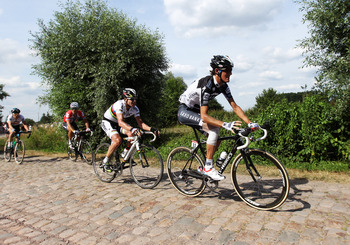 Andy Schleck made time on Armstrong and Contador.
After a day of doubts as to his continuing in this years Tour, Andy Schleck made a huge statement by finishing over a minute ahead of his main rivals...save for our next winner.
Winner: Cadel Evans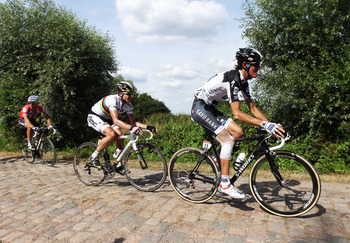 Cadel Evans, like Andy Schleck, rode to an impressive first group finish and managed to gain back the time lost in his prologue ITT.
Winner: Thor Hushovd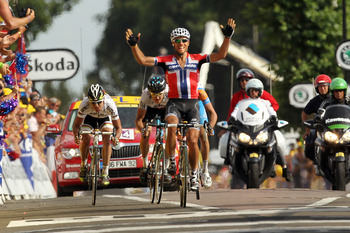 Todays stage was made for riders like Thor!
Big, strong, and powerful riders thrive on the Cobbles of northern France, and Big Thor proved he was the man to beat in this years Green Jersey (points) competition.
Winner: Fabian Cancellara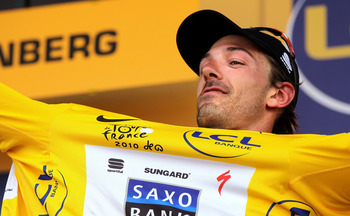 Fabian Cancellara gained Yellow again by driving the break that contained his teammate Andy Schleck.
While he will not be in Yellow in Paris, Fabian proved again that he is one of, if not the best, bike racer in the world.
Losers: Frank Schleck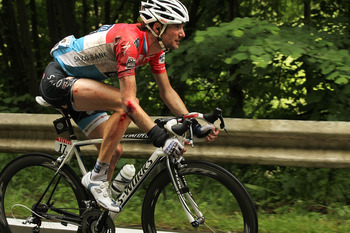 Frank Schleck will not be part of the Schleck brothers' one-two punch this time around as he crashed out of the Tour on Stage Three.
This is a huge loss for Saxo Bank and Andy Schleck, who uses his brother to toy with the other GC contenders in the High Mountains.
Of all today's losses, this one is the worst.
Losers: Alberto Contador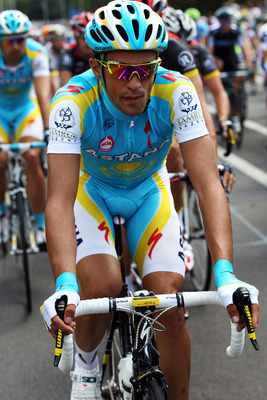 Alberto looked to be a winner for most of the race. Even in giving time to two rivals, he was taking more than a minute out of Armstrong.
An ill-timed puncture, however, saw him lose :20 seconds as his teammate, Alexander Vinekourov, drove what was left of his group to the line far ahead of Contador.
Could this say something about who is really in charge at Astana? Probably not, but we will keep a close eye on this one.
Losers: Lance Armstrong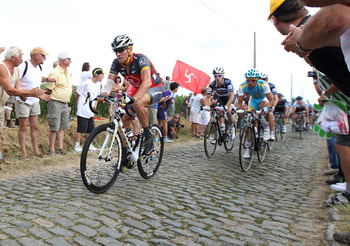 Lance gave up two minutes to two of his main rivals and nearly a minute to Contador, but this might have been a wake up call to those same rivals as to his fight and strength heading into the meat of this tour.
After a puncture on the final sector of pavement left him far behind the Contador group, he drove across the gap to a chase group, making it seem like they were going backwards.
Instead of sitting there, he went to the front and helped drive that group, limiting his losses.
While this is a loss, this tour is far from over for the Texan.
Losers: the Sprinters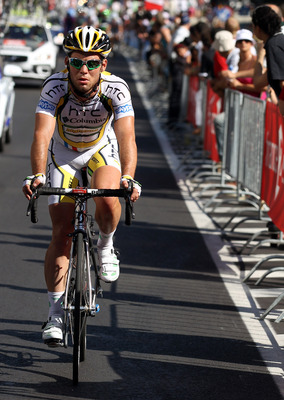 The sprinters were pretty much left out of this one, with Cav and Farrar left to finish far from the lead group.
Cav has not looked fantastic so far and Farrar is nursing not only a broken wrist, but a cracked elbow as well.
Tomorrow brings the first real sprinters' stage and we shall see how the battered group does in that one.
Keep Reading