Eric Johnson 49ers: Is Jessica Simpson Now Dating B-List Athletes?
It seems that Jessica Simpson may have finally abandoned the celebrity dating scene for someone who might actually make for a long-term mate.
Simpson is reportedly dating former NFL tight end Eric Johnson. The couple have been together for the last month, according to friends of the singer.
The "Dukes of Hazzard" movie star has made more headlines for her mates than her songs as of late, with long-term relationships with Nick Lachey and Tony Romo.
Has she finally found true love a bit removed from the A list?
Begin Slideshow

»
TMZ Sports first reported the hookup Monday.
"He's one of the nicest guys around," a friend of the couple told Celebrity Gossip.net. "I'm surprised he is dating her. She is such a big star and he is so reserved."
"He is the polar opposite of what you think of when you say 'player.' When I met him, he was driving a Prius when other athletes were driving gas-guzzling cars."
Johnson filed for divorce from his wife in February and he and Simpson have reportedly been together since May.
Johnson had 240 catches for 2,178 yards and nine toughdowns in a five-year career with San Francisco and New Orleans.
Simpson is in the midst of a full-on life makeover after fighting weight issues over the last couple years.
She worked the red carpet last weekend and said she's turned to a new extreme vegan diet.
Last weekend, Simpson told fans via Twitter that she is already starting to feel better.
"Shocked my system with a vegan diet, special Pu-erh tea from China," she wrote.
The tea is widely used for weight loss, which prompted Simpson to quickly re-Tweet that she wasn't drinking it to lose weight.
"Just so everyone is clear.. this has NOTHING to do with weight!. It is about understanding my body through hydration and alkalinity."
Simpson is also telling anyone who will listen about cupping, an ancient Chinese healing practice of placing headed glass suction cups on the skin to remove toxins.
"Has anyone ever tried cupping?" she Tweeted. "When u know you are doing something good for ur body the meditation creates intense visions. Love it!"
The singer and actress turns 30 on Saturday.
She is currently working on the second season of her VH1 reality show "The Price of Beauty".
Many gossip columnists are wondering if Simpson is a rebound for Johnson after his divorce.
Still others are wondering if Simpson was the reason Johnson filed for divorce in the first place.
Simpson was at the opening of a night club and casino in West Virginia last weekend and said she's excited to hit 30 and excited about her new relationship.
"I think 30 is going to be a great year for me," she said. "I can find love anywhere."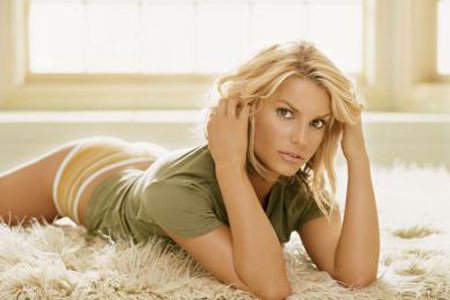 Simpson gets the benefits of dating an athlete without the headache of the tabloid headlines.
She was seen as "Yoko Romo" when she dated Dallas Cowboys quarterback Tony Romo. Their two-year relationship ended nearly a year ago when Romo broke it off a day before her 29th birthday.
Even after the cold breakup, Simpson told People magazine that she's friends with Romo.
"Tony is great, still a friend of mine. I still look at his cute butt in the outfit - uniform," she said.
"What went wrong? You'd have to ask him that. He broke up with me on my birthday. We are still good friends."
The 29-year-old blond beauty has also been linked to singers Billy Corgan, John Mayer and Adam Levine.