Five Seniors Ready To be Unsung Heroes for the Cincinnati Bearcats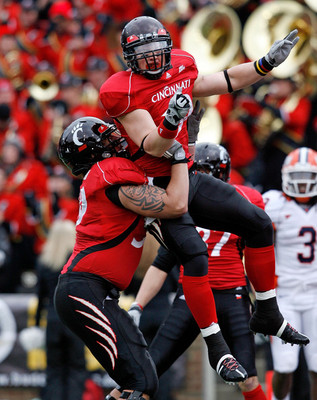 With every good college football team, excellent senior leadership is present. The top teams in the country all have seniors they can turn to when the game is on the line.
Being one of the top teams in the country, the Cincinnati Bearcats certainly fit into this group.
While the junior class is without question the best of the bunch for Cincinnati, if the Bearcats are going to win a third consecutive Big East Championship, they will need to get some production out of their senior class.
There are a few big names in the senior class like receivers Vidal Hazelton and Armon Binns, but here are five fifth-year seniors who are maybe keys to Cincinnati's success.
Jason Kelce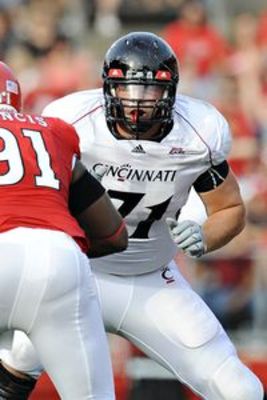 Jason Kelce came to the Cincinnati program as a walk on linebacker and entering his fifth year in the program, he has quietly developed into one of the best offensive lineman in the conference.
After a season as a backup, Kelce moved into the starting role in 2008 and emerged last season as one of three recognized Bearcats as All-Big East offensive linemen.
At 6'4" and 290 pounds, Kelce has the versatility to move to different positions on the line, but has made his home at left guard.
In what should be another strong offensive season for Cincinnati, it all starts up front with this big man.
Marcus Barnett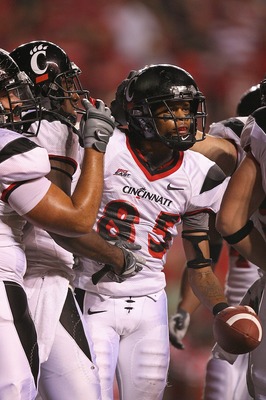 Senior Marcus Barnett may be the biggest name on this list, due to the success he had as a freshman.
In 2007, Barnett set a team record with 13 touchdown receptions and earned Second Team All-Big East honors. He was second in the nation among freshmen in receptions, yards, and touchdowns.
After a sub-par sophomore season, Barnett entered Coach Kelly's doghouse and was moved to defensive back last season.
One of the first moves made by new head coach Butch Jones was to get Barnett back on offense. With a crowded receiving group, the catches may be sparse for Barnett, but don't rule out a big senior year for the man they call "Bones."
John Goebel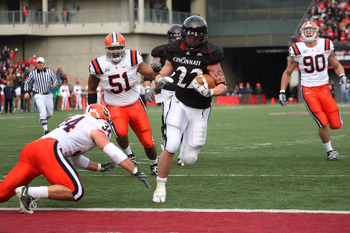 Running back John Goebel may be third on the depth chart at running back, but that doesn't mean he won't find a way to get on the field.
After leading the team with seven rushing touchdowns as a sophomore, Goebel's junior season was plagued with injuries.
Entering 2010, Goebel is behind junior Isaiah Pead and sophomore Darrin Williams on the depth chart.
Look for Goebel to get a few touches on offense, mainly in goal line situations and his impact will be felt without question on special teams.
Jake Rogers
Kicker Jake Rogers has had a more up and down career than nearly anybody on the Cincinnati roster.
Rogers was thrown into the fire his freshman season and as a sophomore was named a semifinalist for the Lou Groza award, converting 16-of-22 field goals.
Last season was not as successful for Rogers, as inconsistency has plagued him throughout his career.
Leg strength has never been a question, the problem has always been accuracy and Rogers will need to clean it up a little bit for his senior season.
There is no question that at least one game will come down to a field goal attempt by Rogers and as a senior he will need to be poised to hit the big kicks.
Ben Guidugli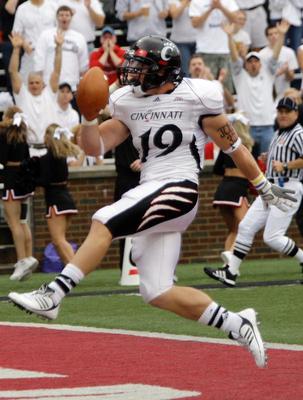 Without question, Ben Guidugli is one of the best receiving tight ends in the Big East.
Guidugli was a key target last season for both Tony Pike and Zach Collaros.
With 364 yards on 27 receptions to go along with three touchdowns, Guidugli was fourth on the team in all three categories.
With enough deep play threats and possession receivers on the roster already, Guidugli gives the Bearcats an added dimension—someone who can go over the middle and make a big catch.
Entering his final year in the program, Guidugli will certainly build on last year's productive junior season.
Keep Reading

Cincinnati Bearcats Football: Like this team?