10 Reasons Alabama Shouldn't Be College Football's Preseason No. 1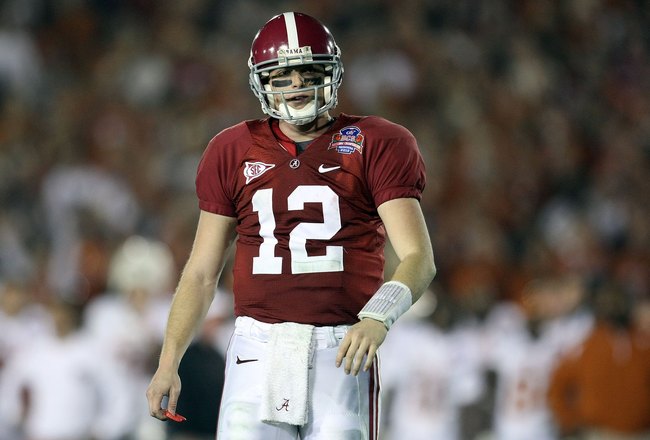 College football nation is still high on the success on Nick Saban, Mark Ingram, and the Crimson Tide.
With a returning Heisman trophy winner, all signs seem to point toward a preseason No. 1 ranking for Alabama. Despite the wealth of talent returning to teams around the country, Bama is still widely expected to match their 2009 success in the upcoming season.
What people fail to realize, however, are the burning questions and large obstacles facing the Tide, most notably on defense, and the talent of opposing teams.
While Alabama's status as a national contender is indeed currently unscathed, I don't necessarily see them as a dominant force in 2010, or even a No. 1 team, for that matter. I might even go so far as to say that Alabama won't win the SEC.
Needless to say, my predictions for the Tide go against the grain.
Nevertheless, here are 10 reasons why Alabama should not be No. 1 in the nation.
Alabama Has Issues on Defense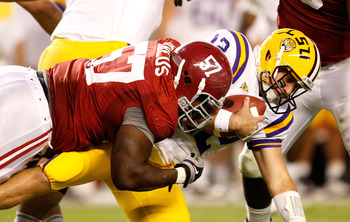 In a conference where defense is king, the loss of nine defensive starters isn't encouraging.
Defense was clearly vital to Alabama's success in 2009, as they ranked No. 2 in the nation in both defensive scoring at 11.7 points per game and in total defense at 245.4 yards per game.
The Tide will struggle to fill huge holes after losing the mammoth nose tackle Terrence Cody, linebacker Rolando McClain, and cornerback Kareem Jackson to the NFL. Bama loses the most up front, and will have to find a way to rebuild the entire defensive line.
With the SEC West expected to improve offensively, Alabama will face trouble with a new, unproven defensive unit.
Given Nick Saban's recruiting abilities, the talent is undoubtedly there; however, experience will be a huge factor in the toughest conference in the country.
Greg McElroy Will Fail Eventually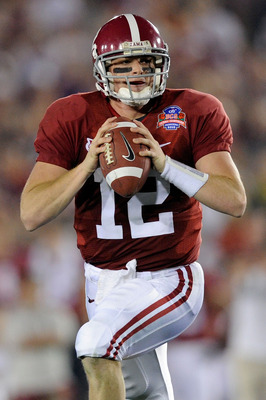 Essentially, McElroy's job in 2008 was not to screw up in the second between taking the snap and giving the ball to Mark Ingram.
He did this well, and also performed well as the game manager during the final seconds of play. He kept his composure in some pretty hostile environments, which was his greatest contribution to Alabama's success.
Now, he did throw for 2,500 yards and 17 touchdowns, but his most important stat by far was interceptions, at four.
In the SEC, throwing four interceptions is nothing short of miraculous, especially for a "role-player" quarterback such as McElroy. I don't see him keeping this up in 2010, as he'll face tough defenses on the road at Tennessee, South Carolina, and LSU.
Don't expect increased offensive production out of McElroy, but do expect increased turnovers, which could ultimately cost Alabama a game or two in conference play.
Florida Wants Revenge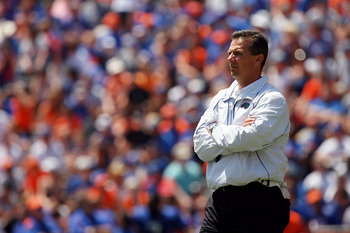 Make no mistake. Florida has a giant star next to October 2 on their calendar.
After being upset last year, the Gators are expecting three things: beating Alabama on October 2, seeing Alabama in the SEC championship game, and beating Alabama for the second time in the SEC championship game.
Urban Meyer never seems to have a truly off year, and always has more speed and athleticism than he knows what to do with. His ability to reload with superstar talent will help beat down a young Alabama defense, assuming they make it to the SEC championship.
You're kidding yourself if you think Meyer and the Gators aren't seeking revenge on the team that killed their title hopes last season. Expect Florida to be fueled by last year's disappointment and face Alabama at full force in 2010.
With all the size, skill, and athleticism at Meyer's disposal, expect the Gators to match up very favorably against Bama.
And then expect to see a team with a mission that will be accomplished.
The Gap Has Narrowed in the SEC West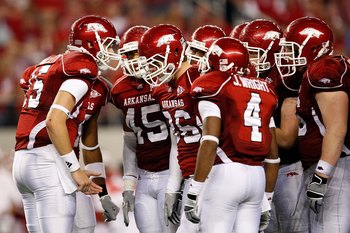 There won't be as many question marks in the West division in 2010, except perhaps with Alabama's own defense.
Arkansas might be the most likely to ruin Bama's season. Ryan Mallet will likely be the top quarterback in the SEC, and should have no trouble torching Alabama's young secondary.
Ole Miss won't be any worse than their 9-4 record in 2009 as they return a total of 17 starters, including the explosive Brandon Bolden at running back.
LSU's offense should see a lot of improvement as quarterback Jordan Jefferson continues to improve. Alabama will have to face this talented LSU team in Baton Rouge, where the fans are just as tough as the players. Oh, and in case you forgot, Nick Saban isn't the most popular guy in Louisiana.
All in all, the SEC West will catch up with Alabama in 2010, as an upset from either Arkansas or LSU is a definite possibility.
Ohio State Returns More Firepower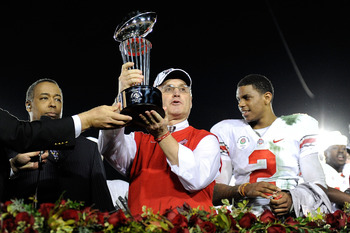 It seems like the Buckeyes have been working toward this season for the past couple of years.
The grooming of quarterback Terrelle Pryor the past two seasons is expected to pay off in 2010, a year that Jim Tressel's squad returns 10 offensive starters. Pryor's offense will be among the country's elite, featuring himself and all-conference running back Brandon Saine.
The defense doesn't lose much either. The Buckeyes return seven defensive starters, including all-conference selections in Cameron Heyward and Ross Homan.
We saw this team become the undisputed leaders of the Big 10 last year, posting an 11-2 record and a Rose Bowl victory over Oregon. In 2010, a team almost identical will take the field, and will include 17 upperclassmen.
This Buckeye team has the talent, experience, and leadership to beat anybody in the country, including Alabama.
All in all, we should really have them ranked No. 1 heading into the 2010 season.
Nick Saban Can't Dominate the SEC Forever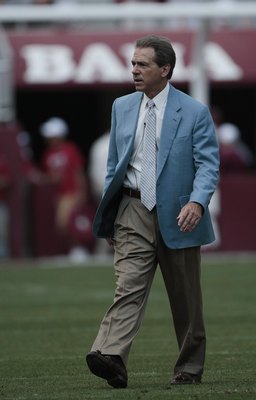 If history has taught us anything, it's that being the best in the SEC isn't something you do year after year.
In 2009, we saw a reigning Florida Gator team that was loaded with talent from top to bottom fall to an unlikely foe in the SEC championship game. The upset furthered the thought in peoples' minds that winning the SEC is simply too hard to accomplish two years in a row, especially as the conference has become so tough.
In fact, the last team to post back-to-back SEC championships was Tennessee in 1997 and 1998. Furthermore, no team has posted back-to-back national championships since Nebraska in 1994 and 1995.
To put it bluntly, the SEC and the rest of college football is too good for Nick Saban's squad to maintain its winning streak.
With only 10 starters returning from a 2010 team that won consistently (but didn't blow too many teams out), Bama will find it extremely difficult, if not impossible, to make another trip through the SEC unscathed.
If Florida couldn't do it last year, Alabama can't do it this year. Period.
Alabama's Offense Won't be as Good in 2010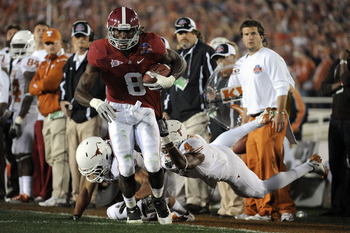 This will probably anger a lot of Alabama and SEC fans, but I'm sticking to my prediction: Alabama will take a step back offensively in 2010.
There are multiple reasons why.
First, it's going to be tough to match the success they had offensively in 2009. I don't anticipate a regression in the running game as much as I anticipate an inability to throw the ball effectively.
As previously stated, Greg McElroy will have to hit a speed bump eventually. Don't expect him to keep his interception total at four, especially with the strengthened defenses in the conference. With every opposing defense keying on Mark Ingram, the team will have to look to McElroy to move the ball through the air more in his senior season, something that he may struggle to do.
In addition, Julio Jones took a major step back after a promising freshman season in 2008.
Jones led the team with a not-so-impressive 596 yards and four touchdowns, and posted only two catches for 28 yards in against Texas in the national championship. The picture above represents half of his production to the biggest game of Bama's season.
Speaking of the national championship, McElroy wasn't exactly a force, going six for 11 and 58 yards. Nick Saban will have to find some relief for Mark Ingram somewhere, and I'm just not sure that McElroy and Co. are up to the task.
Alabama's Schedule Leaves Little Breathing Room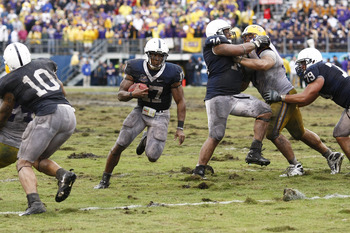 Nick Saban seems really confident.
As if his SEC conference schedule wasn't hard enough, Alabama added Penn State to its non-conference list. The teams will face each other in week two, bringing together two of college football's oldest programs.
The Nittany Lions are a likely top 20 team, and are just one of several big obstacles the Crimson Tide will have to hurdle in 2010.
In addition to Penn State, Bama will face Florida, Ole Miss, Mississippi State, and Auburn at home. An upset from either Penn State or Florida at home is a possibility.
What's more likely, however, is an upset on the road.
The Tide will travel to Arkansas, LSU, South Carolina, and Tennessee, each of whom may pose a threat to Bama's national title hopes. Playing in Baton Rouge will be particularly difficult.
Given their schedule, Alabama faces an uphill climb back to both the SEC championship and the BCS national championship.
Don't be surprised to see Alabama get knocked off along the way.
Alabama Isn't as Good as Previous No. 1 Teams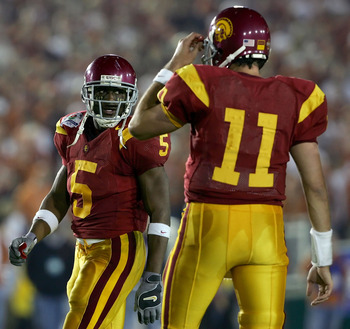 When you break things down and examine this Alabama team closely, you start to realize just how far they are from USC's 2005 and 2006 teams, Florida's 2009 team, and even Alabama's own 2009 team.
They simply aren't on the level as these teams were prior to the start of the season.
The defense was undoubtedly Alabama's strength last year, ranking second in the nation in total defense and scoring defense. Despite the play of Mark Ingram, the offense ranked 43rd in total offense, far from Florida in 2008 and USC in 2005.
With that defense returning only two starters, it's safe to say that Bama faces questions heading into 2010. The Tide does return a Heisman trophy winner, and he is definitely as good as advertised. However, when laying down the roster and comparing the team against previous No. 1 ranked teams, they are unquestionably inferior.
In short, I don't see the necessary depth, talent, and experience in this team that was been previously showcased by national champions.
Alabama Doesn't Rule the SEC, the SEC Rules the SEC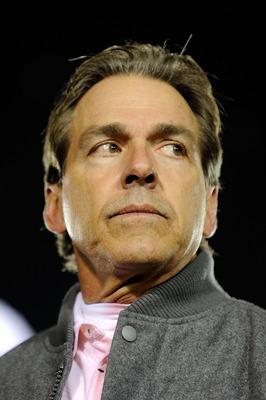 This isn't the Big 12, and Alabama is not Texas.
Sure, Alabama won the SEC last season, and returns their Heisman-winner, along with a few other offensive talents.
However, there's a reason the SEC hasn't seen back-to-back conference champions in over a decade. Part of the reason the SEC is so good is its depth of teams and balance of talent. Alabama, Florida, Ole Miss, Tennessee, LSU, and Arkansas are good year in and year out, which makes "dominating" the conference Texas-style nearly impossible.
In a conference where Vanderbilt receives the same amount of revenue as Florida, closer games and new conference champions are a sure thing.
As opposed to the Big 12, where Texas has a very good chance at winning a consecutive conference championship even during a rebuilding year, the SEC is tougher to win due to the depth of talent throughout the conference and the amount of capable teams.
Florida learned that last year, and Nick Saban's crew will learn in 2010.
Keep Reading

Alabama Crimson Tide Football: Like this team?