2010 World Cup: Martina Stella—Rumored WAG of Romanian Adrian Mutu
OK, so I'm pushing the boundaries of the term World Cup WAG here.
Today's WAG isn't really a WAG and certainly not with a soccer player whose team made it to the World Cup.
But never one to let the truth, facts or any kind of provable evidence get in the way of a good story, allow me to present the lovely Martina Stella.
Martina and Mutu: The Gossip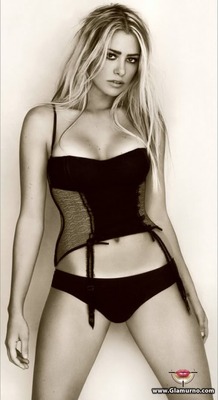 Adrian Mutu is a Romanian soccer player who plays for Italian club Fiorentina.
Although married, the striker was once photographed out on the town with the Italian television and film actress, Martina Stella.
That is as far as their connection goes.
Any further reference to either party is entirely unconnected.
A Real-Life Actress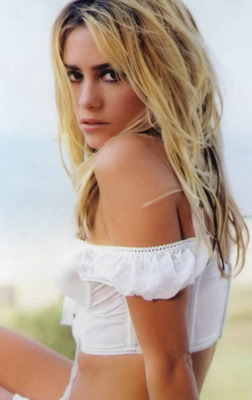 Italy has a lot of WAGs and most of them would use the word "actress" on their resumes. (Actually, being Italian they would probably use "attrice").
But Martina Stella is different. For a start, we must remember that she's not actually a WAG.
Anyways, she made her cinematic debut at the age of 17 in the 2001 film, L'ultimo bacio, and was nominated for multiple awards in Italy.
She has since appeared in Hollywood movies such as Ocean's 12 and Nine and so is a proper actress.
A Young Reese Witherspoon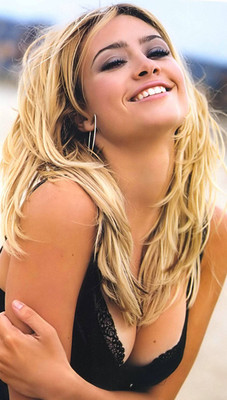 A movie critic reviewing Martina's debut, likened her to "a young Reese Witherspoon", which must have come like a dagger to the heart of the-then 25-year old American beauty.
On the evidence of this picture, she looks a bit more like Kate Hudson, with whom she co-starred in Nine.
The Belgium Connection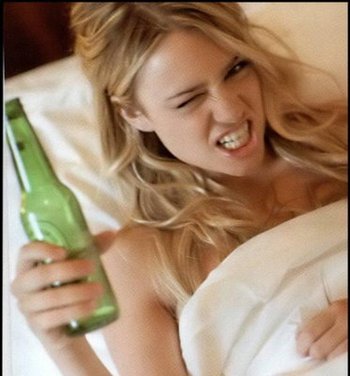 Martina shares her name with Belgium's famously potent beer, Stella Artois.
She also appeared in a promotional video for ace Belgian rock band dEUS.
Mutu's Wasted Talent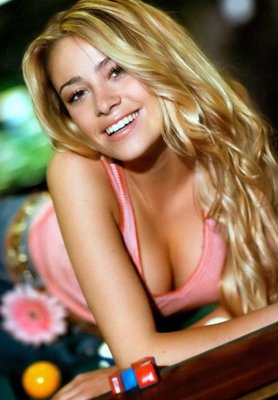 Adrian Mutu is an undoubtedly talented soccer player, who has constantly hampered his career through bad decisions.
Like deciding to take cocaine, which caused him to fail a drugs test in 2004 whilst playing for Chelsea.
Mutu was handed a fine and a seven-month ban by the English FA and was subsequently sacked by his club.
Having revived his career at Fiorentina, Mutu failed a doping test in January 2010 and was banned from the game for nine months.
Breach of Contract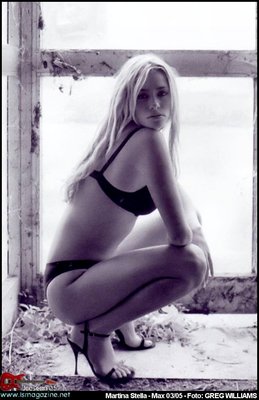 As if things weren't bad enough for the Romanian, Mutu has been sued by Chelsea for breach of contract.
So, having been fired by the London club, Mutu now owes Chelsea compensation for lost earnings to the tune of US$21m.
But I sense you don't really care about Mutu's misfortunes and are simply looking at this photo of Stella in her underwear.
Mutu's Wife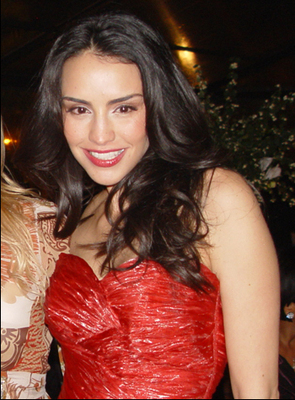 Given all his troubles, you might think it likely that Mutu would find solace in the arms of another woman.
But then again, this is his wife, Dominican model Consuelo Matos Gómez.
WAG For Brazil In 2014?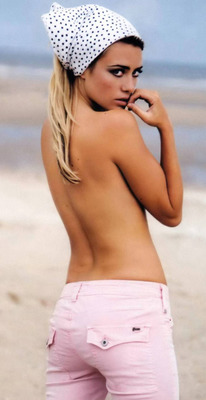 I don't know much about Martina's current relationship status.
But let us hope that by the time the 2014 World Cup in Brazil comes around, she has hooked up with a soccer player and we can make her a legitimate WAG.
Keep Reading