B/R Mock AL All-Star Vote: Hamilton Gets Starting Nod, Cabrera Hangs On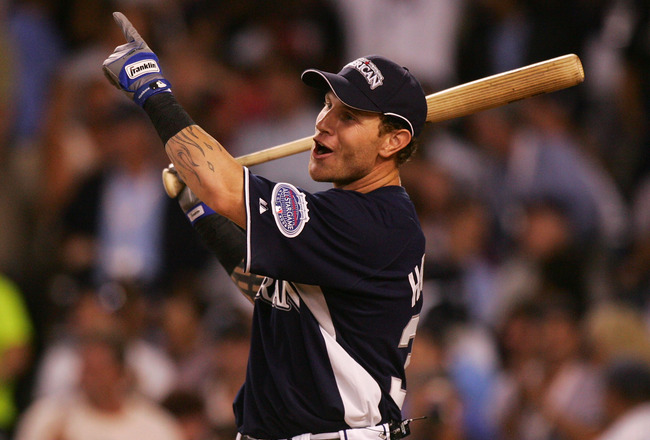 The All-Star teams were announced two days ago, and, as always, the fans, players, and managers all made some idiotic decisions .
So Bleacher Report's Featured Columnists decided to see if we could do better.
In this slideshow are the results of a poll conducted during the last week of All-Star voting. We've certainly got some different ideas about who should play in the Midsummer Classic; in the American League alone, three of the nine real-life voting leaders would be on the bench or at home on July 13 if we had our way.
Included in each slide are the full vote totals at each position, as well as a look back at the results from our May and June polls.
As always, each player features commentary from a different Featured Columnist, but this time there's a twist: in the interest of encouraging minority representation, if a winning player in this poll also came out on top last time, his slide instead includes a write-up from a dissident about why he or she voted for someone else (if you want want more details about an old winner, just go back to last time and update the numbers).
Thanks to everyone who participated!
Note: I sent this survey only to the Featured Columnists who have been active in previous polls. If you are a new FC or you have changed your mind about wanting to participate, send me a message and I'll be sure to keep you in the loop for next time!
First Base: Miguel Cabrera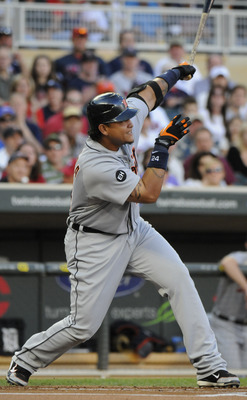 1. Miguel Cabrera, DET—11
2. Justin Morneau, MIN—8
T3. Billy Butler, KC—1
T3. Paul Konerko, CWS—1
T3. Kevin Youkilis, BOS—1
Don't forget about: Justin Morneau (Aaron Hooks)
If homers and RBI are the stats you value, then you probably have seen the new Twilight movie four times, are listening to a Justin Bieber song on your iPod right now, and voted for Miguel Cabrera as an All-Star starter.
However, if you want your first baseman to lead the league in OBP (.457), OPS (1.051), and walks (49) while still hitting around .350 with sick power numbers, then Justin Morneau is your man.
Morneau is a better fielder at his position than Cabrera, has an edge in dorky stats like wOBA and WAR, and his Twins are in first place, ahead of Cabrera's Tigers.
Could I make the argument for Cabrera and have it resonate? Absolutely. But Morneau deserves the All-Star spot—barely.
May winner: Cabrera
June winner: Cabrera
Real-life winner: Morneau
Second Base: Robinson Cano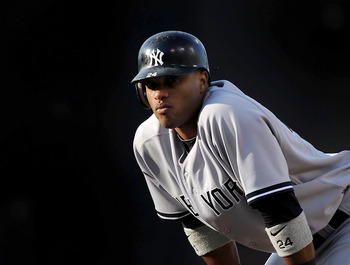 1. Robinson Cano, NYY—19
2. Dustin Pedroia, BOS—2
3. Ian Kinsler, TEX—1
Don't forget about: Ian Kinsler (Samantha Bunten)
With fans choosing starters, the All-Star Game isn't always about showcasing the "best" players in the game; it's about showcasing the players fans most want to see. Thus, with no disrespect to Robbie Cano, my vote goes to Ian Kinsler because he's the guy I want to see on the field.
To me, Kinsler is the AL second baseman who is the most fun to watch. I like his aggressive-but-fun-loving, hardnosed-but-classy style of play.
Throw in the fact that the Yankees already have plenty of representation at the All-Star game and that Kinsler has some pretty good numbers himself, and you have your answer as to why I choose him over Cano.
May winner: Cano
June winner: Cano
Real-life winner: Cano
Shortstop: Elvis Andrus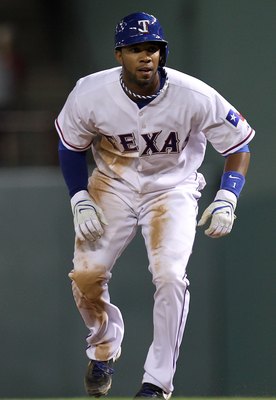 1. Elvis Andrus, TEX—13
2. Derek Jeter, NYY—6
3. Alex Gonzalez, TOR—2
4. Marco Scutaro, BOS—1
Don't forget about: Alex Gonzalez (Dennis Schlossman)
I chose Gonzalez over Elvis Andrus because of power capability and run production. A-Gon leads all Major League shortstops with 15 home runs, and ranks third with 42 RBI.
His 22 doubles and 44 runs scored have been key contributions to the Toronto Blue Jays' high-powered offensive attack, and his .484 slugging percentage and .782 OPS are among the league leaders for middle infielders.
He's proven to be very valuable with the glove as well; paired alongside Aaron Hill, the Blue Jay duo makes for one of the league's smoothest double play tandems. Gonzalez' 253 assists are second only to Alexei Ramirez' 257 among all shortstops in the AL. Alex's hand in 61 total double plays ranks first in the American League.
May winner: Jeter
June winner: Andrus
Real-life winner: Jeter
Third Base: Evan Longoria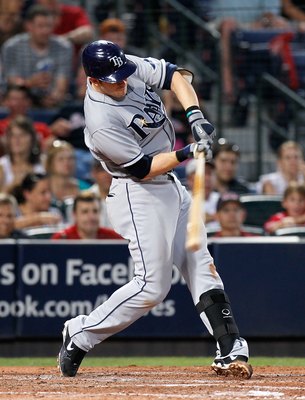 1. Evan Longoria, TB—14
2. Adrian Beltre, BOS—7
Don't forget about: Adrian Beltre (Brandon Williams)
One of the better stories of the 2010 season has been the revival of Adrian Beltre, who enters the week ranked 12th in the American League with WAR of 3.0. Third in batting average (.341) and 10th in slugging (.546), Beltre has thrived in the Red Sox lineup and has taken a shine to Fenway Park after five years of having his bat buried at Seattle's Safeco Field.
Beltre has saved some of his best work for late in games, batting .429-2-8 in the ninth inning. From the seventh inning on, his numbers are .337-3-14 with a .562 slugging percentage.
While Evan Longoria received the starting nod for next week's All-Star Game, Beltre's all-around game at the hot corner has given us a reminder of his immense talents.
May winner: Longoria
June winner: Longoria
Real-life winner: Longoria
Catcher: Joe Mauer
1. Joe Mauer, MIN—16
2. Victor Martinez, BOS—4
T3. John Buck, TOR—1
T3. Kurt Suzuki, OAK—1
Don't forget about: Victor Martinez (Brett Kettyle)
Victor Martinez makes a compelling case to start the All-Star game over Joe Mauer. Although Mauer has a higher batting average (.303 to .289) V-Mart has hit the ball with much more authority this year, and has a higher OPS (.824 to .808) than Joe Mauer.
Martinez leads Mauer in most major statistical categories, including SLG (.480 to .432), homers (nine to three) and RBI (38 to 34) in 25 fewer at-bats. V-Mart's lead was even bigger when this poll was conducted, before he went down with an injury.
Although Mauer clearly is the superior defensive catcher, I'm taking Victor Martinez, who has brought a lot more offense to the table thus far in 2010.
May winner: Mauer
June winner: Mauer
Real-life winner: Mauer
Designated Hitter: Vladimir Guerrero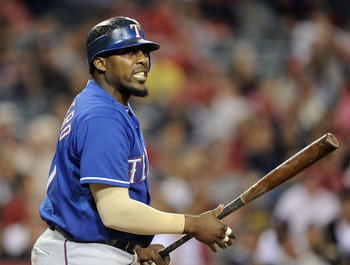 1. Vladimir Guerrero, TEX—21
2. David Ortiz, BOS—1
Don't forget about: David Ortiz (Thomas Pinzone)
For the second season in a row, Red Sox fans thought they were seeing the last days of David Ortiz. But just like year, he's bounced back in a huge way and just in time to help the Sox offense push through a huge rash of injuries.
Despite his horrid April, Ortiz has 17 homers and 18 doubles, giving him an isolated power of .297—better than that of fellow DH Vlad Guerrero. Papi's offensive attack has also benefited from a 14 percent walk rate, also not matched by the free swinging Guerrero.
Overall, maybe Guerrero's been better, but Ortiz's balanced offensive attack has been too good to be ignored.
May winner: Jose Guillen, KC
June winner: Guerrero
Real-life winner: Guerrero
Outfielder No. 1: Josh Hamilton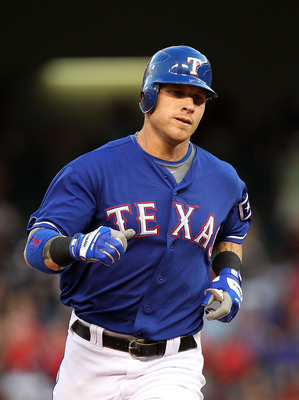 1. Josh Hamilton, TEX—18
2. Alex Rios, CWS—12
3. Carl Crawford, TB—9
4. Vernon Wells, TOR—6
T5. Shin-Soo Choo, CLE—4
T5. Ichiro Suzuki, SEA—4
T7. Brett Gardner, NYY—2
T7. Brennan Boesch, DET—2
T8. Jose Bautista, TOR—1
T8. Nelson Cruz, TEX—1
T8. David DeJesus, KC—1
T8. Franklin Gutierrez, SEA—1
T8. Torii Hunter, LAA—1
T8. Austin Jackson, DET—1
T8. Ryan Sweeney, OAK—1
T8. Nick Swisher, NYY—1
T8. B.J. Upton, TB—1
New leader: Josh Hamilton (Jordan Schwartz)
Josh Hamilton leads all AL outfielders with a .339 batting average, a ridiculous .617 SLG and 1.001 OPS, and 61 RBI; he is second with 55 runs scored, 20 homers, and 106 hits.
He also just had a Major League-best 23-game hitting streak and is a huge reason why the Texas Rangers are leading the AL West.
And his defense isn't too shabby either. He's tied for fourth among AL left fielders with five assists and is second with a 2.19 range factor.
As for Hamilton's competition with Vernon Wells, the Ranger has a better average, on-base percentage and slugging percentage, as well as more RBIs, steals, triples, hits, and runs scored. It's not even close.
May winners: Cruz, Wells, Crawford
June winners: Crawford, Wells, Rios
Real-life winners: Suzuki, Hamilton, Crawford
Outfielder No. 2: Alex Rios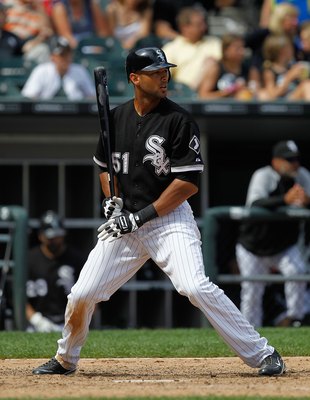 Don't forget about: Shin-Soo Choo (Lewie Pollis)
Choo grabbed the spotlight in 2009 with a breakout 5.0-WAR season. In 2010, he's been even better.
The 78 games he played before hitting the DL Sunday were exactly half what he played last year—double his counting stats and you get 26 homers, 96 runs, 86 RBI, 24 steals, and 5.6 WAR, all of which would match or beat his 2009 numbers.
What makes Choo truly stand out, though, is the context behind his numbers. He gets virtually no protection from the Tribe's lineup—take him out and the Indians' team wOBA falls to .313, third-worst in the league.
His 2.8 WAR is almost double the collective number earned by the rest of Cleveland's hitters. This is a man who's carrying a team on his back.
Outfielder No. 3: Carl Crawford
Don't forget about: Ichiro Suzuki (Todd Hayek)
Ichiro. He's more than just another player. He is an icon. The All-Star game is about performance, though, and Ichiro's numbers warrant his usual start in the outfield.
He's batting .326 and is more than halfway to his tenth straight 200-hit season. He has 22 stolen bases. He even has his customary, modest homers that he knocks out every so often just to prove he has the ability to do so.
He plays great defense. He has a cannon for an arm. He plays "smart" on the base paths.
Even if others have better overall numbers, nobody will unseat him until they prove they are a better player for more than just half a season.."
Recent FC Polls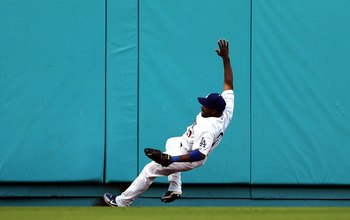 Keep Reading

Texas Rangers: Like this team?