The 10 Hottest Beauty Pageant WAGs of All Time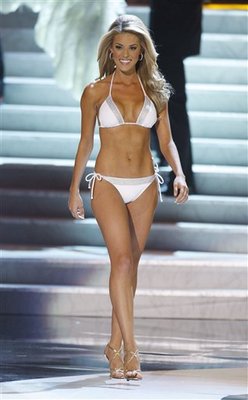 Professional athletes are creatures of achievement and excellence. They seek to achieve and associate with the highest levels where the most exposure is achieved.
Beauty pageant contestants are similar creatures of habit. These lithe beauties showcase their wares. Exposure is not a problem, too much in some contests may derail a career, but just enough concealment inspires many dreams....
Some athletes have made our dream girls their realities.
Here we will explore the top ten beauty pageant contestants who have dated, married, or otherwise "engaged" a professional athlete. Sometimes an athlete's greatest achievement is who he knows not what he knows (if you know what I mean....)
10. Victoria Lopyreva (NHL: Alexander Ovechkin)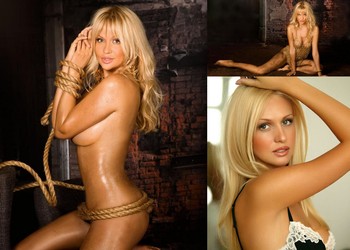 Miss Russia for 2003 may not have won Miss World but her beau didn't win the Stanley Cup that year either. She can replace my Stanley Cup anytime...
9. Ali Sonoma (MMA: Diego Sanchez)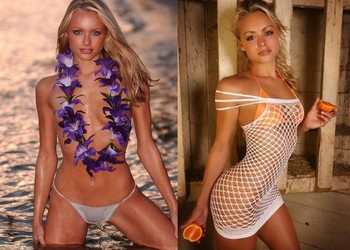 Ali is a Hooters girl. She made this list because she won the Hooters USA Swimsuit contest in 2004. Something tells me you will agree with her inclusion on this list (Most people go to Hooters for the pageant anyway...)
8. Flavia Mazoni (MMA: Dean Lister)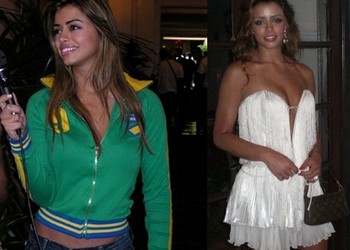 Flavia achieved some sort of regional title in her failed quest to become Miss Brazil. No longer with Dean, if she needs any comforting or help feeling appreciated, I am sure we can find a few volunteers...
7. María José Suárez (Tennis: Feliciano López)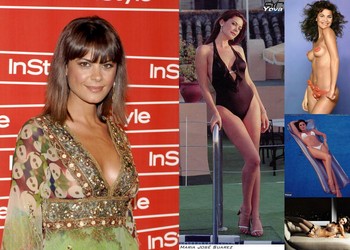 Miss Spain 1996 may have been a competitor in 1996 but she is still well in the running. Her beau's greatest professional achievement so far is this stunner—aside from upsetting Nadal earlier this year. Back on the market, Ms. Suarez is like a bottle of fine wine and ready to drink...
6. Lane Liddell (MLB: Doug Reinhardt)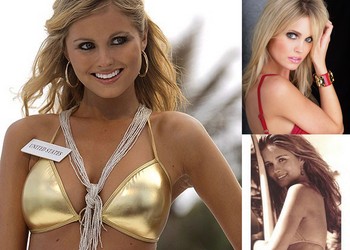 Doug may have never made the major leagues (drafted by the Angels in 2004 in the 10th round and out of baseball after the 2007 season) but he certainly hit a home run catching Miss USA and Miss World 2008.
5. Lorena Bernal (World Football: Mikel Arteta)
The English Premier League has another reason to be proud of the Everton club. Mr. Midfielder certainly scored a goal and then some in netting Miss Spain 1999.
4. Giorgia Palmas (World Football: Davide Bombardini)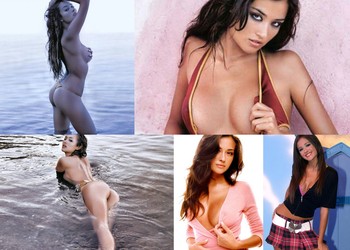 Ms. Palmas' beau may be in the second tier in Italian soccer (plays for AlbinoLeffe) but he certainly is in the champions league after getting this world cup association. Giorgia boasts the title of Miss Italy 1999, which should be a perpetual title....
3. Chelsea Cooley (MLB: Joe Mauer)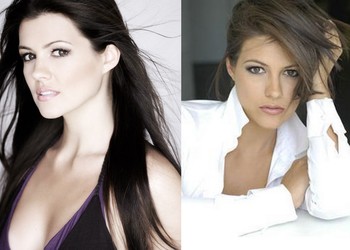 The AL MVP certainly took home more than one trophy when he shacked up with Miss USA 2005. If only playing for the Twins translated into cloning their significant others....
2. Alena Seredova (World Football: Gianluigi Buffon)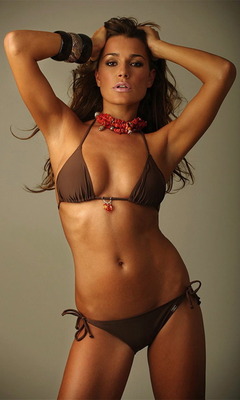 One of the greatest goalkeepers in recent history knows when to let them into his net. Miss Czech Republic 1998 keeps her fiancee happy and her fans are certainly happy to watch....
1. Carrie Prejean (NFL: Kyle Boller)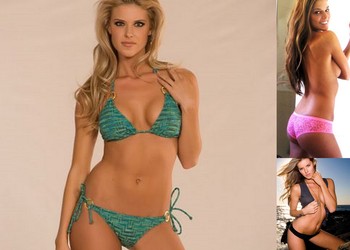 Ms. Prejean found some controversy after her pageant appearance for stating her honest opinion. She was derided and her photos were "leaked" (thank you though for the gift). In our book, though, she is Kyle Boller's greatest achievement. If he does not think so (though with his career so far it would be he would have to be in denial), we are sure there are plenty of people who would willingly step in...
Keep Reading