Major League Eating: Food Competitions That Don't Include Hot Dogs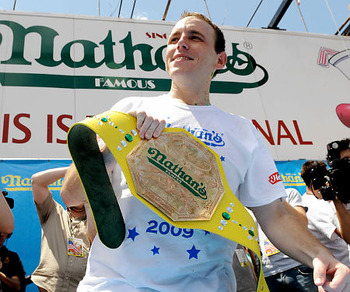 We've all seen all the memorable images from the world-famous Nathan's Hot Dog Eating Contest—bloated stomachs, mounds of hot dog buns and contestant's mouths stuffed like chipmunks—and it's all very impressive.
But what are some other eating contests that are worth watching?
There seems to be an eating contest for anything, and here are a few of them.
World Rib Eating Championship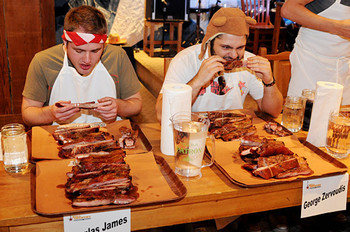 Each year there is the Smokin' At The Ocean BBQ & Brewfest held at Chinook Winds Casino Resort in Oregon.
This year, the main attraction is the 12-minute rib eating contest that will take place on July 11.
Competitive eating all-star Joey Chestnut has won the event five years in a row, and his best performance in the past was a world-record 9.8 pounds of pork ribs.
What's the prize for winning the rib-a-thon?
$2,750.
Jimmy John's Freaky Fast Sandwich Makers vs. Eaters Contest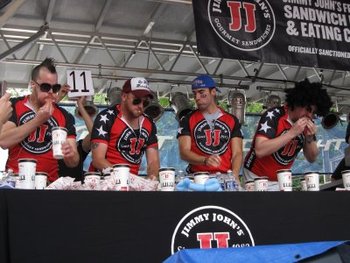 JJ's has always claimed they make "subs so fast you freak", but can they keep up with a group of ravenous sub-eaters?
That's the drama behind the contest, which will be held a total of five times in 2010.
In the July 17 contest that will be held at the Bite of Seattle food festival, the eaters will look to take down the makers to make up for a loss earlier this year.
Although there is no cash prize for this event, whoever wins will get all the bragging rights.
Who wouldn't want that?
Gyoza Eating Championship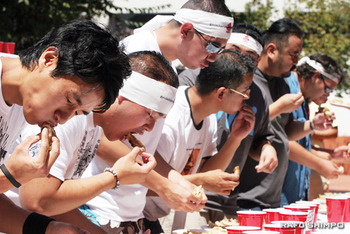 In this event held that will be in Los Angeles on August 21, eaters will look to knock off Joey Chestnut who has won the event the past three years.
Chestnut set a new world record after scarfing down 231 chicken and vegetable gyoza.
Just what is a gyoza?
The gyoza is a Chinese dumpling also known as a pot sticker.
Whoever consumes the largest amount will take home a first-place prize of $1,000.
Rocky Mountain Oyster Eating World Championship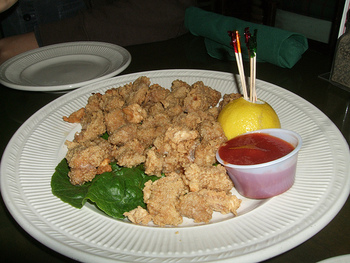 The Western-America delicacy may sound appetizing at first, but these oysters aren't fresh out of the ocean.
They're actually deep-fried bull testicles taken from castrated cattle.
Are you sick yet?
If not, you may want to head to Black Hawk, Colorado on August 28 and try to take home the $1,500 prize.
Pizza Hut Pizza Eating Chow-Lenge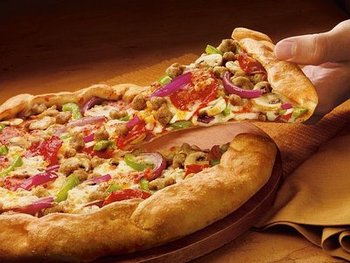 This contest, which was held on June 05, was the venue for a battle between Joey Chestnut and Pat Bertoletti.
Chestnut ended up winning the event after eating 41 slices in 10 minutes, which was just five short of setting another world record.
This is another contest where there is no cash prize, but the winner claims the bragging rights and is known as the "Undisputed Pizza Eating Champion."
Curley's Fries Eating World Championship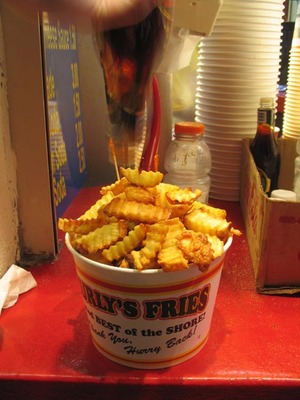 Many people may love french fries, but eating almost eight pounds of them in 10 minutes may be a little too much.
That's exactly what Bob Shoudt did at the contest held in May when he walked away with $1,250.
The contest was part of the 1st annual Curley's Fries Festival at Morey's Piers in Wildwood, New Jersey.
Krystal Square Off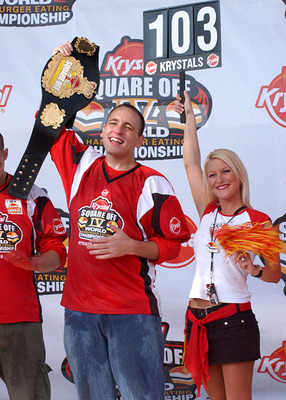 This annual event is the official World Hamburger Eating Championship held in Chattanooga, Tennessee.
2009's contest was won by Takeru Kobayashi, who downed 93 burgers in eight minutes.
Kobayashi defeated Joey Chestnut, who owns the contest record of 103 burgers.
The prize for this event is a hefty $20,000 for whoever takes first place.
World Famous Deep-Fried Asparagus Eating Championship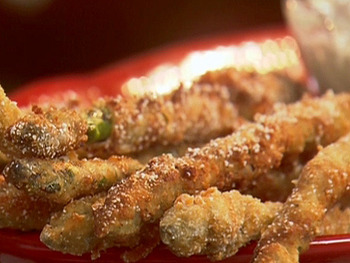 This competition, which is free to enter, takes place each year in Stockton, California.
The contest in 2010 was won by Joey Chestnut (big surprise, huh?) after he put away eight lbs. and seven oz. of the deep-fried goodness.
Chesnut went home with not only a full stomach, but also $1,500 and his fifth title in six years.
Keep Reading