NHL Free Agency: After Four Days, What NHL Teams Still Need
Dan Hamhuis was one of the biggest targets in free agency, as two teams traded for his rights.
He signed with neither, instead opting for the Vancouver Canucks, and while Flyers fans are a little miffed at giving up Ryan Parent for him, at least Philly still got a third round pick.
All the Pittsburgh Penguins got was Paul Martin and Zbynek Michalek.
Despite all the trades and signings, however, there's still a lot to be done.
Some players are candidates for trades. A few teams need to make signings and decide who's going to get a September shot at the big club.
Time to try and make sense of it all.
Anaheim Ducks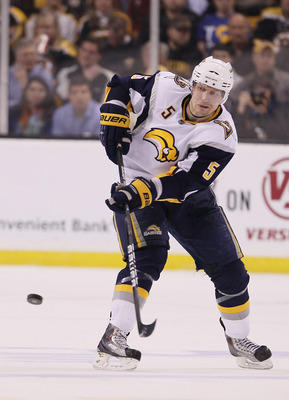 The Anaheim Ducks have plenty of good, young pieces up front starting with Corey Perry, Ryan Getzlaf, and Bobby Ryan (who should be re-signed).
With the retirement of Scott Niedermayer they're missing half of a top-two pairing, so they need someone to slide in alongside Lubomir Visnovsky. They should also be looking at a productive second-line centre with big-time faceoff capabilities (percentage-wise, only Saku Koivu and Ryan Carter were above 50 percent last year).
Free Agent: Toni Lydman is good, but as far as top-two alongside Lubo, I'm not sold. Jay McKee and Andy Sutton would bring that defensive presence, but throwing them up the depth chart would be a mistake.
Trade Candidates: Bobby Ryan's name keeps getting thrown around, especially in connection with former GM Brian Burke. The only way that happens is if Tomas Kaberle comes back, but Anaheim needs a better defensive presence to round out the top pairing.
Although the Leafs need both, the position they address next should be centre, not the wing. There are four RFA forwards coming up next year, none of whom will fetch an especially high return.
Call Me Up: Luca Sbisa is obviously the most likely candidate from the Ducks' system to get a shot at making an impact this year.
Like most young defenders he's still growing into his size. But like Alex Pietrangelo of the St. Louis Blues, he's gotten some extra seasoning in junior.
Expect the burly Peter Holland to get a look in camp as a depth forward, but unless 2011 UFAs Todd Marchant or Ryan Carter are moved there isn't much flexibility up front.
Atlanta Thrashers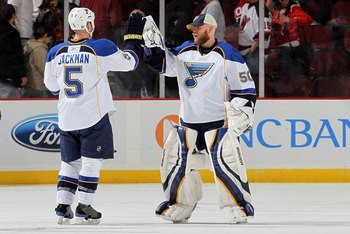 Five unrestricted and four restricted free agents up front, plus four unrestricted free agents on the back end leave more than a few holes that need filling for Rick Dudley and the Atlanta Thrashers.
Looks like another youth movement.
Free Agents: Keeping second-leading scorer Max Afinogenov is unlikely, and even if they did, the likelihood of Afinogenov staying healthy is even lower.
There are no long-term solutions on the wings, but try a sales pitch on Alexander Frolov. Andrew Ladd was a solid pickup, but he won't provide the necessary top-six scoring.
If you're feeling lucky maybe roll the dice on a Marek Svatos or Jonathan Cheechoo, but it's better to save money rather than spend it on a player who won't help this team move forward (neither would).
Pavel Kubina's offense will be missed, but Tobias Enstrom and Zach Bogosian will fill in, so leave the depth spot to another young guy.
Chris Mason is a quality addition who'll be able to teach Ondrej Pavelec a thing or two while pushing for time in the crease.
Trade Candidates: Not much here, really.
Ron Hainsey could be a guy that gets you a good return from a playoff team looking for a defender who can eat minutes and kill penalties. Other than that, an RFA that Atlanta can't come to terms with would be the biggest chip in play.
Call Me Up: 47-goal man Jeremy Morin isn't with the team anymore thanks to the Dustin Byfuglien trade, but he would've been a prime call-up candidate.
With the trade of Ivan Vishnevskiy, Arturs Kulda should be able to make the team.
If Carl Klingberg comes over to North America he should stick on the wings, while Angelo Esposito and recent draftee Alexander Burmistrov should make for some hard decisions come training camp.
Boston Bruins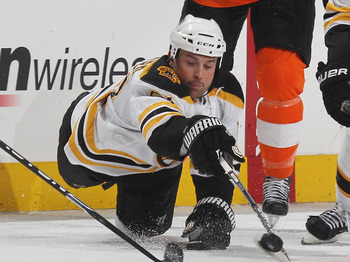 The Bruins are currently mired in trade speculation with Marc Savard and Tim Thomas.
Whether it's through trade or free agency, they're going to need to bring in some defensive help, and if Thomas is gone there'll need to be someone ready behind Tuukka Rask.
Free Agents: How about a puck-mover like Joe Corvo to fill-in where Dennis Wideman left?
Milan Lucic and Nathan Horton make an imposing tandem on the wings for whoever ends up as the number one centre, but a second-line right-winger is needed. If they want a quick fix, go after Alex Ponikarovsky. Patrick Lalime or Steve Valiquette could be candidates to play behind Rask.
Trade Candidates: Marc Savard (I still don't think he'll move) and Tim Thomas. Michael Ryder too if they can find a taker for his $4-million.
Call Me Up: Whether there's a glut of centres or not, look for Tyler Seguin to be with the Boston Bruins.
Zach Hamill, Brad Marchand and Joe Colbourne will be battling it out too. Adam McQuaid and Andrew Bodnarchuk should be gunning for a spot on the blueline.
The goalie situation will probably be solved out-of-organization.
Buffalo Sabres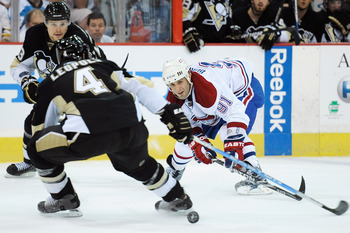 The Sabres are losing their depth guys in Raffi Torres and Adam Mair, but the scoring forwards are still intact.
Defensively they've found one of their replacements for Toni Lydman and Henrik Tallinder in Jordan Leopold, while Jhonas Enroth will take over the backup duties behind Ryan Miller.
Free Agents: Alex Ponikarovsky or Lee Stempniak could provide a little boost to the wings, but if the Sabres are looking for grit, Jed Ortmeyer and Eric Boulton could provide that.
With Lydman and Tallinder gone, Corvo would be an instant offensive upgrade, while Willie Mitchell would be a great defensive addition against what will be a much more offensive division. It's up to Buffalo as far as what they want to augment the addition of Leopold with.
Trade Candidates: Maybe Zach Kassian if the Sabres haven't liked what they've seen the past couple of months from an off-ice standpoint. That being said, he's the kind of forward they need—right out of that Sean Avery mould.
Call Me Up: Enroth and Tyler Ennis are the two obvious choices right now, although the diminutive Nathan Gerbe could give Buffalo the younger legs needed to replace Jochen Hecht.
Defensively, Mike Weber and T.J. Brennan will get a chance.
Calgary Flames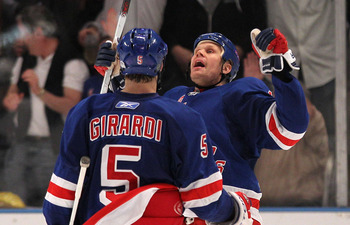 Now that everyone has made the throwback jokes about the Flames, what exactly do they still need?
Well, the Olli Jokinen experiment didn't work the first time, so Calgary shouldn't put the shopping cart away. They should stay in aisle six, home of the "number one centres".
Once they sign Ian White they'll be chock-full of defenders, so they're a backup goalie away from being done.
Free Agents: If Jose Theodore is willing to swallow his pride and sit behind Miikka Kiprusoff, he'd finally give the Flames a player that is able to spell Kipper for more than six contests a season. Other than that, maybe Yann Danis or Manny Legace would work.
Trade Candidates: The Flames need to get out from two enormous contracts: Daymond Langkow and Cory Sarich.
The blueline is full, so the loss of Sarich would be easier to swallow, while the signing of Jokinen might make losing Langkow easier. If that happens though, either a call-up or cheap find will be necessary to fill out the middle of the ice.
Call Me Up: Although he's already with the team, Mikael Backlund could get a call-up to the first line, as the talented Swede certainly has the stuff to strut.
Other than that, Greg Nemisz could see a shot after a second Memorial Cup with Windsor. If the backup solution isn't solved out of house, Leland Irving could get the call.
Carolina Hurricanes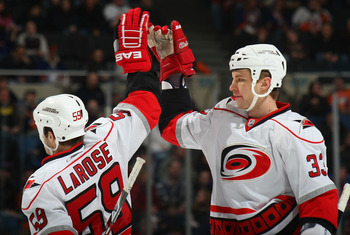 Well, the Anton Babchuk, one year here/one year there carousel continues to spin.
After losing his enormous shot last year, the 'Canes will just fill the loss with the man who created it.
That still leaves holes up and down the defense though, and Cam Ward will need a backup. The depth up front will also need to be filled out as well.
Free Agents: As far as backup goalies go, it's still the usual suspects that are available. You could also throw John Grahame's name in there, but his first stint in Carolina didn't go so well.
A guy like Paul Mara would give them some size on the back-end and if they want a puck-mover, why not Carlo Colaiacovo?
Down the wings, depth guys like Ponikarovsky, Torres, Stempniak, and Owen Nolan could help fill out the depth chart, but not the scoring like the 'Canes need.
For that, they'd have to sign Ilya Kovalchuk. Which they could—but probably won't.
Trade Candidates: The Canes aren't locked into a lot of high cap-hits, so I can't see Carolina in a rush to swing a deal. If you want a name, 2011 free agent Joni Pitkanen could get a few assets.
Call Me Up: While 2010 draft pick Jeff Skinner will get a look in camp, he'll probably get another year in junior to round out his skills.
Recent acquisition Jonathan Matsumoto, Zach Boychuk, and Drayson Bowman are strong candidates at forward, while Jamie McBain and Bobby Sanguinetti will be playing for defensive time.
Chicago Blackhawks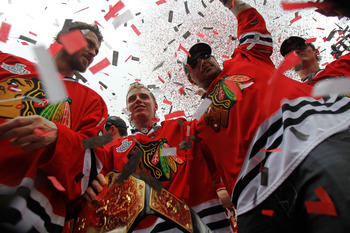 This could be tricky.
The Stanley Cup Champions have traded away Andrew Ladd, Kris Versteeg, Ben Eager, Dustin Byfuglien, Colin Fraser, and Brent Sopel this offseason. They also lost Adam Burish to free agency.
The deepest team in the league has a few holes to fill in and may be minus a fair bit of experience.
Free Agents: Low pairing guys that could come on the cheap include Martin Skoula, while Aaron Ward could immediately replace all of that experience Chicago lost with his three Stanley Cup rings.
Expect more call-ups than anything up front, but Pavol Demitra or Paul Kariya could offer a veteran presence if they're available for a lower hit.
Maybe getting Colaiacovo as a cheap puck-mover or Christoph Schubert for sandpaper on the blueline would be something Chicago could consider.
Trade Candidates: Brian Campbell and Cristobal Huet.
We all know it and lifting their contracts off the books frees up another $12.5-million.
Call Me Up: Both Antti Niemi and Nik Hjalmarsson are RFAs needing new deals—the main reason any dip into free agency will be a cautious one.
Kyle Beach, Jack Skille, Viktor Stalberg, and Jeremy Morin will make for an interesting training camp.
Colorado Avalanche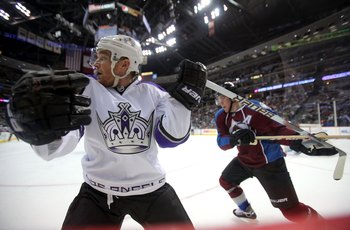 The Colorado Avalanche cut loose a lot of extra weight thanks to free agency, something that will help them continue the rebuilding process into a Western Conference powerhouse once again.
There isn't much for Colorado to do except follow the blueprint.
Free Agents: Jeff Halpern could be a great fit in Colorado if only because of his leadership ability. While there are others that bring solid leadership (Craig Conroy, Stephane Yelle), Halpern just seems to have that must-have air about him.
Scott Walker could bring great toughness to the team, but again, I'd be wary of bogging down the roster over-turning with too many veteran guys.
Trade Candidates: John-Michael Liles always seems to come up as potential trade bait this time of year, while Scott Hannan's name may come up this time around too.
Call Me Up: Kevin Shattenkirk could be the next young blueliner to strike it big with the Avs, while Brandon Yip, Ryan Stoa, and Kevin Porter will be among a handful of youngsters hoping to crack the roster.
Columbus Blue Jackets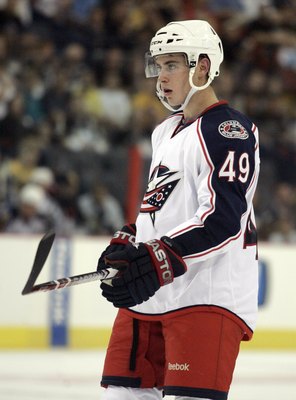 The Columbus Blue Jackets have a pretty full roster.
Both Steve Mason and Mathieu Garon are under contract until after next year, their key components are controlled beyond next season, and they only lost three depth players to the open market.
Free Agents: Unless a surprise pitch is planned to bring in Kovalchuk with the $10-million they have in cap space, or if management can convince Frolov that he wants to live in scenic Ohio, free agency won't fill any need for the Jackets.
Trade Candidates: If someone is going to get moved, it'll probably be a defenseman, although there's really no runaway numbers on the blueline.
Mike Commodore's is high, but finding a suitor will be difficult.
Call Me Up: John Moore would be the reason for any defenseman being traded away. Columbus will have last year's first round pick playing either in the AHL or NHL this year.
Columbus also hasn't given up hope that Nikita Filatov comes back to the team, while Maxim Mayorov and Chad Kolarik can fill in along the wings as well.
Dallas Stars
Dallas is one of those teams that could use another blueliner or two.
The Stars were able to crystalize their goaltending situation with the addition of Andrew Raycroft as a backup.
There are a ton of contracts up front for Dallas, but rather than add another veteran to their ranks, Dallas will probably want to call upon some youth.
Free Agents: Dallas could use another puck-moving threat, but you've already heard the names Colaiacovo and Corvo. What about Kim Johnsson if he's healthy?
There are four youngsters (Nicklas Grossman, Matt Niskanen, Mark Fistric, and Trevor Daley) who will be using any available ice time to continue their development, so adding another body may not fit the plan right now.
Other than that, the main free agent move was made in finding a backup for Kari Lehtonen.
Trade Candidates: Brad Richards contract is up after next season, but the $7.8 million he's owed is a hefty tag. Other than that there's really nothing that Dallas should shed, unless they get rid of some of their veteran depth forwards to open up space up front.
Call Me Up: Scott Glennie could force the Stars' hand this year if his near-90 point junior season last year translates into a strong camp.
Outside of him, the Stars are just waiting on a few more college prospects still.
Detroit Red Wings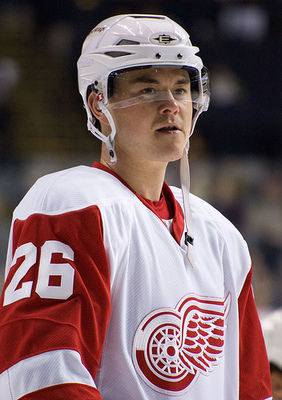 Both goalies become unrestricted free agents next year, so signing Jimmy Howard becomes a priority, while Chris Osgood will hold down backup duties a year longer.
There's a little space on the blueline, and the Wings could use one or two forwards up front.
Free Agents: The Red Wings biggest prize this offseason was Jiri Hudler, as he'll give Valtteri Filppula someone to play with.
It's hard to peg Red Wing-type guys sometimes, but a defender like Martin Skoula or Brian Pothier might interest them.
People will talk about hometown boy Mike Modano, but he might have to shift to the wing. Wouldn't Raffi Torres or Petr Sykora make interesting additions?
Trade Candidates: Draft picks and prospects. Maybe an RFA like Patrick Eaves or Drew Miller, but that's highly unlikely.
Call Me Up: Jakub Kindl got a three-game tryout with the Wings last season and will probably crack a lower-pairing, meaning that the Wings won't have to panic on defense. Cory Emmerton and Jan Mursak could shore up the forward depth as well.
Edmonton Oilers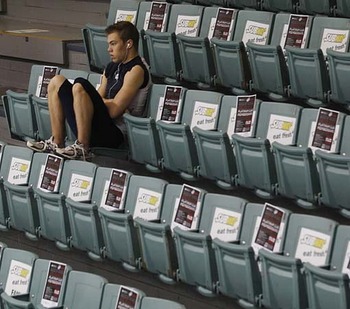 It's a true housecleaning for the Oilers as the roster reshape will be led by No. 1 pick Taylor Hall, Jordan Eberle, and Magnus Paajarvi-Svensson.
The defense is set, but both Devan Dubnyk and Jeff Deslauriers are restricted free agents.
Free Agents: The Oilers have six forwards already signed for next year at less than $1-million, meaning that the youth could use leadership.
Again Jeff Halpern or Stephane Yelle could be ideal low-line guys, as could Craig Conroy.
This isn't considering though, that Sam Gagner, Gilbert Brule, Andrew Cogliano, and J-F Jacques are all RFAs, while Taylor Hall has yet to sign. Without signing a veteran leader, that's fourteen guys under contract forward-wise.
Defensively they made an economic signing out of Kurtis Foster, and rounded it out with Jason Strudwick.
Trade Candidates: Sheldon Souray (duh), Shawn Horcoff (HUGE contract), and Dustin Penner (Sell high?) might get the boot out of the City of Champions. They all make a LOT of money though, and don't even get me started on Nik Khabibulin.
Call Me Up: Um…see above.
If you don't think these guys are with the team next year, then that's far more interesting to read. Taylor Chorney should be there, too.
Florida Panthers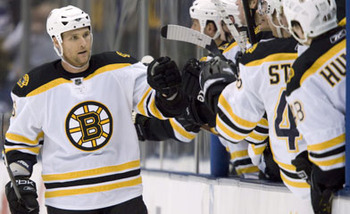 Dale Tallon has started clearing the deck, but there could still be more to come.
I can't see the Panthers targeting another forward until someone else is moved, and (other than a low-end guy) Florida would probably rather spend money on a defenseman that will be there a long time (Bryan McCabe, Dennis Wideman, Bryan Allen, and Clay Wilson are all unrestricted within the next two seasons).
Free Agents: Joe Corvo would be fun to see alongside McCabe, but that's unlikely because of Dennis Wideman acquisition. Maybe another big shot in Marc-Andre Bergeron?
Trade Candidates: Stephen Weiss has been brought up, but what about Cory Stillman? He's got experience and a scoring touch, and you'll probably get more for him now than at the trade deadline.
You could get plenty for Tomas Vokoun, too.
Call Me Up: Um…Jacob Markstrom? Keaton Ellerby and Kenndal McArdie should start seeing time as well.
Mike Duco should get called up because Florida needs the toughness. I'm in-between on Erik Gudbranson.
Los Angeles Kings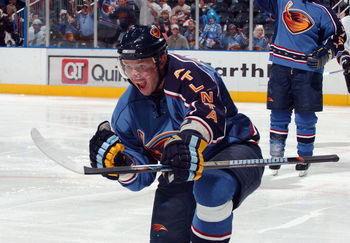 The Kings are a young team that's very fortunate.
The defense is ready to go for the season along with the goaltending, but there are plenty of young bodies ready for the blueline (and the crease) if the Kings want to make a trade to shore up the forwards. The big thing though, is that Alexander Frolov's possible departure does leave a void on the wing.
Free Agents: Pavol Demit….wait…they already tried that. Well Fredrik Mo….wait no.
Paul Kariya can score off the wing. Oh, yeah…there's that Kovalchuk guy too. And whatever Dean Lombardi says, no one is ever out of the running in free agency. Kovalchuk may come down to them, who knows?
Trade Candidates: Jack Johnson's name is one that I've heard, only because he's good, affordable, and controllable. Erik Ersberg could be a candidate as well if Jonathan Bernier is set for NHL time.
Call Me Up: Vyacheslav Voynov, Thomas Hickey, and Colten Teubert will all be trying to prove themselves for blueline time. Andre Loktionov, Scott Parse, and a few others could also strengthen the forwards from the bottom up, with Brayden Schenn being a wild card.
Minnesota Wild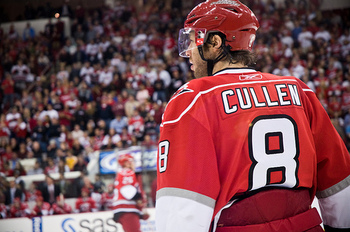 Minnesota was already able to get itself a great faceoff guy in Matt Cullen, who has the ability to create.
The $3.5-million a year is also pretty affordable despite what some people think. Depending on Josh Harding's contract they'll need to find a second goalie, but other than that the roster is crammed.
Free Agents: If they end up needing a backup, than free agency will be their best bet as Matt Hackett will need some AHL time first. Maybe a Doug Janik-type to round out the defense.
Trade Candidates: Andrew Brunette is too affordable to pass up, especially because he's still producing. If Josh Harding wants too much, he's someone that the Wild can get a good return on.
Call Me Up: Cody Almond got a look last year, while Colton Gillies could either get a shot at the big-league level or go back to the AHL for more seasoning. Marco Scandella and Tyler Cuma will also be trying to work their way onto the team on defense.
Montreal Canadiens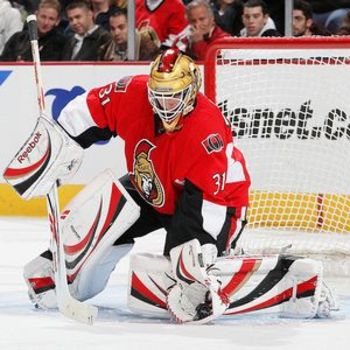 Montreal wasn't able to hold on to Dan Ellis, but it did keep Curtis Sanford and sign Alex Auld. The Canadiens also accomplished their biggest goal in dealing the trouble-causing Sergei Kostitsyn and re-upping with Tomas Plekanec.
Free Agents: Dominic Moore provided them with good depth at centre, but if they can't keep him a Brendan Morrisson would do. They're pretty full at forward though, so it'll take a bit of maneuvering.
With the players the Candiens already have under contract plus Les Habitants' newest star, PK Subban, Montreal can deal with the losses of M.A. Bergeron and Paul Mara internally.
Trade Candidates: I don't see any big candidate to leave Montreal unless the team suddenly sours on Andrei Markov and his big contract, or it can find a home for Roman Hamrlik's $5.5 million.
Call Me Up: Lars Eller immediately becomes a callup candidate and should help spread out the offense.
Outside of that, Yannick Weber may force a trade if he proves he's NHL-ready. Whether he's the one being traded or not will be interesting to see.
Nashville Predators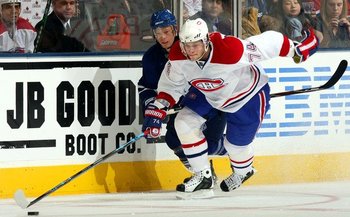 Initially it looked like the Predators pre-free agency moves were clearing out room to make a splash. After a quiet opening though, there isn't much to splash around in. Basically, it looks like Nashville's opening it up for the young guns to run the show.
Free Agents: The wings are filling up thanks to the Sergei Kostitsyn acquisition, while down the middle Matthew Lombardi will be able to be a number one guy with the talent around him.
A backup goalie might be in the cards too. The Preds have $20-million in cap room (which is a norm), so they're one of a few teams that could still make a big move on the trade market.
Trade Candidates: It looks like Nashville dumped most of its trade candidates before free agency began, so it'll probably be quiet from here on out.
Call Me Up: Cody Franson, Jonathan Blum, and Ryan Ellis will all be fighting for a spot on defense, but there certainly isn't a lot of room.
Colin Wilson, Cal O'Reilly, Matt Halischuk and Blake Geoffrion are the big names to watch up front. Is Chet Pickard the backup now with Dan Ellis gone?
New Jersey Devils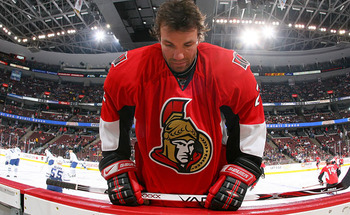 Well you can take the loss of Paul Martin and offset it with the acquisition of Anton Volchenkov.
Henrik Tallinder becomes the defenseman with the second-most points going off of last year's stats. They also lost Ilya Kovalchuk, but they only really had him for half a season. It only hurts because of the assets they lost in getting him.
Johan Hedberg is just another stop-gap behind Martin Brodeur.
Free Agents: The Devils are pretty full at forward, but a solid two-way guy like Richard Park is the sneaky kind of signing the Devils make.
Trade Candidates: The Devils are all traded out; they've swept out a handful of prospects in making the Kovalchuk and Jason Arnott deals.
Maybe they have interest in Tomas Kaberle, but if they can't get a long-term deal done it's just more wasted assets.
Call Me Up: Vladimir Zharkov and Alexander Vasyunov are the big wingers in the system, while people are talking about Matt Corrente.
How about Adam Henrique as a dark horse?
New York Islanders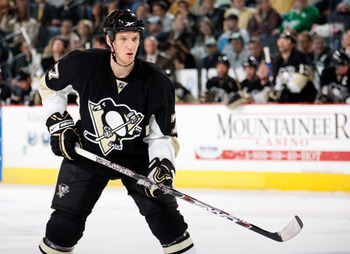 The New York Islanders added some depth to their defense with Milan Jurcina and Mark Eaton, while you have to think that Rick DiPietro is going to be good-to-go this season if they're letting Martin Biron walk.
Free Agents: There are a lot of holes up front in terms of guys leaving, but with New York still going for youthful exuberance the team will probably fill most with its own guys.
Maybe target another centre to help out Josh Bailey like a Mike Comrie, and then toy with the idea of moving John Tavares to the left side.
Trade Candidates: Brendan Witt makes a good chunk of coin and is a free agent after this season. While teams would line up for Mark Streit, the Isles need to build the back-end attack through him.
Call Me Up: Calvin de Haan will be a guy to watch in camp while Jesse Joensuu could see a full season in the NHL.
Let's throw Justin DiBenedetto's name in their for kicks too.
New York Rangers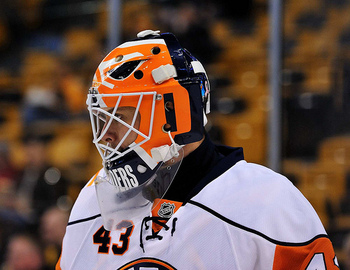 The Rangers were able to hold on to second-leading scorer Vinny Prospal at the more-than-friendly cost of $2-million, while they were also able to solve the problem of who plays behind Henrik Lundqvist and add some solid muscle in the process.
Free Agents: The Rangers are still lacking some punch on the top-two lines, but it's unlikely they'll get it through free agency.
Signing Ilya Kovalchuk would take the remaining cap room, and the on-again, off-again Frolov would force Ranger Nation to implode. Then again, Marian Gaborik has worked so far and we all thought he'd play six games last year.
M.A. Bergeron would be a nice asset offensively, and if it turns out like last year he'll be cheap.
Trade Candidates: Any GM insane enough to take Wade Redden's $6.5 million is…well…I'd like to see who that is personally.
Michal Rozsival and his $5-million cap hit get brought up fairly often in the "list of players we'd like to see gone" by Ranger fans as well.
Call Me Up: Evgeny Grachev could probably use another season in the AHL, but if New York is desperate enough it'll see him through now.
Dale Weiss is a feisty winger while Dane Byers could give the blueshirts some depth. Michael Sauer would also add some size to the blueline.
Ottawa Senators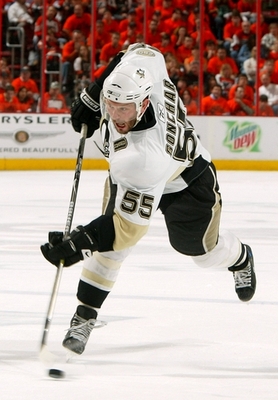 Ottawa did well to add the most offensively talented blueliner on the market in Sergei Gonach, even if three years is a little much.
There are a handful of young players that can step into big roles as well for this squad, provided they aren't filled with more signings.
Free Agents: Chris Phillips can't match up against the top two lines of every opponent game in, game out, so the Sens need another physical, experienced shut-down presence. Jay McKee or Willie Mitchell would be great adds.
The same thing always seems to come up, as another top-six forward is a necessity. Maybe Paul Kariya for a short-term fix or take a shot on Ponikarovsky. Miro Satan/Max Afinogenov/Slava Kozlov could be options too, but that's only if they don't head to Europe.
Trade Candidates: Jason Spezza is probably the only name you'll hear attached to the words "Ottawa", "trade", and "rumor" until next April. Maybe longer.
Call Me Up: Jared Cowan and David Rundblad are in line for callups while Zach Smith is a punishing physical force.
Philadelphia Flyers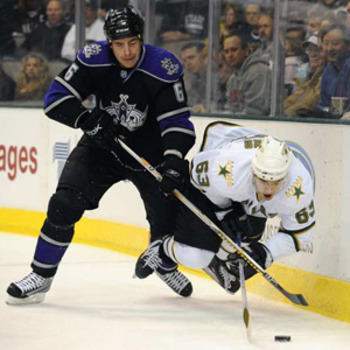 Well, the Flyers have certainly rounded out their defense with Andrej Meszaros and the crafty Sean O'Donnell, who is a great signing—especially for the price.
Still no big-time solution in net, but the Flyers added more toughness in Jody Shelley.
Free Agents: I'm sure the talks with Marty Turco and Evgeni Nabokov are continuing, but after staking the defense, the Flyers will need to make a trade to have cap space.
Then again, they only approached Turco about playing for $2-million. Maybe Nabokov will do it for $500,000.
Trade Candidates: The popular name used to be Jeff Carter, but now it's Simon Gagne. Maybe it's both? Danny Briere's name gets tossed around a lot too.
Call Me Up: I suppose Oskars Bartulis has been relegated to "injury fill-in" for now while Patrick Maroon and Andreas Nodl are working to get a shot.
Remember Stefan Legein? Another hard-working season could get him a test-run when injuries hit.
Phoenix Coyotes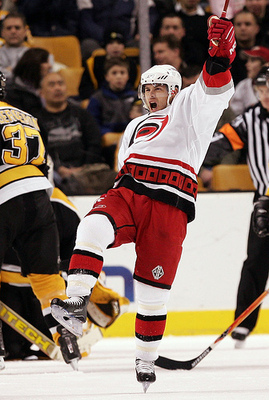 They Coyotes lost the most under-valued free agent on the market in Michalek, while they'll also have to replace Matthew Lombardi.
They were able to hold on to Derrick Morris (another undervalued guy), and Ray Whitney offers them consistent help on the wings.
Free Agents: The Whitney for Stempniak tradeoff has Phoenix out ahead, but there's still a big hole in centre ice. If they want a replacement, Mike Comrie would be the closest thing to it.
They're really in no need for another top-four guy. A depth signing like Garnet Exelby, Brett Lebda, or Nick Boynton would look good.
Trade Candidates: Everything is fairly manageable on Phoenix's roster right now, so it looks like there's no real urgency to get something done.
Call Me Up: Oliver Ekamn-Larsson will look great on the blueline one day, but it's in his hands whether he's in the NHL this year or not. David Schlemko is his main competition for any opening.
Viktor Tikhonov could benefit the most from Lombardi's departure, along with Mikael Boedker and Kyle Turris.
Pittsburgh Penguins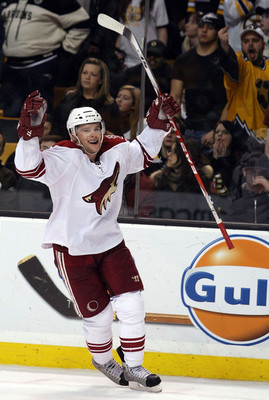 A team with an offense that comes down the middle (Crosby/Malkin/Staal) made sure that it would help Marc-Andre Fleury keep the puck out of the net with the additions of Paul Martin and Zbynek Michalek. They could use some help on the wings though to off-set their offensive losses.
Free Agents: Andy Sutton would look good on the Pens blueline, especially because it would offer three good defenders and three puck-movers. Willie Mitchell may be a little too high profile but it's fun to think about.
Do you take a chance on a Darcy Tucker or Jonathan Cheechoo and hope they find magic alongside that talent in Pittsburgh? Or do you just leave it to call-ups to fill in the goals and assists? Pavol Demitra is certainly an interesting name too.
Trade Candidates: While the Penguins will need his two-way play, Jordan Staal will always be someone that teams try to pry out of Pittsburgh's hands.
Maybe a small move like a Pascal Dupuis happens? It's hard to tell.
Call Me Up: Luca Caputi would certainly look good right now, but Nick Johnson or Dustin Jeffrey could earn a low spot out of camp.
Keep an eye on Eric Tangradi and Ben Lovejoy too.
San Jose Sharks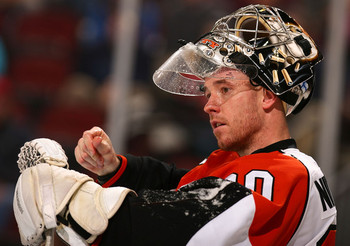 The Sharks locked up their key pieces before they hit the market, while making a smart play on Nabokov. Chances are he'd want way too much, and with $7-million available in cap space, San Jose can make a move if it would like.
Free Agents: The Sharks filled the goaltending vacancy with Antero Niittymaki, although he and Thomas Greiss will battle for time.
Dan Boyle is obviously a premier puck-mover, but if the Sharks are impatient with the growing pains of Jason Demers and Marc-Edouard Vlasic then they could target Joe Corvo. A couple of hard-workers like a Scott Walker, Nigel Dawes, or Jon Sim would fill out up front.
Trade Candidates: You can finally take Patrick Marleau's name off of this list, but I can't see anyone replacing him on it.
Call Me Up: Some toughness is down there in Brandon Mashinter and Frazer McLaren, while Logan Couture has the scoring touch. Nick Petrecki and Derek Joslin are the ones to watch out for on the blueline.
St. Louis Blues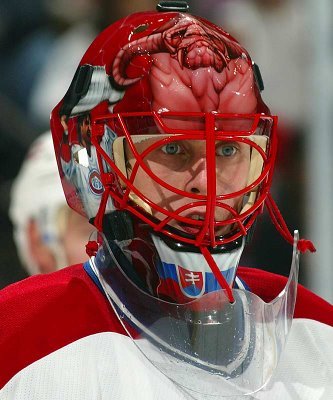 In letting Paul Kariya and Keith Tkachuk go, the Blues get younger up front. The key is signing their four RFAs.
Jaroslav Halak fills the void left by Chris Mason, while there's a tiny bit of work to do on the blueline.
Free Agents: All the Blues really need is someone to fill out the back-end of the blueline. Lukas Krajicek? Shane Hnidy? Brad Lukowich? All possibilities.
Trade Candidates: If the rumors are true, Eric Brewer is on the block and he could yield a return of Sheldon Souray. Outside of that the Blues will probably be quiet for a while.
Call Me Up: If Alex Pietrangelo isn't on the team this year, then something is seriously wrong. Other than that, most of the other youngsters are probably a year or so away from making it.
Tampa Bay Lightning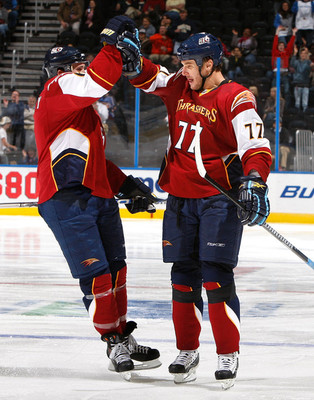 Steve Yzerman re-signed the smallest (stature-wise) piece of his big-three, while also lifting the Andrej Meszaros contract.
He also found a guy in Dan Ellis who could evenly split time with Mike Smith. Bringing back Pavel Kubina pretty much rounds out the defense.
Free Agents: Four restricted free agent signings would put the Lightning at ten forwards. They still need backup scoring, so Mike Comrie or Kyle Wellwood might be able to help if there the younger players aren't ready.
A guy like Brian Pothier could be of interest if they want a little offense from the defense.
Trade Candidates: Vincent Lecavalier.
As always. Ryan Malone has a pretty big contract too, but Steve Yzerman may be content to see what his team can do now that he's tinkered with it.
Call Me Up: Ty Wishart could be coming up on the blueline while Brett Conolly will be interesting to watch in camp. Alex Hutchings is a quick player with some upside too and Carter Ashton has some good size.
Toronto Maple Leafs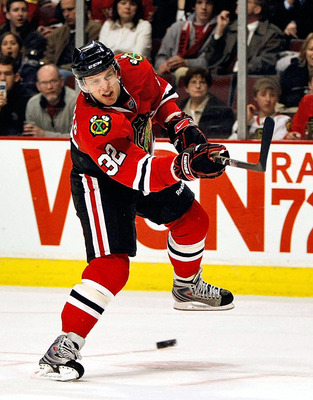 The Leafs got what they wanted in Kris Versteeg and Colby Armstrong, although the forwards still need more work. Re-signing John Mitchell is a good move for the bottom two lines, but it does create a log jam of bottom six guys.
Free Agents: The bottom six is filled out and there's nothing out there to add to the top-six that wouldn't push this team backwards. People keep talking about a defenseman, but it'll only happen if Kaberle is moved, and if that happens it needs to be a puck-mover.
Trade Candidates: With Nikolai Kulemin signed, this falls to simply Tomas Kaberle. Mikhail Grabovski's name has come up too. But if it were up to Bill Watters he may just lock the kid in a cellar somewhere and ignore his cap hit.
Jeff Finger's contract is basically immobile. The fact they don't play him to show him off doesn't help.
Call Me Up: Nazem Kadri will get his shot. Keith Aulie has an outside chance if there are big injuries to the defense, but he'll have to jump Phil Oreskovic too. Don't count out Luca Caputi. If this team is short on top six talent (Like it is now, needing another winger and a centre) he'll get a chance.
Vancouver Canucks
The Canucks have been very busy reshaping their defense this offseason, and hopefully they get their money's worth because everyone in their rotation is making $3-million+. They've also made a few moves to give themselves some depth up front.
Free Agents: I like Manny Malhotra, and the $4.5-per year for Hamhuis is fair if he performs better offensively now that he's out of the shadow of Weber and Suter. There's only $2-million left under the cap, so the Canucks could make another small signing or just save it for later.
Trade Candidates: Kevin Bieksa's name has come up, but the Canucks would be silly to do that if they get a full-season of the Bieksa they got during the playoffs. Other than that, it might be nice to take Sami Salo's $3.5-million off the books.
Call Me Up: With Andrew Raycroft walking, expect to see Cory Schneider backing up Roberto Luongo. They may need to play his value back up after burying him in the minors if they're looking at dealing him.
So long as the presumed rift between Hodgson and the team has been repaired, he'll be with the team and immediately be a top-six forward. Sergei Shirokov may get a chance too.
Washington Capitals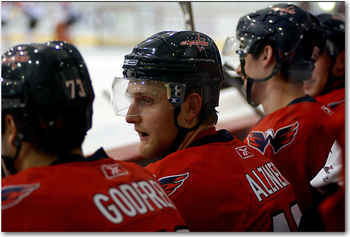 Surprisingly the Capitals have $11-million in cap space. I say surprisingly because you'd expect a team Ovechkin, Backstrom, Semin, and Green to be tight up to the cap with some holes to fill still.
Depending on what happens with their RFAs though, the Caps may need to find some bargains or hope for some cheap young guys to step up.
Free Agency: I can see a Pavol Demitra or Paul Kariya being interested in playing in Washington, but at their age I don't know if that's realistic.
I bring up wingers because if they run into issues signing Tomas Fleischmann, they may lose his production up front. They may also be able to use an Andy Sutton-type depending on how the development of their younger defensemen goes.
Trade Candidates: Everyone hears Alexander Semin's name come up, and I'm sure if anyone wanted him the Caps would give up Michael Nylander for the Kris Draper special ($1). But sending him to Europe works too.
Call Me Up: Jon Carlsson and Karl Alzner will be on this defense next year and Michal Neuvirth will be backing up Semyon Varlamov.
Chris Bourque will probably be there too if there's room, but he'll have to fight it out with Andrew Gordon and Mathieu Perreault.
Keep Reading