Top 15 AFC Position Battles Going into Training Camp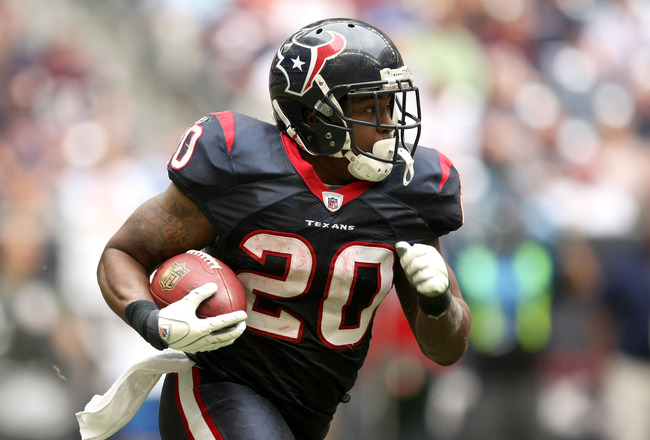 The NFL has mastered the art of hype.
Every event the league holds, no matter how insignificant, has become a grand one.
There's a schedule release show, the owner's meeting gets mountains of press, and now, the league appears to be pushing the Super Bowl location selection into a prime time event.
And let's not forget how the league has managed to persuade millions upon millions to sit on their couch for three days to watch a guy stand at a podium and call out names.
So, naturally, the first sign of actual football always draws the attention of the nation.
Training camp is within reach now, and many teams will begin strapping on the pads in the comings weeks to begin their quest for a Super Bowl.
And just in case you were wondering, you can normally tune in to NFL Network throughout the summer to see your favorite team or player catch a ball or hit a sled.
But, hey, it's America's game, and every training camp practice is a vital one. That rings especially true for the following players who will compete for jobs this summer, and the AFC has plenty of position battles to keep you occupied.
So, without further ado, here are the top 15 AFC training camp battles to watch this summer.
15. Bernard Scott vs. Cedric Benson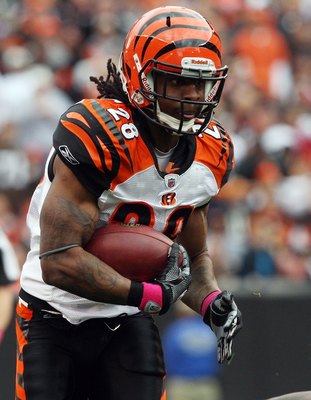 Although Cedric Benson appears to have a firm grip on the Cincinnati Bengals starting running back job, all signs point to a possible overthrow by second-year back Bernard Scott.
Benson took on a bruising workload in 2009, carrying the ball a career high 301 times. Now that he is coming up on 28, the Bengals might look to preserve Benson by limiting his carries.
Either way, backup Bernard Scott looked electric in his appearances last year, finishing with a 4.3 yards per carry average.
He also brings an elusiveness that contrasts with Benson's straight ahead running style.
If Scott comes ready to play in training camp, he could easily challenge Benson for the starting spot, or at least a large increase in carries.
14. Kenny Britt vs. Nate Washington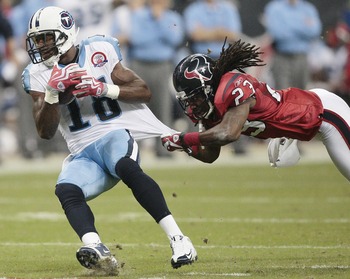 Titans' 2009 first round pick Kenny Britt was starting to look like the big-time wide receiver Tennessee had been searching for.
Britt caught 42 passes for 701 yards and three touchdowns in his rookie season, setting the stage for a possible breakout season in 2010.
But early reports out of Titans workouts claim that Britt is having some serious problems with dropped passes.
So while Britt struggles, teammate Nate Washington might have a chance to steal the starting role.
Washington caught a team-leading six touchdowns in 2009, and he also poses a deep threat.
While he doesn't quite have the upside or dominating physical build that Britt does, the Titans will feel much more comfortable with a sure-handed receiver.
Britt and Washington will battle for the chance to be Vince Young's main target during training camp.
13. Brandon Lloyd vs. Jabar Gaffney vs. Demaryius Thomas vs. Eddie Royal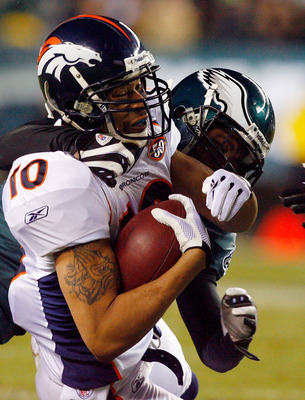 The departure of stud receiver Brandon Marshall has left a glaring hole for the Denver Broncos.
The Broncos looked to fill that hole by drafting wide receiver Demaryius Thomas with their first round pick, but Thomas has yet to practice due to a lingering foot injury.
Whether or not Thomas is ready for training camp won't prevent a a four-way battle for the top spot on the depth chart.
Brandon Lloyd and Jabar Gaffney have emerged as the two favorites to win the job due to their experience with the Broncos offense.
Eddie Royal might be a contestant, but after playing virtually no part in the offense last season, his chances seem minimal.
Rookies Demaryius Thomas and Eric Decker will also compete, but both will have to play beyond their years if they wish to keep up with Gaffney or Lloyd.
12. Laurence Maroney vs. Sammy Morris vs. Fred Taylor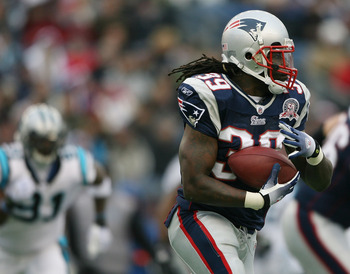 Year after year, the New England Patriots enter training camp with a stockpile of veteran running backs. And, every year, the team ends the season rotating running backs the same way they did during camp.
This summer, Laurence Maroney, Sammy Morris, and Fred Taylor will compete for the starting running back job.
Maroney took on the biggest workload for the Patriots last season, and actually finished the year with pretty good numbers—757 yards and 9 touchdowns.
But with both Morris and Taylor returning from injuries, Maroney will have to compete to retain his job. And, in classic Bill Belichick fashion, all three will likely end up splitting carries.
11. Jamaal Charles vs. Thomas Jones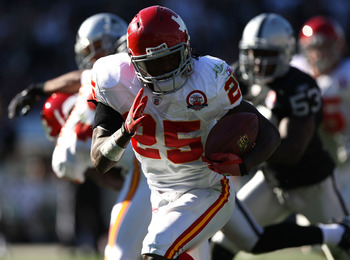 In all likelihood, running backs Jamaal Charles and Thomas Jones will split carries once the regular season rolls around.
But if Jamaal Charles can replicate his play from 2009, can the Chiefs really take carries away from him?
In his second NFL season, Charles tore up opposing defenses, rushing for 1,120 yards on just 190 carries, finishing the year with an amazing 5.9 yards per carry average.
Kansas City gave free agent running back Thomas Jones a 2-year, $5 million contract to become a role player in a struggling Chiefs offense.
While the Jones signing could signal management's concern with the young running back's ability to be a full-time player, if Charles brings the same level of play to training camp he did to the 2009 season, it will be very difficult for the Chiefs to keep him off of the field.
10. Trent Edwards vs. Ryan Fitzpatrick vs. Brian Brohm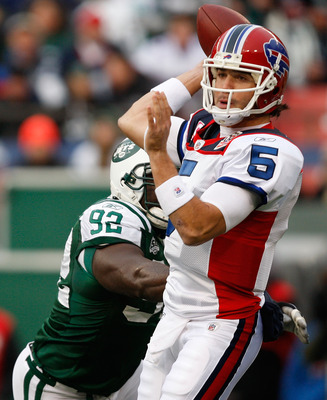 Since Jim Kelly's retirement, the Buffalo Bills have failed to find a franchise quarterback to replace the Hall of Famer.
Unfortunately for Bills fans, that replacement likely won't be competing in this three-way quarterback battle in training camp.
Trent Edwards, Ryan Fitzpatrick, and Brian Brohm will compete for the starting role on a Bills offense that has little to brag about and few weapons to showcase.
Although Edwards has shown flashes in this offense, he is yet to show that he can stay healthy.
Whoever wins this job, barring a great season, will likely be a placeholder until the Bills can find a quarterback.
9. Julian Edelman vs. Torry Holt vs. Taylor Price vs. Brandon Tate
Although Wes Welker made headlines for participating in Patriots OTAs, there's no guarantee he will be ready for the regular season, and many suspect his torn ACL and rotator cuff will force him onto the PUP list to start 2010.
Without Welker, the Patriots will let Julian Edelman, Torry Holt, Taylor Price, and Brandon Tate fight for the opportunity to start alongside Randy Moss.
Based on his play in 2009, Edelman would appear to have an edge to win the job, but recently signed free agent Torry Holt should provide some healthy competition.
Rookie Taylor Price and second-year receiver Brandon Tate might not appear to have a real shot at the role, but based on Bill Belichick's ability to find talent in the oddest of places, both could be candidates.
Still, this position battle will probably narrow down to a fight between Torry Holt and Julian Edelman.
Whoever wins will have big shoes to fill in replacing Wes Welker.
8. Malcom Floyd vs. Legedu Naanee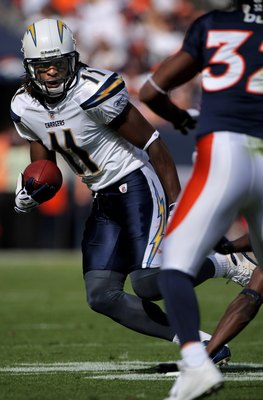 With incumbent starter and Pro Bowler Vincent Jackson suspended for the first three games of 2010, and rumors of a possible trade intensifying, receivers Malcom Floyd and Legedu Naanee might be competing for a starting spot during training camp.
Both Floyd and Naanee have been coveted as "potential" and "big upside" players, but neither of them have been able to put it all together and breakout.
Floyd put together a decent 2009 campaign, posting 45 receptions for 776 yards, while Naanee posted a more modest 24 reception, 242 yard season.
Whether or not Jackson is traded (which probably will not happen), Floyd and Naanee will compete for the starting spot (and what may become the No. 2 spot) on an explosive Chargers offense.
7. Jerome Harrison vs. Montario Hardesty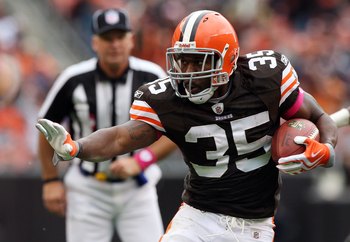 Even after rushing for 561 yards in the final three games of 2009, the Cleveland Browns do not appear to be sold on running back Jerome Harrison.
The Browns used a second round draft pick on Tennessee running back Montario Hardesty, who most suspect will play a big role in the Browns offense in 2010.
Browns' football czar Mike Holmgren drafted both Dorsey Levens and Shaun Alexander in his days in Green Bay and Seattle respectively, so Hardesty could be in for a fruitful career.
Hardesty will have to fend off Harrison during training camp to earn the starting role, but all signs point to that being a real possibility.
6. Darren McFadden vs. Michael Bush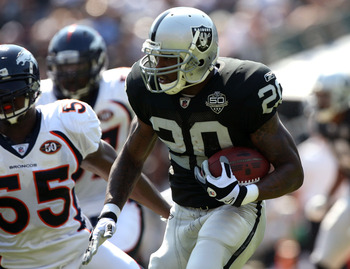 The Raiders' decision to let running back Justin Fargas go was a puzzling one (Is any decision they make puzzling anymore?).
The team claimed Fargas failed his physical (which Fargas disputed), and let their most productive running back go.
So with Fargas gone, running backs Darren McFadden and Michael Bush will compete for the team's starting running back role.
McFadden, a former Top Five pick, has yet to live up to the hype, and has compiled just 856 rushing yards through his first two NFL seasons.
Meanwhile, Michael Bush, also in his second NFL season, has outperformed McFadden, and even led the team in rushing in 2009.
With Al Davis at the helm, one has to suspect we'll see the team try to give McFadden as many carries as possible, but if Bush continues playing at a superior level, Oakland will have to give him the starting spot.
5. Davone Bess vs. Brian Hartline vs. Greg Camarillo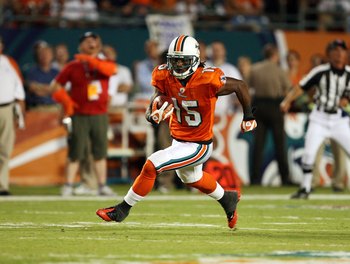 The winner of this training camp battle will earn the right to start alongside Brandon Marshall.
Dolphins receivers Davone Bess, Brian Hartline, and Greg Camarillo will fight for the second starting receiver role.
All three have displayed the potential to fill the position, but training camp will provide a platform for these players to officially compete for it.
Hartline appears to be the early favorite based on his play last season, but Greg Camarillo's sure-hands and Davone Bess' production will make it an intriguing battle.
4. Joseph Addai vs. Donald Brown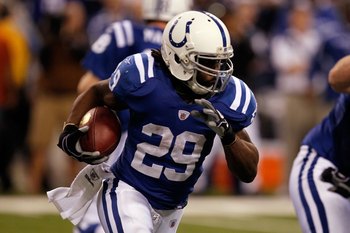 After a 2008 season in which Joseph Addai totaled just 544 yards rushing while missing five games, Bill Polian and the Colts spent their 2009 first round draft pick on running back Donald Brown.
Prior to last season, Brown was hyped as a rookie who could have an immediate impact, but Joseph Addai was not ready to go away quite yet.
Addai resurrected his career in 2009 with 10 touchdowns and a solid postseason.
Still, Addai is now 27, and the Colts will look, at the least, to integrate Brown into the game plan.
Brown will surely have the opportunity to steal the job in training camp this summer, but don't expect Addai to go away without a fight.
3. Byron Leftwich vs. Charlie Batch vs. Dennis Dixon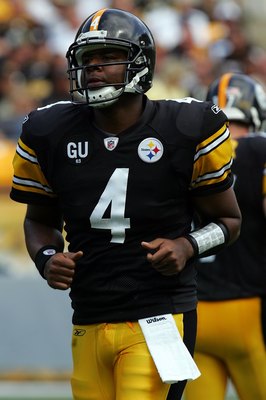 Although the winner of this battle will start only four to six games in the absence of Ben Roethlisberger, this is by no means a petty competition.
If the Steelers pick the wrong quarterback to lead this offense in Roethlisberger's extended absence, Pittsburgh could find itself dangerously far behind in the standings.
The Steelers reacquired Byron Leftwich in a trade this offseason after letting him letting him leave as a free agent for Tampa Bay in 2009.
The team's decision to trade for Leftwich might signal that they are leaning towards the proven veteran.
However, Dennis Dixon showcased his talent in his lone start last year, and Charlie Batch has been in the system for years, making them viable options as well.
Whoever wins this quarterback competition has big shoes to fill, and must be at peak performance to keep the Steelers' playoff hopes alive before Big Ben returns.
2. Kyle Orton vs. Brady Quinn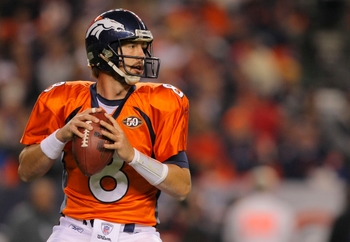 Oddly enough, this positional battle between two relatively modest names, has become one of the most hyped in the league.
Perhaps people just really enjoy quarterback controversies.
This battle may carry some extra strength due to the presence of recently acquired Brady Quinn.
The Broncos surrendered a sixth round draft pick and Peyton Hillis for the former first round pick, and if Quinn fails to produce in Denver, the bust label might officially stick with him forever.
Kyle Orton played extraordinarily well through the first six weeks of the 2009 season, leading the Broncos to a 6-0 record, while tossing nine touchdowns and just one interception.
However, over the team's last 10 games, Orton was dreadful.
The Broncos went 2-8 down the stretch, and Orton was no help. He was picked off three times in two games, and Denver missed the playoffs.
Many football pundits have raved about Brady Quinn's football passion, but Orton has proven that he can be a productive starter in this league.
This is sure to be an intense battle, and whoever loses could be shipped out of town.
1. Steve Slaton vs. Arian Foster vs. Ben Tate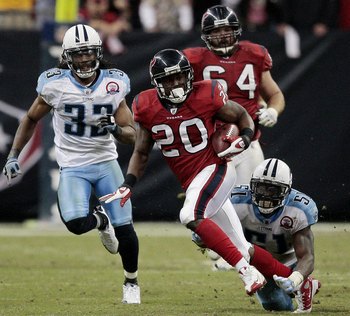 Steve Slaton must have lost his driver's license because the 2008 Rookie of the Year finalist is suffering from a football identity crisis.
After carrying the ball 268 times for the Texans in 2008, Slaton struggled to stay healthy in 2009, and amassed just 131 carries in 11 games. But during those 11 games, Slaton's production was slacking, and his yards per carry average dipped from 4.8 in 2008 to 3.3 in 2009.
So, the question becomes: Is Steve Slaton an every down running back, or is he nothing more than a very effective third-down and change of pace running back?
The Texans are not waiting to find out.
The team spent a second-round draft pick on running back Ben Tate, and backup Arian Foster has received praise from his teammates this offseason.
Houston is ready to make a playoff run this year, making this running back battle a vital one.
Whether one of these three backs emerges as a starter, or the team decides to use a "running back by committee," expect to see this unfold as one of the summer's best training camp battles.
Keep Reading