NBA Free Agents 2010: Where the Top Seven Will Land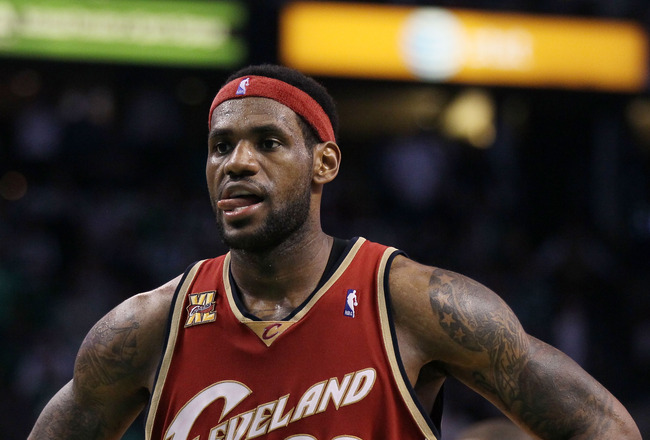 After 72 hours of incessant rumor-mongering from the experts, pundits, talk radio aggravators, in addition to all the guys at the local watering hole, a lull in free agency coverage has mercifully arrived.
Of course, this doesn't mean a complete halt to the reporting through anonymous sources—as we just heard yesterday about LeBron's second "clarification" meeting with the Knicks—but at least we're now drinking from a garden hose instead of a fire hydrant.
And the other perk of this short pause in free agency mania is that it offers a needed moment of reflection to digest what we've seen transpire in the first three days of 2010 free agency, and to rationally engage in one last session of prediction prior to some actual signings sure to come this week.
Thus far, the only reported agreements have been no-brainer returns that were expected—Dirk returning to Dallas, Paul Pierce re-upping in Beantown, and Joe Johnson sensibly taking the $119 million (about $27 million more than any other team could have offered) to stay in the ATL—as well as a few somewhat surprising re-signings—John Salmons in Milwaukee and Rudy Gay's behemoth deal with Memphis—and a couple guys hurriedly fleeing Donald Sterling's oppressive reign: Drew Gooden, who is joining Salmons in Milwaukee, and Steve Blake, who's moving on up to the Lake Show.
Other than that, all we know is that representatives from the handful of teams with sizable cap space have been busy.
The Knicks, Nets, Bulls, Heat, and Clippers have all made the rounds with the cream of the crop, and the Cavaliers have delivered their final plea to LeBron, hoping against hope that he doesn't rip the city's heart out.
Which leaves us where exactly?
Well, that's what I'm here for: to offer my guess as to what will actually manifest from these meetings, and determine which rumors of grandeur have any validity.
So let the week of real excitement in free agency commence.
7.) Ray Allen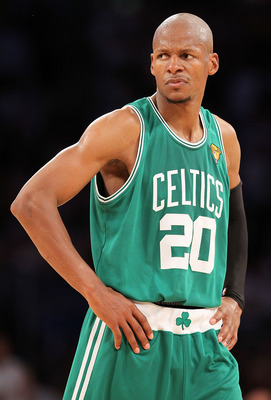 Team: Boston Celtics
Position: Shooting guard
Age: 34
Experience: 14 years
Although Allen's situation is different from most of the other elite 2010 free agents in that he won't be demanding max contract money and his current situation is rather ideal, his final destination may actually be the toughest to project.
Here's why: on the surface, Allen returning to Boston makes sense for both parties.
While half of Boston's roster will soon be bunking together in a Whispering Heights retirement neighborhood, the organization clearly feels confident that there is enough life left in the legs of KG and Paul Pierce for them to hitch onto Rajon Rondo for one more lengthy playoff run.
Rasheed Wallace may be on his way out of town (if Danny Ainge gets his way), but besides that there is little turnover expected in the Celtics' roster, meaning the only fluid integral piece is Allen.
So why wouldn't they simply whip out the checkbook and bring back the game's best shooter?
Because for one, though Ainge is concerned about next year's final push, he also has to be considering the long-term picture of the franchise, and there is no question the team must get younger.
On top of that, there are other, cheaper options for the Celtics to pursue in filling the role of lethal shooter.
Rumors persist that the team has interest in luring J.J. Redick from the Magic, but even if that isn't doable, guys like Mike Miller and Kyle Korver are available as well.
In addition, Allen is 34, and despite being in excellent shape, this is his last chance for a big payday.
With more franchises with cap space than there are all-world free agents, it is inevitable that one or two of the active players in this year's market are going to have some extra cash to spend on someone.
Prediction: Allen won't pass the opportunity for a fat payday, heading to either Miami, New York, or Chicago after all three fail in their plans to land two of the Big Three.
As a result, Boston signs Redick away from Orlando, clearing the way for Randy Foye to join fellow Philadelphia-colleges product Jameer Nelson in the Magic backcourt.
6.) David Lee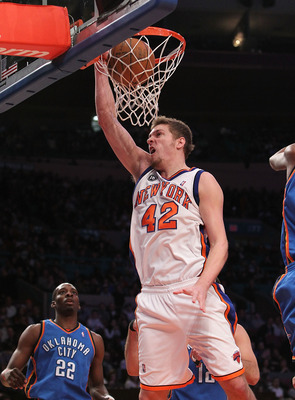 Team: New York Knicks
Position: Power forward
Age: 27
Experience: 5 years
David Lee is like Seagram's 7 whiskey—sure you'd rather be sipping on some Johnnie Walker Black, but you won't be disappointed with your alternative.
At least not if he performs like he has the past two seasons, in which he pulled down 11.7 boards per game each year, while averaging 16 and 20.2 points, respectively.
No, he may not be as explosive as Chris Bosh, intimidating as Amar'e Stoudemire, or effective as Carlos Boozer, but the guy seems to put up double-doubles just by finding his way to the arena.
The big question is to what extent did playing in Mike D'Antoni's free-wheeling system, and alongside the Knicks rag-tag group of misfits, inflate his numbers?
Yet, even if he doesn't put up 20 points a game or play defense (which is not a requirement mandated by the Knicks), if you place him alongside a talented center and playmaker, you will likely get a pleasing return on your investment.
So then, who's going to be the team doing the investing?
This really depends on what the other big name guys do—Lee will be one of the last dominoes to fall, as a recipient of last ditch money similar to Ray Allen.
Prediction: After all the top free agents pass on Newark (despite plenty of Russian charm), the Nets will be looking to save some face going forward, which is why they'll lock up Lee, as well as a second-tier free agent.
It's a win-win for both sides, as Lee doesn't have to move far to secure his big deal, and he will fit in perfectly with the Nets young nucleus of Devin Harris, Courtney Lee, Terrance Williams, and Brook Lopez.
We can only wait and see, however, how Avery Johnson will feel about Lee's defense, or lack thereof.
5.) Carlos Boozer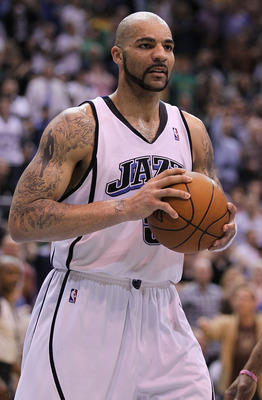 Team: Utah Jazz
Position: Power forward
Age: 28
Experience: 8 years
Like Allen and Lee, Boozer will probably be waiting until the dust settles with the titans of free agency before making his decision.
After posting a double-double for four years running, Boozer is an optimal running mate for either D-Wade or LeBron, especially if those guys don't partner with the more athletic possibilities of Amar'e and Chris Bosh.
More enticing yet for executives are Boozer's consistency and versatility.
Although he has battled injuries intermittently in his career, when he's healthy you know exactly what you will get from Boozer: 20 and 10, along with 100 percent effort.
And beyond that, he has a more diversified game than Amar'e for certain, and, I'd argue, than Bosh.
Now, staying in Utah could very well be Boozer's best option.
The Jazz roster still contains a handful of intriguing young players, such as C.J. Miles, Ronnie Price, and recent first-round draft pick Gordon Hayward.
Oh, and also the best point guard in the NBA, Deron Williams.
But we also know that Boozer, who reneged on his word in Cleveland to take a better deal in Salt Lake City in 2004, doesn't mind moving for money.
Prediction: Boozer will land in Miami, which has literally cleared out their entire roster for this free agency period.
Believe me, Pat Riley will not emerge from this frenzy empty-handed—particularly when he's selling big money, South Beach, and no state taxes.
4.) Amar'e Stoudemire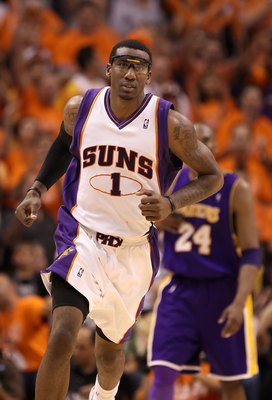 Team: Phoenix Suns
Position: Power forward
Age: 27
Experience: 8 years
Speaking of leaving top-notch point guards, it looks like Stoudemire has all but punched his ticket out of Phoenix, seeing as they have already locked up his replacement in Hakim Warrick.
But while Amar'e has benefited greatly from playing with everyone's favorite Canadian, he has also profited from the system.
Which is why wherever he decides to go, he better be playing in an up-tempo system in order to utilize his freakish athleticism on the break.
Though Stoudemire can score with his back to the basket, it isn't always pretty, and neither is his jump shot from beyond 12 feet.
The Knicks have reportedly already offered Amar'e a five-year deal worth $100 million, and then scheduled a second "secret" meeting with LeBron to confirm said offer.
All that's left for Mr. STAT (Standing Tall And Talented) is to decide whether or not $20 million per is enough to move him from the desert to the Big Apple.
Prediction: Well, he'd be pretty foolish to turn down that proposal if you ask me.
Even if the Knicks don't land one of the Big Three, they've been restructuring for years in order to reshape their roster in this offseason, so Stoudemire can rest assured he won't be heading their all alone.
Plus, reuniting with D'Antoni (with the provision that the Knicks find an able point guard) is also a smart move.
3.) Chris Bosh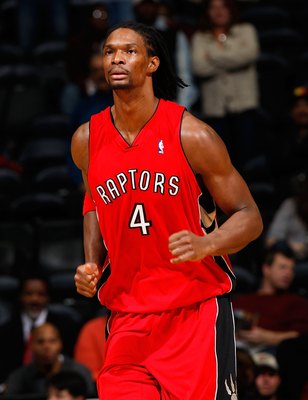 Team: Toronto Raptors
Position: Power forward
Age: 26
Experience: 7 years
Bosh has been the most controversial of the free agents, reportedly sending up red flags with some executives over his documentation of the process, as well as his dedicated Twittering.
In the end, however, I don't see anyone refusing to give this guy max money.
Although I'm not sure when he got grouped with Wade and James—two guys who have actually been in the playoffs recently—there is no arguing Bosh's superior talent.
And while he has said in the past that he wants an opportunity to be the "man" somewhere (and then contradicted it by saying he would love to play with either LBJ or D-Wade), his best bet is to head somewhere where he can be one of a number of talented players, but not necessarily the focal point.
I've heard there is no way he would ever go to Cleveland, so throw that sign-and-trade out the window.
I also don't think the Knicks or Nets are truly in the running for Bosh's services.
Which leaves us with the Bulls or Heat—which will it be?
Prediction: Whether or not D-Wade returns to his home city, Chicago will be the landing spot for Bosh.
It's a perfect fit.
We've all heard the reason Wade or James may not work in the Windy City is that Derrick Rose needs the ball as much as they do in order to be at his best. Bosh doesn't, he can play off of Rose.
Moreover, the presence of Joakim Noah means Bosh doesn't have to bang with the big boys and play center, something he has explicitly been loath to do.
Ultimately, we'll see Bosh sign a max contract with Toronto, who will then send him to the Bulls for Taj Gibson, three first-round draft picks, and $3 million in cash (the maximum that can be included).
2.) Dwyane Wade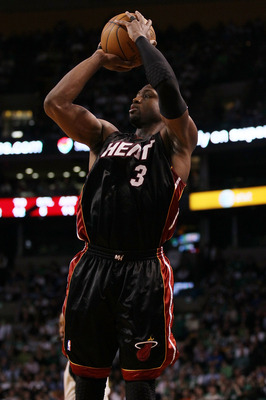 Team: Miami Heat
Position: Shooting guard
Age: 28
Experience: 7 years
Ah, finally to the big players in the world-altering free-agent extravaganza of 2010.
And boy have we heard just about everything regarding Mr. Wade.
First, there was absolutely no way Wade would be leaving Miami—in fact, he was only entertaining the pitches from other teams as a secret spy and inside man for Riley.
Next, he was in a "New York state of mind," and intrigued by their presentation.
Then, he was asking for a second meeting with the Bulls, his hometown team and most likely destination were he to leave Miami.
Now, who knows?
However, in the last comments Wade gave to the press, he did astutely touch on one thing that seems to have been lost amid the 24-hour news chaos that this free agency has generated: these aren't easy decisions.
While it isn't hard for us to speculate and chastise and predict, these are true life-changing decisions for the players involved, replete with money, family, geographical, and legacy considerations.
It's weighty stuff.
Which is why Wade is legitimately torn at this point between a grand homecoming to Chicago and staying put with the franchise he has already brought one title.
At one point, though, Wade tweeted that he should start a website titled: alltheexpertsdontknowanything.com, or something to that effect.
This can be taken in two ways, either he's saying all the pre-free agency talk of his guaranteed return to Miami was premature, or all the rumors right now are incorrect.
Which one it is, however, will only be determined later this week.
Prediction: The "experts" were in fact right all along, and Wade will remain in tax-free Florida.
Despite the fact that the team is currently bereft of any talent (or any players at all outside of Mario Chalmers and Michael Beasley), Wade will be swayed by the charisma and gravitas of Riley and the climate of South Florida.
He will attract Boozer to be his running mate, Beasley will be traded for some serviceable NBA starters, and the team will begin adding pieces for a serious title run in 2011-2012…if there's no lockout, of course.
1.) LeBron James
Team: Cleveland Cavaliers
Position: Small forward
Age: 25
Experience: 7 years
And now for the big domino: the King.
Essentially, James' decision is the one thing we've all been waiting for.
Will he unite with both Bosh and Wade to form a "superteam?"
Will he be able to uproot himself from the only place he's ever known and emotionally devastate a city he loves?
Will Jay-Z be the determining factor when all is said and done?
They're all fun scenarios to entertain, to be sure.
But by now, all the storylines and possibilities have been exhausted—come on, LeBron, let's just get it over with.
Prediction: In the end, all of the idle talk across the country about Wade and James combining forces, and James heading to New York to play on the biggest stage of all were simply much ado about nothing.
LeBron will not be able to pull the lever and leave Cleveland to hang.
I'm sure he didn't know that all along, but come decision time, emotions will be critical.
And the Byron Scott hiring really sealed the deal. Scott meets all of James' wishes in a coach—former player (with Magic Johnson, a similar talent to LeBron, no less), a former champion, and a guy who has coached in the NBA before with success.
He is also a coach that Chris Paul, a friend of LeBron's, loves.
So, I see LeBron re-signing, and Cleveland packaging some of their young talent in a deal for Chris Paul, as well as swinging other deals to remake the supporting cast.
Eventually, LeBron will bring a title to the Cavs, and his imminent decision to stay will be vindicated.
As for the Clippers? Thanks for participating.
Keep Reading