10 Most American Wrestlers of All-Time
On this, our nation's birthday, American pride is as prominent as ever. I thought today is as good a day as any to recap the ten best wrestling gimmicks that embody America.
(NOTE: Mr. America is not in the top ten, unfortunately. To those who say that Mr. America is actually Hulk Hogan, I say that you are lying. In Mr. America's own words, he isn't Hulk Hogan, brother.)
10.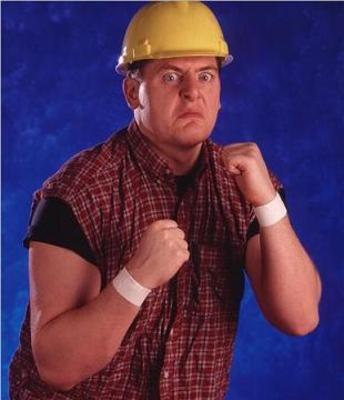 Okay, so William Regal isn't really American.
However, when he was given this gimmick with the WWF in the fall of 1998, it epitimized what Americans believe is the definition of being a man.
In promos for the character, Regal was seen chopping wood, shaving with a plain razor, and squeezing his own orange juice.
The attire that he wore to the ring was a mix of the Brawny man and a construction worker. How American...
Thank God this gimmick didn't stick around...
9. Tatanka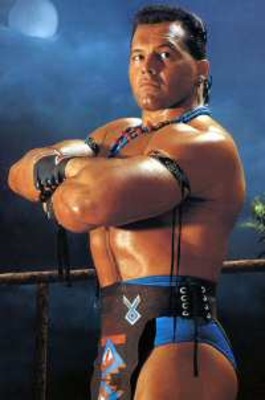 Why should American not mean Native American?
His attire was always cool, he always had high energy, and you can't tell me that his theme didn't get you excited.
The coolest part of Tatanka's gimmick was that it was legitimate. Chris Chavis portrayed Tatanka, which translates to "bull buffalo" by the Lakota people of the Sioux tribe. In 2006, during his second stint in WWE, Chavis was accepted into the Oglala Sioux tribe.
Tatanka always reminded me of the Indian guy from "The Indian and The Cupboard". Anyone else see it?
8. Muhammad Hassan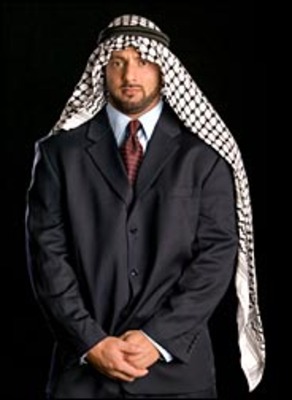 (NOTE: This will be the most that I'll likely write in any of these slides. There's enough about this to write an entire article about it, but I'll just stick with this. If anyone wishes to write about the story of Hassan, I wouldn't mind a nod for the inspiration.)
This may not make much sense at first glance, but Hassan represents the melting pot that this country is so well-known for.
Hassan's gimmick is an Arab-American man that was born in America, yet feels disrespected from his own country in the post-9/11 world.
Hassan was incredibly impressive in his short stint with WWE and, had it not been for real-life headlines coinciding with parts of his storyline with The Undertaker, Hassan was scheduled to become a world champion at just 23 years old.
In an episode of Smackdown that was taped five years ago today, masked men were seen attacking the Undertaker and carrying out Daivari, Hassan's manager, in imagery of being a sacrifice. Hours before being aired, bombings took place in the streets of London.
To avoid bad publicity, UPN, who aired Smackdown at the time, refused to air Hassan on the program anymore. WWE eventually caved in and released Hassan from the company outright.
As one of the most hated heels in the last decade, Hassan showed so much promise and would likely still be a major staple in this company, had it not been for real-life events sealing his fate.
7. John Bradshaw Layfield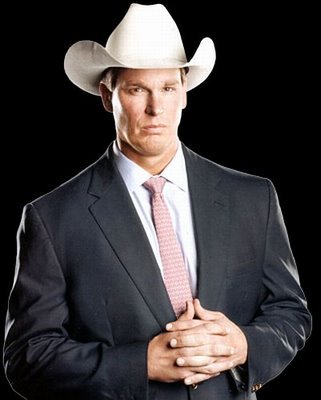 The self-proclaimed "Wrestling God" has been one of the best workers in the WWE for many years.
I have to admit that when he stopped being Bradshaw and started being JBL, I wasn't sure if it was going to work. However, there was just something about JBL's attitude and the way he presented himself that wasn't there when he was one half of the Acolytes.
JBL was always more of an American than you were and wanted you to know about it. Being a man from Texas, coupled with being a stock market businessman (basically, himself) was the perfect blend for a heel.
I really wish that he was still a color commentator. They could tell Jerry Lawler to retire finally.
6. Ted DiBiase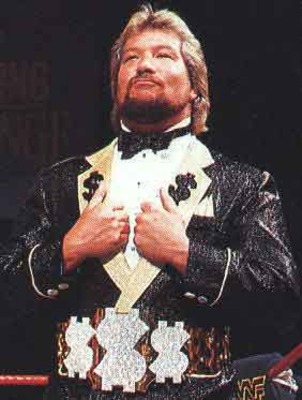 What better sums up the American way than people who spend money ridiculously?
Ted DiBiase could have helped out wit the the national debt, but decided to pay off people to do his dirty work and wear a flashy non-sanctioned championship belt instead.
I'm not sure if DiBiase's worth was evident at the time, but years later, he would become a WWE Hall of Famer. He revolutionized being the cocky heel. Before DiBiase, most heels were just angry people. DiBiase was just plain evil and it was awesome.
He's totally right, by the way. Everybody has a price.
5. Dusty Rhodes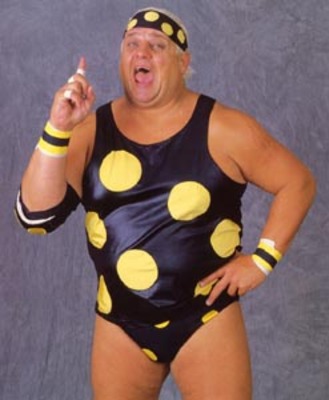 "He's just a common man working hard with his hands. He's just a common man working hard for the man."
And those polka dots rule, Dusty.
While he may not be the most in-shape wrestler, many believe that the reason Dusty looked so big was to fit all of the charisma he had.
On just charisma alone, Rhodes is arguably one of the best wrestlers ever. In the 1970s, when wrestling became more of a soap opera, Rhodes was a driving force in making and keeping wrestling on television.
No matter how flashy Dusty was, you knew that he was just one of you guys and not the larger-than-life person that most wrestlers have been.
4. Lex Luger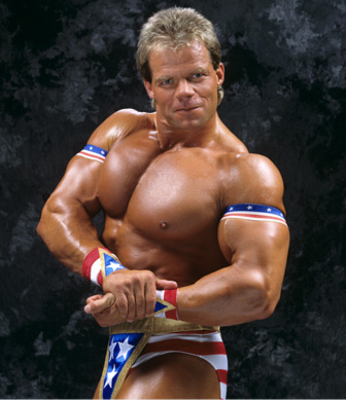 Looking like an American Gladiator, Luger was not ashamed to tell you that he was an American.
Most of Luger's accomplishments were in WCW, including the longest United States Championship reign ever at 523 days.
If you ask WWE what his biggest accomplishment has been, aside from winning a Royal Rumble and co-winning another, Luger was the first man to body slam Yokozuna 17 years ago today. Luger was also rocking some nice American flag pants, similar to those worn by that Rex-Kwon-Do guy from "Napoleon Dynamite."
3. Jack Swagger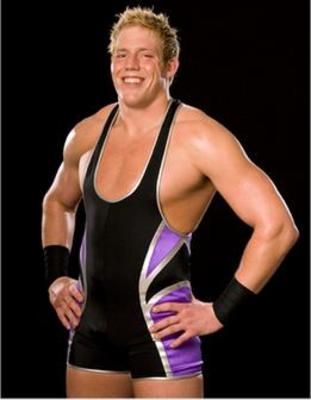 The "All-American American" may not be this high in many people's eyes, but when half of the words out of the lisping former World Heavyweight Champion is "American", you need to give him some props.
The guy has taken advantage of every break he has been given and has clawed his was to success in everything he has ever been involved in.
The best part about it is that while I couldn't confirm all of them, the majority of those awards that Swagger brags about are actually legitimate.
He is quickly becoming a younger version of a former WWE wrestler with similar tights that you may see later on in the list.
2. Hulk Hogan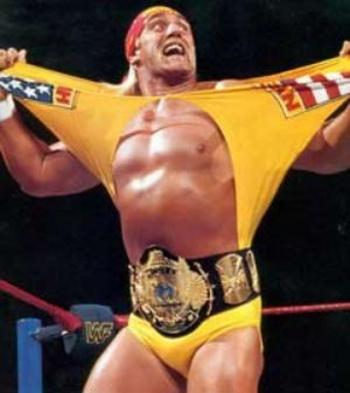 I dare you to play "I Am A Real American" and not feel like punching a terrorist.
Hogan paved the way for the classic "cheer for me because I'm American and my opponent isn't" angle that has been used with foreigners ever since. Nothing says "Happy Fourth of July" like booing an inaudible non-American because he was born somewhere else.
Hogan put sports entertainment at the level it is at today. If there was a pro wrestling version of Mount Rushmore, Hogan would definitely on there.
And again, he isn't Mr. America, brother.
1. Kurt Angle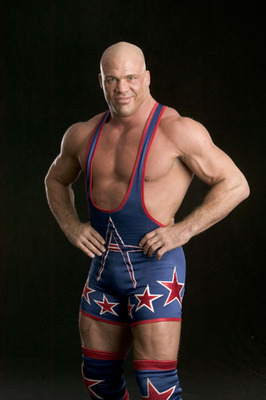 This isn't debatable.
The man is an Olympic gold medalist and hasn't wavered much from his real-life gimmick.
His work ethic is second to none, and despite not lack of flash, Angle has always been entertaining.
Angle's ability to flip from heel to face, while retaining an "American hero" mentality is not something that everyone can pull off.
Keep Reading