Philadelphia Phillies: Four Desperate Measures for Desperate Times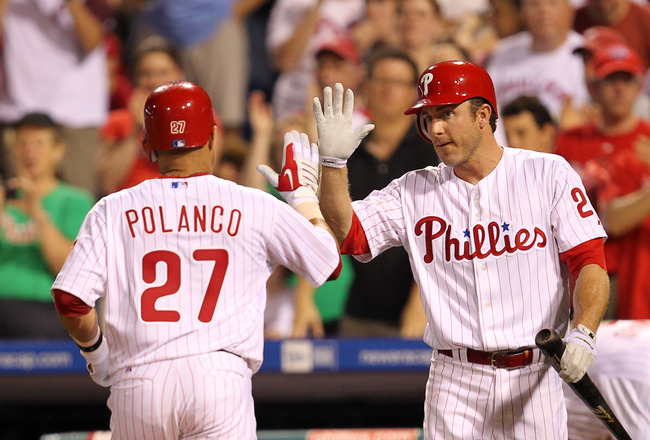 In just a matter of days, things have gone from bad to worse for the Philadelphia Phillies.
Injuries and losses continue to mount, all the while the Atlanta Braves and New York Mets have increased their lead in the NL East. And, division aside, the Phillies currently sit fifth in the Wild Card standings.
After a brief revival from the offense, it has seemingly gone back in the tank. Heck, pitchers must be starting to feel like they need to hurl a perfect game to win—although that almost didn't work for Roy Halladay.
When the team does manage to get a lead, the pitchers seem to squander it away. Although it would be premature to conclude, the back-end of the bullpen scenario is starting to evoke memories of 2009—which, if you were vacationing out the country last year, is not a good thing.
The prevailing sentiment amongst the Phillies organization is that there is no need to panic, but these are quickly becoming desperate times for them.
Over the past few days, the team learned that they would be without baseball's best second baseman for a minimum of eight weeks. And, that only speaks to time off the field rather than a return to Chase Utley's normal standard of play—which may not happen at all this season.
They also learned that their regular third baseman (and best option to replace Utley) will be out for at least another four weeks. It adds insult to injury that Placido Polanco is the one player who has hit consistently for them all year and currently sits second in the National League batting leaders.
Additionally, the news on the rehabilitation of its other injured players hasn't been particularly encouraging, either.
Abling the Disabled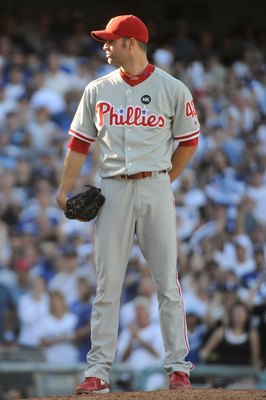 Ryan Madson and J.A. Happ are considered two key components of the 2010 pitching staff, but the team has largely been without their services. Both are working themselves back into shape for a return, but neither has been particularly impressive.
The two hurlers have struggled to hit 90 on the radar gun, which tends to suggest they might not be physically ready or healthy. Also, it is difficult to envision either of them having much success in getting major league hitters out with an El Duque fastball.
Regular catcher Carlos Ruiz remains on the DL with a concussion and this week's medical update on his progress was less than encouraging. Meanwhile, back-up catcher Brian Schneider went down with a thumb injury described as similar to, but not as serious as, Utley's.
With emergency receiver Paul Hoover having been swept away by the Florida Marlins a few weeks ago, the Phillies were forced to resort to calling up Dane Sardina to handle the regular duties. Although he has provided more pop than the big name players left in the team's lineup, his presence surely highlights how the current team is a shadow of what was supposed to be.
And, speaking of the big names left on the field being asked to pick up the slack—where have they gone?
The Able Bodies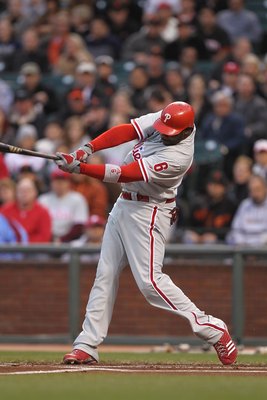 Raul Ibanez's slump has now just about reached a year.
Ryan Howard is keeping his average near .300, but that is not why the team signed him to a $125 million extension. Everyone knows he is getting the big bucks for the big flies—and an overdue power display would go a long way towards carrying the club with key offensive players out.
Jayson Werth jumped out to a great start and appeared to be poised for a monster year. His output has taken a nose dive—and it seems that it has taken his confidence along for the ride.
Not surprisingly, Jimmy Rollins continues to struggle to find his stroke after a long layoff.
After being a model of consistency for the past three years, Shane Victorino has scrambled to get above .250 all season. To be fair, though, his defense, baserunning and power production have been superb.
All-in-all, the trend lines are not good and the forecast does not look promising.
If the Phillies organization wants to salvage any hope from its great pre-season promise, it seems time for desperate measures. Star-laden teams don't come around that often, so throwing in the rally towels for 2010 is not an option.
Here are four measures the Phillies need to take before this season gets away altogether.
1. Take on Payroll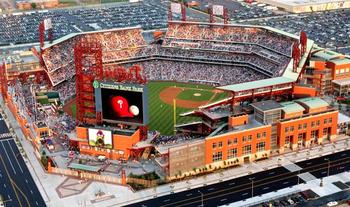 The Phillies have already committed close to $140 million in payroll for this year's team. This is surely a big number and a major departure from the organization's small market mentality of the not too distant past.
But that being said, the team cannot afford to let that get in the way of what it needs to do to salvage this season. The Phillies need to be willing to take on additional payroll considering the hand they have been dealt.
Failing to do so would be like buying an expensive house and failing to insure it or repair broken water pipes.
Fans continue to turn out in droves, resulting in sell-outs every home game. Even hastily scheduled "away games" at Citizen's Bank Park come within a relative handful of capacity.
The team owes it the fans and themselves to spend a little bit more to protect what has already been invested.
If another team is willing to dump salary expense to get rid of a high priced player such as Miquel Tejada, Matt Capps, Bobby Jenks, or Jose Lopez and asking for little in return—jump on it.
2. Sign Garrett Atkins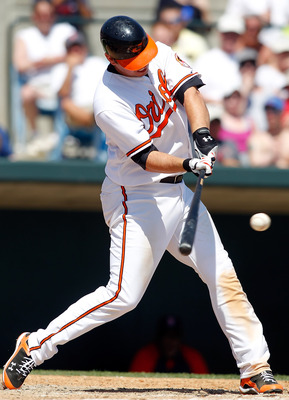 The Baltimore Orioles recently released Garrett Atkins to make room for a young prospect. The Phillies should seize the opportunity to sign him with Utley and Polanco both on the DL.
A couple seasons ago, Atkins was a rising star for the Colorado Rockies. Although he has slumped over the past two seasons, he is worth the risk for a couple reasons.
Atkins would instantly provide better defense, and at worst, offense equal to the badly slumping Gregg Dobbs. Additionally, by filling this hole with a free agent, the team can preserve its sparse bargaining chips for other needs.
It's worth mentioning that Atkins was Utley's college roommate, so perhaps his influence might assist in a turnaround. If the former Rockies third baseman could rediscover his swing, he could do some damage at the Bank.
3. Promote Dominic Brown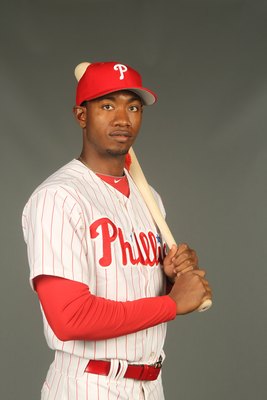 As previously mentioned, Ibanez's "slump" has now reached about a year. The plethora of topped balls to second, warning track flies, and whiffs over that time sadly signals that it may be time to give up hope that Raul is going to come out it.
Meanwhile, Dominic Brown continues to terrorize minor league pitching. His combined 2010 stats between Double-A and Triple-A are a robust .330 batting average with 17 HRs and 53 RBI in 74 games.
Can you say "Jason Heyward?" Its time for the Phillies to throw caution to the wind and install their prized prospect in Ibanez's slot.
Bring him up, put him in left, and drop him behind Werth in the lineup. Why waste time and talent trying to trade for an offensive solution when one sits right in front of their eyes?
4. Trade for Cliff Lee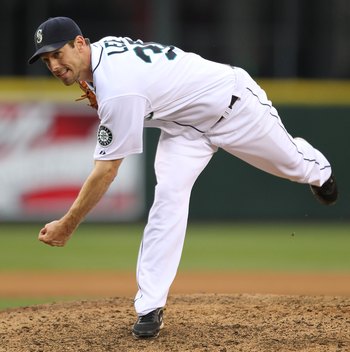 As they say, the best defense is a good offense. Perhaps the opposite is also true—the best offense is a good defense?
Trade for Cliff Lee and you have accomplished both.
Swallowing pride and finding a way to bring last year's postseason hero back to the club would serve as a pre-emptive strike. With top contenders reportedly interested in Lee, including the two New York teams and LA Dodgers, the Phillies could prevent their key competitors from jacking up the degree of difficulty for success.
On the flip side, if you are having a hard time putting runs on the board, another stud starting pitcher seems the perfect antidote.
The fact that Lee, like Halladay, has a penchant for going deep into games, thereby reducing the need to call on the bullpen, just adds icing to the cake.
So how could the Phillies pull that off? Perhaps they could start by offering back the "talent" they received for Lee in December and sprinkle in a Jarred Cosart? If that doesn't do it, throw in Anthony Gose.
Unless the Mariners know they fleeced the Phillies with "fool's gold" this winter, the three plus two package would seem worthy of a three month rental and dumping $4 or $5 million in salary.
And, for those of you concerned about replenishing the team's talent pipeline, the Phillies will get a nice parting gift of high draft picks should Lee walk.
It seems unlikely that the Phillies would be willing to commit the dollars necessary to keep Lee as his price ascends on the open market (read "New York Yankees") after the season, but in the meantime, the ace lefty could do wonders for a sagging team of stars.
Keep Reading

Philadelphia Phillies: Like this team?