FIFA World Cup 2010: 10 Worst Soccer Injuries of All-Time (With Video)
We saw a lot of injuries leading up to the World Cup this year, some cause players to miss a game or two while others knocked the player out of the tournament completely.
These however would leave no doubt on a possible quick return. These are ten of the most gruesome soccer injuries of all time.
Even Willis McGahee and Joe Theismann have nothing on some of these.
Warning: This is not for the squeamish.
Begin Slideshow

»
During a UEFA Cup match versus Lyon in 1999, Celtic striker Henrik Larsson suffered a devastating leg injury which caused him to miss eight months of football.
His leg was broken in two places and it was nothing less than a serious career threatening injury.
Larsson was off the pitch for eight months but was able to return as a sub in the final match of the Scottish Premier League of that season.
In may of 2007, Cruz Azul man Edgar Andrade suffered this horrible leg injury in a match versus Tecos.

In his attempt to block an incoming cross, the Cruz Azul midfielder stuck his leg out, deflected the ball, but his foot was stuck in the ground. He fractured his leg and his ankle was twisted in the opposite direction.
After several months of rehab he was finally able to get on the field once more.
Spanish striker Inigo Diaz De Cerio suffered a broken leg, in two places no less, during a collision with an opposing goalkeeper.
Despite being out for almost a full year, Inigo was able to return to play in Spain's second division.
This is one of the worst injuries in recent memory for many of us.
In early 2008, the Brazilian Da Silva was playing for his club side Arsenal in a match versus Birmingham City. When City defender Martin Taylor slid in and caught Da Silva's ankle and leg beneath his spikes he was instantly sent off.
Eduardo, for his part, suffered a horrific broken leg and ankle and would take almost a year to make his return to the pitch.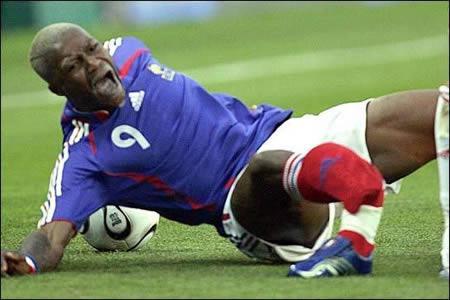 I remember watching this game like it was yesterday. Just prior to the 2006 World Cup during a friendly vesus China, French striker Djibril Cisse suffered an absolutely horrific injury.
I recall being excited that hated France would lose one of its top players for the tournament, but as soon as they showed the replay I was schocked. If that same play with the same amount of contact between the two played out 100 times I doubt any less than 99 times no one would be injured. However it became very clear that the injury was no joke.
In a match between two giants of football in Rio, Luciano Almeida who played left back for Botafogo suffered a severe ankle injury that kept him out of the game for five months.
Just minutes after scoring from a free kick, Almeida slid in to steal a ball but instead of coming up with it he rolled around in extreme pain. When the TV cameras focused in on him we could see exactly why, his ankle was turned the opposite way. Ugh, very nasty.
Not even a broken leg or the fact that he ended up severing the interconnecting ligaments with the malleolus could keep Totti out of the 2006 World Cup.
In a match versus Empoli in late February 2006, Totti was tackled from behind which resulted in his injuries.
I'm not sure what is the worst part of this, Totti's injury, Richard Vanigli (Empoli defender) who stood up saying I did nothing and Totti dove or the ref who gave a simple yellow card when rules call for automatic red in the situation.
In a match between Man U and Coventry back in 1996, Coventry defender David Busst was involved in a collision with Red Devil defender Denis Irwin which resulted in one of the most horrific injuries ever. Busst suffered such a badly broken leg that a piece of the bone pierced his skin and the game had to be stopped to remove the blood he left behind on the field of play.
Later we learned his injury resulted in a compound fracture of both his tibia and fibula which unfortunately for Busst resulted in him never again being able to play professionally.
Perhaps the most significant part that demonstrates just how bad this was is the fact that Manchester goalie, Peter Schmeichel who clearly was not at all injured, required mental counseling to cope with what he saw that day.
Ewald Lienen is the only player on this list who didn't suffer a broken bone during his injury.
You would think it must take a lot to not break a bone and be on a list of this sort and you would be right.
In 1981, Lienen was playing a match versus Werder Bremen when Bremen defender Norbert Siegmann slid in for a tackle. With studs up Siegmann caught the side of Lienen's thigh and cause a deep open cut that measured about 10 inches (25cm) or so.
Somehow he was able to get up, run to the opposing coach to show what his player had done. Lienen blamed Werder Bremen manager Otto Rehhagel for the injury saying he had instructed his players to play that rough of a style.
His injury required 23 stitches but Ewald was able to come back and begin practicing less than three weeks after.
Who is Luc Nilis??
Yep, the exact same question I had. I promise however you will remember his name from now on.
Nilis is a Belgian striker playing for Aston Villa in the EPL in 2000. He began his career in 1984 in his home nation of Belgium and had played for 16 years before finallying signing with a team from one of the world's top leagues.
However his dream was short lived when during just his third game for Aston Villa, just four minutes into the match mind you, he collied with Ipswich Town goalkeeper Richard Wright.
The result was such a badly broken leg that Luc Nilis was forced to retire and never again did he play professional football.
I am sorry, I can not find a clip showing this anywhere. However you can see via the photo exactly how bad it is. If anyone finds it post a comment and I will add the video here.