NBA Free Agency: The 10 Free Agents the Lakers Would Love to Sign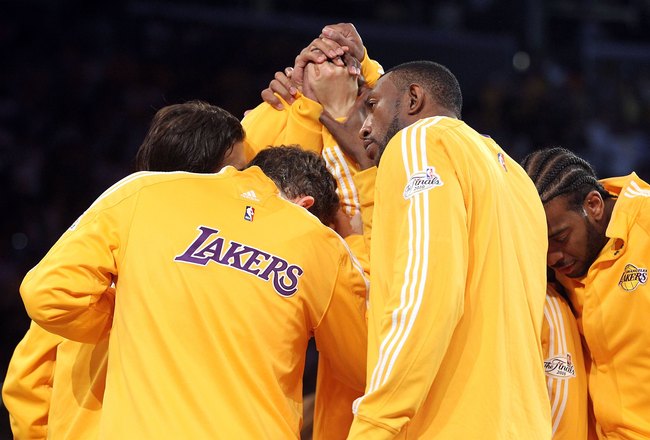 Back-to-back titles. Defeating the Boston Celtics in the Finals. The game's greatest player moving up the all-time list. The greatest coach of all-time proving his brilliance once again.
Those are outstanding accomplishments, to be sure. No one can ever take those things away from the Los Angeles Lakers. However, the moment the parade ended in Los Angeles, the 2010-2011 season began. All that matters in L.A. now is a three-peat.
Nobody doubts L.A.'s ability to three-peat. Their best player was a part of the last NBA team to win three consecutive titles, and their coach has been a part of an amazing three separate three-peats.
However, the competition around Los Angeles appears to be gaining, and with the many major players likely to switch teams this summer, a power shift appears to be in effect in the NBA.
Were the Lakers to win another championship in 2011 with the same exact starting lineup and bench as they did this season, it would surprise no one.
The likelihood of that happening is slim, though.
If Los Angeles hopes to contend with a possible superteam in the East, they will have to shore up their own issues in free agency.
The following 10 players, all free agents, would help give the Lakers the ability to win a third consecutive title. None of these players would change L.A.'s starting lineup from a season ago, but each would have an opportunity to be a significant role players for the world champions.
10. Jarvis Hayes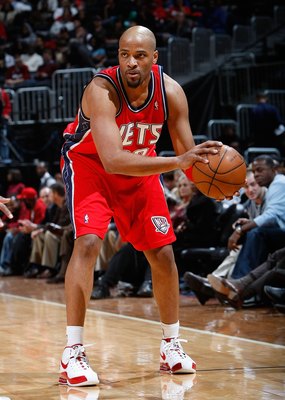 Able to play either the small forward or shooting guard positions, Jarvis Hayes would provide great minutes off the bench. A defensive-minded three-point shooter, Hayes would be asked to play very much within himself on this Laker team.
As a member of the second unit, Hayes would be asked to shoot the three off of Lamar Odom and Steve Blake's penetration. He would also have the ability to guard to opposing team's high-scoring sixth man.
While other players higher up this list, combine three-point shooting and defense at a higher level, Jarvis Hayes would undoubtedly be a valuable consolation prize for the Lakers.
9. Lindsey Hunter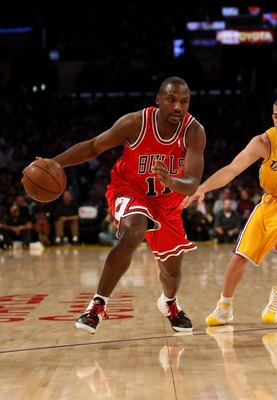 Should he decide to continue his career, the 39-year-old Lindsey Hunter would be a valuable addition to the end of the Laker bench. Hunter would come at a cheap price, and, in short spurts, could provide something that the Lakers sorely lack at the point guard position: defense.
As one of the greatest on-ball defenders of his generation, Hunter could give the Lakers a few minutes per game as a full-court pressure player. He is also a great leader, and perhaps most importantly, carries the championship pedigree.
While probably the least-sexy signing possible, Hunter would bring absolutely no negatives to the Lakers on the court, in the locker room, or against the cap.
8. Josh Powell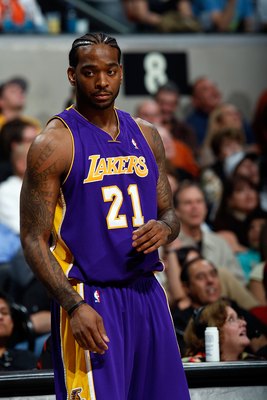 D.J. Mbenga, Josh Powell, Adam Morrison, and Derek Fisher are the only Lakers slated to become free agents this season. Fisher is the only notable and accomplished player among the group. However, Josh Powell brings underrated value to L.A. that would be missed.
First of all, Powell is valuable as a fourth big man. After starters Pau Gasol and Andrew Bynum, the Lakers employed Powell and Mbenga off the bench. While it would not be hard to replace Mbenga's team-low minutes, it would be a bit more difficult to replace Powell.
While he may not bring much skill to the table, Josh Powell is valuable for two things: hustle and being Kobe's best friend. There is no doubt that Kobe and Powell share a bond. They work out together in the offseason, and hang out together on road trips.
This off-court relationship, while not absolutely essential to a title team, is important. Just as Michael Jordan appreciated and fought for Scott Williams in Chicago, so does Kobe appreciate and fight for Powell in L.A.
7. Tony Allen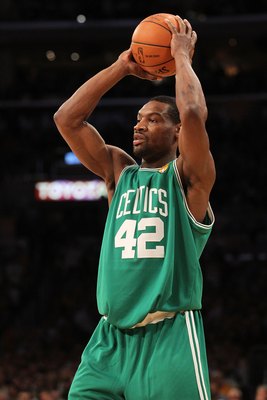 The Lakers know firsthand what Tony Allen brings to the basketball court. He is a high-energy athlete who plays sensational man defense. While his awful jumpshot could become a problem in the triangle offense (as it once was for Gary Payton), his defense off the bench would be invaluable.
In L.A., the primary role of the bench is to keep whatever deficit (lead or otherwise) that they inherit at a manageable level. This allows talented starters Kobe Bryant, Pau Gasol, Andrew Bynum, and Ron Artest to finish the game and provide the victory.
Tony Allen fits nicely into this concept. He would be able to completely shut down any perimeter-oriented sixth men. Also, were the Lakers to play him alongside Bryant and Artest, they could absolutely stifle any perimeter trio in the league.
6. Kyle Korver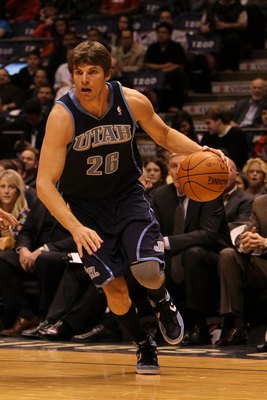 If Shannon Brown leaves Los Angeles in free agency, he would create a major scoring void at the guard position behind Kobe Bryant. Kyle Korver could fill this, and then some.
One of the most prolific shooters in the history of the NBA, Kyle Korver brings a perfect bench game to L.A. As a willing passer and sensational long range shooter, he would fit nicely into the triangle offense.
When paired with creator Lamar Odom as a member of the second team, Korver would provide consistent scoring and a would space the floor well. Although he is not a good defender by any standard, his ability to score can not be discounted.
5. Brad Miller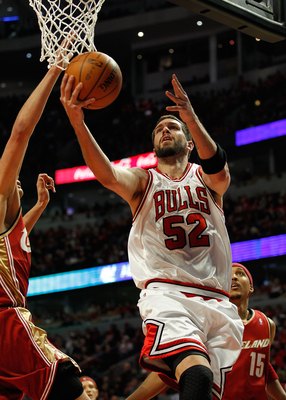 With D.J. Mbenga almost assuredly leaving, and with Josh Powell potentially ending his run with L.A., the Lakers are in major need of a big man. This is where Brad Miller comes in.
Miller has been a consistent scorer throughout his career, as well as a solid rebounder. However, his greatest value is as a passer. The triangle offense demands great post passing. This is why Pau Gasol fits in so well, and it is why Kobe Bryant so often occupies the post for the Lakers. Miller, who has twice averaged over four assists per game in his career, fits this bill beautifully.
4. Raja Bell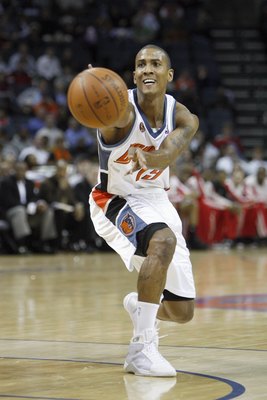 It is no secret that Kobe and Raja have clashed in their past, both on and off the court. Bell once referred to Kobe as "pompous" and "arrogant," and Kobe once said that he had "bigger fish to fry" than Raja Bell.
Not to mention the time Bell clotheslined Bryant in the playoffs, leading to a 50-point game by Kobe days later.
However, both players seem to have put their issues behind them. In that case, Bell is a perfect fit for the Lakers off the bench. He provides the same basic skillset as Jarvis Hayes, only on a much more efficient scale.
Off the bench, Bell would provide supremely accurate three-point shooting for Steve Blake and Lamar Odom to take advantage of. Also, and perhaps most importantly, he is an outstanding perimeter defender. In this sense, Bell would bring the same ability to slow down sixth men as Tony Allen, only with a far better ability to space the floor.
3. Mike Miller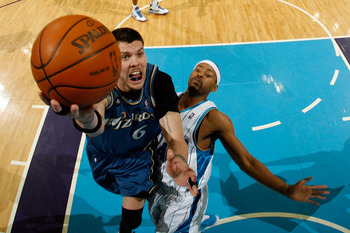 While this potential signing has been made less likely with the contract of Steve Blake, there is no doubt that bringing Mike Miller to L.A. would be a great move.
Miller has stated that his goal for the offseason is to find a team that will help him win. There is no doubt that the Lakers provide that opportunity. What Miller provides the Lakers with is a spectacular shooter and pesky defender off the bench.
Think of Miller as the supreme version of Sasha Vujacic; annoying defensive player, great three-point shooter. He would likely take many of Sasha's minutes, which isn't a bad thing.
As Kobe continues to deal with a multitude of injuries, it appears more and more likely that he could miss a substantial amount of games next season. The loss of his scoring would be devastating for the Lakers. Mike Miller could cure that problem. As a player who has been a starter and scorer in the past, he would be comfortable sliding into Kobe's spot.
It should also be noted that Miller and Pau Gasol shared a great on-court rapport during their time together in Memphis. A rejoining of those two could only benefit Los Angeles.
2. Kwame Brown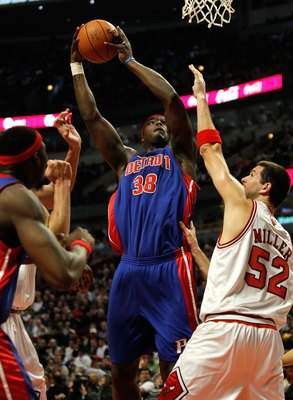 In his first stint with the Los Angeles Lakers, Kwame Brown was coming off of four disappointing years as a Wizard. However, at the time, it appeared that he just needed the right coach and right system to flourish.
After two-and-a-half seasons in L.A., it became clear that Brown was nothing more than a role player. His trade for Pau Gasol was the first step in creating the current Laker juggernaut. Since that trade, he has cemented his status as a decent NBA role player.
During his time in Los Angeles, Brown was expected to be the Lakers' top post threat. That responsibility was far beyond Kwame's abilities. However, were he to return to the current Laker team, his value would be tremendous.
As a player who has played in Phil Jackson's system, Brown could step in immediately off the bench and be a solid contributor. Also, he would no longer be expected to score, and could focus on rebounding and defense, both of which he excels at.
When Kwame Brown was a Laker, he was perhaps the second most most-liked teammate among the Laker players behind Lamar Odom. This likability as a person would allow him to fit in immediately in the locker room.
He would also provide invaluable insurance against another Andrew Bynum injury, something that can not be overstated.
1. Derek Fisher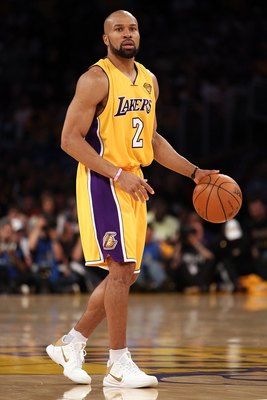 One of the great playoff shooters of his time, Derek Fisher's free agency has become quite complex recently. He wants starters money, although he only provides back up abilities. He also wants starters minutes, although he is a natural bench player at best.
With the signing of Steve Blake, this matter has become even more complicated. Fisher is one of the two Laker leaders, along with Kobe Bryant, and his value in the playoffs can't be quantified. However, Blake provides the same skill set as Fisher, only in a younger body with better defensive skills.
While he certainly is not worth his current asking price, Fisher must be re-signed by Los Angeles. As a leader and clutch shooter, he has been through all of the battles with Kobe Bryant and Phil Jackson. He understands how to win when it matters most, and is possibly the only Laker that Kobe trusts completely on the basketball court.
The last point guard to start on a three-peat team, Fisher is one of the great role players of all-time. The best case scenario for Los Angeles is to re-sign Fisher and start Steve Blake. This would allow Fisher to save himself for the postseason, while giving the Lakers more stability and production at the point guard position. Come playoff time, Fisher could be asked to contribute more.
The only players who have played on each of the last five Laker title teams are Kobe Bryant and Derek Fisher. While Fish may just be another role player at first glance, he is an invaluable member of this team.
If the Lakers hope to three-peat next season, they must bring back Derek Fisher. His off-court leadership and guidance, as well as his relationship with Kobe, are too important to lose.
Keep Reading

Los Angeles Lakers: Like this team?