NBA Free Agents 2010: Why Dirk Nowitzki Needs to Leave the Mavs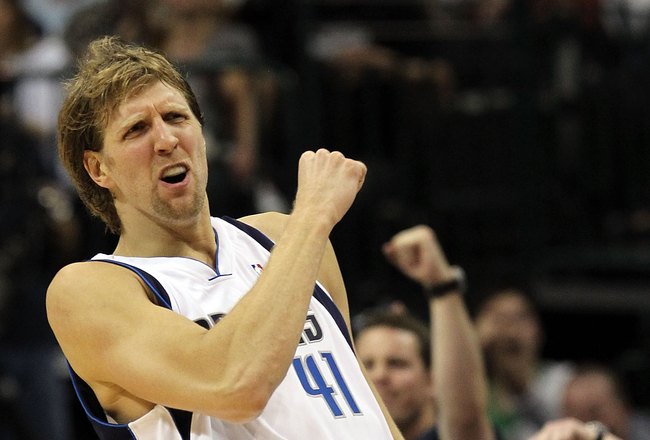 Although it's highly unlikely Dallas Mavericks owner Mark Cuban will allow Dirk Nowitzki to bolt for greener pastures in the NBA, let's take a quick look at five reasons why he SHOULD leave the Mavs.
With the latest news hitting the waves concerning Nowitzki and his last-second change of plans stop in New York to visit with lifelong friend Steve Nash, many people in Dallas are more than concerned about the future of the Mavericks.
Most Dallas insiders insist that the team's No. 1 priority is to re-sign Nowitzki—and the contract is believed to be worth up to $96 million for four years, along with including a no-trade clause.
But until Nowitzki inks a new contract with the Mavericks, Dallas fans will absolutely be on edge.
Should they be?
With Cuban returning to Dallas from LA on Thursday evening after taking part as a cameo in HBO's "Entourage," it's now back to basketball business for the Mavericks owner.
However, here are five reasons Cuban should be worried—and five reasons why All-Star Nowitzki should consider leaving Dallas.
Let's begin…
5. Mark Cuban and His Anal Way of Doing Things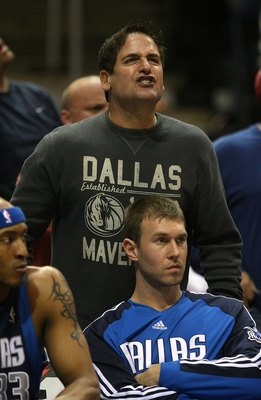 I know Dirk Nowitzki and Mark Cuban are close, but something's got to give.
Cuban is an over-involved owner, and if he honestly wants that much control over the team he should just be the one coaching the damn Mavericks.
He certainly acts more like a coach than an owner, yelling at officials as if they were his personal slaves and spending more time whining to the NBA than Rasheed Wallace.
And it now appears as though the new Nets landlord will be No. 2 in the world of anal, rich NBA owners doing whatever they want with their teams and their money.
The funny thing is, both the Nets and Mavs could be on the short end of the stick when all is said and done with this summer's free agency sweepstakes.
Cuban, humorous as this may sound, actually believes Dallas has a chance of signing LeBron James.
End your anal ways, Cuban; if I were you, Dirk, I'd get out of Dallas and go to a team where you can actually win a title.
4. No Supporting Cast of Co-Stars with the Mavericks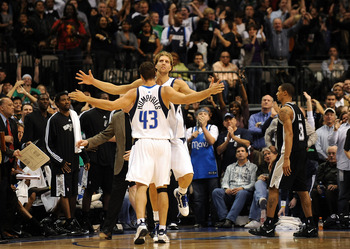 One of the main reasons the Dallas Mavericks can't win it all is because Mark Cuban refuses to surround Dirk Nowitzki with a reasonable amount of supporting talent to take home a title.
And until Dallas does so, Cuban and the Mavs will remain ring-less.
Which is just fine with the rest of the league, trust me.
Yes, Nowitzki will most likely re-sign with Dallas; he's spent his entire career with the Mavericks and I really don't see him playing anywhere else.
But having no supporting cast of co-stars around him would be a damn good reason to leave Dallas, at least in my opinion.
Nowitzki should get out of dodge while he still can—and there are still numerous teams willing to pay him the big bucks to represent their franchise.
The ball is in Nowitzki's court; now it's up to him to take a final shot on where he wants to conclude his NBA career.
3. New, Fresh Start Would Work Wonders for Dirk Nowitzki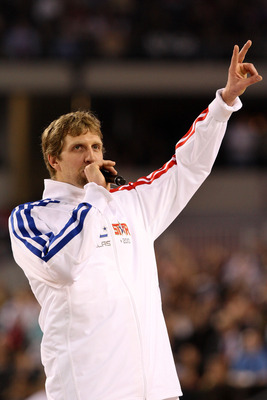 Personally, I believe a fresh start with a new team would work wonders for NBA All-Star Dirk Nowitzki.
And with a summer free agency overflowing with talent, there will be plenty of teams looking to lure Nowitzki to their organization.
The question is: Will he bite?
Reasons No. 5 and No. 4 are enough together to push Nowitzki elsewhere, but he could still easily remain in Dallas.
However, he should absolutely carefully consider every option available and make a wise decision based on what he wants to do with his NBA career—and not about his ties to the Mavericks or Cuban.
Leave the door open for a new team and a new opportunity, Dirk; it could very well end up being be the best damn decision you've ever made…
2. His Best Buddy, Steve Nash, Bolted From Dallas Years Ago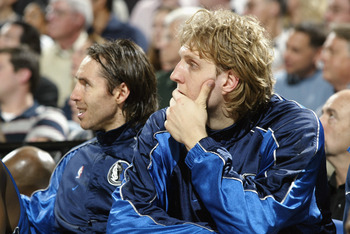 Although it's highly unlikely for there to be a Dirk Nowitzki-Steve Nash reunion in the 2010-11 season, the fact that the Dallas big man's former teammate and best friend bolted for greener pastures in Phoenix years ago.
Should Nowitzki follow suit?
Probably so, but we'll see what he ends up deciding.
Stopping by to visit with Nash at his off-season home in New York may have been nothing more than a friendly get-together amongst close-knit friends.
But it could also be a sign of things to come in Dallas.
Will Dirk Nowitzki still be the Mavs centerpiece come next season?
If it's up to Dallas management and Cuban, the answer is yes.
However, with Nash already being lured away by Phoenix a few years ago, is it someone's turn to lure Nowitzki away from the Mavericks as well?
We'll all know soon enough…
1. Dirk Nowitzki Can't Win a Title in Dallas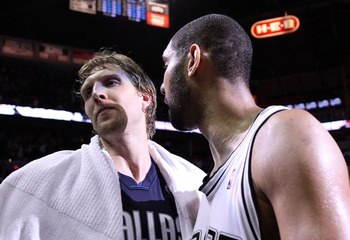 Plain and simply, Dirk Nowitzki cannot—and will not—win a NBA Championship if he remains with the Dallas Mavericks.
That should have been proven years ago, but this past season's postseason play by Dallas truly solidified that theory.
Sure, Nowitzki can re-sign a huge deal worth tons of money and with all sorts of added benefits by remaining a member of the Dallas Mavericks.
But if he returns to the Mavs, he'll remain ring-less in his search for an NBA Title.
If Nowitzki truly wants to chase a ring—and not a contract—he'll sign elsewhere.
The time for him to win a championship with Dallas has come and gone.
And it's time for the All-Star big guy to move on, regardless of Nowitzki's close ties with both the city and Cuban.
You want to win that coveted ring, Dirk?
It's time to get out of Dallas…
*****
Denton Ramsey may be reached via email at denton.ramsey@gmail.com
Keep Reading

Dallas Mavericks: Like this team?