TNA iMPACT!: Thoughts From Thursday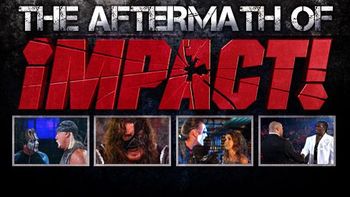 I know that there are enough "iMPACT! React" articles on this site to sink an air craft carrier, but when I don't see one the morning after iMPACT!, I figured that sometime, I might just write one myself, if for no other reason than to get the conversation started.
The main thing that I noticed from the July 1st iMPACT! is the fact that TNA actually seems to be maintaining storylines. Now, I'm assuming that we'll see this extreme revolution take place at the Victory Road pay-per-view, but while TNA rarely delivers on their surprises (or most of their angles), they've always been great at building up to something.
It's for that reason alone that I thought last night's iMPACT! was a very solid and well put together show, except for one horrible travesty that I'll get to in a moment, though if you watched, you probably already know where I'm going.
Morgandez Explodes! Still...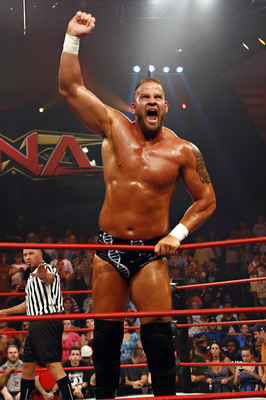 Hernandez got a small measure of revenge on Morgan by crotching him and costing him a match against Jay Lethal.
A few things to take away from that match: One, Matt Morgan should ABSOLUTELY be the centerpiece, the big dog in Fourtune. He mentioned that Ric Flair is recruiting him, and I honestly think that he's a much better lead dog for a heel faction than AJ Styles could ever be.
Sorry, AJ's a fantastic face and one of the top names in the company, but he's a lousy heel.
Two, I have zero interest in this Morgan/Hernandez feud. Blame it on Super Mex's recent stint in Mexico, but it honestly feels as though their heat has lasted longer than their actual tag team.
I'm certainly not averse to long feuds, as I actually think that TNA could benefit from more sustained plot-lines in this regard. But I just don't care about THIS feud anymore, even though I think that it's been done pretty well.
To me, Hernandez belongs in LAX with Homicide. I'd maybe even add a third luchador to that stable and have them be the first feud with Fourtune if Beer Money can snag the tag titles at the next pay-per-view.
One last thought on this match: I absolutely LOVE this Jay Lethal push! The kid has a ton of talent and he's turning in to one of the best mic workers in TNA. He still needs to have more character when he's not, you know "in character," as his personality seems to be mostly dependent on the angle he's in, but I'm hoping that will come with time.
Still Fighting for Their Place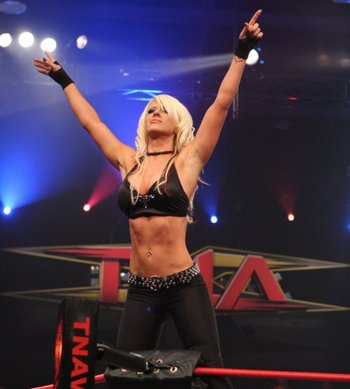 On the ladies' side, I've said it before and I'll say it again, but Angelina Love is quickly becoming one of the main reasons why I tune in to iMPACT! each week. She has the look, the in-ring skills and the mic skills to be both the best face or the best heel in the Knockouts Division. How many people can you honestly say that about in wrestling? Not many.
Sure, she only had a run-in this week with Madison Rayne, who dispatched Taylor Wilde after a solid match, nearly DDTing the champ onto a steel chair ala the other Beautiful People, Velvet Sky and Flopsy Gazelle err...Lacey Von Erich.
But both Angelina and Rayne seem to add an air of legitimacy to a Knockouts Division that has been nearly obliterated by the sheer number of losses that it's endured in the last year. I never cared much for Rayne before her recent title run, but she's also coming in to her own as legit heel.
My prediction? Velvet Sky swerves her BP mate at Victory Road and rejoins Angelina Love, leaving Madison Rayne as the lone big name face in the KO division. I mean c'mon, how many heels win all of their matches cleanly the way that Madison has been lately?
After the match, Taylor and Sarita were brawling backstage due to something that apparently happened on Xplosion. I'm not sure if this is a running storyline, but I like it for two reasons: For one thing, it gives us a female feud that shockingly doesn't revolve around a member or former member of The Beautiful People.
Secondly, I actually like that we don't know what's happening with them yet. It will (hopefully) give them a chance to grow their story and feud and make it something the fans will actually care about, which is great, because both of these ladies can flat out go in the ring.
The Travesty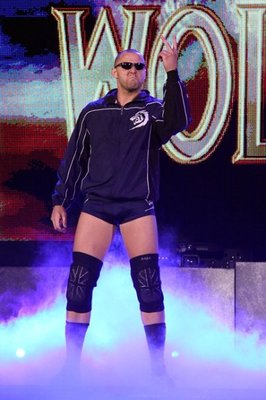 Alright, I can't hold this in anymore:
So, apparently Desmond Wolfe is now being used as cannon fodder to put people like Brian Kendrick over!? I'm honestly starting to believe that the fans' love for Wolfe in the voting polls is making Hogan and Bischoff knock Wolfe down out of spite.
Yes, I know that he's got heat with Chelsea right now, but heat with a valet is a weak angle for someone as talented as Wolfe. It also shouldn't be a reason why he taps out to a cobra clutch by Brian freakin' Kendrick, a guy that until about two weeks ago had ZERO personality since arriving in TNA several months ago (beyond his awful entrance theme).
I'm not a Kendrick hater, as much as it sounds like I am. In fact, I believe that he could be a solid fixture in the X-Division. The problem though is that Desmond Wolfe is not an X-Division wrestler. He's a main event caliber talent, and now TNA has him jobbing to some of the lowest guys on the totem pole and for what? To help Kendrick get over in his feud with Douglas Williams?
Weak.
Wait...There's a SHOW Next Week!?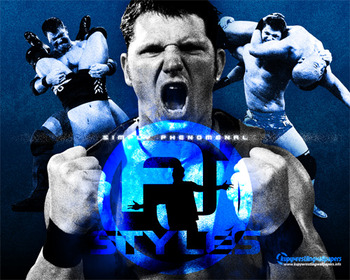 ZOMG WTF STFU!? We actually learned that AJ Styles will face Kaz next week, which is virtually unprecedented in TNA. They almost always either book for the night or book for the pay-per-view, but they seem to (finally) be learning that giving people a reason to tune in next week is actually a good thing.
Who knew?
Along these lines, Douglas Williams will face one of the members of Generation Me next week (I believe his last name is Buck), so that's TWO matches promoted for the following week on one show. Amazing!
On a side note, can someone PLEASE tell me why Generation Me (yes, I know their names used to be the Young Bucks and I know who they are) gets absolutely no screen time? Do Hogan and Bischoff have something against athletic tag teams that can actually move around in the ring?
I don't apply this to Ink Inc. or Beer Money, but we've seen more of Brother Ray and Devon in the last few weeks than we've seen of Motor City Machine Guns and Generation Me in the last month combined.
It was nice to see the Guns in action this week, and the finishing move they put on Jesse Neal of Ink Inc. was definitely one of the best spots of the night. These guys have the talent and the charisma to be a cornerstone of the tag division and perennial champions. I have to believe that if they were about six inches taller, they'd probably be legends in TNA by now.
The Hogan Angles: Part 1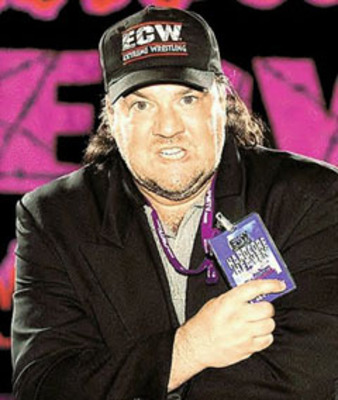 As far as the rest of the show (you know, the other 80% that Hogan and Bischoff can't seem to keep their hands off of), Abyss lost to Jeff Hardy via the Swanton, but both Hardy and special guest referee RVD were laid out when all was said and done. Ken Anderson came down in an attempt to make the save, but wound up "accidentally" hitting Hardy instead.
I'm absolutely loving the return of the monster, but I'm not at all sold on the idea of Abyss being the one that's more or less the harbinger for the ECW invasion, as it seems odd to have a main event guy continuously doing promos for a faction that includes a vast majority of guys (so far) that have been so low on TNA's list of priorities lately that many of them have become bi-monthly jobbers in random midcard matches.
Speaking of which, in case you didn't know before, Rhino's apparently still in TNA, as he joined Dreamer, Raven, and Richards in the audience this week. It has now officially become hilarious to watch Mike Tenay try to put all the facts together on what this could possibly be. Four guys from ECW, the crowd is chanting "ECW," but who is this "they" that Abyss keeps talking about?
It's a mystery, Mike. It's a mystery.
I still feel that this ECW invasion will sink or swim solely on the arrival of Paul Heyman. If TNA can lock up Paul Heyman, make him a key contributor backstage in the creative aspects, but also make him the voice of the invasion on screen, I think that we could have a solid angle that could last for a few months, hopefully springboarding Heyman in to a permanent role in TNA.
But if there's no Paul Heyman, this extreme revolution sinks like a stone. I don't care if they're able to dig Sabu, Sandman, New Jack and every other ECW original that's actually worth watching but not employed by either WWE or TNA out of the indy circuit, without Heyman, this invasion angle has zero legitimacy.
You can't have Taz lead this group because no one wants to see an announcer lead a faction. You can't have any of the guys in the group, as it's currently constructed, be the mouth piece because while Raven can work the mic well, none of these guys are actually over with the TNA crowd for a sustained period of time.
Stay tuned...
The Hogan Angles: Part 2
And then we have the Sting stuff. Now he's being suspended by Dixie Carter for 30 days, though Sting himself raised that suspension to indefinite. Can anyone figure out what the point of this actual angle seems to be, other than the fact that Sting believes Hogan and Bischoff are really bad guys, that Jarrett's joined with them, and that he's the good guy?
That's the impression that I get, but TNA has teased this angle for so long now that I honestly don't even care anymore, I stopped caring over a month ago, in fact. So, maybe taking Sting off TV for a while is a good thing.
Let this angle go to the back burner for a while. Let him get in better shape so that he doesn't have to wear a T-shirt when he wrestles. If he's injured, which I've read conflicting reports about, then let him heal for a while and then come back for a major reveal of some sort.
Or perhaps Hogan and Bischoff reveal themselves to be some sort of evil force that's trying to kill TNA (in an actual storyline, not just behind the scenes like they've been doing this whole time).
Maybe Sting will come back as some sort of hero for TNA, who gets Dixie to bring back the six-sided ring, revealing that Hogan and Bischoff have been trying to kill TNA the way their egos killed his beloved WCW. He also reveals that Jarrett joined them in this because he wanted Dixie's company dead because he no longer controls it.
Hey, a guy can dream, right? It would finally make this angle interesting, it would finally give Sting's actions some sort of meaning, and it would actually provide good substance for what I'd have to assume is a Hogan/Sting match intended for Bound for Glory later in the year.
Final Thoughts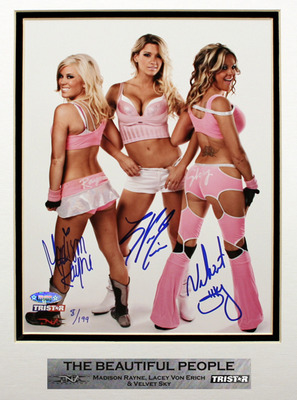 It's obviously nice to see the Pope back in the ring again. He's one of the best mic workers in TNA and I'm absolutely stoked for his match-up against Kurt Angle at Victory Road.
Unfortunately, Kurt Angle had to state that if he loses one match in his quest to become champion again, he'll retire. Now, I honestly don't believe that he'll actually retire from TNA any time soon. If he does, then this is the first I'm hearing about it.
But basically, this puts TNA in a bind. Either they can have him lose in a way that doesn't force him to retire (good luck finding that option), they can go back on their word (which would make Angle look like an idiot) or they can have him steamroll through their main event scene and win the title (predictable).
TNA needs to stop having people put their careers on the line. Do it once, and it raises the stakes for a match. Do it all the time and it loses its luster. A simple idea, but TNA just can't seem to grasp that fact.
-----
A couple of weeks now without seeing Orlando Jordan or Big Rob Terry. Maybe TNA management is starting to listen to the fans a bit more. Or maybe they realized that shoving wrestlers down the fans throats regardless of the sustained level of indifference is a bad thing. Again, who knew?
-----
I'm still loathing the X-Division right now as it's currently constructed. Williams, though somewhat enjoyable to watch (especially his finishing move), should be legitimizing the global title, not crapping all over the X-Division and its wrestlers.
His "high flyer-hating" angle was fine a few months ago but has grown stale and his match with Kendrick at Victory Road is the one I'm looking forward to the least.
Thought I'd love for them to put the belt on Kendrick and have him feud with the likes of Amazing Red and others that can actually keep up with him, I don't buy Kendrick as a threat to Williams' title reign for a second.
Williams will retain at Victory Road and we'll be subjected to even more of his stale gimmick as the next challenger steps up to face him. Snore.
-----
When will the Knockouts Division finally get some new blood? I've read that Ms. Tessmacher is taking wrestling lessons and might join the division, which I guess makes sense considering that she's barely used as Bischoff's assistant.
But adding one woman while losing Gail Kim, Awesome Kong, ODB, Roxxi, Alissa Flash, Rhaka Khan, Sojourner Bolt, Salinas, and others still signals the fact TNA has a lot of work to do if they have any intention of getting this division back to its former prominence.
Given the ratings that the women have always been able to draw, I'd suggest that Hogan and Bischoff roll up their sleeves and get started in earnest. The Beautiful People can't do it alone!
-----
Is Fourtune ever actually going to turn into a group? Ric Flair announced the group a few weeks ago, but we have yet to actually see, you know, the GROUP.
I get that wrestlers have to fight to be in it, but is there any chance at all that Flair might be able to update the fans on who's in and who's not? The announcers have told us that Wolfe's not in, but AJ still seems to be with Flair, and all AJ does lately is lose. So, what gives?
Other angles in TNA are coming together quite well, and while I'm loving the idea of a faction featuring Morgan, Kaz and Beer Money led by Flair, a little direction would be much appreciated.
-----
Well, that's it for this week. What did you think of last night's iMPACT!?
Keep Reading