Tour de France Preview: 20 Riders Who Could Finish With a Yellow Jersey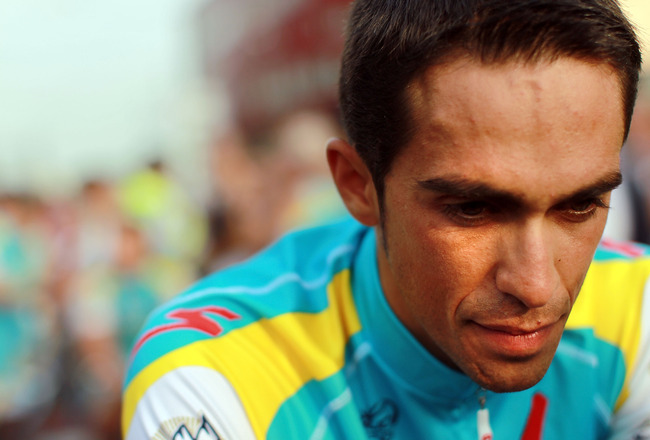 The Tour de France, the pinnacle of professional cycling, begins Saturday and continues through Sunday, July 25.
Hundreds of riders from around the globe will travel 3,642 kilometers and pedal through 20 grueling stages in pursuit of the priceless yellow jersey.
The annual race starts in Rotterdam and ends with that glorious bicycle parade down the Champs-Elysees. It features eight mountain stages, 11 new stage towns, one individual time trial, two rest days, plenty of spectators crowding the roadsides, and of course, a shot to grab the sport's ultimate prize.
A total of 22 teams will navigate the long race. Each hopes bike tires, not riders, hit the asphalt.
In an optimal year, pre-Tour discussion would center on the strong British contingent, the event's sacred history, or the certain-to-be captivating war of wills between 2009 winner Alberto Contador and seven-time champion Lance Armstrong in the Pyrenees.
Instead, these riders will commence the 97th Tour covered by the darkest of clouds.
Inclement publicity blankets and taints them in the worst way. Perception threatens to overshadow prestige and perseverance. If Floyd Landis wants to take most of the credit, he should not flatter himself.
This sport fought a dirty image long before Landis admitted four years after his stunning 2006 victory that he did indeed use performance-enhancing drugs to gain an advantage. He accused Armstrong of doing the same in all-too-public emails to cycling and anti-doping figureheads.
The perception is nastier than a crash involving 15 riders.
Cyclists don't just use the juice. They make Barry Bonds look like a clean-living humanitarian.
That stigma could scare off hundreds of thousands— maybe millions—of potential viewers. It makes the race less magical and majestic.
Armstrong's seven-year run enthralled the American populous. Now, many of those part-time cycling fans wonder if they watched a superhuman hero or a devious cheat.
Because of that, they won't watch again. Doping allegations have stalked Armstrong like crazed fanatics follow movie stars and musicians. Everywhere he goes, someone wants to prove his triumphs were not pure.
Did a human being overcome testicular cancer to win a more-than 3,500-kilometer race seven times in a row, or did drugs give his legs an edge over other riders?
As a Tour enthusiast, I wish I could focus only on the discussion topics that should matter—like the challenges involved in a particular climb, the favorites to win each stage, or a comparison of the speediest competitors.
Even Tour director Christian Prudhomme should know I could not write this column sans the dreaded "d" word. For many, perception equals reality. For Armstrong, that means more scrutiny than ever, with more on the line if he remains in contention in the latest stages.
I have not even mentioned the new cobblestone routes, the ones so slippery when wet that riders are complaining about the increased likelihood of accidents and tire punctures. Armstrong Tweeted this: "Done with the stage three reconnaissance. Going. To. Be. Carnage."
We should ignore those clouds as much as possible because what unfolds over the next few weeks could be special.
Here are 20 participants who could finish with the yellow jersey. There might be 10 or 12 legitimate contenders, but who's counting anyway?
If this grand race still excites you, keep reading. If you cannot stomach another month's worth of potentially dirty competition, don't let the syringe stick you in the butt as you leave.
And they're off…
20. Sylvain Chavanel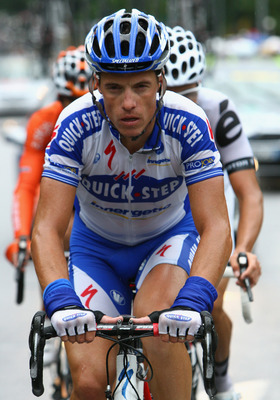 Age: 31
Country: France
Team: Quick Step
He placed first overall in a string of competitions from 2002 to 2006 and won the 19th stage of the 2008 Tour.
Chavanel started racing at 13 and has not stopped since. He should fare well in the time trial and might win another stage. A Tour victory remains the longest of long shots.
19. Nicolas Roche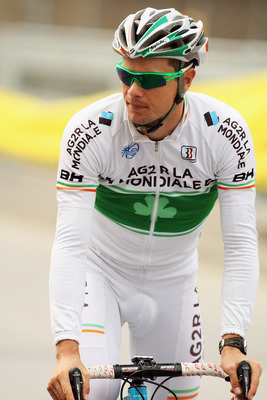 Age: 25
Country: Ireland-France
Team: Ag2r-La Mondiale
You will not hear this youngster's name mentioned much with the others on this list, but never underestimate his competitive spirit.
Roche seems determined to build on his strong 2009 Tour debut. He finished 23rd overall and fifth in the Young Rider class.
18. Janez Brajkovic
Age: 26
Country: Slovenia
Team: Radio Shack
This world under-23 time trial champion ranks as the first of many on Armstrong's team who will crack this list.
If he has no shot after the first few stages, he might settle for helping Armstrong dethrone Contador.
17. Andreas Kloden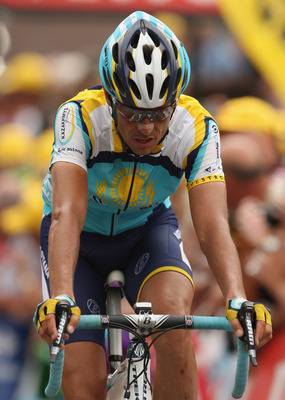 Age: 35
Country: Germany
Team: Radio Shack
If Armstrong begins to falter, he could take the lead on one of the race's deepest teams.
16. Mark Cavendish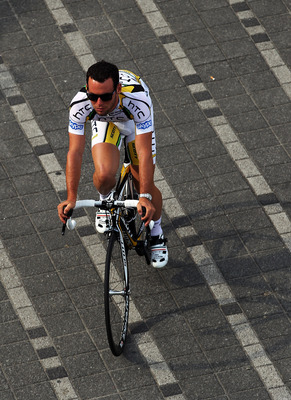 Age: 25
Country: Isle of Man
Team: HTC-Columbia
He hopes to own the bunch sprints and should win a few stages.
Cavendish won six of them in 2009 thanks to his sheer speed in breakaway situations. He hopes to win the points classification's green jersey.
15. Fran Schleck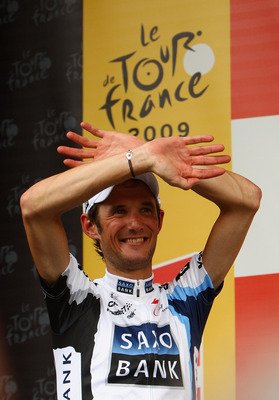 Age: 30
Country: Luxembourg
Team: Saxo Bank
Will he chase a win from start to finish, or ride in support of his younger brother, if he remains in contention late?
14. Carlos Sastre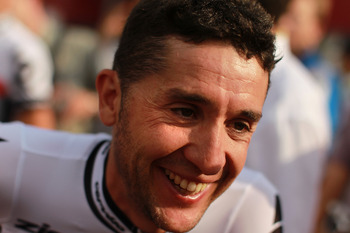 Age: 35
Country: Spain
Team: Cervelo Test
In a freak occurence, he crashed on the third stage of the Giro d'Italia (wait until he encounters those dreaded cobbles) and was questionable for this race.
He healed in time to do a practice run and will look to finish with a high classification in one of his final Tours. A disappointing start is no cause for concern. Sastre recovered from one in 2008 to win the whole darn thing.
13. Levi Leipheimer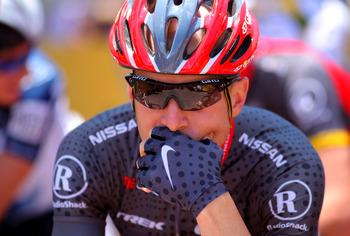 Age: 36
Country: United States
Team: Radio Shack
He powers up hills with remarkable ease and could become a signature catalyst to an Armstrong victory.
Leipheimer, however, will make his own push. He won the recent Tour of the Gila and finished third in the Amgen Tour of California.
12. Roman Kreuziger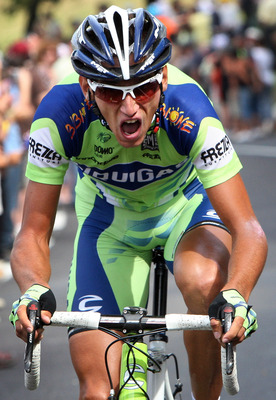 Age: 24
Country: Czech Republic
Team: Liquigas
He hopes to team with Ivan Basso to deliver Liquigas' second 2010 Grand Tour victory.
Kreuziger turned heads with his 2008 Tour de Suisse triumph.
11. Samuel Sanchez
Age: 32
Country: Spain
Team: Euskaltel-Euskadi
This Olympic champion will need loads of luck and stage victories to stay in the hunt for the yellow jersey.
He must first survive the third stage and avoid a crash there or suffer an early setback that handicaps his chances.
10. Michael Rogers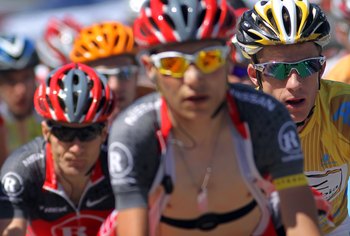 Age: 30
Country: Australia
Team: HTC-Columbia
He boasts dual goals—snatch an overall victory and a finish as the top sprinter.
Rogers will both compete with and assist Cavendish in a bid for that green jersey.
9. Jurgen Van Den Broeck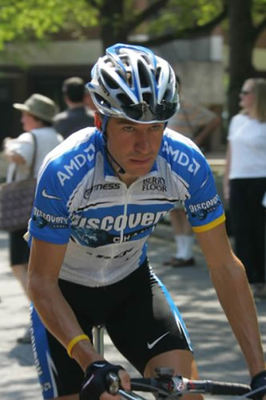 Age: 27
Country: Belgium
Team: Omega Farma-Lotto
Contador considers him a potential dark horse and rival for good reason.
Van Den Broeck has become a terrific all-around rider and is poised to make a significant jump after his 14th place finish in last year's race. Keep a close eye on him during the mountain stages.
8. Denis Menchov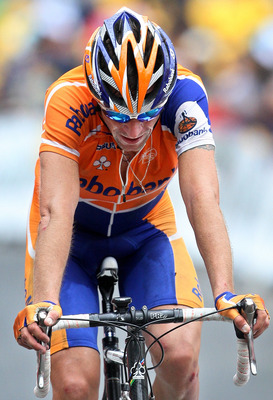 Age: 32
Country: Russia
Team: Rabobank
He's finished in the Tour top five twice, with precious few years left to make the podium.
This might be Menchov's last chance at serious contention. To keep the yellow jersey within reach, he must not lose any minutes on any of the race's key climbs.
7. Christian Vande Velde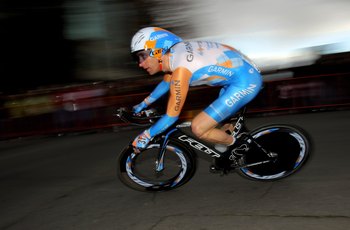 Age: 34
Country: United States
Team: Garmin-Transitions
His teammate Tyler Farrar will challenge Cavendish for the spring title.
Vande Velde's biggest concern, though, is staying in the race. He fractured his collarbone in the Giro d'Italia and suffered a career-threatening injury in 2009.
Like Sastre, Vande Velde will need to balance caution and aggressiveness as he navigates the brutal third stage.
Those blasted cobbles will test his confidence, his body, and his resolve. He will also need significant assistance from teammates and spectacular pratfalls from the other contenders in the mountains.
It could happen.
6. Ivan Basso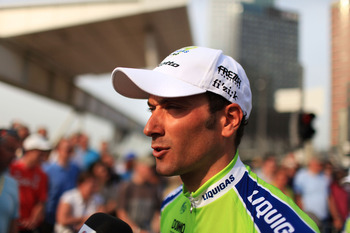 Age: 32
Country: Italy
Team: Liquigas
Armstrong once considered Basso his closest competitor and feared his mountain-side attacks.
Blood doping allegations and sanctions spoiled Basso's 2006 contention. After serving a several-year ban for his transgressions, he returned to grab the Giro d'Italia title and hopes to become the first person since Marco Pantani to win the Tour de France in the same year.
Does that picturesque ascension in Italy leave him pumped up or gassed as the Tour starts?
5. Bradley Wiggins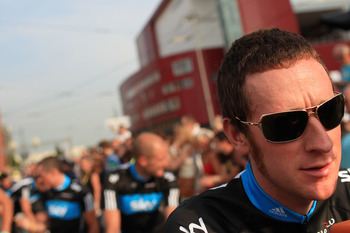 Age: 30
Country: Britain
Team: Sky
Can the great British hope make the podium after missing it by a hair last year?
Wiggins will lead Team Sky's chase for cycling glory and remains the favorite to win tomorrow's 8.9-kilometer prologue. He wants that yellow jersey, though, as he approaches the finish line.
England is desperate for a sports hero after its national team's pathetic showing at the World Cup. If Wiggins' strong supporting cast can provide the necessary boost, he could fill that role.
4. Cadel Evans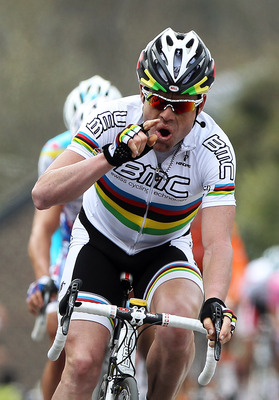 Age: 33
Country: Australia
Team: BMC Racing
This time trial master has also mastered the art of the third and second place finishes.
He knows that runner-up feeling like Jerry Springer knows sleaze. How has he managed to never win an event?
He will attack early but may struggle to hang with the other big boys through the final weekend. Teammate George Hincappie's services and experience should provide tremendous assistance.
3. Andy Schleck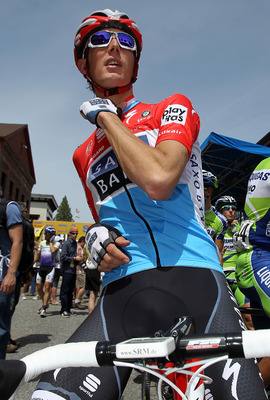 Age: 25
Country: Luxembourg
Team: Saxo Bank
This youngster will make the podium. Mark it down.
He is explosive at high altitudes and rides with the speed and balanced approach necessary to emerge as the victor after 20 stages. He captured second place and the coveted white jersey in the 2009 Tour.
His problem is Contador, the two-time champion who can do everything he does a tad better. If not for the sneaky Spaniard, Schleck might already have two Tour titles on his resume.
2. Lance Armstrong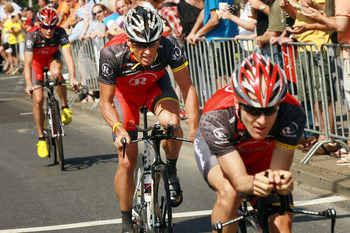 Age: 38
Country: United States
Team: Radio Shack
I don't know if the doping allegations that pelt him will ever prove true, but I know this: He will be ready come Saturday for what should become his breathtaking cycling swan song.
He knows everything a polished rider can about this race and the various terrains that make it the sport's ultimate challenge. His strategic brilliance in the Pyrenees and the other key stages leading up to the individual time trial will make up for any of the burst lacking in his legs.
Armstrong's third place finish in the 2009 Tour, that coming after four years of retirement, should prepare him well as the leader of the race's strongest outfit. Just as with Schleck, though, Contador could stand in his way as he did in the previous Tour as a ruthless teammate.
At 38, Armstrong says he needs the right combination of luck and smarts to even stand on the podium. Seven times since 1999 he found that combo at the right time and glided through the Champs-Elysees as the last man to wear the yellow jersey.
Count out an aging Armstrong at your own peril.
1. Alberto Contador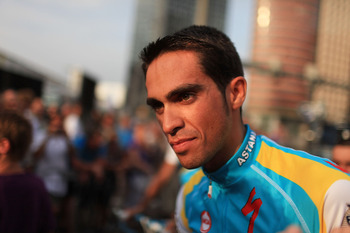 Age: 27
Country: Spain
Team: Astana
What can this guy not do in a big race?
His competitors better hope that a recent flu bout, underwhelming performances at lead-up events, and a shaky supporting cast slow him down because they won't—not Armstrong, Schleck, Basso, or anyone else.
The two-time winner owns the decisive mountain stages, and a course littered with those should favor him. You could peg him as an improved version of a younger Armstrong. He lies in the weeds in the first week and a half then pounces like a starving lion.
Roaaaaaaar!
One minute, unsuspecting riders can see the finish. In the next, Contador grabs their hopes and hearts as he flies by en route to victory.
His team and those cobblestones, though, could give him fits.
Keep Reading